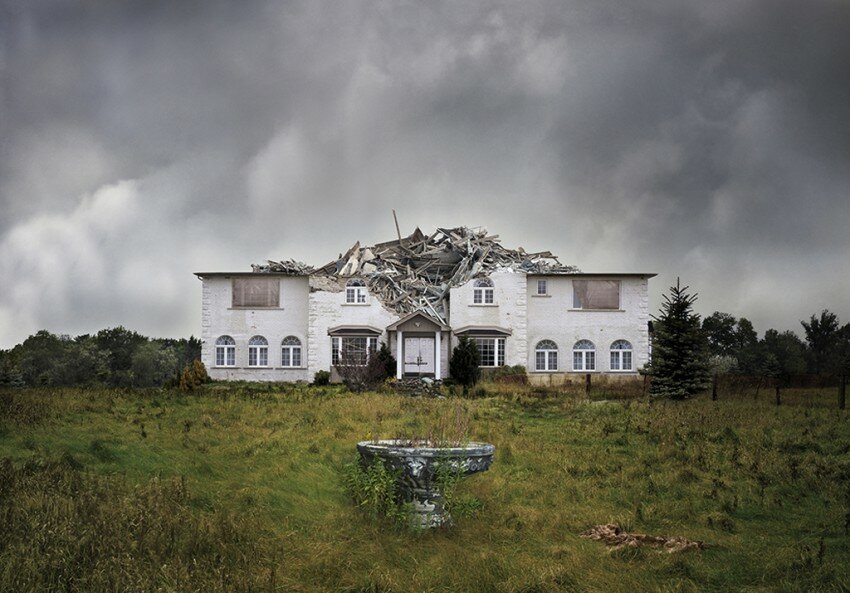 ravishing x uncertain beauty x climate change x camouflage, ink and silence
—————————-
Seeing Glacial Time: Climate Change in the Arctic
(Resa Blatman | In Memoriam)
When: On view through May 18, 2014
Where: Tufts University, Tisch Family Gallery, 40 Talbot Avenue, Medford, MA 02155
How: Official Website
What/Why: "Seeing Glacial Time examines how eight contemporary artists employ the "real time" of photography to visualize the largely imperceptible, gradual changes in "glacial time" from the bellwether Arctic region. Most of these artists have gone to extreme lengths—and distances—to capture and create their imagery. Some utilize scientific and appropriated photography as source material, while others depart from documentary traditions to create expressive images suggestive of a melancholic Sublime. This timely exhibition of paintings, photographs and a video installation introduces Boston audiences to artists who either have not been seen before in the area or have created new work for this occasion."
————————————–
Nathalie Djurberg and Hans Berg: A World of Glass 
When: On view through July 06, 2014
Where: ICA Boston, 100 Northern Avenue, Boston, MA 02210
How: Official Website
What/Why: "Swedish artist Nathalie Djurberg and Swedish composer Hans Berg continue their exploration of the complexities of the human condition in the videos by placing a cast of handcrafted characters in seemingly playful situations that inevitably turn sinister and often violent. The works address themes of sexual discovery, desire, and suffering that expose the fragile and precarious nature of humanity. This fragility is reflected in the polyurethane sculptures, which also make appearances in each video. Cast from household objects Djurberg assembled in a Frankenstein-like manner, the sculptures explore the border between the beautiful and the monstrous.
At the ICA, the four tables of sculptures and four videos will be installed together in the Paul and Catherine Buttenwieser Gallery to create a fully immersive, sensorial environment of glowing polyurethane, tinkling glass, and vibrant video projections. The exhibition will be accompanied by a brochure that will include a short essay and full-color images of the work."
———————–
 Rainer Lagemann and James Verbicky

When: Friday March 28, 2014 6:00-8:00PM
Where: DTR Modern, 167 Newbury St, Boston, MA 02116 Boston, MA 02118
How: Official Website 
What/Why: "We are so excited for our opening reception with Rainer Lagemann and James Verbicky this Friday evening from 6-8pm (at our Boston gallery) Both artists will be in attendance to unveil their newest collection of works and we hope to see you there!"
———————–
AD 20/21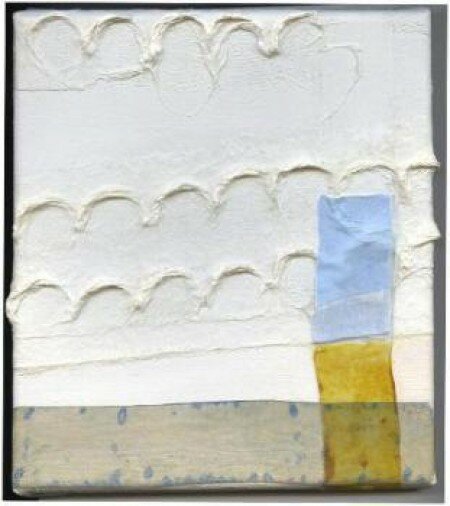 (Joyce Pommer (Booth 15) | Just Clean White Space)
When: March 27-30, 2014
Where: The Boston Center for The Arts, 539 Tremont Street, Boston, MA
How: Official Website
What/Why: "50 Select Exhibitors offering modern to contemporary fine art, photography, jewelry, Mid-Century furnishings and contemporary studio furniture, decorative arts, sculpture, fine prints, drawings and more at the only show and sale of its kind in New England… affordable works to museum-quality masterpieces!"
———————–
William Kentridge: Universal Archive

 (William Kentridge | Remembering the Treason Trial)
When: On view through April 26, 2014
Where: Barbara Krakow Gallery, 10 Newbury Street, Boston, Massachusetts 02116
How: Official Website
What/Why: "The Universal Archive linocuts began as a series of small ink drawings by William Kentridge on pages of old dictionaries, made using both old and new paintbrushes.  The images are made up of both solid and very fine lines, with an unconstrained virtuosity of mark-making.  The ink drawings were initially attached to linoleum plates and painstakingly carved.  As the project expanded, the images were photo-transferred to linoleum plates in order to preserve the original drawings. The images have been printed onto pages of early copies of the Shorter Oxford English Dictionary.
As a result of the meticulous mechanical translation of a gestural mark, the linocuts push the boundaries of the characteristics traditionally achieved by the medium.  The identical replication of the artist's free brush mark in the medium of linocut makes for unexpected nuance in mark, in contrast with the heavier mark usually associated with this printing method.  Furthermore, the paper of the nonarchival old book pages resists the ink, which creates an appealing glossy glow on the surface of the paper.
The parallel and displaced relationships that emerge between the image and the text on the pages relate to Kentridge's inherent mistrust of certainty in creative processes.  This becomes part of a project of unraveling master texts, here questioning ideas of knowledge production and the construction of meaning."
———————–
David Lang | The Shop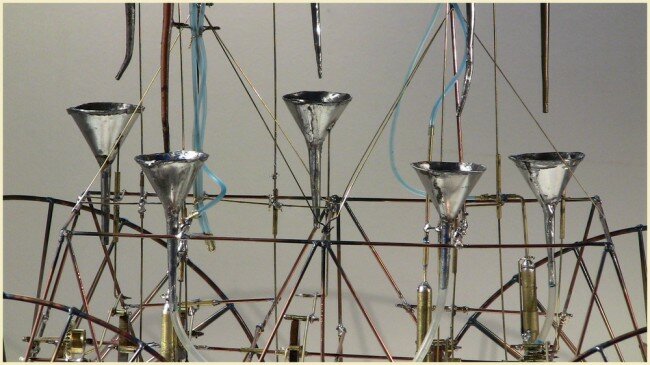 When: On view through April 13, 2014
Where: Boston Sculptors Gallery, 486 Harrison Ave. Boston, MA 02118
How: Official Website
What/Why: "David Lang's studio, housed in the last-remaining, pre-Civil War shoe factory in Natick, MA, is a curiosity shop filled with the eclectic. It's where he cobbles together intricate contraptions and flights of fancy. It's packed with a hodge podge of tools and materials – drills, soldering irons, saws, lathes and wheels of every imaginable sort. His workbench is littered with gears, wire and glue. Scattered throughout are finely-crafted objects from days of old: a vintage Coleman gas clothes iron, a rare 1956 Parilla motorcycle, faded, wooden crutches, old organ pipes. But, what emerges from the clutter are intricate, interactive, motion-activated pieces with dozens of moving parts that astonish, delight and inspire. It is this shop, along with the treasures that he has created in it, that Lang has, in a sense, moved to the gallery."
Also on view..
Eric Sealine | Short Stories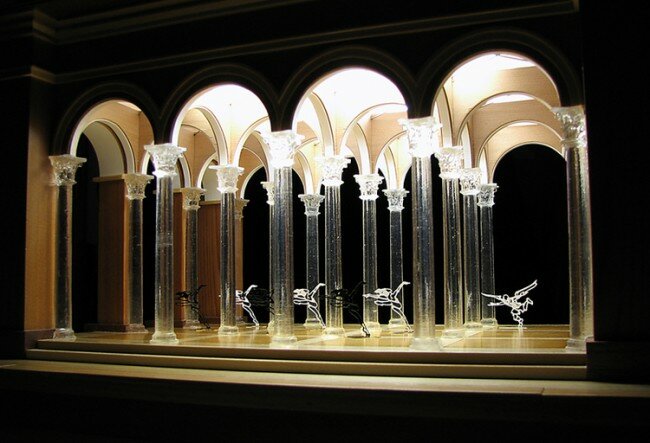 What/Why: "Eric Sealine is a master craftsman, using a Renaissance-level command of perspective, materials, and processes to build his vertigo-inducing sculptures. Two main interests, narrative and illusion, weave through his various bodies of work. The first is the idea that storytelling is the richest art form, sometimes in the form of epic and sometimes haiku. The second is Sealine's fascination with visual perception and the ways it can be manipulated. He asks an apparently simple question: "Why do we have such confidence in our observations when we are so easily misled?"
———————–
Multiple Occupancy: Eleanor Antin's "Selves"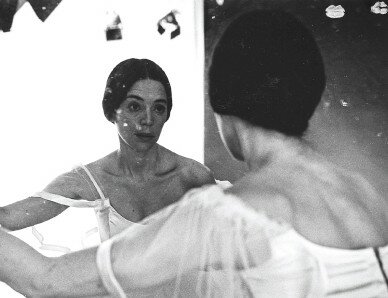 When: On view through July 06, 2014
Where: ICA Boston, 100 Northern Avenue, Boston, MA 02210
How: Official Website
What/Why:"Eleanor Antin once declared, "I consider the usual aids to self-definition—sex, age, talent, time and space—as tyrannical limitations upon my freedom of choice."
Antin, who was born in New York in 1935, is a pioneer of Conceptual art who works primarily in performance, photography, film, video and installation. She uses fiction, fantasy, and theatricality to examine the ways that history takes shape, and also to scrutinize the role that visual representation plays in that process.
Between 1972 and 1991, Antin created and embodied a number of different "selves" of varying genders, races, professions, historical eras, and geographic locations. Some she physically embodied and captured on film; others were represented via paper doll or puppets that she manipulated, often with faux-naiveté. Multiple Occupancy: Eleanor Antin's "Selves" is the first exhibition to focus exclusively on these multiple personae.
Among the alter egos we meet in Multiple Occupancy are the King of Solana Beach, the valiant but ineffective ruler of a San Diego seaside community; Eleanora Antinova, an African-American ballerina from Sergei Diaghilev's Ballets Russes who longs to play the classic roles of Giselle and Sylphide but is relegated to more "exotic" Pocahontas types; and two nurses: Little Nurse Eleanor, whose attempts to heal her patients are continually sidetracked by their lust for her; and Eleanor Nightingale, who cares for soldiers at the front line of the Crimean War.
Antin's contributions to contemporary art have been recognized at one-woman exhibitions at the Museum of Modern Art and the Whitney Museum of American Art in New York, and a retrospective at the Los Angeles County Museum of Art. Antin's multi-disciplinary body of work continues to inspire viewers and artists alike to question the nature of self-representation, performance, looking, transformation, and the mutability of identity."
———————–
Really
(Justin Jankus | Opened drawer, bras/scrunchies)
When: On view through May 31, 2014
Opening Reception: Thursday April 3rd from 5-8pm
Where: The Harbor Gallery at UMB, McCormack Building, 100 Morrissey Blvd, Boston, Massachusetts 02125
How: Official Website
What/Why: "The Harbor Gallery at the University of Massachusetts Boston is proud to present really, an exhibition from March 31 to May 31 featuring work from Brian Christopher Glaser, Jen Barrows, and Justin Jankus. The opening reception will be held on Thursday April 3rd from 5-8pm.
The selections represent multi-disciplinary approaches to the construction of identity and the significance of familial, social, and cultural beliefs. Jen Barrows has photographed throughout the United States in an attempt to discover a collective American identity through shared memory. Her videos and sculptures reference the commodification of the American ideal and the exporting of the cultural cache. Working primarily in sculpture and collage, Brian Christopher Glaser's pieces are heavily influenced by the clichéd imagery in high-gloss editorial photos, the unrestrained masculinity of men's magazines, and the marketing tactics used in popular culture. In his new body of work, Justin Jankus explores his relationship with his sister and attempts to break his subjectivity by photographing 35 years of her accrued possessions. "
———————–
Katy Schimert: Camouflage, Ink and Silence

(Katy Schimert | Lurking Octopus)
When: On view through May 4th, 2014
Where: University Museum of Contemporary Art, Fine Arts Center, University of Massachusetts, 151 Presidents Drive, Amherst, MA 01003
How: Official Website
What/Why: "Working across a variety of media, including drawing, sculpture, and film, Katy Schimert uses fragments of personal experience as conceptual impetus. The intersection of the fine and decorative arts is a formal point of departure for the artist. Densely layered and vaguely topographical, her drawings suggest sequences of cosmic or otherworldly events occasionally populated by ethereal human figures; as Schimert describes it, they create a "space for illusion." The results of this investigation are not only visually compelling, but formally succinct – this allows Schimert's works in various media to meld together as an ongoing visual essay.

This exhibition will comprise a series of large-scale watercolors and ceramic and glass sculptures about the sea and a large mythical octopus, a hidden sculptural force, and ghost like presence of fierce emotion underneath the moire effect of water. Schimert has been inspired by literature of the sea and science fiction including: Jules Verne, Herman Melville, Joseph Conrad, Patrick Obrien, Arthur C Clark and Marianne Moore's poem The Octopus. She uses an ancient method of casting glass and ceramics, making forms through a process of heating and cooling."
———————–
Proof of Purchase

When: April 3rd-April 5th, 2014
Opening Reception: Thursday, April 3, 7–9 pm
Where: Samsøñ, 450 Harrison Avenue, #29, Boston, MA 02118
How: Official Website 
What/Why: "Samsøñ will host Proof of Purchase a unique art sale and fundraiser to benefit the School of the Museum of Fine Arts, Boston, April 3–5, 2014.
Proof of Purchase presents hundreds of postcard-sized original works by established and emerging artists, plus Boston personalities, each selling for $50. The twist? Attendees won't know the identity of the artist until their purchase is made. With all pieces priced ($50) and sized (4×6 inches) the same, shoppers have just as much of a chance of taking home artwork by a famous artist as they do a first year art student."
———————–
Gertrude's

When: Friday, March 28, 7:00pm
Where: Boston Center for the Arts, 539 Tremont Street, Boston, MA 02116
How: Official Website 
What/Why: "We are pleased to present the second in our new series of semi-monthly get-togethers in GERTRUDE'S, our salon for informal artist-generated/artist-hosted conversations at the BCA's Mills Gallery. This event will be co-hosted by artists Emily Eveleth and Penn Young. The event is free, and all are welcome."
———————–
Fresh Media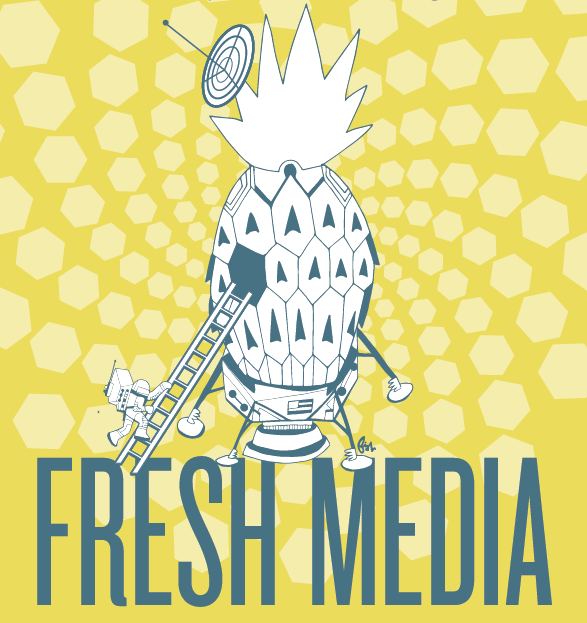 When: On view through March 31, 2014
Opening Reception: Friday March 28th, 6:00pm – 9:00pm
Where: Boston Cyberarts Gallery, 141 Green St., Jamaica Plain, MA
How: Official Website
What/Why: "As an interactive communication design program, the Dynamic Media Institute (DMI) at Massachusetts College of Art and Design aims to encourage dialogue within the fields of art, design, technology, and science. Fresh Media is an annual showcase of all the artists/designers in the program from diverse backgrounds in engineering, fine arts, computer programming, graphic/industrial design and advertising. Pieces include interactive and dynamic work ranging from computer based imagery, aural soundscapes, data visualization, and even game-like storytelling."
———————–
MUJERES: Iron Maidens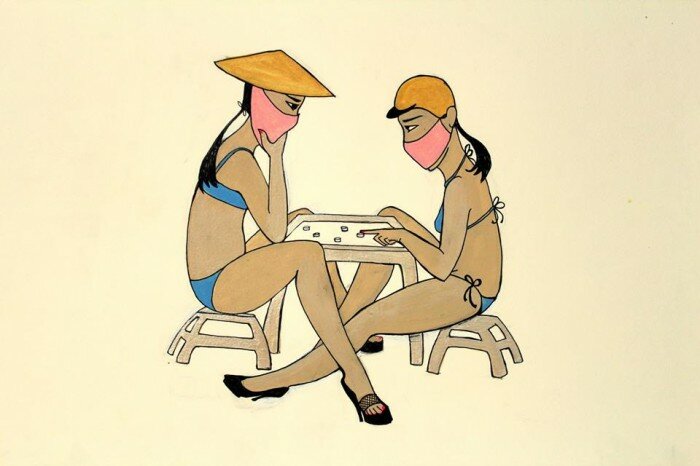 When: On view March 21 – April 20, 2014
Opening Reception: Friday, 6:00pm – 9:00pm
Where: LA GALERÍA at Villa Victoria Center for the Arts, 85 W. Newton Street, Boston, Massachusetts 02118
How: Official Website
What/Why: "This exhibition explores the often dual nature of feminine strength in modern society- a hermetic, externalized armor, which betrays a tempestuous interior. Selections of local and international artists working in a variety of media respond to themes and intersections of identity, sexuality and nationality. "
———————–
No One Thing is the Root of All Anything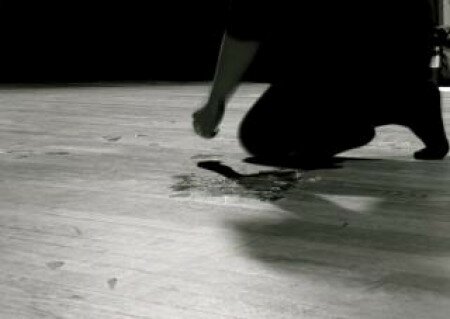 When: Saturday March 29, 2014 10:00am-6:00pm
Where: mobius, 55 Norfolk Street, Cambridge, MA 02139
How: Official Website
What/Why: "This is a divergence from a starting place. It is possible it will continue. The furthest point accessible in space is also inside of us. Time in lines and circles. I am starting over and at the same time I am ending. This performance asks questions about beginnings and endings, life and death, internal and external spaces and the imminence of existence."
———————–
Reciprocal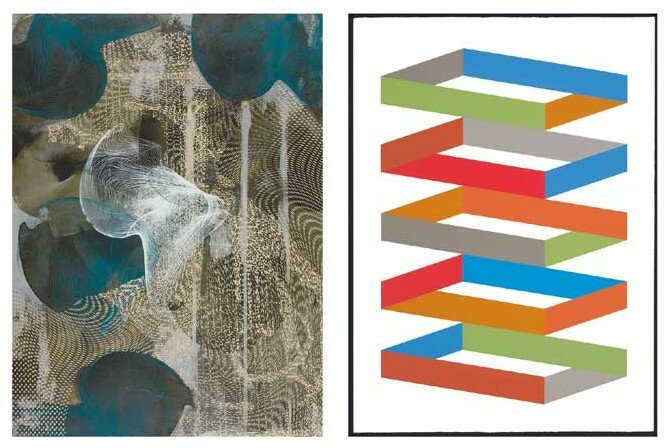 When: On view through May 16, 2014
Where: 13 Forest Gallery, 167A Massachusetts Ave, Arlington, MA 02474
How: Official Website
What/Why: "The two bodies of recent work are strikingly dissimilar to a casual glance, however within their imagery is a mutual exchange of ideas.  
Both artists explore the ways in which geometry can explain nature and in turn, 
how nature affects the mathematical precision of geometry. "
———————–
Darren Waterston: Uncertain Beauty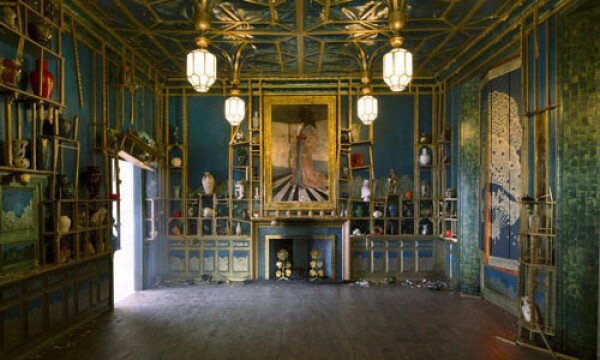 When: On view through January 2015
Opening Reception: Saturday March 29, 5:00-7:00PM
Where: Mass MoCA, 1040 Mass MoCA Way, North Adams, MA 01247
How: Official Website
What/Why: "Painter Darren Waterston's installation Filthy Lucre — the centerpiece of Uncertain Beauty — is a contemporary re-imagining of James McNeill Whistler's 1876 decorative masterpiece Harmony in Blue and Gold: The Peacock Room. Waterston became fascinated with The Peacock Room both for its unrivaled union of painting and architecture and for its dramatic story of patronage and artistic ego."
———————–
 The Saddest Parade on Earth
(Greg Cook | The Saddest Forest on Earth (installation view))
When: Parade will be 11 a.m. Saturday, March 29th, 2014
Exhibition on view: Monday, March 24, 2014- Friday, April 18, 2014
Where: 248 Cabot St, Beverly, Massachusetts
What/Why: "Celebrate our Great Depression at artist Greg Cook's "The Saddest Parade on Earth," which marches along the sidewalks of Beverly's Cabot Street beginning at 11 a.m. Sad-urday, March 29. 
The parade will feature sad banners and signs, as well as a sad accordionist. And perhaps even a sad stilter. For real. The parade begins at 248 Cabot St, Beverly, Massachusetts.
The parade concludes at Cook's exhibition "The Saddest Forest on Earth" on view in the storefront windows of Montserrat College of Art's Frame 301 Gallery, 301 Cabot St., Beverly, Massachusetts, for free, 24-hours-a-day, from March 28 to Friday, April 18. The exhibition is a large diorama depicting an enchanted forest of crying, cartoony trees."
—————-
Ravishing 

 (Alicia Savage | Grounded 2)
When: On view through May 03, 2014
Opening Reception: Saturday March 29, 5:00-8:00PM
Where: 555 Gallery, 555 E 2nd Street Unit 1, Boston, MA 02127
How: Official Website
What/Why: "Featuring the work of Jonathan Stark, Leonard Nimoy, Bear Kirkpatrick, Alicia Savage and Jeffrey Heyne"
————————–
Say hi:
EMAIL | TWITTER | FACEBOOK | INSTAGRAM | PINTEREST
Self Portrait: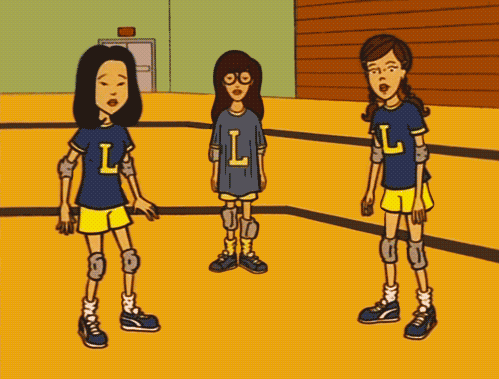 I have new posts I'm dying to share with you, but the plague is making it hard for me to write coherently let alone creatively. But I'm on it.
So send me good vibes and chicken soup. And I'll send you good vibes and not chicken soup.
Have a great weekend and stay sweet. ♥