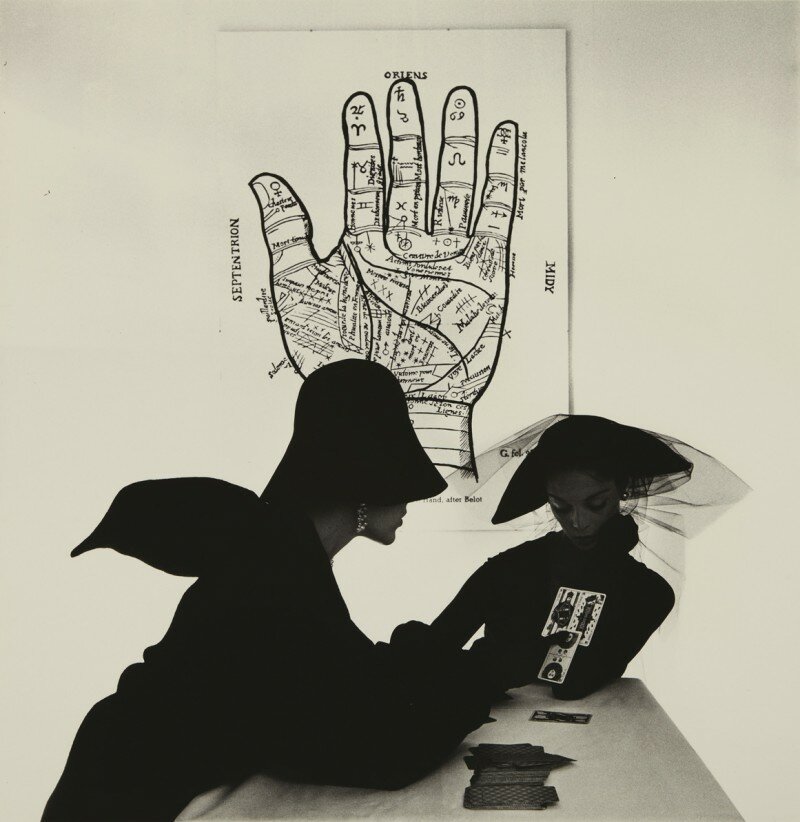 funerary egocentrism x practice x avant-garde x spiral galaxy
—————————————————–
Practice

When: On view through April 5th, 2014
Where: Nave Gallery Annex, 53 Chester St, Somerville, MA
How: Official Website
What/Why:"Practice explores artwork inspired by craft, and features highly skilled, process-oriented and conceptual works that require a high degree of proficiency and commitment – including drawing, photography, felting, installation, sculpture, bookmaking and storytelling."
——————————–
Black & White Party
When: Friday March 14, 2014, 6-10pm
Where: MassArt Pozen Center, 14 Tetlow St, Boston, MA
How: Official Website
Cost: $25 | Purchase tickets here.
What/Why: "The Black & White Party is Discover Roxbury's annual fundraiser to support local artists and advance arts education and programming in Roxbury. Net proceeds from the event directly support the operations of Roxbury Open Studios, the ArtROX! Hub, and other events in the ArtROX! series.
Come experience a unique evening where the decor, artwork for sale, and food (to the extent possible) will all be black and white. This void of color serves to remind us all of how important artists are in bringing color to our lives.
Our DJ, a selection of passed apps, and delicious drinks will delight the senses throughout the evening.
You'll be in the company of artists, art lovers, emerging fashion designers, and social leaders from across Greater Boston. Bring your business cards and creative energy for a night of mixing, mingling, and creative exploration with a diverse crowd where art, dance, and community collide.
INTERACTIVE ELEMENTS
Come in your most creative black and white outfit and win prizes from Taza Chocolate. This year we will have winners for the People's Choice and Judges' Choice. The People's Choice winners will be chosen by votes cast on Twitter at #bwparty."
——————————–
Images From a Locked Room
(The Occupant)
When: On view through May 18, 2014
Where: Danforth Art, 123 Union Avenue, Framingham, MA 01702
How: Official Website
What/Why: "Artist Michael Mazur first came to public notice in the early 1960s with his series of etchings and lithographs depicting inmates in a mental asylum in Howard, Rhode Island where Mazur volunteered as a hospital aide. "Images from a Locked Ward," a portfolio of 14 lithographs created with master printer George Lockwood, has been called Mazur's "first artistic descent into Hell." This was a theme he later explored while illustrating poet Robert Pinsky's translation of Dante's Inferno. "These lost souls," John Canaday wrote in The New York Times, "have the terrible anonymity of individuals who cannot be reached, whose ugly physical presence is only the symptom of a tragic spiritual isolation."
——————————–
Skirt Steak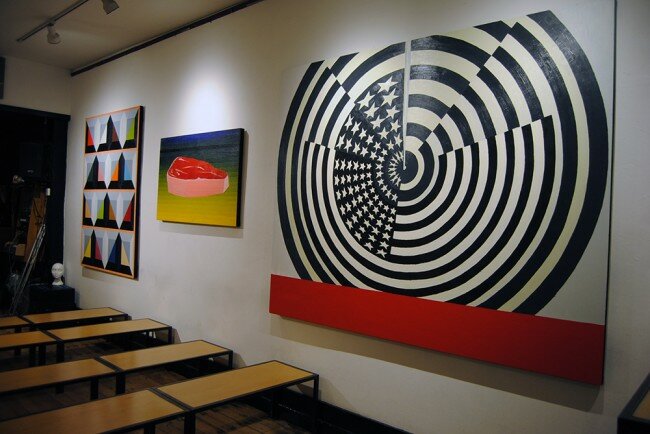 When: On view through  April 2014
Opening Reception: Thursday March 20, 9:00-1:00AM
Where: lilypad, 1353 Cambridge St, Cambridge, Massachusetts
How: Official Website
What/Why: "Sara Benson brings her expansive oil paintings to the Lily Pad, featuring exciting optical movement within patterns and icons.
Hues of vibrant greens, orange, and blue are applied in lines of texture ranging in crusty crumbled mass, to juicy slick paint that breathes further life and richness into Benson's physically encompassing paintings.
Hawaiian born and raised, Benson now resides on the East coast where she creates and calls Boston home. Come celebrate this young emerging artist's work, and enjoy live performances by: Manor and more TBA"
—————————
The Departed

When: On view through April 07, 2014
Opening Reception: Saturday March 15, 7:00-9:00PM
Where: Distillery Gallery, 516 E 2nd St, Boston, Massachusetts 02127
How: Official Website
What/Why: "The Distillery has been home to artists seeking raw space to create and be inspired in since 1984. Over the span of thirty years, the building has evolved to become the staple of the Boston arts scene it is today. Hundreds of artists have come and gone as full time residents or part time studio renters, each contributing the vibrance and diversity of the art community that is unique to The Distillery.
"The Departed" features a selection of artists who have, within the past 10 years or so, left the Distillery to continue creating elsewhere. The range in artwork and career paths amongst this group is wide, and this is a mere fraction of the long list of names that once called this former rum distillery "home". "
—————————
A Woman's Arms

(tank by Karley Klopfenstein image c/o Pat Falco)
When: On view through April 26th, 2014
Opening Reception: Friday March 14, 7:00-10:00PM
Where: Lincoln Arts Project, 289 Moody St., Waltham, Massachusetts 02453
How: Official Website
What/Why: "Nine women examine, dissect, and push back (or lean into) a wide array of subject matter that first courses through their gender but ultimately is about their humanness. Problems aren't solved but rather presented, ideas aren't practical but instead potent — an uncontrolled burn versus any real concern with measuring the heat. The work is personal and political, refined yet suspicious. It possesses a guarded optimism and is laced with humor. It goes to the core of how the world actually works and who felt what. And while the art collected here is filtered through a specific gender, ultimately, it about all of us. It is a story, in a sense; a sampling of what we have become, for better or worse. And yes, there are guns, and a tank…"
—————————
Opening Receptions at Panopticon Gallery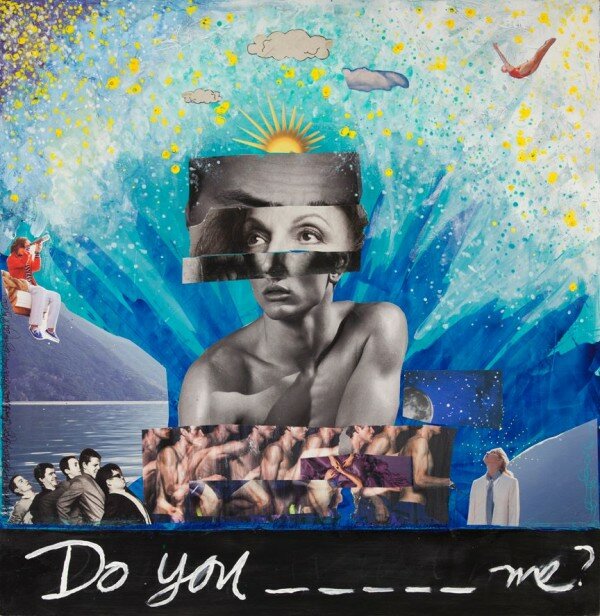 When: On view through April 2014
Opening Reception: Friday March 14, 5:30-7:30PM
Where: Panopticon Gallery, 502c Commonwealth Ave, Boston, Massachusetts, 02215
How: Official Website
What/Why: "In the main gallery: W-O-R-D-P-L-A-Y, photographs and mixed media pieces by Frank Armstrong, Bill Franson, Eva Timothy, Mimi Youn, Stephen Sheffield, Rachel Phillips, Samuel Quinn, Nikki Segarra, Shannon McDonald, Randall Armor, and Glen Scheffer.
In the private room: Photographs by the students in Stephen Sheffield's Black & White class at the New England School of Photography.
Our Emerging Artist | FEATURED: Rich Cortez, a senior at the New Hampshire Institute of Art."
—————————
 Funerary Egocentrism

When: Wednesday March 19, 5:00 pm – 9:45 pm
Where: Museum of Fine Arts, 465 Huntington Ave, Boston, MA 02115
How: Official Website
What/Why: "Cuban artist Lázaro Saavedra has consistently used performance art to prioritize the public's relationship with art over the ownership of art objects. His series of drawings Historias para historiadores (Stories for Historians), 1989–91, are documents of his own artworks—some of them unrealized due to bureaucratic roadblocks in Cuba. His sketch for one attempted work, Egocentrismo funerario (Funerary Egocentrism), depicts a casket in which Saavedra intended to lie, paying a sarcastic homage to the "death of the author" (i.e. himself). As conveyed in the drawing's notes, this performance was prohibited by cultural authorities in Havana. Saavedra proposes to stage the performance for the first time in Boston as part of the exhibition "Permission To Be Global/Prácticas Globales: Latin American Art from the Ella Fontanals-Cisneros Collection." His dark sense of humor is a strategic tool to share critical ideas with broad audiences."
—————————
Bea Modisett: Field Work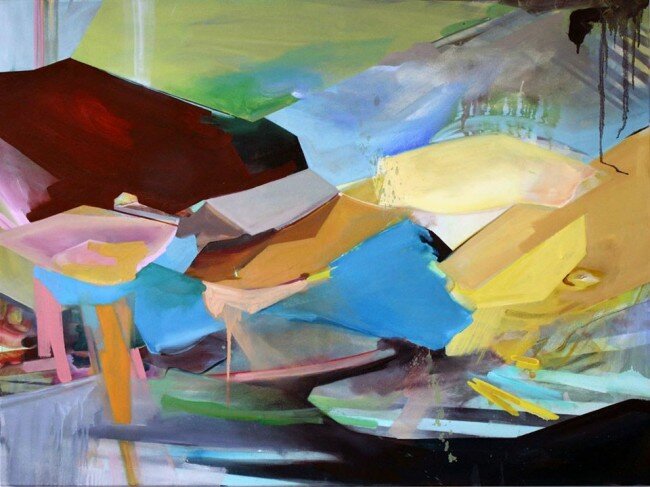 When: On view through April 5th, 2014
Opening Reception: Thursday, March 20th 5-7pm
Where: Montserrat Galleries, 23 Essex Street, Beverly, Massachusetts 01915
How: Official Website
What/Why: "Please join us on Thursday, March 20th 5-7pm, for the opening reception of Montserrat Alumna Bea Modisett's solo exhibition "Field Work" on view in the Carol Schlosberg Alumni Gallery March 19th-April 5th, 2014!
Be sure to mark your calendars: Bea is giving an Artist Talk on Wednesday March 26th at 11:30a in Hardie 201 (23 Essex Street.)
Her paintings present and preserve nature's instability and impermanence. Her marks accumulate to take on the general shape of changing natural formations. The overall forms in the paintings also relate to cairns and piles of rocks, often found in extreme landscapes. In a sense, each painting becomes a navigational tool, both in its creation and completion. "
—————————
Its Virtue is Immense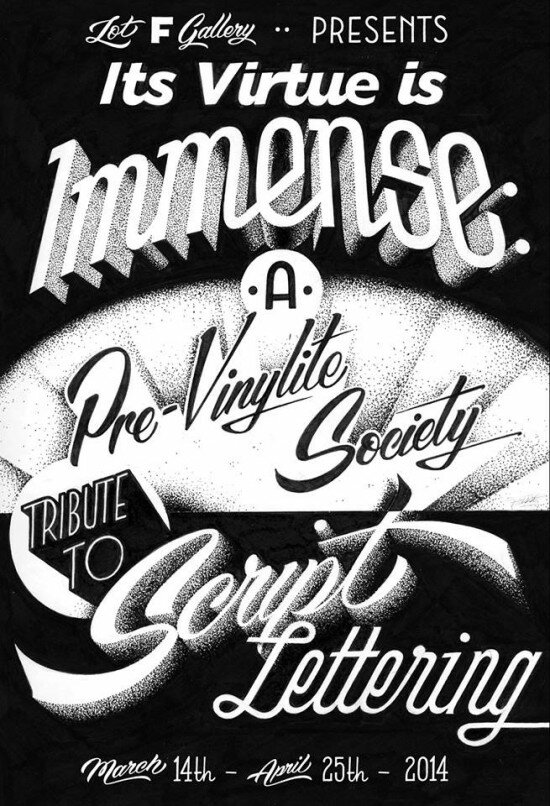 When: On view through April 25th, 2014
Opening Reception: Friday March 14th, 7:00-11:00PM
Where: Lot F Gallery, 145 Pearl Street, Boston, Massachusetts 02110
How: Official Website
What/Why: "Lot F Gallery is pleased to present, Its Virtue is Immense: a Pre-Vinylite Society Tribute to Script Lettering, this March. Curated by Meredith Kasabian of Boston's, Best Dressed Signs, the exhibit features script alphabet focused pieces of art by 20 artists from all over. Meredith explains the idea behind the show: 
"This show presents examples of script lettering from some of the best sign painters from around the world and showcases the aesthetic qualities of beautiful hand lettering. But its message runs much deeper than aesthetics alone. "Its Virtue is Immense: a Pre-Vinylite Society Tribute to Script Lettering" explores questions of privilege, access, and the role of the human hand in an increasingly digital world.
Script lettering conveys elegance, grace, sophistication, and class. In centuries past, a "good hand" was viewed as a sign of virtue and breeding, while a "bad hand" (never mind a total inability to write in cursive) was deemed uncivilized. Script lettering featured on a shop sign can communicate that the goods or services provided are high quality. But hand lettered cursive—whether painted on signs or scribbled in personal diaries—is becoming endangered as more and more schools are forgoing its instruction in favor of more practical skills like typing. In our current technological age of immediacy, cursive writing, like sign painting, is considered aesthetically pleasing but non-essential. "Its Virtue is Immense: a Pre-Vinylite Society Tribute to Script Lettering" is a response to the current debate about the future of cursive handwriting and a rally for continued appreciation of hand painted signs. 
As the debate rages, advocates and opponents stake their claims on cursive's relation to the value of aesthetics, its role in brain development and learning, and its usefulness in the face of perpetual advancements in technology. At the heart of the arguments, however, is a question of history and posterity: what will we lose if cursive is abandoned? Typing is faster, more legible, and more accessible than handwriting. In a similar vein, vinyl signs are faster, cheaper, and more interchangeable than a hand painted sign. If cursive handwriting is no longer taught in schools, only people who have the initiative and access will be able to learn it. If cheaply made, poorly designed signs are allowed to pervade our cities and towns, how will anyone know what a quality sign looks like?"
—————————
What Does the Fed Do?

When: Exhibit is open for guided tours, Mondays 11am-3pm and at other times by appointment through November 20, 2014
Where: Federal Reserve Bank of Boston, 600 Atlantic Avenue, Boston, MA
How: Official Website
What/Why: "To mark the 100-year anniversary of the founding of the Federal Reserve System, the Boston Fed has created an exhibit called "What Does the Fed Do? 100 Years of Serving as the Nation's Central Bank." The exhibit gives a brief overview of the Fed's general activities and addresses some of the common misconceptions that visitors have shared over the years, such as, "The Fed prints money." In addition to the educational content, the visitor will see shredded money from the Boston Fed's very own shredders used in novel, decorative, and informative ways by set designer Steve McGonagle.
To show regional diversity through a slightly different lens, the exhibit will host artwork from different Reserve Banks. On view through the end of May are two paintings belonging to the Dallas Fed, followed by artwork from the Richmond and Cleveland Feds. (For Android users, we have expanded label text for these paintings that can be accessed through the near-field communication tags in their phones.)
Come see the original painting of Woodrow Wilson signing the Federal Reserve Act of 1913, commissioned from Wilbur G. Kurtz Sr. for the opening of the Atlanta Fed, and the two original oil composition sketches by N.C. Wyeth that he presented when applying for the commission to paint the murals for the Boston Fed. The murals are still in the old Boston Fed building, now the Langham Hotel, and our exhibit features full-size replicas in addition to the sketches."
—————————
Photo Eye: Avant-Garde Photography in Europe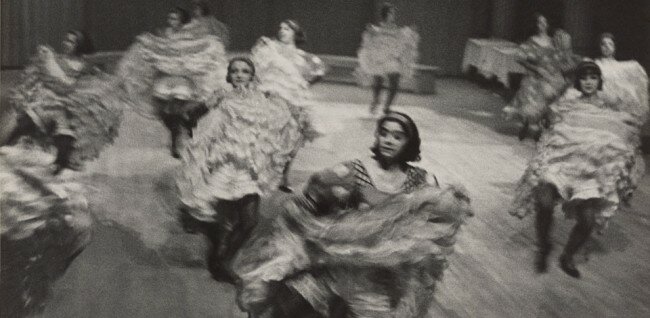 When: On view March 15-July 06, 2014
Where: Museum of Fine Arts, 465 Huntington Ave, Boston, MA 02115
How: Official Website
What/Why: "Photographers working in Europe during the period between the two World Wars made some of the most memorable images in the medium's history. Their goal was to infuse their medium with a fresh and distinctly "modern" style. Influenced by Cubism, Constructivism, Dadaism, and Surrealism, and reflecting the effects that technology, urbanization, and cinema were having on their time, European photographers adopted unconventional and innovative approaches to their image making. Characteristics of their visions include rigorous objectivity, surprising camera angles, and darkroom experimentation. "Photo Eye: Avant-Garde Photography in Europe" charts this shift through the work of artists such as Constantin Brancusi, Ilse Bing, André Kertész, Man Ray, László Moholy-Nagy, and Josef Sudek. Their contributions and those of their peers were central to a transformation in photographic expression in the 20th century. The exhibition includes a number of important new acquisitions, along with select loans."
—————————
Heather McGill: Spiral Galaxy

When: On view through April 15, 2014
Opening Reception: Friday March 14, 2014
Where: Miller Yezerski Gallery, 460 Harrison Avenue, Boston, MA 02118
How: Official Website
What/Why: "The forces of fashion, textile design and astronomy influence Heather McGill's recent body of work exhibited at Miller Yezerski Gallery. Hundreds of cut acrylic shapes are sewn, button style, onto a backing of airbrushed paper. These shapes are configured from historical mappings of the night sky and are used in conjunction with airbrushed patterns reflecting current fashion trends. Gemlike in appearance, these bits and pieces, form intricate patterns, yielding to larger kaleidoscopic imagery. The coloration of each of the eight-framed pieces embraces the organic, that which is derived from nature, and the synthetic, that which is constructed through technology. It is this relationship of opposites that creates the optical vibrancy within each piece. The use of the laser as part of the construction process allows repetition of identical parts and an intricacy that handwork cannot mimic or achieve.  Yet in origination this body of work was inspired by looking up."
————————————–
***Next Thursday I will be Ricki Lake-ing here..
The Strength & Courage Series: Arts & Culture in Boston

When: Thursday, March 20, 2014, 6:30 PM – 8:30 PM
Where: Collaboratory, 40 Berkeley St, Boston MA 02116
How: Official Website
Cost: $4 (members) | $8 non-members
What/Why: "Wonder Women of Boston is an open community of ambitious, accomplished women of all ages and backgrounds in the greater Boston area. We help women network in Boston, building helpful relationships and skills for rewarding life and work.
Whether you work in the corporate or non-profit world; are a community leader, entrepreneur, job-seeker, or student; or you're simply looking for new inspiration, we welcome you to attend a Wonder Women of Boston gathering.
Join us for our first Strength & Courage Series event of 2014, a dialogue on Arts & Culture in Boston. Here is your chance to hear from local artist and cultural leaders about challenges they've experienced over the course of their career and turning points along the way that made all the difference for them. 
Speakers Include: Elizabeth Devlin, Donna Dodson, Malia Lazu, and Destiny Palmer"
————————–
Say hi:
EMAIL | TWITTER | FACEBOOK | INSTAGRAM | PINTEREST
In like a lion, out like a lamb..right?
Have a great weekend! Stay bundled. Go see art. ♥