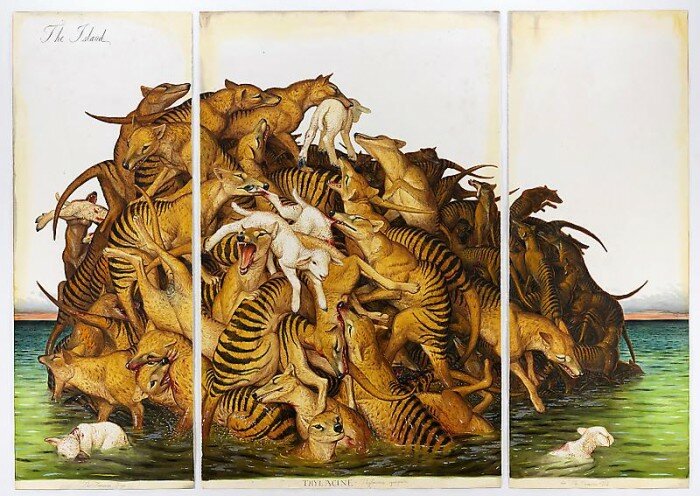 (The Island, Walton Ford)
Well.
Now that FLUX. Offline has left the nest, I'm free again to do what I do best.
Unintentionally rhyme and lurk the internet.
just in time x frivolous wolves x maquina de sueños x history's shadow
———————————
(Maquina de sueños)
"Fernando Vicente is a Madrid-born artist whose work began to come to the forefront in the 1980s. One of his most famous collections is Vanitas, sexy, anatomically-correct inner workings. His attention to muscular detail is astonishing."
———————————

"I am an artist living in Los Angeles who paints, draws, sculpts, and does whatever else it takes to get the job done.  I have a BFA in illustration from Art Center College of Design Aug. 2011.  My goals are killing it, shredding the gnar, and getting rad."
—————-
(Cassowary Jones Versus The Frivolous Wolves)
"When Angie Wang was eight she made a mural on her wall out of snot, and that's when she knew she was artistic."
——————————-
(Saints Preserve Us)
"Martin Wittfooth was born in Toronto in 1981, and spent most of his childhood in Finland, moving back to Toronto in 1993 where he earned his BAA in Illustration from Sheridan College in 2003. He currently lives and works as an illustrator and fine artist in New York City, where he earned his MFA at the School of Visual Arts.
Wittfooth's oil paintings explore disquieting themes of industry and nature, unhinged evolution, the clash of old ideologies with modern fears, and the growing shadow of the human footprint on the earth. Set in atmospheric landscapes rendered over many paint layers on canvas, linen, or wood panels, these themes are realized through a combination of symbolism, the juxtaposition of visual narratives, and the displacement of expected realities. The worlds created in Wittfooth's paintings implore the viewer to question the status quo, to challenge that which is taken for granted, and to proceed with caution on our present course."
—————-

(as though by virtue of an experiment a human being were to change)
" Born in a communist country – by the nonsense of a grotesque power, we – to understand if there is a – to express and to live the – of freedom. After several – we decided to – and to experiment various – ideas in an attempt to define – as what we may call nomadic substances trespassing the limits of being. As if this wasn't enough, we pushed our insatiable appetite for reasoning towards exploring parallel ways of narrating the dialectical relation between space, power and freedom: we arrived at that point in which collating pieces of space and mirroring interiors against an exterior that never happens could become the most effective visual attempt of disseminating the complete broken screen of a thought without object. This is why we were nominated by the Honourable Minister of Delicate Instruments as the chief surgeons responsible for all the incisions and decisions regarding the spiritual amputation of our beloved patients. However, the precision of our Reversible map remains to be confirmed only because sooner or later we might lose the simulated sense of freedom within a network of tunnels running beneath reality. … or not / merci"
———————————
(The Royal Menagerie, Walton Ford)
"This page features surrealism, neo-surrealism, visionary art, magic realism, fantastic art, psychedelic art, experimental art, contemporary art, abstract art, fine art, storyboard art etc."
———————————–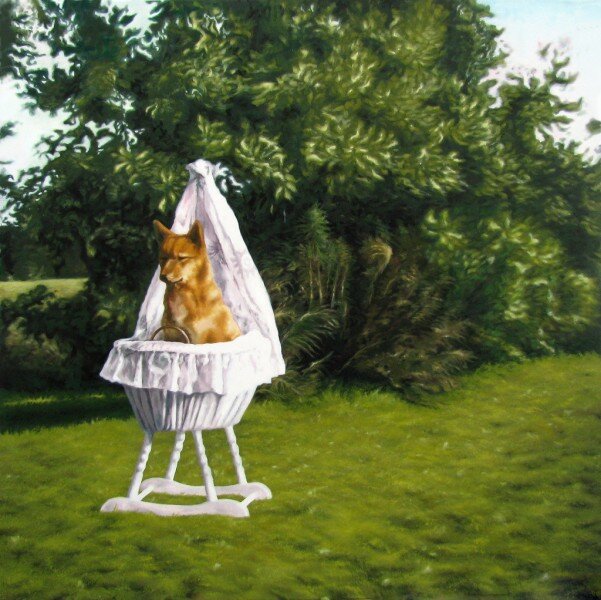 (Just in Time for Afternoon Coffee)
"Popular culture is my television. My art represents what I have seen so far. I was looking for a way to express myself concerning today's materialism and individualism.I was very interested in the whole customisation phenomenon; how you can get anything done just for you. What does it tell about people's self image today if even your credit card can't look like your neighbours one? When we surround ourselves with things that are and look just the way we want them to, what does it mean? Do we think that by that we can somehow exist more? To be what we individually are, even more? Is it a new way to use power and control on other people? Today a new competition has started – You have to know who you are and what you want. And you have to do it better, bigger and faster than anyone else."
Mari also has a penchant for re-imagining My Little Ponies: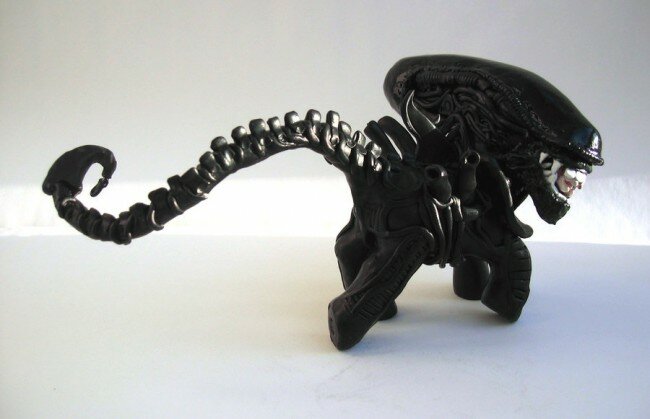 (My Little Alien)
————————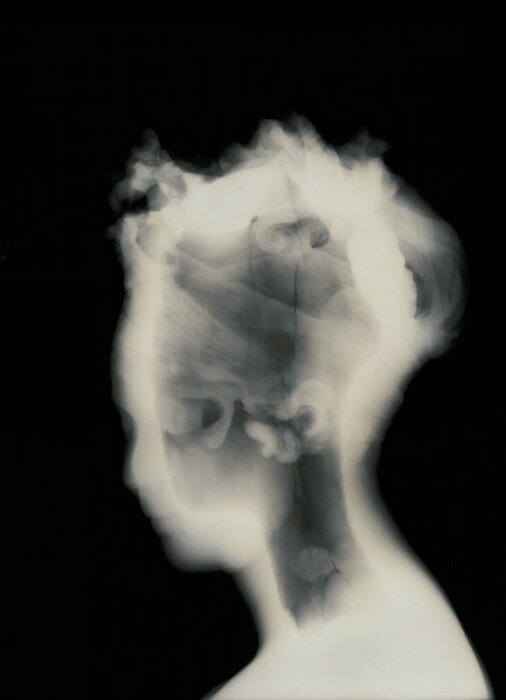 "History's Shadow comprises my series of re-photographed x-rays of art objects from antiquity. I have culled these x-rays from museum archives, which utilize them for conservation purposes. Through the x-ray process, the artworks of origin become de-familiarized and de-contextualized, yet acutely alive and renewed.
My work as a visual artist concerns the dual processes of memory and excavation, and History's Shadow provides for the continuation and expansion of these intertwined themes. During a residency at the Getty Research Institute in 2007, I began to explore the idea of images that were created in the processes of art preservation, where the realms of art and scientific research overlap each other. While photographing the Getty Museum's conservation departments, I became captivated by x-rays of art objects from the museum's permanent collections. The ghostly images of these x-rays seem to surpass the power of the original objects of art. These spectral renderings seemed like transmissions from the distant past, conveying messages across time." (via Le Zebra Bleu)
————–

(Flying Fox)
"Artist, writer, activist, and Yale graduate James Prosek made his authorial debut at nineteen years of age with Trout: an Illustrated History (Alfred A. Knopf, 1996), which featured seventy of his watercolor paintings of the trout of North America. Prosek has shown his paintings with the Gerald Peters Gallery, New York and Santa Fe; Meredith Long Gallery, Houston; as well as with Wajahat/Ingrao, New York, the d.u.m.b.o. arts center, Brooklyn, Reynolds Gallery, Richmond, VA and the Aldrich Contemporary Art Museum in Ridgefield, CT. "
——————————
I've noticed something interesting about my Web Finds posts aside from the blatant interest in wildlife and the macabre..
I keep a running 'web find' doc of internet links, artists, cat gifs, and when it reaches a critical mass, I create a post.  When I re-open the document after a month or so, it seems as if the saved images are all indirectly linked and a pattern emerges.  They almost act as a subconscious curation of my thoughts at a certain point in time.
Deep, baby. FLUX. is the new livejournal ♥