(Power Hive, Heidi Tellefer)
Welcome back to the work week! 
I had serious intentions of being "creative" on Thanksgiving which devolved into drinking a bottle of Yellowtail and talking to Comcast's technical support regarding critical service issues.
But lets take a look at some creative folks who might inspire me to do something midblowing by Boxing Day.
———————————————
(select photos from A Day at the Yale Peabody with Omarion)
Stumbled upon Paul's photography last week.  I love his projects, there is something so personal and intimate about them.  
————————————————
From Chris' blog:
 "Well here we go! It has taken a just shy of a month to colour this image, Far too long, but its been a matter of stealing what time I can in-between my current workload.
It's been great to do something, that doesn't really have a purpose other than wanting to create an image that excites me. It has prepped the way for some new ideas, and given me a bit of a creative injection, trans dimensional assassins and intergalactic bounty hunters next up!"
———————————-
Clear Billboard

–


"A provocative new sculpture has opened at the U.S.-Canada border crossing near Vancouver, BC. It's a billboard advertising…well, nothing. So instead of your usual glimpse of cheeseburgers and red-faced car salesmen, you've got a snarl of stainless steel rods vaguely reminiscent of TV static, but surrounding only the clean air of Blaine, Washington."
(via fastcodesign)
———————-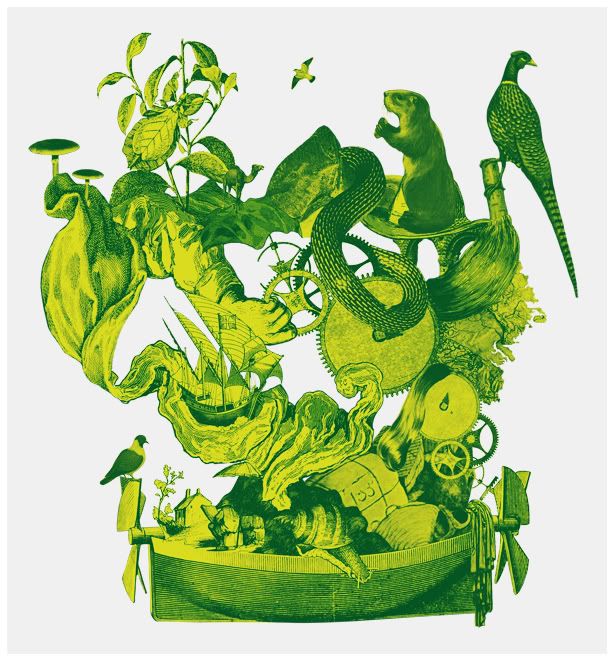 "Freelance graphic designer and illustrator based in Berlin, Germany.
Editor of Picnic in the Dolomites, a daily update on fashion, design, illustration and photography designed to make people happy."
———————————-
(Surfing U.S.A.)
I think this is what the inside of my head looks like. You can check out even more of Collin's work on his flickr stream
———————————-

I'll let Camis do the talking.. "I'm an illustrator, I'm a mama-papa coming for you I'm the space invader, I'll make a rock 'n' rollin' draw for you"
————————-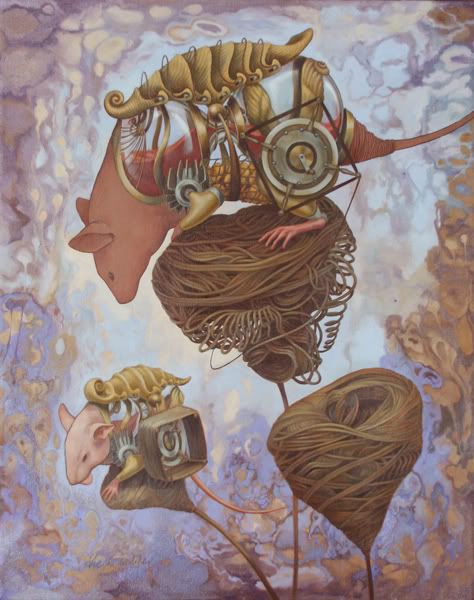 (Woolgatherers)
Excerpt from Heidi's blog:
"Perhaps out of instinct, I use a language of story telling in my work which draws from mythologies around the world, much like our collective basket of religions that have waxed and waned and evolved throughout human history, but have been the hallmark of our being from the get-go. We have a need to make sense of the world around us, to find meaning in suffering (and joy) if only to make it bearable in order to go on. It is the safety switch of a highly developed mind, which can observe its own consciousness and not just be one with it. And whose self-observation is its own best friend and worst enemy, magnifying the often-cruel realities of life. So we either live in denial, or are tortured by certain realities, or find cathartic release and manage to control what is mercifully a malleable perception, in the hopes of tapping into what has to be in the end, a connection to something "other" which we will probably never fully grasp. And which to me would all boil down to physics and the link between consciousness and some quantum dimension (dimension number 11). "
——————————————-
("Something in the Air" process gifs)
"Process GIFs are my new favorite thing.These birds were 'painted' in photoshop (I know there is software better suited to this but I live in Photoshop – I'm comfortable there)."
(via notcot)
———————————-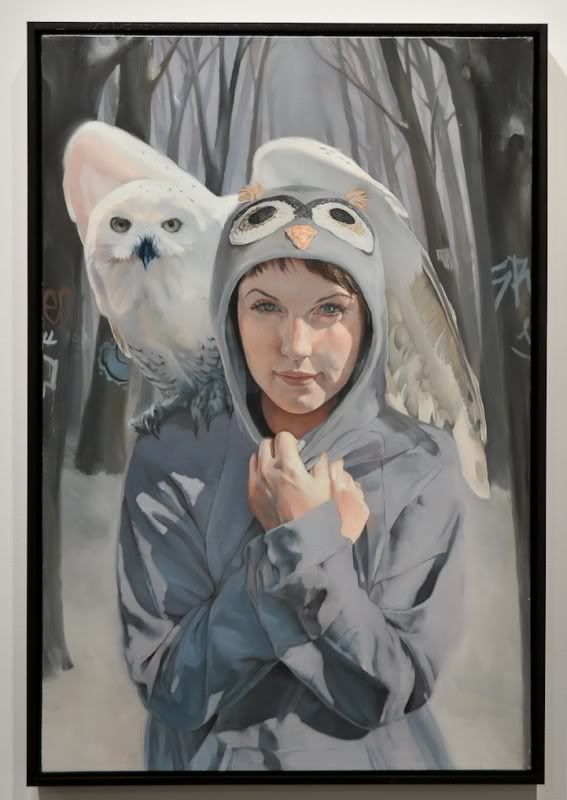 New work from Nate Frizzell for his show 'I Should Know Who I Am By Now'.
"There are a couple things going on in this show," says Frizzell. "The first thing you'd probably notice is that just about every painting has a cold winter setting. But each painting is still about self discovery…finding out who you are and what you want to be. I've unmasked a lot of the characters and related them to animals in different ways. I'm trying to convey a bit more confidence in the subjects while balancing that with their cold, bare surroundings to show how fragile they still are.
"I've always been interested in the symbology different cultures have for all kinds of animals. But it's a little more than that. I don't think you need to know anything about that when you see animals in the wild or watch them on the screen. They have basic needs and wants and characteristics and you can see it in the way they look and in the way they move. People are constantly putting on masks to hide what they are really thinking or feeling. I use the animals in the paintings to show what the subject might strive to be more like or sometimes what they may want to overcome."
(via mymodernmet)
———————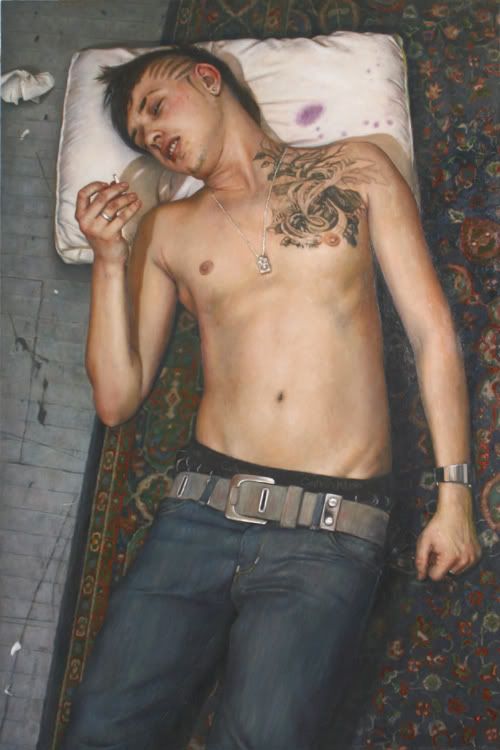 There is something about Ryan's paintings featuring gutter punk characters that caught my attention.  His compositions feel voyeuristic, and the artists is able to capture these private and almost dirty moments with his subjects…akin to following Pete Doherty around with a camcorder.
——————
And for good measure..
"Set for a December 2, 2010 release worldwide, California label The Hundreds have joined forces with Jim Davis and the Garfield gang for a collaborative collection. Sticking with the collectible nature of Garfield product, the capsule encompasses a full range of The Hundreds gear – from graphics t-shirts and New Era caps to skate decks and footwear – plus a bunch of other novelty items, such as vinyl toys, pillow and mugs. Working with the 1980s' styling of the cartoon, The Hundreds were able to capture a classic sentimental spirit that many of us who grew up in that era can relate to."
Take a sneak peek at the collection here.
(via highsnobriety & Nate Frizzell's blog)
I love when random collaborations crop up in urbanwear like the Spy v. Spy shoe, a marriage between Boston based Bodega and Puma in 2008.
Still drooling. ♥