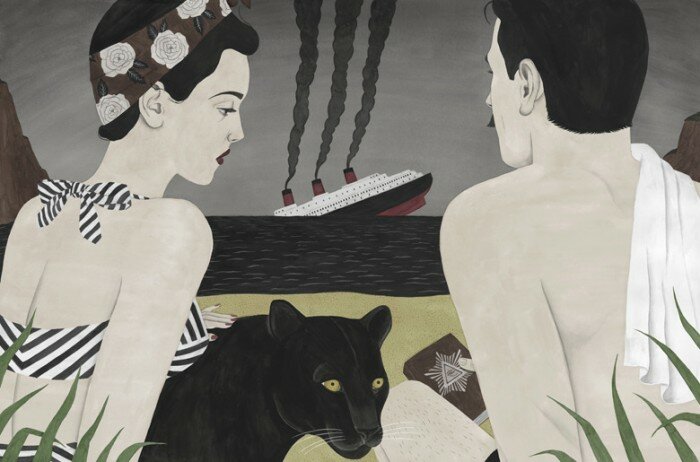 (Beyond the Sea, Paul X. Johnson)
June has been kind of a blur.
My life is still in boxes on the floor of the new space, my skin is peeling off from SPF 0, and I've been working on several not-so-secret projects for FLUX. ..
..and loving every minute of it.
HOWEVER. My internet lurking has been down! I haven't even had a chance to check in on members of my graduating class to see who got fat or if my exes are dating anyone notably repulsive.
Let's change that. I crawled the web seeking some much needed inspiration and this is what I found..
————————
"For Bard, the simplest of all subjects, be it a shoe, a leg, a torso, a foot, a dog or a face takes a tragic and magnificent dimension. He manages to translate all his intimate emotion into a two-dimensional art work; each painting is an endless exercise of composition, rhythm and struggle and the use of multiple layers of oil accentuates the feel and dynamic mood of all his paintings.
Francois Bard gives a part of himself in every canvas. The horizon-the vast limiting of human experience is a phenomenon that has fascinated Bard. The horizon draws a line between here and not-here, between day and night, good and evil, us and them.
Bard's paintings can be described as 'edgy.' There is a dark, urban quality to his paintings that evoke both a sense of danger and of loneliness and alienation of modern, urban life. He achieves this not only through the darkness of coloration and much of his subject matter, but also by the isolation, even abstraction of his subjects. Bard not only favors the close-up, he often paints fragments: a man's head, a woman's legs, a man's feet, or a cigarette butt on the sidewalk. His subjects are invariably shown waiting, alone, but waiting for what or for whom? He is also known for his paintings of people with their dogs and curiously, the perspective is from the vantage point of another dog and Bard's dogs are always alert, on edge. There is a freshness to Bard's paintings that are particularly impressive due to a paucity of sentimentality and lack of being cliché."
—————————————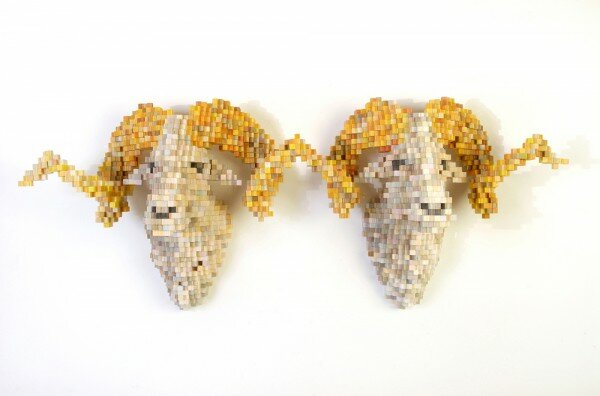 (Double Dahl)
"My work investigates the slippery intersection between the digital world and reality. Specifically, I am interested in how we experience nature through technology.  When we see images of nature on TV or on a computer screen, we feel that we are seeing nature but we are really only seeing patterns of pixilated light.
For the past few years, I have been creating a series of "Re-things." These whimsical sculptures represent pixilated animals and objects of nature. I find images of my subjects online and then create three-dimensional sculptural representations of these two-dimensional images.  I build my "Re-things" pixel by pixel to understand how each pixel plays a crucial role in the identity of an object. Through the process of pixilation, color is distilled, some bits of information are lost, and the form is abstracted. Making the intangible tangible, I view my building process as an experiment in alchemy, using man-made composite and recycled materials to represent natural forms."
(Modern Love)

"Whilst his pictures use motifs often seen around this way – animals in Vaughn's Wildlife series, superheroics in his Wildlives project – they are handled with considerable sensitivity and intelligence. In Wildlife the less-than-straightforward co-existence of nature and technology is portrayed in the most subtle of ways, via illustration that's contemporary in the height. A seemingly simple picture of a bird perching on a branch, as a helicopter approaches, instantly bathes the viewer in all the mixed feelings one should have at seeing such a scene – but rarely stops to consider. In Wildlives, children in jury-rigged costumes and battle armour prepare for action, and a young worker, a frustrated shop clerk perhaps, dons a cape.
This all comes from a moustachioed gun nut. There are more surprises to Vaughn: "He thinks of art as a privilege, not a gift … Vaughn approaches his studio at 9am and leaves at 6am unless he's preparing for a show, when he never leaves. He is the only artist with a blue-collar mentality," said Malibu magazine. And they should know." ( writeup via Lazarides)
———————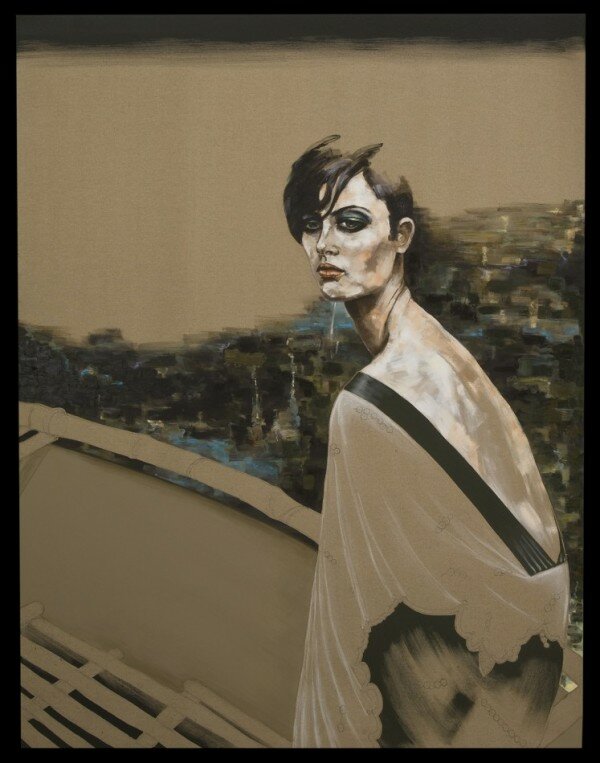 (Without a Paddle)
"Martha Parsey, born in London in 1973, studied painting and film at Central St Martins and the London College of Printing, as well as at the Hochschule der Künste and the German Film and Television Academy, Berlin. Her films on Francis Bacon have been screened at the ICA and Hayward Gallery, London, the Centre Pompidou, Paris, and the Haus der Kunst, Munich. Her paintings have been exhibited widely in solo exhibitions in Berlin, Cologne and London as well as the Museum Ludwig, Aachen. Her work is in a number of prestigious collections worldwide including the Ovitz Family Collection and the Zabludowicz Collection. Martha Parsey lives and works in Cologne."

——————

(detail of Bear Rock)
"Her work eternally explores and expresses her personal love for drawing the creatures that roam this planet …"
—————————-
The Work of Katsuyo Aoki
(Predictive Dream XVIII)
"Currently, I use ceramics as my material in my method of expression, incorporating various decorative styles, patterns, and symbolic forms as my principal axis in creating my works.
The decorative styles and forms I allude to and incorporate in my works each contain a story based on historical backgrounds and ideas, myths, and allegories. Their existence in the present age makes us feel many things,; adoration, some sort of romantic emotions, a sense of unfruitfulness and languor from their excessiveness and vulgarity.
And on the other hand, they make us feel tranquility and awe that can almost be described as religious, as well as an image as an object of worship.
By citing such images, I feel I am able to express an – atmosphere- that is a part of the complex world in this age."
—————-

(Two Earthlings)
"…Brosio says his fascination with spectacle began early in life. Like many friends his age growing up in the shadow of the film industry, he was drawn to filmmaking. "We all grew up on Pinocchio, Godzilla, and The Wizard of Oz. We saw Star Wars at the perfect age of 8 or so. And our heads were spinning with color, sensation, orchestration, and the desire to participate," he says. "By the fourth grade we all wanted to make multi-million dollar space epics." (excerpt via Southwest Art)
———————

(Mugshot)
"Hi there, I am Paul X. Johnson. I make pictures. Sometimes people pay me to make pictures for them.  I recently graduated and now I spend my days living, creating and drinking tea in the north east of England, where I live by the ocean."
Unhelpful Aside: I am in LOVE with his work.  I can't handle it.
————————–
(Tigers in the Night)
"Raised in cities including Calgary, Nairobi and Boston, Erik Olson is an artist and graduate of the Emily Carr University of Art + Design (bachelor's degree 2007). Since 2006 he has worked with international artist Gordon Halloran to complete paintings in Italy as well as Millennium Park, Chicago and then again during the 2010 Vancouver Olympics. Olson has exhibited his paintings at the Art Gallery of Calgary, is represented by the Skew Gallery and directed IDEAL, a temporary visual arts exhibition space in Calgary. He has participated in residencies at the Banff Centre, Emma Lake and the Sanskriti Centre in New Delhi, India. Most recently, in 2010, he motorcycled across the diverse and rapidly changing landscape of India to inform a new series of paintings. His work is characterized by thick, loose brushstrokes that weave pictorial spaces into integrated systems."
———————

(Rock and Roll Luau)
"Natalia Fabia is of Polish descent and was raised in Southern California where she graduated from Art Center College of Design in Pasadena. Inspired by light, color, punk rock music, hot chicks and sparkles, Fabia is fascinated with "hookers", which fuels her paintings of sultry women."
Aside: I love the names of her different series. Including but not limited to: Cocktail Face Portraits and Hooker Safari.
—————————————————————————————-
And because I am extremely interested in how artists operate, I decided to include a few links related to the process of creating work..
"For those of you who have written to applaud us on our previous efforts to create beautiful and unusual advertising, we proudly present an inside look behind the scenes of our latest effort, entitled, 'Brooks. Unquestionable British Tradition.'"
——————————–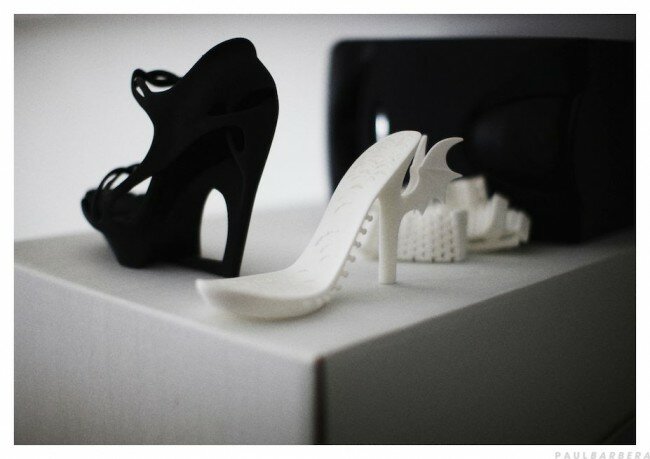 "F.O.C or Freedom Of Creation based in Amsterdam. 9 years ago I shared studio with Janne, and back then I knew that 3D printing was going to be big, no surprise that Janne is one of the leading voices on the subject now."
——————–
Kevin Tong x Black Keys

"This was a challenging poster to design and to screen print for many reasons. The sharp edges of the clean lines are hard to maintain through a large run due to bleeding, paper expansion, and smudging.
The colors are created by multi-level overprinting, where the colors are deliberately mixed to be semi transparent and they overlay each other in certain areas to create additional colors. The paper is black, so when a color hits the paper directly, it appears darker and less saturated and the lighter colors are created by building up the layers.
The overprint nature created another level of difficulty, because the colors had to be both transparent and bold, so a lot of time had to go into color proofing and mixing. Also, due to the overprinting, the different layers had to be registered very tightly."
(via bldg//wlf)
—————-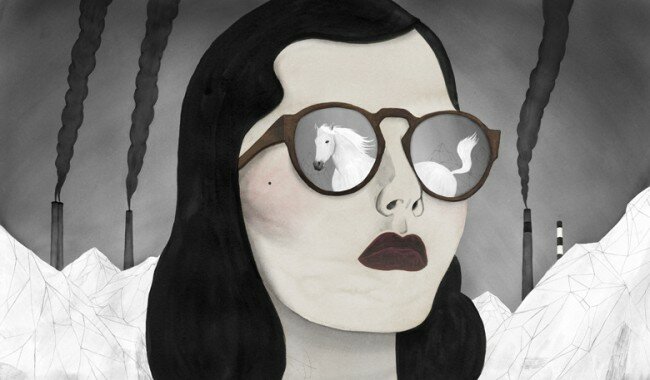 In regards to my graduating class.. one former heartthrob has a loaf head(presumably from binge drinking) and a receding hairline, and some other chick had an ugly baby.
Ahh, peace is restored to the land. ♥