Somerville Open Studios were held last weekend. With 391 participants, this event became the largest one weekend open studios in the nation and kept me busy hoofing around.
Let's discuss..
——————————————————————————
The largest community of the bunch was bustling as expected. With Vernon Street buildings 6+20 combined, visitors were crawling all over the place.  More specifically, babies.  Carriages everywhere, like those unreasonable quadruplet strollers were barreling down the halls.  However, the higher up you went in the buildings, the less traffic you encountered, which made me thankful I could escape the drunk moms on the 2nd floor if need be.
A few favorites included: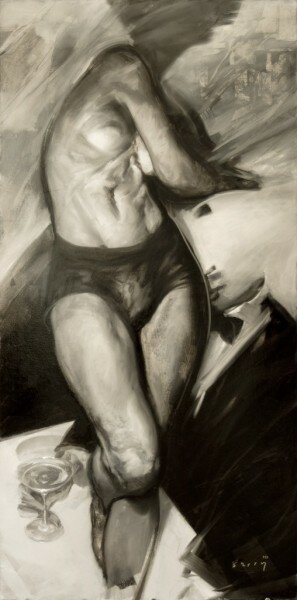 (Respire)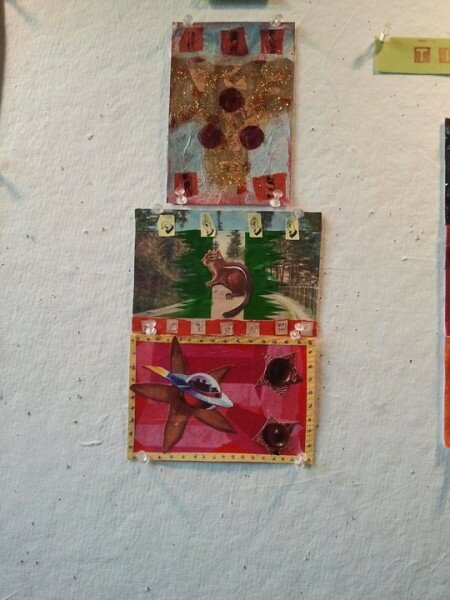 Also loved Jeanne Marie's sketches of people's reactions to her art..

Tossed and Found
(Still the Same)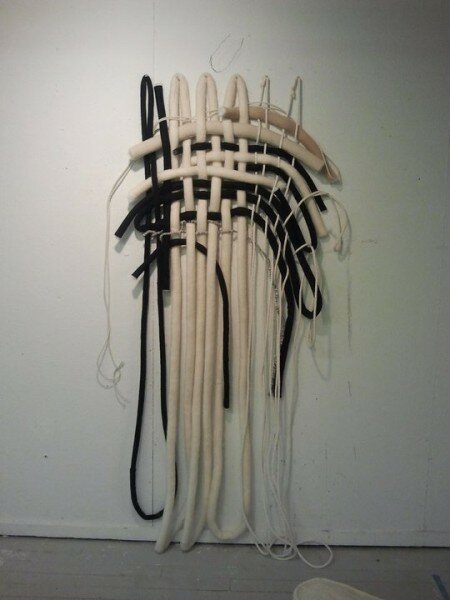 (Loom Weaving II)
Kristin Martensen
(Kristin's work was in the halls, but no studio space I could see. Girl, are you real? Get a hold of me.)
——————————————————————————-
I was interested in checking out the Little House studios after becoming acquainted with Joe Keinberger's work at a Space 242 show a few years ago. Four different rooms of the house were opened up for wanderers to enjoy.  A fairly innocuous registration/guest book area sat across from a curtained off room.  Stepping inside you are suddenly swaddled in pink and bombarded with posessed childrens toys, doll heads, evil creatures, and body parts..much like my Nana's house.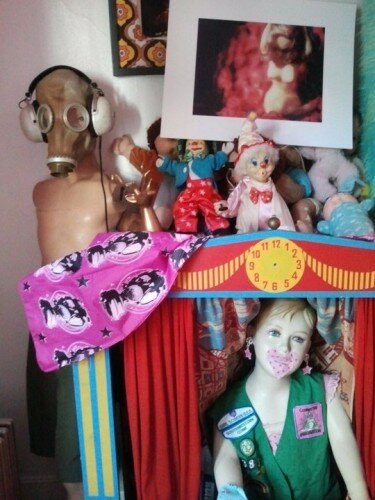 Upstairs were the studios of Alethea Roy and the aforementioned Joe Keinberger.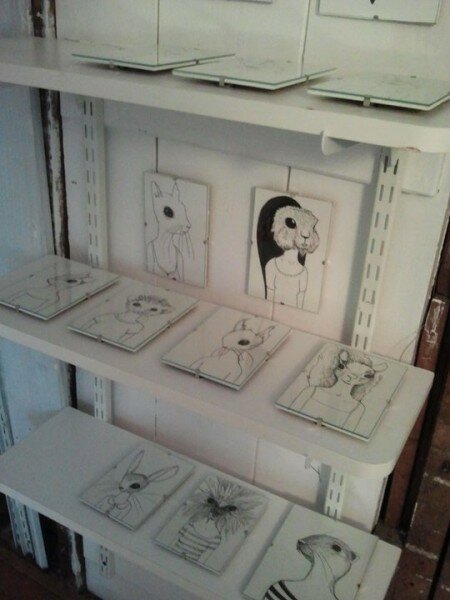 Alethea's studio was full of animal portrait pen and inks and doe eyed girls which was a stark contrast to Joe's studio full of skulls, demons, fire, zombies, the dead, and the undead.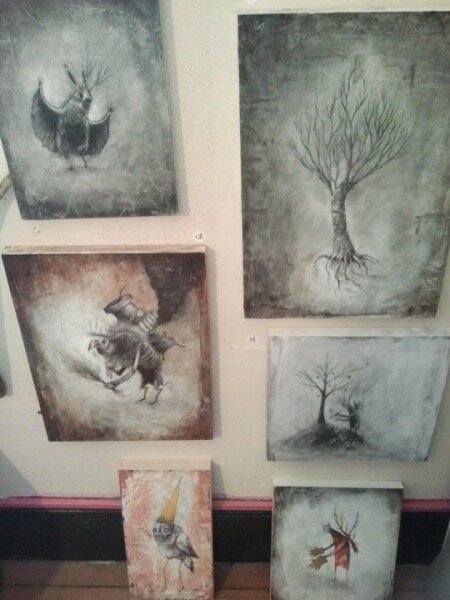 On my way out of Little House, two old ladies stopped me..
OL1: "Is it cute in there?"
me:"Well..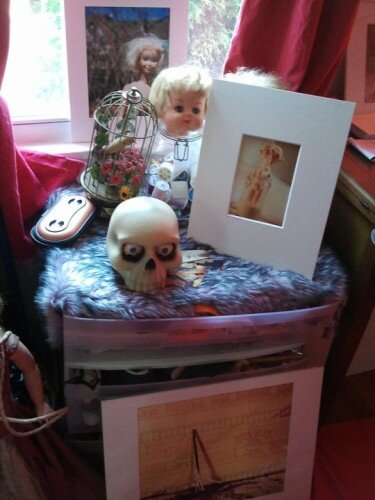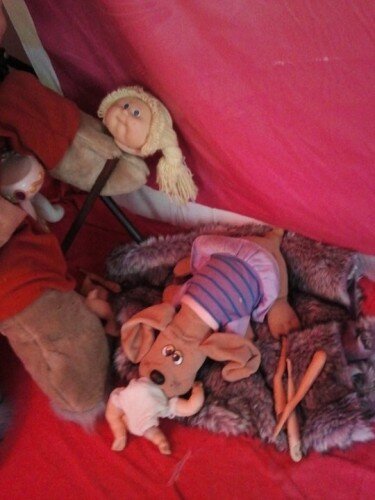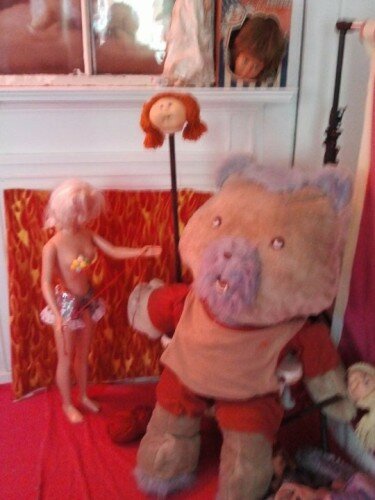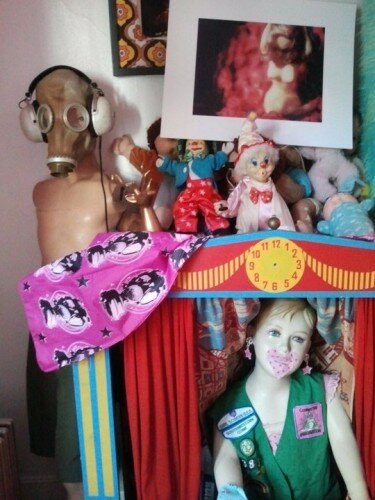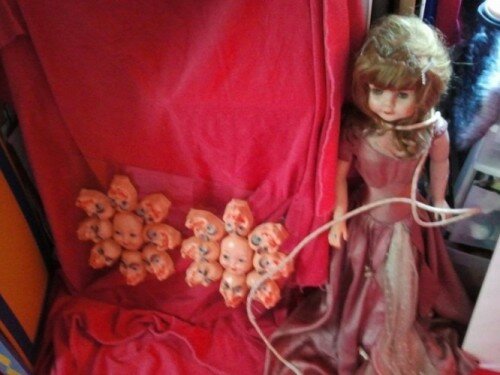 "
OL2: :O
——————————————————————————-
If you live in Boston, you've SEEN this building. Maybe in person, maybe in your nightmares, but this whitewashed shrine-like establishment was recently purchased by the owners of the Middle East to revamp as a music venue.  I'm not sure how well that is going due to neighbor noise complaints, but for the weekend it was a high school gymnasium full of arts and crafts.  The standout was definitely the mixed media work of Lucy Nadeau.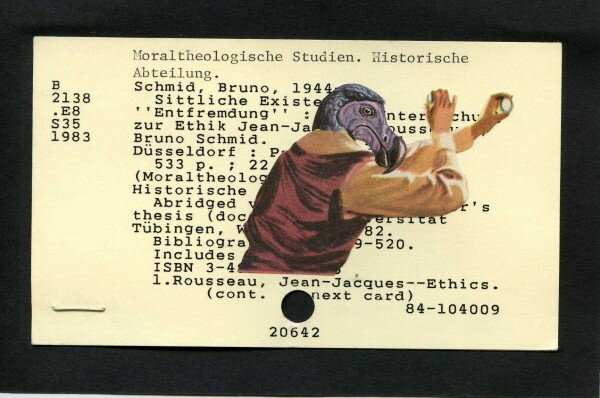 "I am interested in the exploration of fear, desire, and identity and the internal and external forces that shape these emotions. I use images borrowed from textbooks, medical journals, and antiquated encyclopedias and give them a new environment or narrative through collage and painting. I will also replace the normally didactic language of those materials with emotionally wrought dialogue."
The rest of this visit became a drinking game to hastily finish our beers and move on to the next location.
"Every time you see a greyscale photo of a bike wheel, take a swig."
drunk.
——————————————————————————-
Joy Street and Brickbottom Studios share the same general area near the Lechmere T Stop and I usually make it a point to go to both.  However, we got a tip that Brickbottom wasn't really opening its doors this year and I couldn't risk walking over there the 1/4 mile in my fashionably painful flats only to end up in front of a floor to ceiling poster of  Babe 2: Pig in the City.
Fool me once..

(all the riches come and go)
Jason is an artist I mentioned in last Fall's Open Studios recap, and he was certainly working the crowd this year.  His drawings flooded the hallways, affordable art bins were out, processed cheese and wine were flowing and displays of his students work were scattered about the studio.  Jason also offers classes, which I will elaborate on in a later post..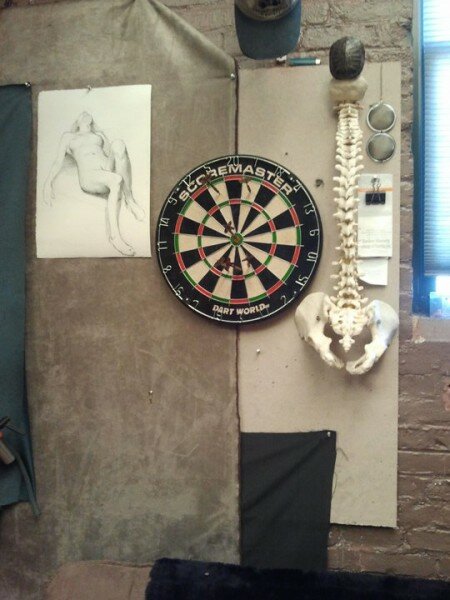 ——————————————————————————-
A few years back there was a huge fire in a Cambridge art community that incinerated many artists' entire body of work.  Several of those resilient artists stuck together and ended up moving into the studio spaces at Mad Oyster.  A unique building off the beaten path not only houses studio space but a Pets in Need shelter on the bottom floor.  They are always looking for donations and their cats were adorable. It was hard to walk away without adopting one, but then I remembered what a raging bitch my dog was.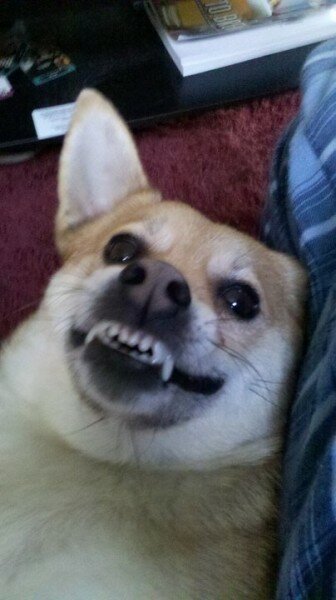 Only child. ♥
I had the pleasure of meeting JB Jones in his gorgeous 2nd floor studio.
"I declared victory on my career of nearly 30 years in architecture one day in 1995, and on the very next day began a new career as a painter. In the process of recapitulating the history of art in order to find my place in it, I discovered a few things that have continued to inform my work. I found, for example, that I am not interested in making things that point to an experience or address issues. This is probably because I came to consciousness of art in the early 1960s, when the idea was to make something which, instead of pointing to an experience, becomes the experience itself. The critic Kenneth Burke said that the work of art does something for both the person who makes it and for the viewer, but it may not necessarily be the same thing.
I was also lucky to find out early that looking for more intensity in my work did not mean using new media or materials, but rather meant reaching a better understanding of the traditional techniques and materials of painting that have been in use for four hundred years: canvas, pigment dispersed in linseed oil, bristle brushes. I suspect that four hundred years from now, if our benighted race contrives to last that long, nobody will remember what television or holography were, but they will still be painting and drawing, perhaps with the same stuff.
Most of my paintings are large, about four feet by five feet, and use everyday things as subject matter: a key ring, a box of pencils, an open book. These things appear as if viewed in an intense close-up, with images on the canvas that are many times the actual size of the object. These images become ambiguous, pushed to the edge of abstraction. An untraditional palette and high-key contrast are also part of what lifts these quite realistic paintings of ordinary things into evocative pictorial inventions.
My process begins with imagining forms and colors that elicit an emotional response for me, and then finding or making something that looks like what I had imagined. This is the opposite of seeing something beautiful and making a painting of it. Alfred North Whitehead said that "…art unlooses the depth of feeling from behind the frontier where the precision of consciousness fails." I love being part of a tradition that can touch people in this way."
Such an amazing artist who took the time to talk to us about his process, show off his latest works, and his infectious excitement regarding his paintings made me want to head back into the studio my living room and put brush to canvas.
——————————————————————————-
Closing remarks: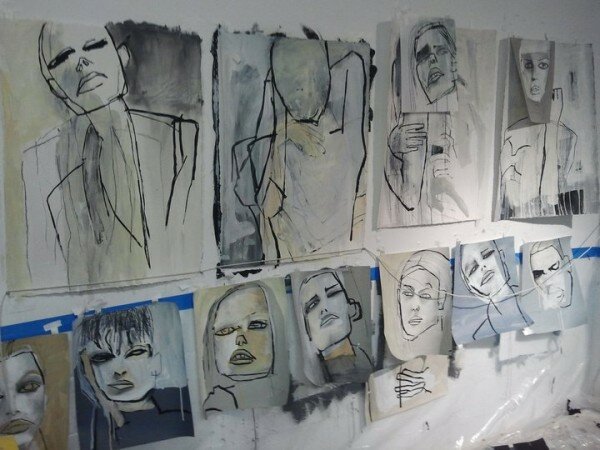 1.)Is it just me, or was it jewelry overload this year. 13+ designers in Joy Street alone including some kid who made "functional glassware" see also: bongs. Ugh.
2.)Did you think having the Somerville Open Studios as one giant community weekend was a good or bad thing? After talking to artists and walking around myself..verdit: bad.  It is nice that this event received so much publicity, but communities I would normally carve out a day for had to be limited to a rushed hour or so to get around to everything.  There was NO POSSIBLE WAY to go to every studio.  And that being said-I feel bad for the 1 of artists who opened up their homes for the weekend and were overlooked in favor of hitting up the higher concentration areas.  There were definitely a few homes I wish I could have stopped by, but there was just no way..and this was after blocking off 2 full days of studios.
If you were a small home and I totally missed out, let me know. Your work deserves a shout out too!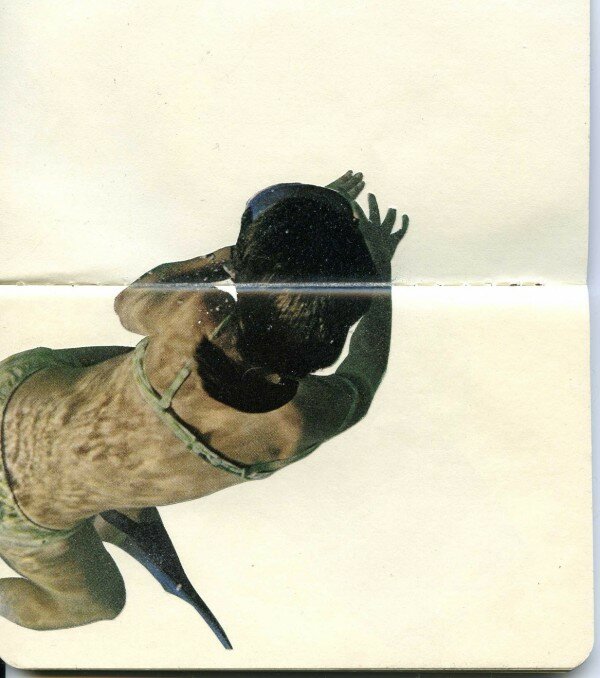 For more shaky cellphone pictures from the Open Studios, check FLUX.'s Facebook page!
This is only the beginning and I can't wait to check out the rest of the open studios happening this Spring. ♥