"Painting should not be exclusively visual or retinal. It must interest the gray matter; our appetite for intellectualization."-Marcel Duchamp
Don't worry, there is more to this seemingly meta-tale..
——————————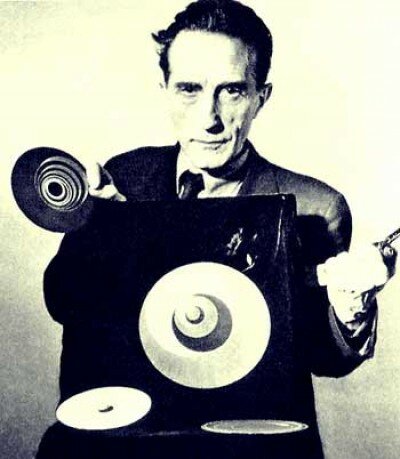 The Anémic Cinéma was a short film created by Marcel Duchamp in 1926. The video features spiraling images called rotoreliefs, alternated with discs displaying French puns.

"Rotoreliefs were a phase of Duchamp's spinning works. To make the optical "play toys" he painted designs on flat cardboard circles and spun them on a phonograph turntable that when spinning the flat disks appeared 3-dimensional. He had a printer run off 500 sets of six of the designs and set up a booth at a 1935 Paris inventors' show to sell them. The venture was a financial disaster, but some optical scientists thought they might be of use in restoring 3-dimensional sight to people with one eye." (via wikipedia)
Duchamp later created a wall mounted version of his rotary demisphere (essentially a turntable covered in black velvet with magnets to secure the rotoreliefs) for viewing his work. And last weekend, I had the pleasure of seeing one these devices in action as a part of a private collection.
Similar to this one:

To get the full experience, I would close one eye and suddenly a wine glass or a fishbowl would spring to life from the gyrating discs.  I have always been intrigued by illusions and optics, and naturally managed to play it cool while waiting between images.
What's fascinating about collectors who live among many great works is how, in some cases, the pieces themselves are incorporated into the existing surroundings. This particular device was tucked away on a bookcase shelf in the collector's living room. I wish I could say there was a Duchamp piece hanging out in my TV room, but the closest I will ever get is if I were to write "R.Mutt" in sharpie on my toilet.
Aside-what I also think is interesting about Duchamp's tale, as touched upon above, is this humbling vision of the artist manning a booth at the inventors' show, earnestly peddling his rotoreliefs among hundreds of other vendors, and no one cared!

(Marcel Duchamp presenting his Rotoreliefs on his stand at the Concours Lépine, gets a visit from Henri-Pierre Roché. via)
"None of the visitors, hot on the trail of the useful, could be diverted long enough to stop there. A glance was sufficient to see that between the garbage compressing machine and the incinerators on the left, and the instant vegetable chopper on the right, this gadget of his simply wasn't useful.
When I went up to him, Duchamp smiled and said, 'Error, one hundred per cent. At least, it's clear.'
(via Marcel Duchamp by Robert Lebel)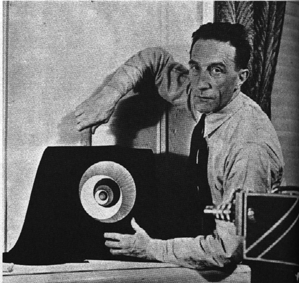 Applicable Successory™ Mantra: If at first you don't succeed, try, try again.
See a webversion of the rotoreliefs here.
Learn about the highly sexualized puns featured in Anémic Cinéma here.
Read a Cliff Notes of Duchamp's life/projects here. ♥