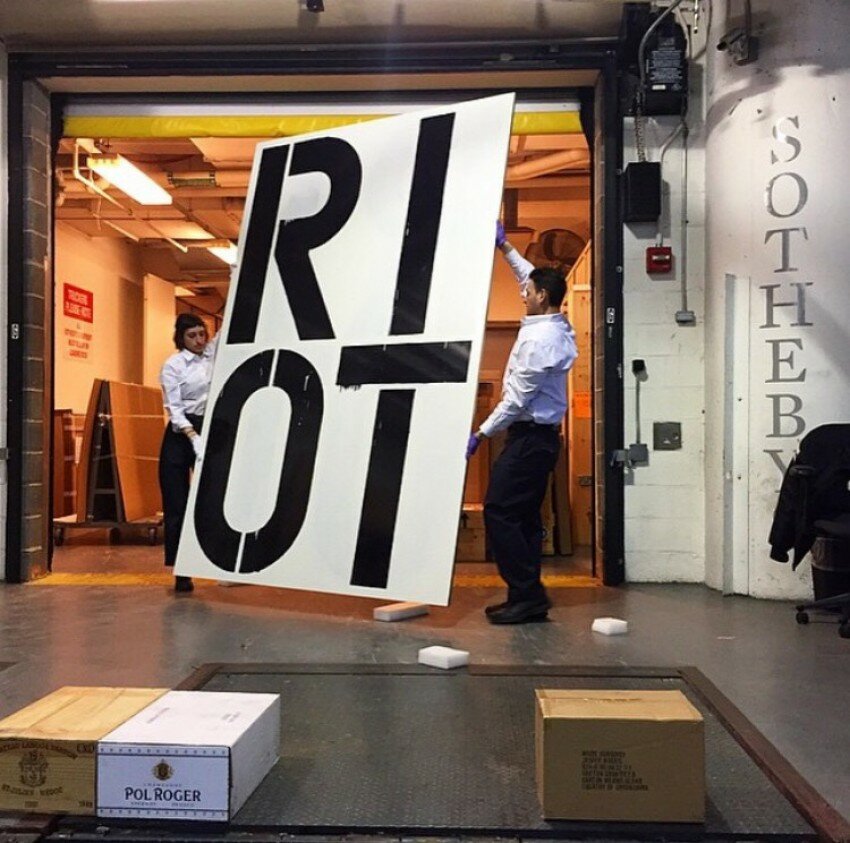 model citizen x mobilize x wild thing x love affair with technology
————————————————-
Paul Shakespear

When: On view Oct 16 – Nov 17
Where: Miller Yezerski Gallery, 460 Harrison Ave, Boston, MA 02118
How: Official Website
————————–
Color Constructs | Margaret Swan

When: On view October 7th-November 8th, 2015
Where: Boston Sculptors Gallery, 486 Harrison Ave, Boston, MA 02108
How: Official Website 
What/Why: "Margaret Swan's relief constructions refer to architectural structures such as walls, doorways, bridges, and piers in the way the forms layer and span a series of open spaces. Composed of basic wood building materials, such as plywood, shingles, and laths, the reliefs incorporate subtle shifts of perspective in relation to the colors and shapes of the wooden elements. Working on a ground of stained plywood, Swan layers the pieces over a structural grid, much like the studs in a wall. Often the inherent grain of the plywood is accentuated through color that evokes the illusion of water or air currents. Contrasts of architectonic and organic forms in concert with intense and saturated color, add to the dynamic quality of these pieces."
Dan Wills | Making Tracks

What/Why: "One might say that the mental activity of an artist manifests itself as a series of tracks. In Making Tracks, Dan Wills exhibits selections from his work since 1986. During this time, switches in thought create divergent images for Wills. He often works from intuition rooted in childhood memory, not necessarily in closely related series."
————————–
Illuminus Festival

(Your Heart is a Prism, Kevin Clancy)
When: Saturday October 10th, 2015 6:30PM-12:30AM
Where: Lansdowne Street, Boston, MA
How: Official Website
What/Why:"A free nighttime festival where artists, designers, performers, and creative technologists converge to showcase their most thoughtful, innovative, and imaginative works. Boston's "nuit blanche," ILLUMINUS attracted over 10,000 visitors to the SoWa Arts District in its first year. This year's festival will take place in Fenway on Lansdowne Street the weekend of October 3rd as a part of HUBweek."
————————–
Nina Tichava

When: On view through October 31, 2015
Opening Reception: October 2 from 6-8 pm
Where: Chase Young Gallery, 450 Harrison Ave, Boston, MA 02118
How: Official Website 
What/Why:"My paintings are about relationships; I'm interested in the interactions between materials and methods as well as the color and spatial relationships that naturally develop in process.
Using painting and printmaking techniques, I interweave drawing and collage with a variety of media. Simultaneously painterly and constrained, my paintings are composed of complex layers, many of which are over-painted and concealed. I describe my work as "abstract painting with botanical and architectural references", as the pieces suggest natural forms (birds, leaves, branches), man-made structures (buildings, windows, lights) and patterning both natural and designed (woven fabrics, strata of earth, pixels).
The works are emotional and imperfect, and as objects they embody my response to things mass-produced and idealized-perfection is unattainable. The paintings are collections of moments from daily life: combined glimpses, thoughts, memories and objects. By design I am inaccurately trying to describe not only what things might look like, but also how they feel, which is where the beauty in it lies for me."
————————–
Land Ho!

(Sally Curcio, Miami Beach)
When: On view through  January 10th, 2016
Where: Fitchburg Art Museum, 185 Elm St, Fitchburg, MA 01420
How: Official Website 
What/Why: "The Fitchburg Art Museum is pleased to bring together the past and the present, the traditional and the contemporary, the old masters and emerging artists in Land Ho!, a group exhibition that celebrates the timeless lure of the landscape in art.
From majestic mountains and gently rolling hills to bucolic pastures and dewy, green fields, our landscapes are ever-changing terrains with the power to move, excite, and inspire us. Artists have been spellbound by the beauty and mystery of the landscape for centuries, and it is a rare and wonderful treat when landscape paintings from generations past hang side by side with works by twenty-first century talents."
———————————-
Maxfield Parrish: The Power of the Print

(Maxfield Parrish, Edison Mazda Lamp Works Calendar featuring Dawn)
When: On view October 9th, 2015-January 10, 2016
Where: Currier Museum, Currier Museum of Art 150 Ash St., Manchester, N.H. 03104
How: Official Website
What/Why: "New Hampshire artist Maxfield Parrish (1870-1966) was arguably the most popular American artist in the early decades of the 20th century. High quality color prints of his paintings and illustrations, in the form of advertisements, magazine covers, calendars and art posters, could be found in millions of American homes. By harnessing the power of the print, Parrish ensured his images became rooted in the imaginations of multiple generations, leaving an indelible mark on American visual culture. This exhibition offers a large selection of vintage prints featured on mass-produced calendars, as well as three original Parrish oil paintings."
—————————
Lisa Costanzo: Flight of the Bumblebee

When: October 2 – November 22, 2015
Opening Reception:  October 2, 5:30-8:00pm
Where: Laconia Gallery, 433 Harrison Ave, Boston, MA 02118
How: Official Website
—————————
The Fort Point Arts Community's 36th Annual Open Studios Weekend

When: October 16, 17 and 18, 2015 | Friday Preview 4-7:00 PM, Saturday and Sunday noon-6pm
Where: Fort Point, Boston, MA
How: Official Website
What/Why: "Explore the historic waterfront warehouses that are home to painters, sculptors, ceramicists, jewelers, performance artists, printmakers, book artists, photographers, and more. Meet local artists and craftspeople, and get a behind the scenes look at where Boston artists create their work. Find established artists, and discover new emerging talents. Stroll, ponder, and browse. Buy original art from the people who make it.
Visitors to Open Studios can tour artists' studios in 14  buildings in the Fort Point neighborhood, as well as galleries and pop-up exhibit venues. All buildings are in easy walking distance of each other. Free participatory art-making activities for all ages will take place on Saturday and Sunday. Performance and special events are also part of this year's Open Studios."
—————-
Interdependence

When: On view through October 16th, 2015
Where: Cummings Arts Center, Connecticut College, 270 Mohegan Avenue, New London, CT
How: Official Website
What/Why:"Cummings Art Center is pleased to present Interdependence, the first exhibition of the fall semester featuring the art of Kate Gilbert and Abigail Anne Newbold, curated by Mary Tinti. In this two-person show running September 7 – October 16, 2015, both artists employ similar design and conceptual aesthetics in their investigations of the darker psychologies of independence and comfort. Shown together for the first time, their subtly humorous works may prompt viewers to feel both uneasy and reassured. These design-focused artists come together in their desire to create clothing, accessories, and toolkits for survival in a world filled with anxiety and uncertainty. And they take a unique approach to exploring their relationship to economic hierarchies. They share a love of display environments, the creation of characters and the proclivity to combine high and low materials. The resulting exhibition highlights the interdependence of two artists on one another, on their materials and on their desire to transcend cultural expectations."
—————————
Shift Relic

When: On view October 2nd – 24th 2015
Opening Reception: October 2nd 6-8:30pm
Where: Lens Gallery, 524 Harrison Ave, Boston, MA
How: Official Website 
What/Why: Featuring the work of work by Charles Mathis & Matt Stone
—————————
Wild Thing

When: On view through October 17th, 2015
Where: 555 Gallery, 555 E 2nd St, Boston, MA 02127
How: Official Website 
What/Why: "Kicking off the coming season of mystery, as the days get shorter, and the shadows get longer, 555 Gallery is pleased to announce the opening of the exhibition, Wild Thing, September 10 to October 17, Artist Reception September 12, 6 – 8 PM.
Premiering in the exhibition is new work by photographer, Neal Rantoul, video artist, Tamara Al-Mashouk, and painter, MA-Zing."
—————-
Proximities

When: On view through October 17, 2015
Where: Montserrat College, Carol Schlosberg Alumni Gallery (First Fl.) 23 Essex St. Beverly, MA 01915
How: Official Website
What/Why: "Montserrat College of Art is pleased to announce Proximities, a solo exhibition by interdisciplinary artist Yu-Wen Wu. Wu explores the visualization of journey, process, and topography. Through drawing, video and installation, her work bridges art and science, imagination and documentation. Whether actual or virtual in traversing routes, mapping is the way Wu locates herself in the world physically, culturally, and psychologically. For this exhibition, Wu focuses on walking as both an act and metaphor for the traversing the "paths" of life.
Proximinites features three works from the Random Walk series (2014-2015). By definition, proximity is the nearness of place, time, order, occurrence, and relation. Wu asks the question: What does it mean to be proximal? What does it mean to be far away? A random walk is a mathematical formalization of a path that consists of a succession of random steps. Wu translates the physicality of her walking practice into a visual language that resembles a constellation. The artist calls each of her outings a 'random walk'  because the course of travel is unplanned and leaves aspects of navigation to chance.  For instance, the flip of a coin indicates whether Wu turns right for heads or left for tails. Wu's body is an agent of change; adapting and reacting to chance in a manner reminiscent of the French Situationists."
—————————
Sizing It Up: Scale in Nature and Art

When: On view October 10, 2015 to September 18, 2016
Where: The Peabody Essex Museum, East India Square (161 Essex St) Salem, Massachusetts 01970
How: Official Website
What/Why: "This fall, the Peabody Essex Museum (PEM) presents Sizing It Up: Scale in Nature and Art, a new interactive exhibition in the museum's Dotty Brown Art & Nature Center. Featuring 35 contemporary artworks, the exhibition explores visual scale – from the nano-sized to the galactic – to challenge our perception of size, proportion and perspective and prompt new ways of looking at the world. Sizing It Up opens to the public with an all-day festival of art marking, film and artist demonstrations on Saturday, October 10."
———
Garden Rooms

When: On view through October 2015
Opening Reception: Saturday, Oct 3rd, 5-7 PM
Where: AS220, 93 Mathewson St. (Dreyfus building), Providence, RI
How: Official Website 
What/Why: "Garden Rooms envisions a future society dealing with the results of climate change. Influenced by global warming and the increasing amount of droughts in parts of this country, I depict a world where we must live more intimately with some of the very stuff that sustains us – plants. Through photography and digital technologies, each "room" focuses on specific relationship with plants. Some of these are future visions while others are digital archives of our current day interaction with indoor flora."
———————
New Art Center Arts Ball

When: Saturday, October 24 at 6:00pm – 11:00pm
Where: New Art Center, 61 Washington Park, Newton, MA 02460
How: Official Website
What/Why: "Join us for our annual fall celebration of the arts and our community.
An evening of artful elegance: Celebrate the five senses with your attire! Velvety vixens and Pucci-printed party-goers welcome! Be there with bells on or don your fringe and feathers!
Nourish:
6-7PM: Cocktails, featuring music, mingling, and open bar
7-9PM: Dinner, featuring a gourmet, family-style feast by MAX Ultimate, open bar, video, and live auction
Entertain:
8:30-11PM: Dance Party, featuring open bar, delectables, dancing and raffle
9:15PM: Community Toast
10:30PM: Raffle Drawing
Indulge: Take a chance on extravagant raffle items and experience packages valued at $500+. Throw your hat in the ring for any and all prizes that appeal to your senses!"
———————
Reveal

When: September 19 – November 13, 2015
Opening Reception: Saturday October 17th, 4-6PM
Where: 13 Forest Gallery, 167 Massachusetts Ave, Arlington, MA 02474
How: Official Website
What/Why: "Featuring printmakers Grace Bentley-Scheck, Prilla Smith Brackett, and Nina Wishnok. Celebrating the Boston Printmakers 2015 Biennial by highlighting local printmakers"
—————
Weird and Wicked

When: On view through November 1st, 2015
Opening Reception: October 1st, 6-8PM
Where: Uforge Gallery, 767 Centre Street, Jamaica Plain, MA
How: Official Website 
What/Why: "For many, the month of October elicits images of malicious monsters, spooky stories, barren trees, and imaginative costumes. Children dress up as their favorite characters, teenagers play tricks on each other, adults watch terrifying films, and almost everyone enjoys a little scare. For this open-call exhibition, UFORGE Gallery invited artists to submit work inspired by the strange, the paranormal, the disguised, the ludicrous, and the macabre. The subject could be memories of trick-or-treating, horror movies, ghosts and ghouls, bad dreams, alluring vampires, the perils of a full moon, Halloween costumes, morbid humor, or something in between. Artists responded with paintings, drawings, digital illustration, sculpture, photography, and mixed media, in styles both abstract and representational. Some depict real-life terror, others take a more humorous approach; some looked to historical horror like the Salem witch trials, others to the slasher fantasies of filmmakers like Dario Argento; some toy with the iconography of skulls, animals, and costumes, and still others showcase their creativity through downright bizarre imagery."
—————————
Third Thursdays: The Art in Architecture

When: Thursday, October 15, 5:30 PM
Where: Isabella Stewart Gardner Museum, 25 Evans Way, Boston MA, 02115
How: Official Website 
Cost: Tickets are required and include Museum admission: adults $15, seniors $12,members free, students $5.
What/Why: "We're delighted to partner with BSA Space for an evening focused on design and collaboration. Join us for hands-on art making, live music, and conversation in the Museum's new and historic spaces."
—————————
Sprawl | Tadashi Moriyama

When: On view through October 11, 2015
Opening Reception: Saturday, October 3rd 6:00 pm – 8:30 pm
Where: EBK Gallery [small works]. 218 Pearl Street Hartford, CT
How: Official Website
What/Why: "Computer devices have enabled us reach out and connect with us anytime anywhere. They have become hug extension of ourselves. I wanted to make works about this love affair with technology. All of the paintings have a structure of empty simplified buildings surrounding a hollow center. Wires are coming out of windows and cells; seeking spasmodic interaction.
Sprawl is the title of the show. It is the urban sprawls of big cities. Like Tokyo and New York where I spent most of my time in my teens and 20s. Then Los Angeles, where I reside. It is also a global labyrinth-like sprawl of networks within networks in the internet world."  -T.M.
—————————
ARToberfest 2015

When: Saturday, October 3rd and Sunday, October 4th: 12-5pm – Two full days of open art studios and lofts – meet the artists, browse the art, buy the art.
Where: Western Avenue Studios, 122 Western Avenue, Lowell, MA
How: Official Website
What/Why: "Come to Western Avenue Studios (122 Western Avenue, Lowell, MA) During the October Open Studios on Saturday, October 3rd and Sunday, October 4th, we will be celebrating The First Annual ARToberfest. Visit over 100 artist studios to learn, shop, and be inspired!"
—————————
Boston Zine Fest

When/Where: Saturday, October 10 | 12 pm to 6pm @ Make Shift Boston
Sunday, October 11 | 12 pm to 6 pm @ Simmons College
How: Official Website
What/Why: "Boston Zine Fest is a weekend long celebration of zines & DIY culture in the greater Boston area. BZF is committed to providing a safe (and fun) space for zine enthusiasts and creators to come together to share their work, exchange ideas, and promote self-publishing and zine culture. "
—————————
Class Distinctions

When: On view October 11, 2015 – January 18, 2016
Where: Museum of Fine Arts, Avenue of the Arts, 465 Huntington Avenue, Boston, Massachusetts 02115
How: Official Website 
What/Why: "From nobles to merchants to milkmaids, Dutch artists in the time of Rembrandt and Vermeer portrayed all levels of society in masterful detail.
Organized by the MFA, this groundbreaking exhibition proposes a new approach to understanding 17th-century Dutch painting. Through 75 carefully selected, beautifully preserved portraits, genre scenes, landscapes and seascapes borrowed from European and American public and private collections—including masterpieces never before seen in the United States—the show reflects, for the first time, the ways in which paintings represent the various socioeconomic groups of the new Dutch Republic, from the Princes of Orange to the most indigent.
Class distinctions had meaning and were expressed in the type of work depicted (or the lack thereof), costumes, a figure's comportment and behavior, and his physical environment. Arranged according to 17th-century ideas about social stratification, paintings by artists such as Rembrandt, Vermeer, Jan Steen, Pieter de Hooch, Gerard ter Borch and Gabriel Metsu, are divided broadly into three classes—upper, middle and lower—and within them, into sub-groups.
Nobles, merchants, and milkmaids are among the figures in the thematic groupings, reflecting the social order of the new Dutch Republic. Viewers are encouraged to look closely at the images for clues that differentiate a mistress from a maid, or might distinguish a noble from a social-climbing merchant.
A final section explores the places where the classes in Dutch society met one another. Opportunities for these encounters arose in the city and the country, winter and summer, indoors and out, at leisure or at work, on the threshold of a house or of a business. Paintings depicting the meeting of the classes are among the liveliest of the era. Three table settings of objects used by each class (including salt cellars, candlesticks, mustard pots, and linens), but diverging in material and decoration—highlight material differences among the classes. The accompanying publication features essays by a team of distinguished Dutch scholars and exhibition curator Ronni Baer, the MFA's William and Ann Elfers Senior Curator of Paintings."
—————————
Geometer: A Solo Exhibition by Steven Pestana 

When: On view October 15th-Novemebr 14th, 2015
Opening Reception: October 17th, 6-9PM
Where: GRIN Gallery, 60 Valley Street, Unit 3, Providence, RI  02909
How: Official Website 
What/Why: "How do the instruments, concepts and methods we use to understand the universe predetermine what we learn from them?
Steven Pestana asks this question in GEOMETER, his second solo exhibition with GRIN.
Working in sculpture, installation, and two-dimensional media, Pestana is in the broadest terms an image-maker. Fashioned in an eclectic narrative-based mode of art-making recalling the sprawling cosmologies of Matthew Barney, Alejandro Jodorowsky, David Foster Wallace, and early Pink Floyd, Pestana's work yields a distinctive and unexpected vision of humanity caught in the midst of cosmic scale, rife with harmonies and discords.
GEOMETER doubles as a shape-shifting journey across artistic media and their symbolic connotations. Mining archives of scientific diagrams and remixing them into intricately detailed tableaux, Pestana reconsiders art's role as a mode of representing, conveying, and even shaping knowledge. Hewn in materials as diverse as carbon, salt, and brass using millenia-old techniques such as casting, etching, carpentry, and metalwork, Pestana's investigations into the various properties of traditional (and not-so-traditional) media highlight their more general influence in the creation of the image in art, science, and technology.
Factual elements from the history of measurement are embellished with fanciful, speculative flourishes as the works in GEOMETER consider the age-old conflict between quantitative vs. qualitative measurement. Here, metaphor gives way to enumeration, and natural phenomenon becomes technology. Along the way, these works reawaken the question of what is truly "real": that which is before us everyday, or its supposed eternal form?
The eponymous centerpiece is a life-sized self-portrait of the artist posed in the act of measurement, simultaneously evoking and exploding the historical conventions of portrayals of geometers such as Pythagoras, Euclid and Newton. Elsewhere, enigmatic "Archæometric Reckoners" take account of obscure phenomena via equally oblique machinery. Other pieces suggest the visual iconography of navigation and its celestial complement, underlining the shift of humanity away from our relationship with nature as both a connection and extension of it, towards the view of nature as a means, rather than an end.
Whether gauging our environment through human-scaled units of measurement, geometric and mathematical abstractions, or symbolic concepts, at the core of Pestana's investigations is a search for insight into our everlasting yearning to feel at home in the world — a place much more alien than we may admit to ourselves.
—————————
Neighbors

When: On view October 2 – November 1, 2015
Opening Reception: Live Music & Reception at Aeronaut: Thursday October 8, Reception 5-6:30pm & Music 6:30-8:30
Where: Aeronaut Brewing Co., 14 Tyler Street, Somerville, MA 02143 // Gallery 263, 263 Pearl Street, Cambridge, MA 02139
How: Official Website
What/Why: "Gallery 263 is thrilled to announce Neighbors, our first off-site exhibition in partnership with Aeronaut Brewing Company in Somerville, MA. Neighbors features thirteen multi-media works by seven of Gallery 263's Artist Members reflecting on the theme of dualities, relationships, proximity, and repetition both micro and macro.
Gallery 263 is a non-profit gallery located in Cambridge, on the corner of Putnam and Pearl Streets. Our mission is to provide a space for local and regional artists of all medium to exhibit or perform their work and engage the community. We offer opportunities for the public to participate in the creative process through exhibitions, musical performances, workshops, film screenings, lectures, artist talks, juried show competitions, theatre and more. With just one cozy 700-square foot gallery, we proudly sustain an ambitious and expanding program calendar. This off-site exhibition opportunity at Aeronaut Brewing Co. is a benefit of our Artist Membership program, which strives to support a diverse community of local artists, and offers participants both exhibition opportunities and representation.
Neighbors is inspired by the relationship between Cambridge and Somerville, and marks the beginning of a partnership between Gallery 263 and Aeronaut Brewing Co.  The neighboring towns take great pride in offering diverse opportunities for artists and recreational activities for the public, fostering both community building and a culture of art appreciation. Though Gallery 263 may be very different from Aeronaut in scale and scope, we share many of the same values. Both venues empower artists by hosting exhibitions, music, and special events, and both celebrate innovation and experimentation with a DIY approach. Neighbors emphasizes new connections and discovery right next door."
—————————
Gordon Parks – Model Citizen

When: On view through October 31, 2015
Opening Reception: Saturday, October 3rd, 2 – 5 PM
Where: Robert Klein Gallery, 38 Newbury Street, Boston, MA 02118
How: Official Website 
—————————
Drawing Redefined: Roni Horn, Esther Kläs, Joëlle Tuerlinckx, Richard Tuttle, and Jorinde Voigt

When: On view Oct 03, 2015 – Mar 20, 2016
Where: deCordova Sculpture Park and Museum, 51 Sandy Pond Rd, Lincoln, MA 01773
How: Official Website
What/Why: "Drawing Redefined presents the distinctive work of Roni Horn, Esther Kläs, Joëlle Tuerlinckx, Richard Tuttle, and Jorinde Voigt, artists who have maintained a discipline of drawing as a constituent element of their artistic practice. For these artists, drawing is a forum for experimentation, a study, and an expansion of the vocabulary of images that recur in their art. In these artists' hands and through their bodies, the traditional practice of drawing is transformed into an exploration of time and space manifest in forms beyond conventional linear representation in photographic, painterly, and sculptural work."
—————————
Makeover!

When: On view October 7th-24th, 2015
Opening Reception: Friday, October 9 at 6:00pm – 8:00pm
Where: Subsamson, 450 Harrison Ave, Boston, Massachusetts 02118
How: Official Website
What/Why: "Casey Ausman, Fred Ata and Melissa Boyajian, Caleb Cole, Giancarlo Corbacho, Robyn Day, Lauren Gillette, Brian Glaser, Madge of Honor, James Helenski, Dylan Hurwitz, Geena Matuson, Juan Jose Barboza-Gubo & Andrew Mroczek, Rosie Ranauro, Lenny Schnier, Tom Maio, Robert Siegelman
Sübsamsøñ and the BLAA are proud to present Makeover!, a group show of 18 Boston-affiliated/based artists whose work considers reshaping, modifying and updating the self. The pieces range from portraiture and performance to sculpture and abstraction. 
With the loss of a permanent space at the former MALE Center, Boston LGBTQIA Artist Alliance (BLAA) is undergoing a makeover and re-examining its own identity and mission. The pieces come from a broad spectrum of Lesbian, Gay, Bisexual, Transgender, Queer, Intersex and Asexual viewpoints. These artists recognize queer identities as inherently open to change, and that growing into a queer identity is a form of makeover. The work acknowledges a freedom and empowerment in the ability to constantly re-invent oneself. At the same time, other pieces dwell on the vulnerability required for these moments of change – in both cases, the work captures a specific point in a metamorphic journey.
Makeover! features a variety of artistic approaches and media, including: Caleb Cole's photography, which relates to meeting or not meeting gendered and sexual expectations, as well as desires surrounding transformation; Geena Matuson's work obscurs the body, overlapping and morphing one body with the next to convey a sense of transformation; Giancarlo Corbacho shows work from trans*ience, a Conceptual Exercise; Lenny Schnier's paintings engage gender theorist Kate Bornstein's analogy of a cut-and-paste gesture; Casey Ausman's sculpture narrates the transitional state of a creature not quite human, perhaps soon to be; and more.
Performances by Tom Maio, Fred Ata+Melissa Boyajian, and Mallory Hanora."
—————————
Mobilize – Jason Lim

When: Thursday, October 1st, 6:00-8:00pm
Where: Mobius, Inc., 55 Norfolk St, Cambridge, Massachusetts 02139
How: Official Website
What/Why: "The Mobilize Performance Series presents international performance artists at Mobius, often with a lecture or workshop component. It was initiated in 2003 by Jamie McMurry as a collaboration between Mobius, Inc. and the Performance Area of the School of the Museum of Fine Arts, Boston. The series continues, produced by different members of Mobius Artist Group, and in collaboration with other institutions in the USA and Canada."
—————————
Percy Fortini-Wright, Entangled Rhymes

When: On view October 8th-October 28th, 2015
Opening Reception: October 8th, 5:30PM
Where: Copley Society of Art, 158 Newbury St, Boston, MA 02116
How: Official Website
—————————
Human Nature

When: On view through October 24th, 2015
Where: Drift Gallery, 375 Little Harbor Rd., Portsmouth, NH
How: Official Website
What/Why: "Internationally recognized photographer Bear Kirkpatrick's "Human Diorama," is an unprecedented installation-rich selection of images and ephemera from his series 'Hierophanies' and 'The Old Ones'. Kirkpatrick's images takeover the main gallery, providing the viewer with a provocative experience that looks for evidence in the modern world of the scholar Mircea Eliade's evocation of the Hierophany, the name he coined for a tear in the fabric of the profane world that showed a glimpse of the sacred world behind it. "
—————————
24th Drawing Show: Feelers

When: On view October 9th-December 20th, 2015
Opening Reception: Friday, October 9 | 6 – 8pm
Where: Boston Center for the Arts,  539 Tremont St, Boston, MA 02116
How: Official Website
What/Why: "The Boston Center for the Arts (BCA) presents Feelers, the 24th installment of the BCA Drawing Show, this year featuring work by 56 artists. In Feelers, curator Susan Metrican considers the possibilities of existing in a two-dimensional reality through drawing's inherent encounter with flatness.
The exhibition draws its title from Edwin Abbott Abbott's novel Flatland, a 19th century sci-fi examination of dimensions in which Abbott describes a two-dimensional world occupied by geometric figures.  Metrican notes that in this novel, "the squares, octagons, straight lines and so on are all governed by the rules of their flat world, and their behaviors and customs reflect their limited reality as they can comprehend it.  In Flatland, to be a 'feeler' is to determine one's surroundings by reaching out to touch it with appendages."
It is this kind of touching, testing and searching that unites the work in the exhibition. Feelers brings together a group of artists, works and practices that feature artists' sensitivity to materials, subject matter and the ability to use feelers to explore through practice and ideas.  Using the principles of drawing as its ground, the show opens up to gestures of flatness, line, touch and emotion. In Feelers, the work considers the line that is drawn between the experience of the three-dimensional world or the multi-dimensional interior world to a separate and exterior surface."
—————————
2014 Artists of the Year

When: On view October 8 – 23, 2015
Where: Cambridge Art Association, 25R Lowell Street, Cambridge MA 02138
How: Official Website
What/Why: ""This exhibition is a testament to the energy and diversity, which I sought to reflect when awarding prizes. Abstraction, representation, beauty, humor, printmaking, painting, and photography can all be seen among them. "  Juror Al Miner,  Assistant Curator of Contemporary Art, Museum of Fine Arts, Boston
———————
Inside Out: Faces of Dudley

When: Wednesday October 07, 11AM-6PM
Where: Boston Public Library, Dudley Branch, 65 Warren Street, Boston, MA
How: Official Website
What/Why:"The Photobooth (the brainchild of JR, the artist responsible for the 200 Clarendon Boston mural) is a mobile portrait studio that takes individual portraits and immediately prints them out, larger-than-life at 3' x 5'. These prints will be pasted on grounds of the library and together will make a collective portrait that symbolizes "The Faces of Dudley" and the strength of a community in transition.
In addition to the Photobooth portraits, Now and There and The Up Truck will collect stories of resilience and courage from participants to create a follow up book and text-based project for the library."
———————-
Kerry Tribe: Critical Mass

When: On view through October 25, 2015
Where: Carpenter Center for the Visual Arts, Harvard University, 24 Quincy Street, Cambridge, MA 02138 United States
How: Official Website
What/Why: "Kerry Tribe's time based works explore memory and representation through film, video, performance and installation. For Critical Mass (2010–), she restages Hollis Frampton's 1971 groundbreaking experimental film of the same name. In Frampton's classic structural work, he captures a young couple arguing on film then meticulously edits the single take into a series of repetitive, staccato snippets, unhinging the continuity of the dialogue. In Tribe's project, actors Nick Huff and Emelie O'Hara perform Frampton's film from memory, shot for shot, retaining all the original repetitions and stutters of the original work."
———————-
Visaural: Sight, Sound Activation

When: On view through October 31, 2015
Where: Nave Gallery Annex, 53 Chester St, Somerville, MA
How: Official Website
What/Why: "Visaural spotslight work centered on themes of social, cultural, economic, human rights, women's rights, political and social justice activism that combine visual art with music in order to tell a more compelling story and, by doing so, affirm the many bonds between sight and sound. Each piece is paired with a song chosen by the artist that directly links to the theme of the work, a song that inspired the work or that was played as part of the artistic process. Songs will be accessed via QR Codes on the wall statements."
———————-
Artists as Witness

When: On view October 22-December 18, 2015
Where: Iris and B. Gerald Cantor Art Gallery, College of the Holy Cross
How: Official Website
What/Why: "Artists as Witness, curated by Daina Cheyenne Harvey, assistant professor of sociology at Holy Cross, brings together a myriad of contemporary artists whose work chronicles the relationship between disaster and art in New Orleans from 2005 to the present. Timed to coincide with the tenth anniversary of Katrina, this multimedia exhibition includes video, photography, painting, sculpture, and works on paper.
Showcasing the social, political, and cognitive reactions through art to the disaster and its aftermath, the exhibition attempts to explore both how artists represented the disaster and how the disaster affected the cultural identity of New Orleans. Part I: Documenting, Describing, and Dealing with Disaster, is on view from September 2– October 10. Part II: The Rebirth of Art, runs from October 22 – December 18."
———————-
Say hi:
EMAIL | TWITTER | FACEBOOK | INSTAGRAM | PINTEREST
Fall is in the air! Time for cider doughnuts and poorly carved pumpkins.
There is so much going on in #bosarts this month, with more on the way. I'm excited.
Quick apology– when I said I would be updating last month's wrap-up throughout September, that was before technology failed me.
But I have since found a delightful coffee shop downtown (with reliable wifi) where I now spend my in-between-times.
Stay tuned for October updates and let me know what I missed.
You're the best. Goodbye. Goodnight.
Fin ♥