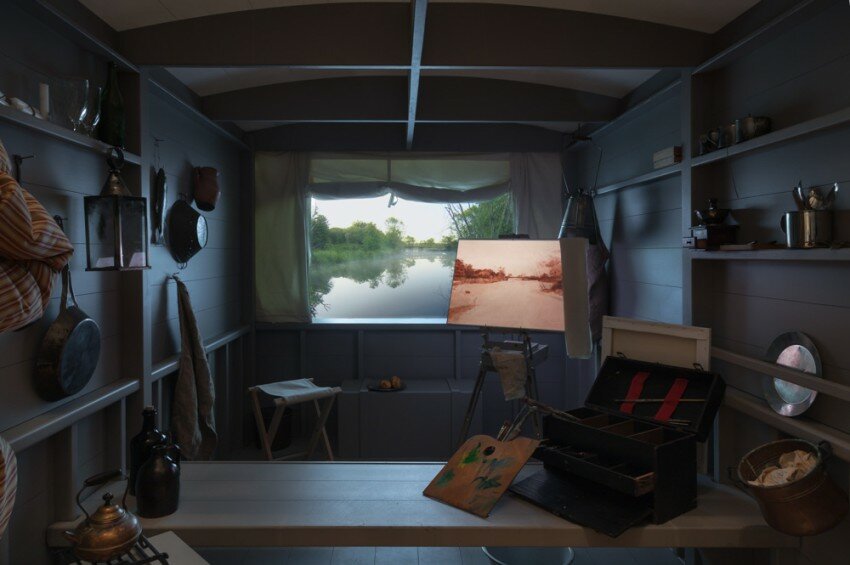 "Impressionism came about because it suddenly became apparent that pure colours mix in the eye in a more dazzling way than they have ever been mixed in paint." –Joseph Plaskett
The above image is of a studio boat that was created by the Peabody Essex Museum for their current exhibition, Impressionists on the Water.
The space is modeled after the french painter, Charles-François Daubigny's sketches of his own studio boat.  Many impressionists had floating work spaces in order to render their watery masterpieces from life. And due to their ever-shifting landscapes, these en plein air artists were tasked with quickly sketching out their ideas on canvas, capturing the essence of a view, before the moment(literally) passed them by.
Back in the gallery, the window of the studio boat is actually a luminous screen which displays footage of a tranquil river. And over time, the picturesque vista comes to life brushstroke by brushstroke on a nearby easel; as if painted by the hand of an invisible artist.
But the artist is real and the steps taken to acquire the footage and construct the vessel itself are fascinating. Fortunately for us, the PEM's Connected blog shares a great behind the scenes look into the making of this thoughtful addition to their exhibition.
Learn more about the PEM's studio boat here and you can see it in person as a part of Impressionists on the Water through February 17, 2014.
Don't let this moment pass you by. ♥