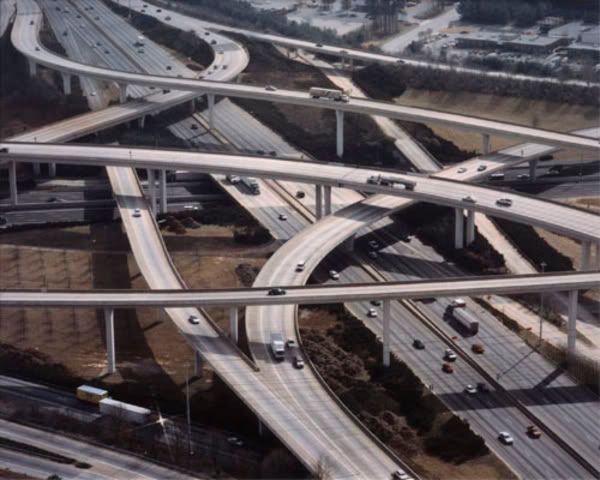 Junction, Atlanta-2003-Roe Ethridge
Went to the ICA last Thursday night(free!) after work as I try to do every so often.  Since it's only a 5 minute diversion off my normal work—>home trajectory, I try and stop in-or at least sit on the bleachers out back to unwind from time to time.
What's Going On There?
New mixed media installation on the ground floor by Francesca DiMattio entitled Banquet.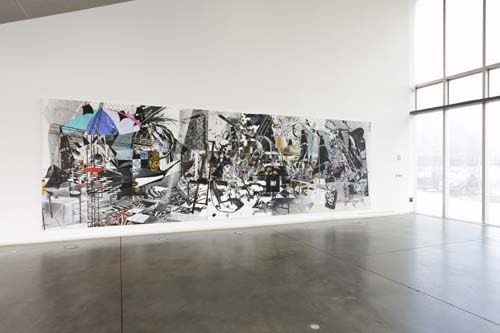 "The New York-based painter combines imagery from a wide range of architectural, decorative, and art historical sources. She laces together underlying patterns to construct these complicated compositions, lending a sense of logic to her seemingly chaotic assemblages. The artist has described her working practice as "getting into trouble and getting out of it."
I really liked it for some reason.  Some parts of it are poorly blown up photocopies of furniture, other parts art hand painted bouquets, and colorful stripes, but for some reason it all works and is well suited for the space.
Checked out the Dr. Lakra exhibit(note: I'm being kind with the chosen representative photos, which I consider to be some of the better work).  I'm not sure its my bag.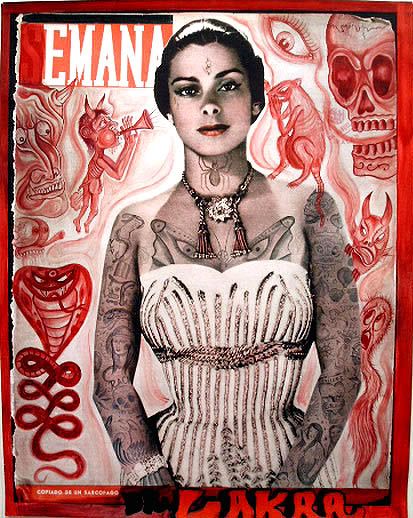 "Jerónimo López Ramírez, also known as Dr. Lakra, is an renowned tattoo artist who lives and works in Oaxaca, Mexico. Under his pseudonym, loosely translating as "Dr. Delinquent," he draws over vintage printed materials and found objects rather than skin, manipulating images of pin-up girls, 1940s Mexican businessmen, luchadores, and Japanese sumo wrestlers."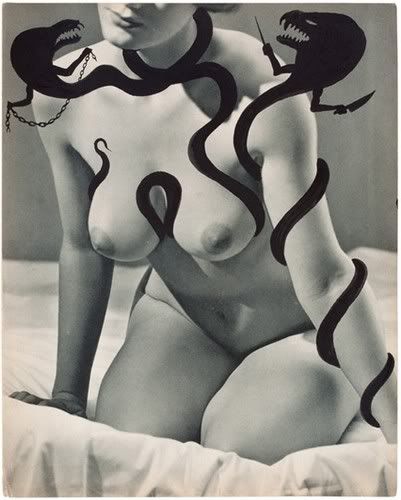 It's confusing- because he is clearly a talented painter and tattoo artist, he created large murals on several of the ICA walls.  But the exhibit, as described above, focuses primarily on his talents defacing pin-up girls, posters, and magazine cut outs with a Bic.  It just comes off as being a cheap trick or something, better suited for a small gallery out West, not the ICA in Boston.
I can't help but shake the fact that it reminds me of the Westchester, NY power outage of '97 when we were left in the dark for days and drew pirate eye patches, "MOM" tattoos and blackened the teeth of every child in an LLBean catalog, realtor glamour shot brochure, and family in a Caldor flyer within reach.  We left no unsolicited direct mailing unturned.
Maybe I'm missing something.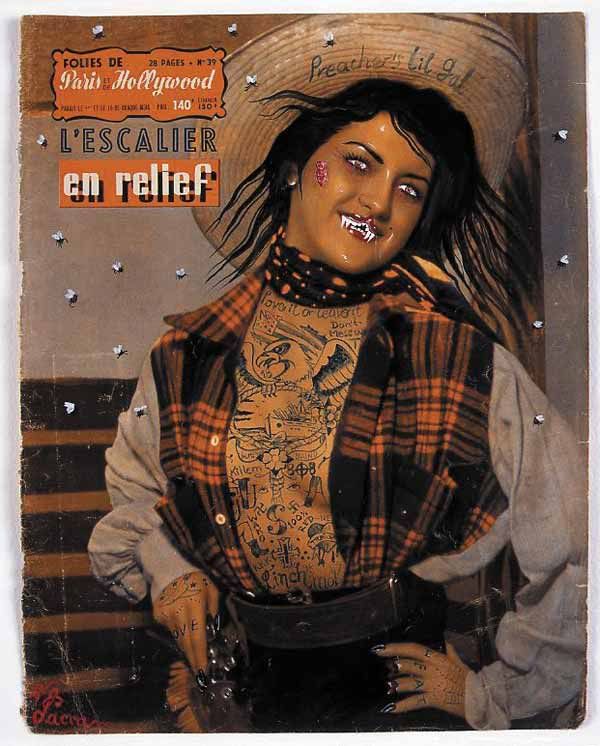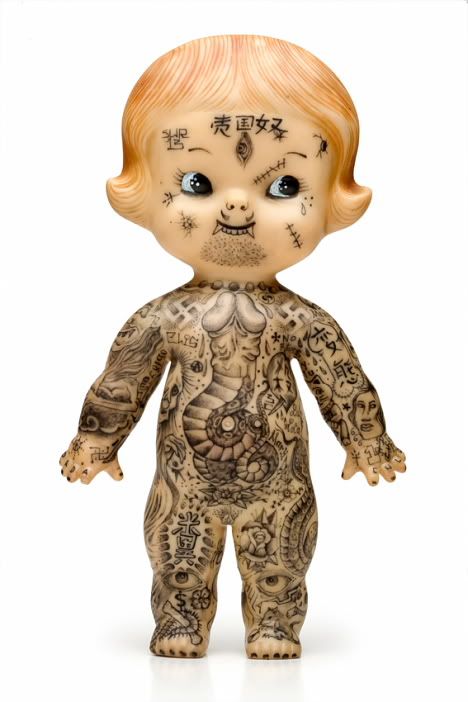 No..on second thought, I don't think I am.
Charles LeDray's workworkworkworkwork is also currently on display at the ICA, but was closed for a private viewing during my most recent visit.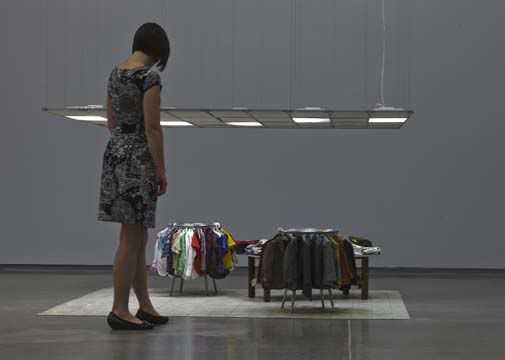 "For over 20 years, New York-based artist Charles LeDray has created handmade sculptures in stitched fabric, carved bone, and wheel-thrown clay. LeDray painstakingly fashions smaller-than-life formal suits, embroidered patches, ties, and hats, as well as scaled-down chests of drawers, doors, thousands of unique, thimble-sized vessels, and even complex models of the solar system.

The exhibition gathers approximately 50 sculptures and installations, from seminal early works to the first U.S. presentation of MENS SUITS (2006-2009), his highly acclaimed project presenting three complex, small-scale vignettes of second-hand clothing shops. The ICA will also premiere Throwing Shadows (2008-2010), an extraordinary new ceramic work including more than 3,000 vessels made of black porcelain, each less than two inches tall."
Might be interesting, but I'm not sure it's enough to lure me back.
Also, just learned from the ICA site that there is a cool text projection by Jenny Holzer and Miguel Gutierrez happening tonight from nightfall until 11pm.  Might be neat to check out if you are in the area.
Boston really seems to be trying to make something of that area down by Fan Pier.  I recently noticed signs for "Louis", which is housed in a fashionable building within a stones through of the museum.  I stopped by and learned it is a high-end clothing/home goods, hair salon(?), optician, and restaurant.  I'm not sure whats happening there.  It was one of those places where you turn over a cute shoe, learn its $1,700 and then have to keep looking at it as if "no, that's cool-I'm someone that could afford that."  I saw a ridiculous porcelain koala bank that you would expect to find in the SALE bin of Urban Outfitters next to a dead, flattened unmatched cork wedge, a lawn gnome candle and a 365 sex positions calendar.  "Sure, I guess I can justify throwing down $5 for this thing."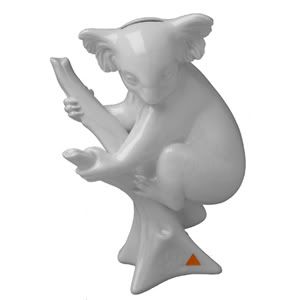 I turned the quirky "money-box" over at Louis to discover it, along with its other koala brethren displayed at ankle height were $580.  I hope a fat baby arm comes along and knocks them all off the table.
So, back to the ICA. The museum is also the home of my favorite photograph of the moment, Untitled (2002) by Roe Ethridge.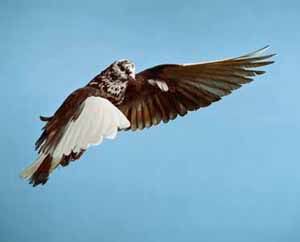 "Untitled is part of a series Ethridge began in 2000 depicting pigeons.  Using a high-speed flash to capture a pigeon in mid-flight, Ethridge reveals the unexpected beauty of this ubiquitous bird. This, however, is no ordinary pigeon, but a trained "extra" rented from Universal Studios. Set against a blue studio backdrop that mimics the natural color of the sky, Ethridge reveals its graceful perfection."
I love the photo because he captured a great moment, the colors are so vivid, and it is also displayed in the perfect frame.  Maybe I can get the museum to loan it out to me…or trade them a Snickers Bar, a finger puppet, $5 in rolled coins..*looks in purse*…and 7 bobby pins for it!  Call me.
I couldn't help but notice a quote by Roe on a placard next to his other photograph in the permanent collection, Holly at Marlow and Sons(2004).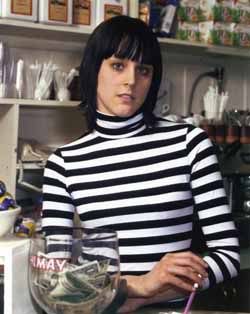 "On one hand, everyone knows how to take a picture..At the same time, it can be the most overwrought, specialized technical form.  There is something about that conflict there in my own work."
Roe seems like he'd be a cool guy, I'd like to grab a beer with him.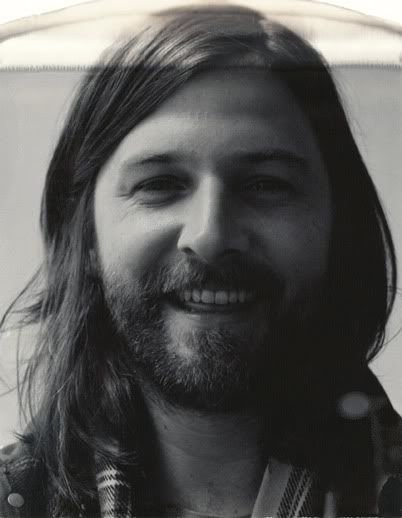 Whenever I see a piece of art, hear a song, read a writer's work, or am talking to a client on the phone- I can't help but piece together in my head what I think they might look like. I am hesistant to hop on google to confirm my suspicions because more often than not, there is a huge disconnect between my imagination and real life.. sometimes it ruins it for me.  Case in point, I think Romy Madley Croft of The xx has a beautiful voice.  She must be a real looker.  So I googled, and this happened..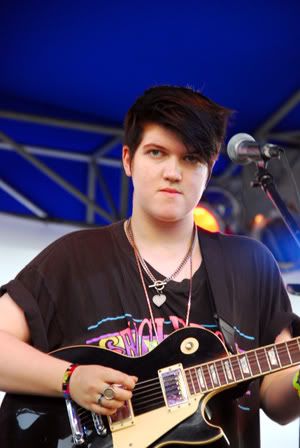 Oh.
Anyway, if you haven't been to the ICA— you should go.  What else are you doing on a Thursday night after work? Jaeger Bombs at Tequila Rain? Thought so.