I think there are some common misconceptions regarding live auctions..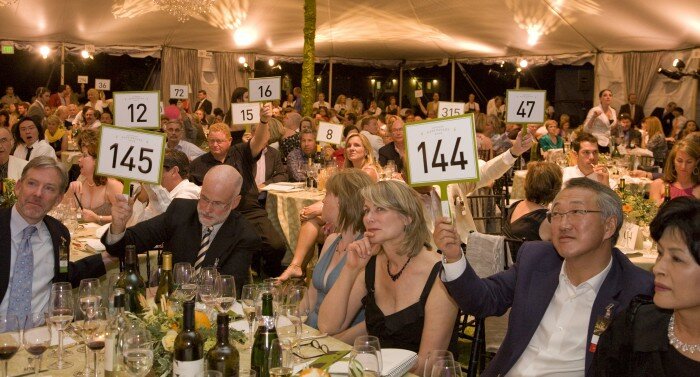 Only rich people can go and you have to be personally invited
Someone in their 20s-30s can never afford something at auction
Items up for bid are usually overpriced dinette sets from Nana's attic
You might accidentally scratch your head which is then interpreted as a signal for the winning bid on a $.5MM Native American blanket.
It's a good thing Skinner Auctioneers & Appraisers recently hosted a luncheon which cleared up these and other misconceptions about their line of business and gave me a better overall understanding of the antiques market.
Prior to lunch chitter, I had a chance to catch up with Robin Starr, Director of American & European Paintings & Prints to learn more about her involvement at Skinner as an appraiser and… is that a vintage Louis Vuitton Steamer trunk?
As we were getting ready to chat upstairs at Skinner's, I noticed the trunk off to one side of the room surrounded by similarly mysterious haphazard paintings, sculptures, mirrors, etc.

They were between auctions and yes that was a Louis Vuitton Steamer trunk.
I admitted that my knowledge of the $$$ trunk stemmed from an episode of Keeping up with the Kardashians (afterthought: even worse, it was actually from an anecdote I remembered reading about Zac Efron and Vanessa Hudgens many moons ago) Robin was unphased. Apparently she too dabbles in mindless television from time to time, and I immediately knew our chat was going to be the highlight of my day.

Robin joined Skinner in 1987 as a research and cataloging assistant in the American and European Paintings and Prints Department and has thrived there to this day. Interestingly enough, she also has an Art History and Physics background(was a double major at Bates) that she was able to combine through researching neutron activation autoradiography and its application in art historical research. She told me this background comes in handy in determining if a piece has been retouched or doctored (signatures added after, etc.) as well.
For someone who spends her days appraising and auctioning off pieces like $5.5 MM Fitz Henry Lane Paintings, Robin is extremely down to earth.
(Oracle, Michael Rees)
I spoke to her a bit about the role of young collectors in the auction process, and she holds similar beliefs regarding the necessity of art accessibility, and the importance of educating people in the unfamiliar.  Art isn't as scary/stuffy/high-level/cerebral as it is sometimes portrayed to be and the same holds true for the live auction.
In regards to the upcoming Fine Painting and Print auction on September 9th, Robin explained, "We have several things that are probably going to bring mid six figures, but we also have things that are going to bring $300-$500, and we're trying to sort of cater to everybody. We're not going to say 'Oh I'm sorry, your painting is worth under $10,000 we're not going to talk to you, its not that at all.'" This mentality is crucial for auction houses, galleries, and other commercial art establishments to uphold. At the end of the day, young collectors who are now purchasing the $300-$500 works will one day become older collector$, and remember places like Skinner for their future business if they had a positive experience.
(Marilyn Monroe, Milton H. Greene)
Robin also clued me in on Discovery Auctions which she considers the "Filenes Basement of Skinner." These are monthly events held at their Marlborough office which include a broad selection of estate furnishings, decorative accessories, carpets & rugs, artwork from the 18th – 20th century. They offer something for every buyer and seller, every taste and budget. She said they are approachable, fun, and surprisingly affordable auctions where you can end up walking away with some serious bargains.
(Untitled (Derby Hat), Joseph Cornell )
Robin believes more people should consider auctions when making purchases for their home.  "You think about a young 20-30 something year old trying to make ends meet in Boston, which isn't easy, but you go to a Discovery Sale and you buy a dining set for example.  If you went to Crate and Barrel and bought a similar dining set, you spend $3,000 and will never see that money again. If you buy something at an auction, at a Discovery Sale or a higher end sale, in 5 years if you've outgrown the set, you're tired of it, you want to change your style, you reconsign it to auction.  And you might not get all your money back, you might make a little extra, but the point is when you're living with antiques, whether they be 18th century side chairs or a Marcel Breuer modern design leather bound chair, it doesn't matter, you can resell the pieces and its actually a great way to buy."
(Little Bird Arapahoe, Leonard Baskin)
On Friday September 9th, 12PM (Prior to the FLUX. Offline Show!) you can see Robin in action at Skinner's next Fine Painting and Prints auction.
(Untitled, Henri Cartier-Bresson)
Still (understandably) confused about how the whole auction scene works? Tomorrow I will be posting a "How To" regarding attending auctions and associated steps in buying/selling wares at auction.
A little bit of hand holding never hurt anyone. ♥
(Note: All featured images in this post aside from the Louis Vuitton trunk and Robin are available lots from the September 9th auction)