Before attending an Open Studios, I like to scan the list of participating artists for familiar faces. And for the unfamiliar, I visit their portfolio sites in order to preview works and loosely acquaint myself with their style. We all have our rituals.
That being said, this past March The SMFA Graduate Program opened up their Mission Hill campus to outsiders in order to showcase the work of over 100 artists, most of whom fell into my "not-so-familiar" category.
It's exciting to shake up the routine and experience new works, but this equates to loads of  self-imposed web lurking. And while zoning out during this particular obsessive portfolio scanning(OPS) session, I stumbled upon the following:
(Poser)
And my eyes unglazed.
————————————-
Holy shit. Who.is.this.girl.
Meet Molly Segal.
Her gasoline puddle paintings appear as though they came into existence by chance with a dash of divine intervention. I usually associate watercolors with pastoral scenes, flower studies and delicate displays of earthly delights, but her feral and at times menacing compositions show the medium in a much different light. After taking in the rest of her portfolio, and desensitizing myself to scenes of hyenas savagely gnawing the limbs off of apathetic girls, I naturally began to form a rough picture of the artist in my head. Based on the evidence before me, I half expected to come face to face with Fairuza Balk (c. The Craft) upon entering her studio space.

And when I finally had the pleasure of meeting Molly in person, I found her to be open, articulate, engaging and most notably.. dogcollarless.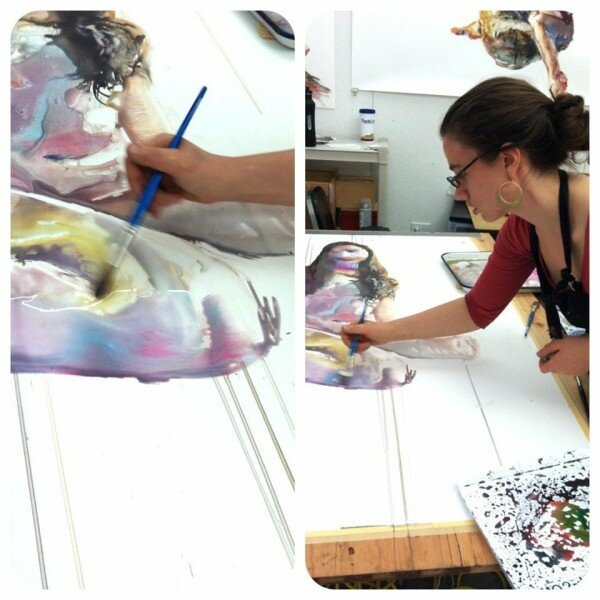 So she must keep this dark side tucked away in the deep recesses of her brain? Discordance. Love it.
I needed to know more about the enigmatic artist, so I invited her over for Yellowtail  fine wine and delightful conversation.
Hailing from Oakland, California Molly ventured East in 2011 for graduate school in hopes of flexing her artistic chops through The School of the Museum of Fine Arts' rigorous MFA program.
Her earlier watercolors rendered subjects in a illustrative manner one might expect to find showcased in the pages of a children's book, with harder lines and figurative depictions.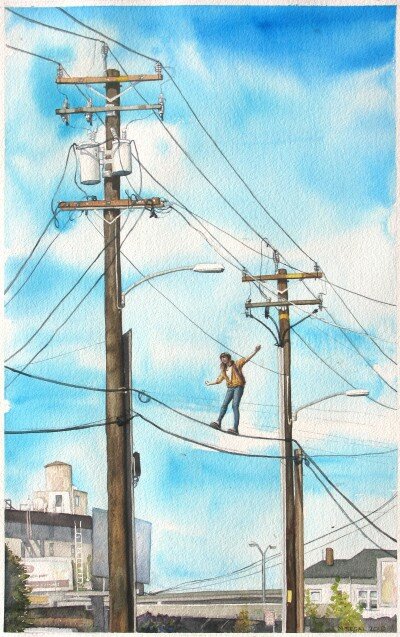 (Some Place in Between)
And since commencing her studies at the SMFA, Molly has started to push outside her comfort zone and experiment, fostering the emergence of a signature style. Several of her recent works revisit earlier imagery that is now approached through a more experienced and unabashed lens.
Through the abstraction of forms and an unexpected handling of the medium, her latest interpretations are imbued with a certain degree of macabre that tell a much different story than earlier (sunnier) renderings.
"These paintings were paintings I've been wanting to make for a long time, but it was kind of a scary thought. Before I started these I made kind of quiet, watercolors of my friends and Oakland. This series started as a really conscious effort to have my work reflect more of the things I think about day to day. The Yupo really helped push things along conceptually and gave a real savagery to the work that was frankly, kind of surprising to me."

(The Dance)
This Yupo Molly speaks of is a plastic based material equated to "feeling as though you are painting on the lid of a tupperware container".  And because the surface does not absorb the watercolors, she can wipe away mistakes with ease allowing her to have a certain degree of control over the medium.
"Yupo allows me to paint more boldly than I could before. I can create the entire painting from sketch to finish on the same surface. This has really opened up my conceptual process because what happens is that each time you sketch and re-sketch, that's another chance to second guess the image, to censor your ideas. And a lot of the images I'm making now, I probably wouldn't have the chutzpah to paint if I had to do it more than once. I love the way that Yupo really showcases the materiality of paint as it all sits there upon the surface."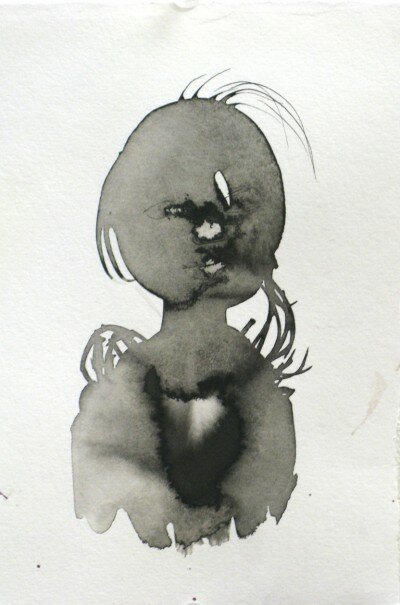 (Sketch by the Artist)
Her current body of work derives from an interest in honestly and truth.
"I'm really interested in things that get to a point of truth that turns into discomfort. And I get really excited when art describes something I've never thought of explicitly but immediately recognize as deeply true. I'm generally inspired by the painful and beautiful experience of growing and the way human beings interact and connect with one another. "
These human interactions and connections oftentimes play out in a quite literal sense in her paintings.  Melting figures connected by fluid gestures capture the essence of movement.

(Girl Fight No. 2) 
(Sleepover)

(If A Tree Falls in the Woods)

(White Girls Kissing)
These raw figures appear to shift and transfer energy between one another through different plays on tensions and submissions that are only enhanced by the fluidity of the medium.
Aside from humans, the carnal nature of her work is fueled through the depiction of seemingly omnipresent hyenas.

(The Show)
"The hyenas started out as pretty literal, one-to-one stand-ins for men. As I've worked more and more with the imagery, they have kind of expanded to represent the things in life that we are both afraid of and attracted to and the way those conflicting ideas and feelings often live within ourselves. I've been really happy to have people read the work in terms of the things that they are neurotic about. 
I just happen to be neurotic about men."

(Valentine's Day)
This is one of the first emerging artist interviews I've written for FLUX. and I appreciated the candidness, spunk, and unabashedness that comes from speaking with someone fresh out the gate. And after spending some time with Molly, I was privy to her wry sense of humor and "tell it like it is" way of approaching things.
I particularly enjoyed the back story to her piece, Christmas:
"A lot of my work isn't funny at all, but as my work reflects my thought process, every once in while something kind of funny emerges..and every once in a while I'll say something funny (usually in poor taste)..which is actually how the Christmas painting came into being.
My friend had been trying organize a Christmas show and asked me to do a piece. 
I said, 'Have you seen my work? What the do you expect me to paint for a Christmas show? A hyena f*cking a reindeer?'
And then all of a sudden I was like, 'Oh my god, I really want to paint that.'"

(Christmas)
Molly's upcoming body of work will center around the idea of "running" as a metaphor for adolescence. She is furthering investigations into the heart of human interactions by exploring the essence of vulnerability, and simultaneous invincibility that is associated with youth.
"A lot of my work is inspired by the group of friends I had in middle school. We were sort of a wild bunch and, in hindsight, we did a lot of reckless things. I look back on that time and am blown away by how vulnerable we were contrasted with how invincible we felt. I feel both protective of the girls we used to be and kind of envious of the boldness that we used to possess."

(Untitled (Indigestion))
And as for the future? Molly is tackling things one day at a time.
I asked, "Do you have any fears about pursuing art full-time after graduating?"
She replied, "Oh yeah. I live in a world of fear. But I've already jumped off the bridge and I'm having a lot of fun swimming right now."
♥