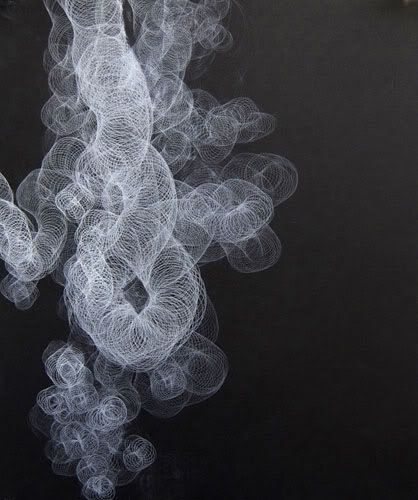 (Ghost Spiral 3)
At the Copley Society of Art Small Works exhibition this past fall, one artist's painting stood out from the sea of canvases patterned along the surrounding gallery walls. It wasn't a piece evoking shock, inciting controversy, or crude, but rather an understated topographical painting by Mary Hughes of colorful porous forms and figures that when layered upon each other seemed to interact and coalesce creating a living organism that undulated out from the canvas surface.  Her piece was imbued with a silent confidence whose delicate abstract forms spoke out from its place on the wall, volumes above the rest.
Traditionally, representational works have always been the easiest on the eyes for me and the simplest to mentally digest, but just as all tastes change, shift and grow, I now find myself intrigued and captivated by figurative works and their boundless landscapes.
How are artists able to think in that way?
Mary was kind enough to invite me into her beautiful Fenway studio which she shares with her husband and two friendly pups, to pick her brain on her process, pieces and what inspires her to do what she does.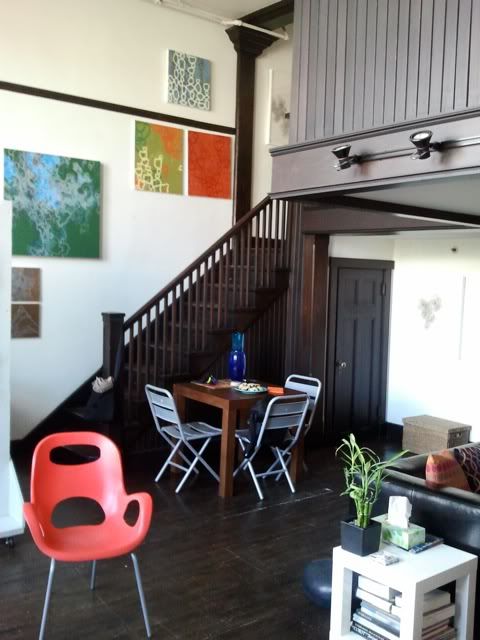 A classically trained artist who received her Masters of Fine Arts in Painting from Mass Art, Mary has been creating and experimenting with the arts since a very early age.
" I grew up in Boston, Jamaica Plain specifically. We lived in an Arts and Crafts style house that my mother was constantly redecorating, making curtains and slipcovers, re-papering the walls and rearranging the furniture in very specific ways. There was a sense of presentation to things. I think all that activity affected how I viewed my environment. My grandmother was a seamstress who took up painting later in life. I did my first oil painting ever with her. She gave me a picture postcard of waves crashing against rocks and I copied it. I wish I still had it. I do have a seascape of a lighthouse she did, which I keep in my studio." (source)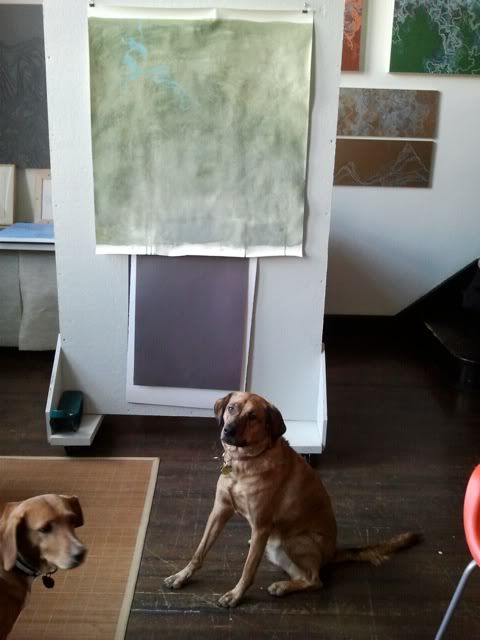 (Millie in front of an unfinished piece.  Annie photobombing.)
Mary also finds inspiration in the colorful forms of Sol LeWitt, the Ming Dynasty scrolls of the MFA, the vibrant works of Fairfield Porter, and within the quieter moments of everyday life.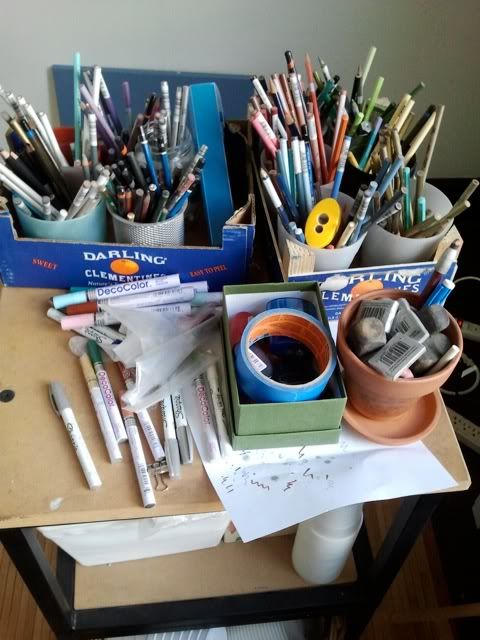 While her current body of work consists of organic shapes and forms, much of Mary's earlier paintings at the School of Fine Arts(now College of Fine Arts) were fairly representational in nature.
"It was an academic approach to studio art-lots of figure drawing and painting, still lives, etc. It was the right thing for me at that time. I really learned about the discipline needed to make work. " (source)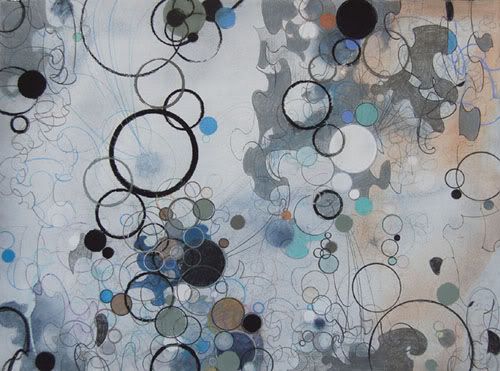 (Convergence 1)
It was after a series of experiences, travels, and through a natural progression in her work that the artist began to view the world through a different lens. While in France studying at the Lacoste School of Art, Mary began painting landscapes and exploring the creation of looser impressionist-like works. She wasn't interested in necessarily painting in a realistic way, but was more concerned with seeing form fields and portraying a sense of space and depth while playing out across a 2D space.
She would go out into the countryside with her painting kit and take in the lush surroundings, like a scenic oak grove close to where she was staying. After these explorations, Mary said she would often retire to her studio and try to create a series of drawings and pastels from memory.  It was only after this and similar exercises that she began to realize her sketches were about rhythm, pattern, and line on the surface, but with an illusion of depth.  The artist was able to take the essence of her experience and surroundings and translate it into a work of art free from the rigid parameters of depicting trees, for example, strictly as we have come to recognize them in nature.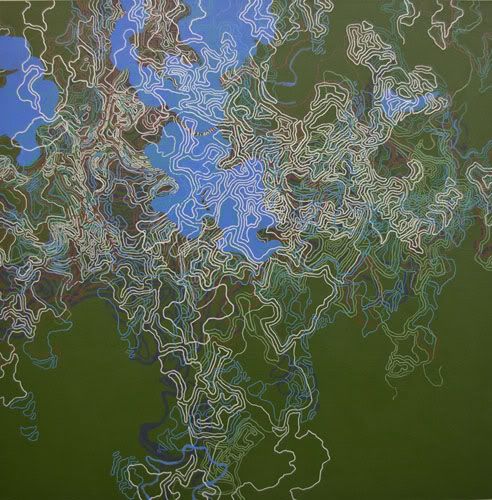 (Terra)
Mary continued to work in this manner until graduate school at Mass Art where she received her MFA. She began testing the limits of composition in exploring notions of atmosphere, pushing traditional forms through to abstract nature, and attempting to visually enter a space, but in more of a metaphorical way.  While she enjoys creating in within the figurative realm, the artist admits she is still uncomfortable with the idea of purely abstract work and likes to think her forms are still "something people could relate to and associate with real life."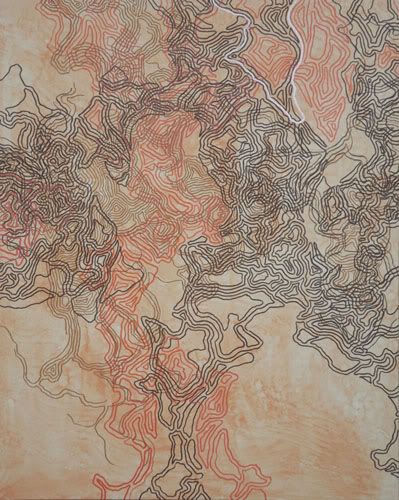 (Terra Septentrionalis)
There came a point a few years after graduating where Mary felt her artistic process was a bit too quick and hurried. She decided to rework her style and slow her hand down through the utilization of french curve stencils, colored pencils, unforgiving clayboard and in using one tool/one idea, seeing how much variety could derive from it. Despite the structured nature of this process, the artist left herself open to whatever forms might emerge from this exercise.  A "meditative and obsessive" process as she put it.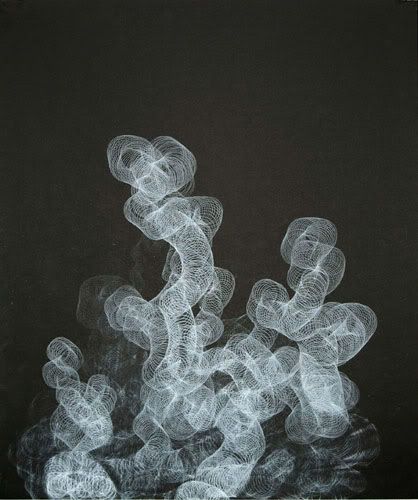 (Ghost Spiral 5)
Continuously learning, growing, and expanding on her skills, Mary has developed her own unique style and is constantly pushing herself to look at things a different way, literally challenging herself in some cases.  She will sometimes begin a piece with different parameters such as having forms only touch a single edge of the canvas, or two edges, no edges, utilizing only one color, and then allowing the painting to run away with itself and naturally come into being.  The artist's playful compositional experiments are evident in her later Ghost Spiral series which depicts spiraling tubular-like forms that almost look like clouds of smoke.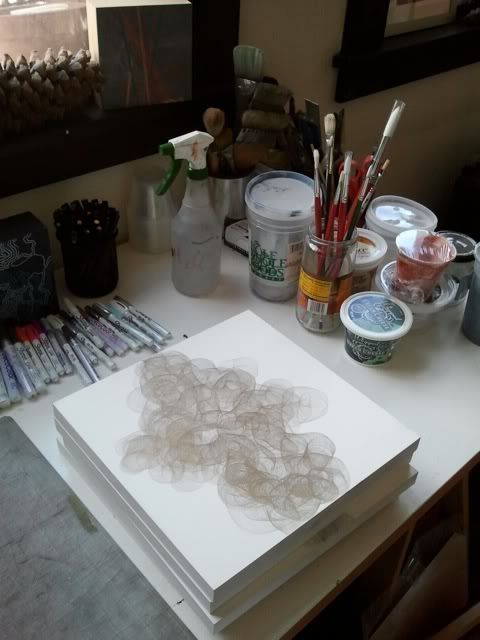 At this point in Mary's career, she has moved away from structure and micromanaging her pieces and allows them to breathe, plays more with negative spaces and thinks in a more calculated way about color.  The artist likes to work on several paintings at once, and despite her undergraduate education imploring her to do otherwise, is able to walk away from a piece instead of toiling away at it until its "fixed".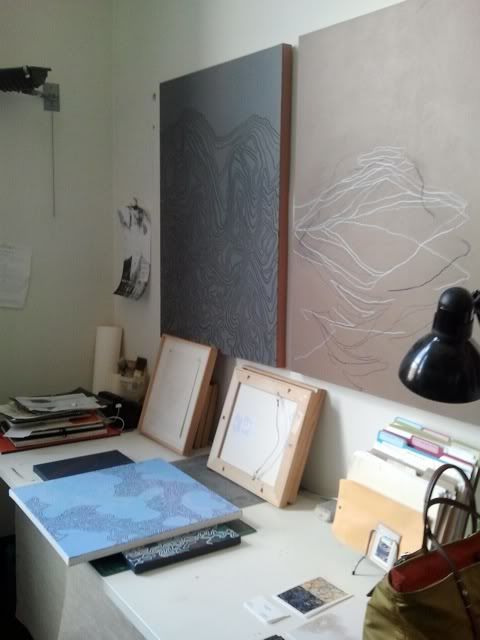 Now a teacher herself at Northeastern, Mary is encouraging a future generation of artists to open their minds and push boundaries just as she had and continues to do.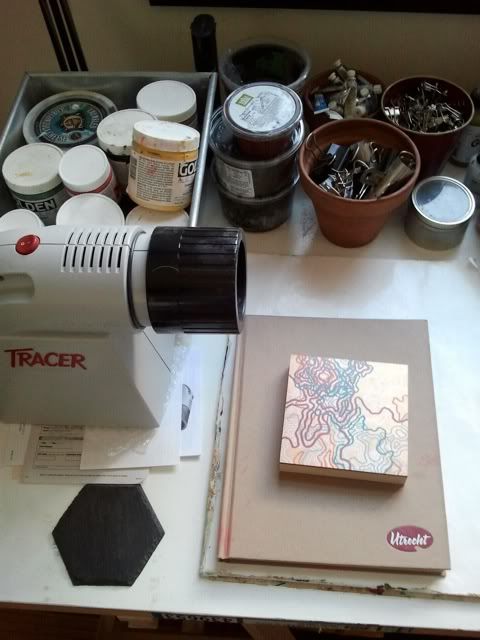 I had the pleasure of sitting in on a painting workshop led by Mary through one of the Copley Society of Art's Circle events where I was interviewer turned fledgling abstract artist.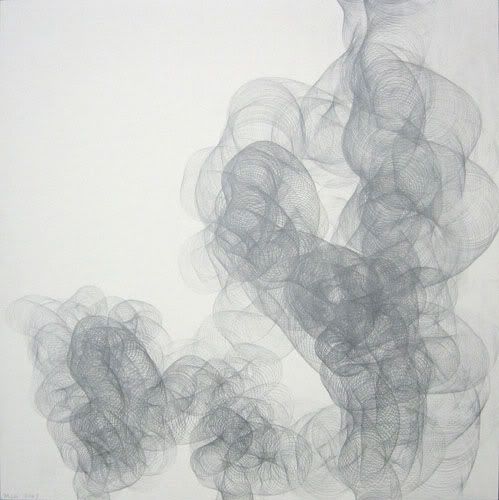 (Flutter 1)
So, how ARE artists able to think in that way?
Mary began her workshop with a quick abstraction lesson using the artist, Piet Mondrian as an example:
1. Horizontal Tree 1911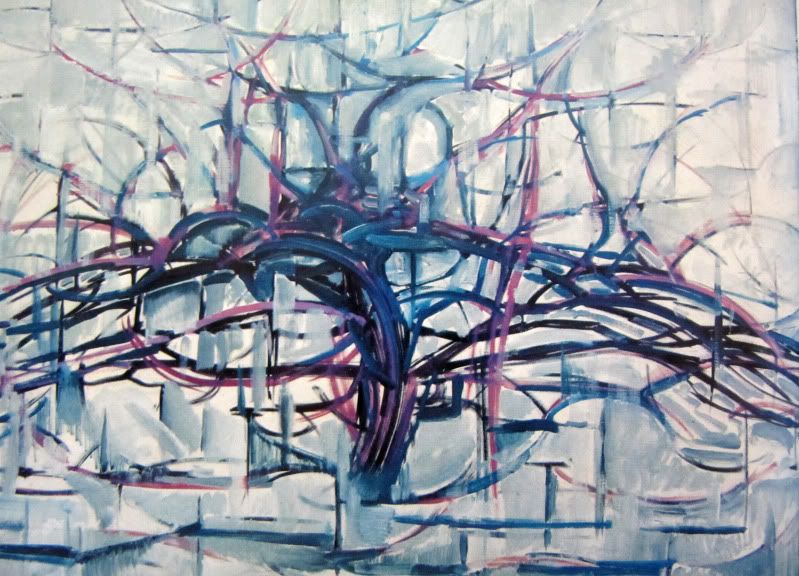 2. Flowering Apple Tree 1913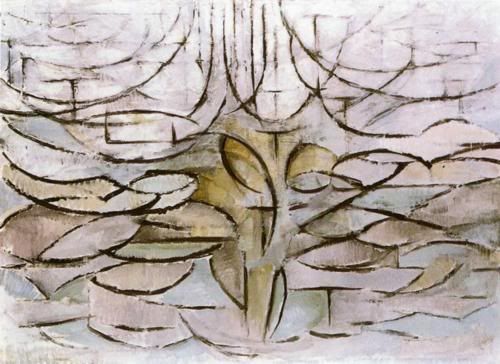 3. Composition in Brown and Gray 1913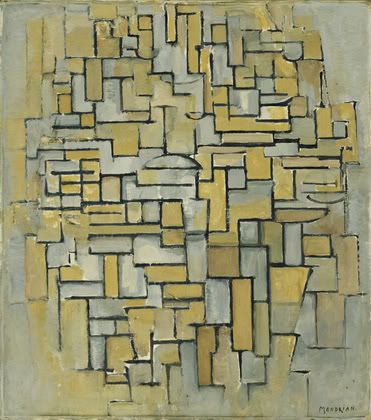 4. Composition No. 6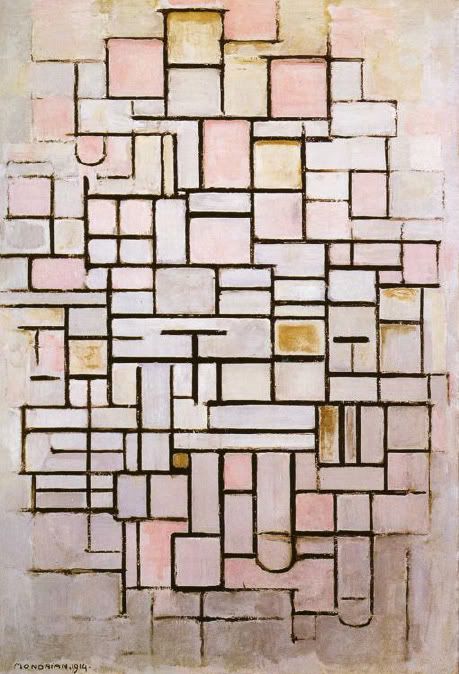 5. Broadway Boogie Woogie 1942-43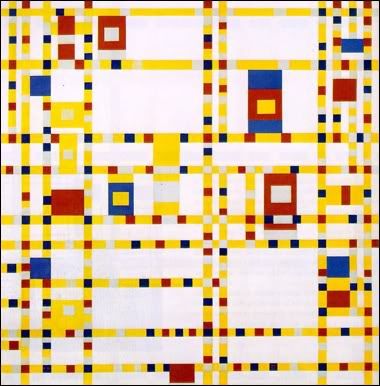 You can see that Mondrian wasn't always dabbling in the grid and colored block compositions he has come to be famous for. Rather, he began his career illustrating nature with evident links to the representational world and then slowly began to breakdown forms into colors and patterns heading towards abstraction. (For a comprehensive analysis of Mondrian's evolution as an artist, go here.)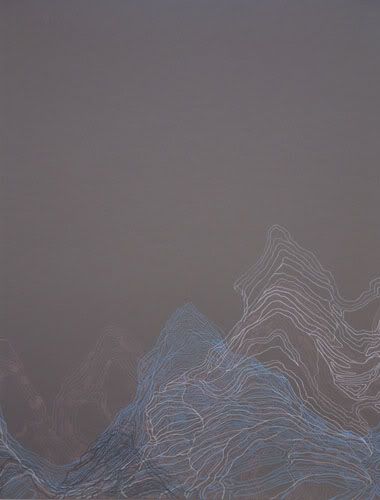 (Topography 7)
After this quick art history lesson we were asked to create a grid on a small 8"x8" square of clayboard which was where our "rules" ended.  From this point, we could make increase or decrease the spacing, work with or completely against the grid, and add flourishes of different mediums wherever we saw fit.  Over the course of two hours it was fascinating to see what creations emerged: linear progressions, explosions of whirling organic forms, and homages to the Masters of yesteryear.
This loosely structured exercise allowed me to let go of my artistic hang-ups, stunting desire to achieve "perfection" and dip my toes in the realm of abstract forms and color interactions in order to truly understand that a composition doesn't need to be a literal depiction of life in order to convey the same messages, meaning, and sentiment.
Abstraction is a process.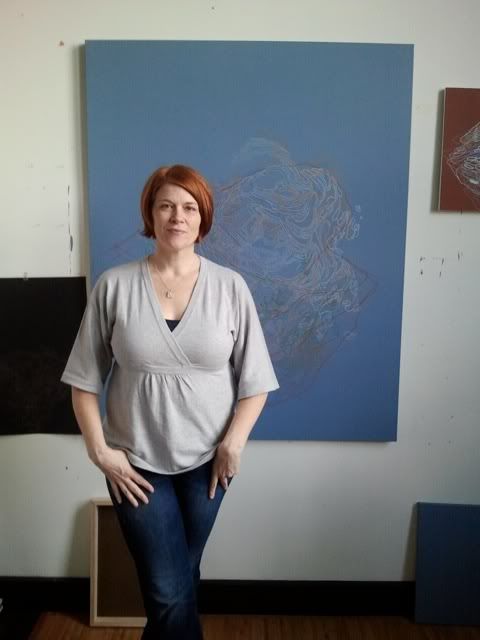 (The artist in her studio)
Mary Hughes' work is currently a part of the Copley Society of Art's White Lights exhibition until April 8th and will be on view at the Far & Wide:  2nd Annual Woodstock Regional from April 9th- May 8th should you find yourself in upstate New York.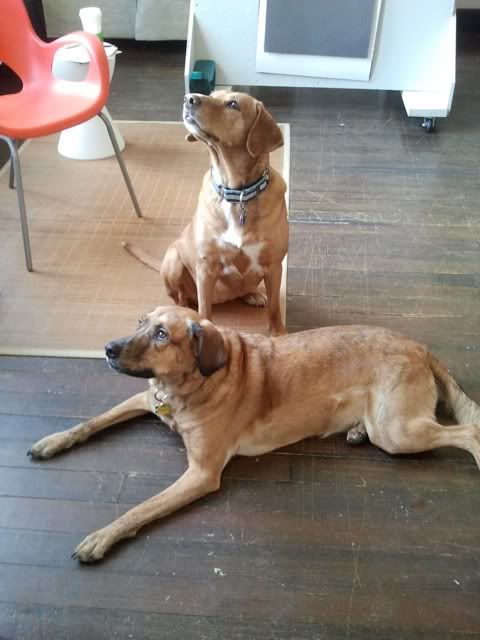 (I'd like to thank Annie & Millie for being such gracious hosts during my studio visit) ♥