Last fall, a once in a lifetime exhibition appeared on the walls of the MFA by way of Brooklyn. 92 of John Singer Sargent's finest watercolors were put on display for the very first time.
Already a fervent fan of Sargent's oil paintings, I could not wait to see this exhibition of his later watercolor works. From the very first room, highlighting his Venetian excursions and alive with gallery chatter, you get the sense that you are about to experience something remarkable. Eager to dive in, I headed for the first watercolor in the collection, From the Gondola, a Venetian canal scene that..was washy and abstract? Wait a minute.
Expecting to see the usual technical finesse that was a cornerstone of his craft, I instead stood head-tilted and fixated on a large haze of meridian blue that wafted across the scene, bleeding through the windows of a nearby building and engulfing a gondolier's head. There must be a reasonable explanation for this uncharacteristic composition.
Once a cluster of fellow gallery revelers subsided, I was able to get a closer look at the wall text:
"This oblique, loosely painted view shows several well-known landmarks on the Piazzetta: Jacopo Sansovino's famous library, the twin columns of St. Theodore and the Lion of St. Mark, and the Doge's Palace. Its suggestive blurring, with washes bleeding into one another, conjures the sensation of movement, of the watery setting, and the gentle rocking of Sargent's gondola as he worked."
Ah-ha. True to it's name, From the Gondala was painted while floating lazily down a Venetian canal. And at that moment, the stage had been set..
Sargent was taking us on an adventure.
————————–
(White Ships)
My early recalibration proved critical in fully appreciating the greater context of the exhibition. This survey was not about highlighting Sargent's ability to render perfection; it was about celebrating his forrays into artistic expression, play, and technical experimentation. Sargent is en plein air, winds blowing, scenery flashing by, hoping to simply capture a fleeting moment in time.
(The Bridge of Sighs)
Following the Venetian room, the exhibition takes you along Sargent's travels through the Mediterranean and the Middle East where he documents intimate moments from his journeys. And as we left the bustling canals of Italy, I was next captivated by his thoughtful depictions of friends and family who were often seen resting in grassy fields or tucked away with a book under the shade of a parasol.
I was particularly fond of his Simplon Pass series which includes The Lesson, Reading, and The Tease.
(Simplon Pass: The Tease)
And while many of Sargent's compositions capture a sense of leisure and feel as though he stumbled upon these charming moments as they happened, they were anything but candid.
"Sargent's signature talent was incredible marksmanship, which is part of why his paintings are so suave and dashing. He made it look quick and easy, as if every brushstroke was always put down in just the right spot, even though achieving this spontaneous appearance generally required numerous sittings with his subjects."- Greg Cook of WBURArtery
I imagine that sittings must have been awkward for Sargent who was not particularly known for his gift of gab. As a matter of fact, prolonged studio visits made the artist so anxious that he would often play music or invite a friend over while painting to help ease the silences.
(Sargent in his studio)
While portraiture remained the bread and butter of Sargent's career for most of his life, watercolors, even from a very young age, provided a welcome escape. His sketches were loved by many although never sold and only occasionally given as gifts. There was even a running joke about how people used to get engaged just so they could have a have a Sargent watercolor.
"These sketches keep up my morale and I never sell them. At the Watercolor Society they may be marked as sold, but they are really not for sale."– John Singer Sargent (via)

(Corfu: Lights and Shadows)
After burning out from years of portraiture, Sargent returned to watercolors. You can tell that the fluidity of the medium introduced a renewed sense of levity and whimsy into his practice. The confines of perceived perfectionism were set aside in favor of play. He discarded the traditional rules of watercolor and would embellish with pencil or build-up dense and opaque colors(an unlikely technique for the traditionally airy medium) pulling from his background in oils.
Through his watercolors you get the sense that Sargent was learning as he went. Oftentimes "mistakes" were left visible without much effort made to conceal.

(A Tramp, John Singer Sargent)
For instance, in the above image, the gray blur on the bottom left was not intentional. After Sargent noticed the watercolors had pooled on the canvas, he simply wiped the pigment off, et voila. His casual approach to the medium humanizes the artist; you almost can feel him throwing up his hands in the face of error.
"Make the best of an emergency." – John Singer Sargent on watercolors.
And despite these technical "imperfections", there is something about Sargent, where everything he does undoubtedly feels like magic.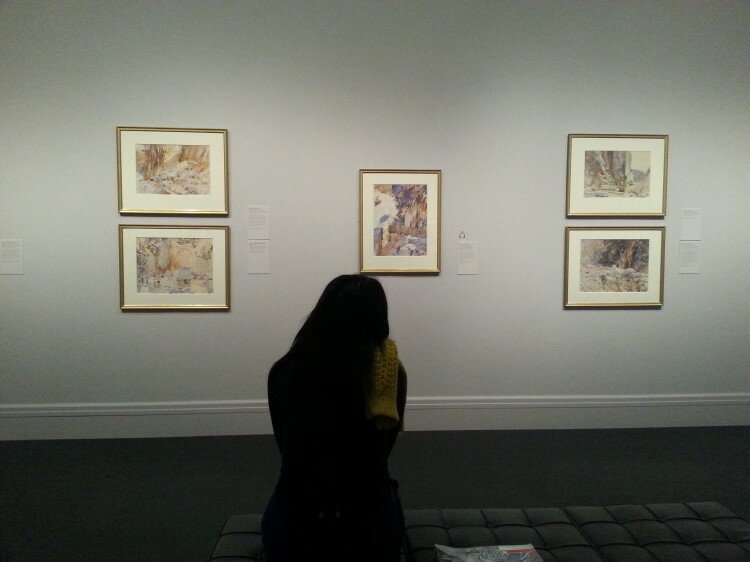 My co-pilot during this MFA excursion was local artist Autumn Ahn, who was particularly touched by the exhibit. After just returning home from a few months spent in Europe, she related firsthand to Sargent's desire to capture the beauty of a moment through his artistic practice:
"We as viewers understand that he was really there, in life. Spending the time to go to these places and touch these images, breathe them, sense them."
Autumn later took to the task striking up conversations with other gallery go-ers about his work and we quickly realized that everyone had their own stories; European retreats, quiet moments stolen in a park. Sargent's work invokes this sense of comradery and intimacy even among complete strangers.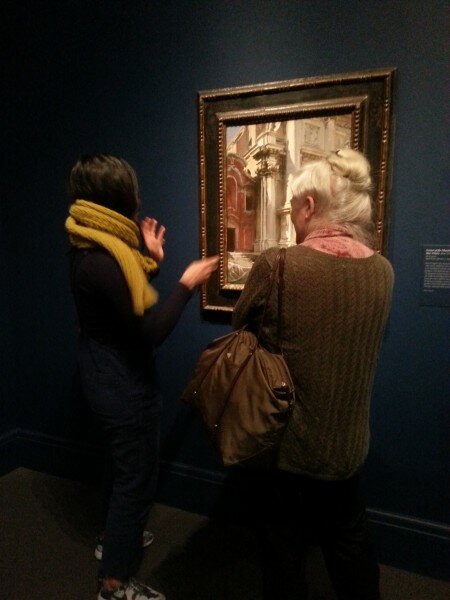 If I had a nickel for every time I overheard someone say "I don't usually like watercolors, but I love this" during my visit, I would be at least $2.75 richer.
And as someone who was not too familiar with the artist's watercolors beforehand, this show serves as a remarkable crash course. It is the first time in history that the two most significant collection of Sargent's watercolors(from the MFA and Brooklyn Museum) are on view together under one roof. Not only do you get to experience the allure of these works on an aesthetic level, but there is also great care taken in highlighting the process and techniques behind the masterpieces that make each of them so unusual and compelling.
(Zuleika)
Be sure to take advantage of the three-day weekend to explore Sargent's watercolors during its final week at the MFA(on view through January 20th). An exhibition that not only celebrates his legacy as a brilliant and prolific watercolorist, but also his role as an artistic adventurer. Savor the faint underdrawings, the joyful studies from nature, and the wide array of locales and vistas that give us a true sense of who the man was behind the paintbrush.
Walk away with a new understanding of Sargent.
(Villa di Marlia, Lucca- A Fountain)
"Cultivate an ever continuous power of observation. Wherever you are, be always ready to make slight notes of postures, groups and incidents. Store up in the mind… a continuous stream of observations from which to make selections later. Above all things get abroad, see the sunlight and everything that is to be seen." -John Singer Sargent
Sargent's watercolors will be on view at the Museum of Fine Arts through January 20th(psst-free Wednesday evening and MLK day). 

Learn more about the exhibition and related programming 

here

.
♥