intimacy x portals x flight
————————————-
MICHAEL BÜHLER-ROSE

When: On view through December 20th, 2014
Where: Carroll and Sons, 450 Harrison Avenue, Boston, MA 02118
How: Official Website
—————————
12 x 12 Holiday Show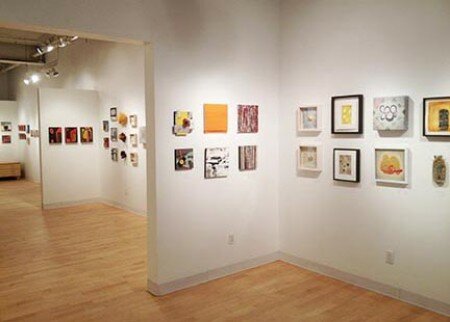 When: On view through December 21, 2014
Opening Reception: Friday December 5th 6:00-8:30PM
Where: Bromfield Gallery, 450 Harrison Avenue, Boston, MA 02118
How: Official Website
What/Why: "Dozens of New England artists, including Bromfield gallery artists, display a wide variety of artwork, featuring prints, paintings, collages and photographs. All three galleries are hung salon-style, with scores of original pieces.
Everything measures 12×12" or smaller, and ranges in price from $100 to $500.
Cash (or credit) and carry for holiday gift-giving!"
—————————
Judy Haberl – Flight

When: On view through January 10th, 2015
Opening Reception: Friday December 5th 5:30-8:00PM
Where: Gallery Kayafas, 450 Harrison Avenue, Boston, MA 02118
How: Official Website
What/Why: "Gallery Kayafas is pleased to announce Flight- an engaging sensory mixed-media installation by Judy Haberl, who is known for her unconventional and innovative work using photography to conjure metaphorical scenes and as a means to get to something else.
In the gallery the viewer embarks on a pathway between distant fields literally blanketed with aerial views.  Journeys, history, and the miraculous phenomenon of flight beckon us through the space.
Dedicated to her father who was a pilot in WWII, Haberl merges decades into an ethereal softness."
Also on view..
Caleb Cole – Blue Boys

What/Why: "Caleb Cole continues his passionate exploration of identity– the visual and emotional reveals that illuminate our personal experiences. In this exhibit, he invites the viewer to think about role models, influencers, those that we identified with when we were young. Just a relatively short time ago, who were the role models for young gay men in the 50s – 80s?
Cole has taken images from a Boy Scout handbook creating a grid of young men touching, wrestling, and embracing. While the original images were illustrations of life saving techniques they are also and remain depictions of men touching men.
During WWII, a discharge from the armed services because you were homosexual, resulted in discharge papers that were blue. Blue Boys includes military references and objects – sculptural pieces, cyanotypes, hand-colored photographs, mixed media, neon sculpture – all the work resonates with an emotional poignancy – the pain of hiding one's sexual identity, the isolation, the celebration of shared experience. Cole's work understands how people make meaning in their lives."
—————————
Stacey Alickman: Humpty Dumpty

When: On view through December 28th, 2014
Opening Reception: Friday December 5th 5:30-8:00PM
Where: Kingston Gallery, 450 Harrison Avenue, Boston, MA 02118
How: Official Website
What/Why: "For the past several years, Stacey Alickman's practice has been to layer oil paint over extended periods of time, often applying and then removing it. At some point, the physical aspect of the paint asserts itself and she no longer controls the outcome. "The paint wills itself into a composition that is not about my ideas but something hopefully more transcendent. Lately, I am simply more open to the possibility of not knowing what the work is about until the surface has been broken over and over again. The reemergence of the surface is a process of putting back together, with nothing coming back together right. A painting I can live with is one whose results couldn't have happened in any other way." The exhibit title, Humpty Dumpty, is a reference to her way of working.
This exhibit shows Alickman exploring nuanced kinds of textures, not just impasto and ridges but something else, something that also expresses the perception of texture. She finds new inspiration by sanding through layers of paint, building up new shapes while allowing previous layers to re-appear. She fearlessly develops her paintings for the purpose of 'breaking' them, that is, to get the paint off its canvas. Once the paint is free of its support, she uses both the back and front of these chips; they become the raw material for what will become future bodies of work."
Also on view..
Rhonda Smith: And There Was Matter

What/Why: "Rhonda Smith's paintings are satellite-like views of the motion of the phenomenal world, seen through its underlying material: microbial movement, atomic, tectonic, planetary, migratory, and tidal. The mystery of the seen and the unseen act together in wildly diverse scales of time and space. Smith is fascinated by the constant exchange, the idea of disruption, of always being on the cusp of chaos. This becomes for her both expression and process.
"My daily perspective of my physical environment is narrow: I perceive it as solid, stable, and visible. My sense of time is personal. How to integrate what I know otherwise of a parallel and more compelling dynamic world? This 'other' unseen world consists of constant movement on scales ranging from nano to tectonic to astral, a series of continual and accumulating actions and reactions. Likewise the rates of speed from atomic to glacial are difficult to comprehend."
As the artist tries to understand more of this unseen world in her paintings and drawings, her sense of connection to it expands. Sometimes she can imagine our origin from starry matter, the long line from the Big Bang to the genesis of the earth and us. A feeling of wonder and relationship emerges, displacing her otherwise egocentric view."
—————————
David Akiba – From the Wings

When: On view through December 21st, 2014
Opening Reception: Friday December 5th 6:00-8:00PM
Where: Chase Young Gallery, 450 Harrison Avenue, Boston, MA 02118
How: Official Website
—————————
Small(er) Works and Other Offerings

When: On view through December 28th, 2014
Opening Reception: Friday December 5th 6:00-8:00PM
Where: Galatea Fine Art, 460B Harrison Ave., #B-6
How: Official Website
What/Why: "Our large and eclectic membership will be coming together for the month of December to present, as a cohesive unit, over 150 pieces of artwork in varying media and genre. Galatea Fine Art is also happy to welcome many new members into its fold, who will be represented in this festive exhibition. Paintings, sculpture, photography, mixed media, etc. will be on view by over 60 artists."
—————————
Sarah Hutt – Portals

When: On view through December 4th, 2014
Opening Reception: Friday December 5th 5:00-8:00PM
Where: Boston Sculptors Gallery, 486 Harrison Ave, Boston, MA 02118
How: Official Website
What/Why: "Artist Sarah Hutt examines the nagging thoughts that blossom in her dreams. Hutt's sculpture validates each emotional moment, and suggests that a collection of the visual expressions can serve as signposts marking the path we're following. Her mixed media sculptures focus on memory, dreams, and the ever-changing reality they create. Combining text with everyday objects, she tells stories that remind us of our commonality."
Also on view..
Marilu Swett – Sounding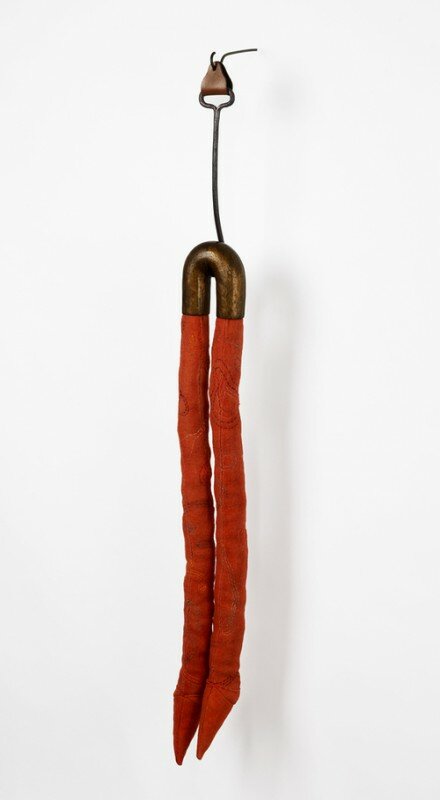 What/Why: "For SOUNDING, Marilu Swett turns her attention to the ocean, as site of evolution, human industry, and constant watery companionship. Swett's sculptures and drawings allude to seaforms of all scales, which appear, evolve, and dive beneath the
surface. Themes from 19th century whaling and fishing show up in her choice of material, hardware, pattern, and image. Pieces evoke the leisure time activities of scrimshaw and textile embellishment and the hard labor of fishing and whaling, directly and indirectly. The profound experience of being in and on the water, and walking its shores, drives this body of work. Swett cuts, inks, collages, models, layers, paints, carves, and casts materials to produce complex drawings and suspended forms in plastic, resin, found objects, lead, bronze, and mixed media. The work is serious and fanciful, abstracting, inventing, and drawing relationships among forms. Her references include natural systems and subsystems, microscopic form, the human body, and industrial artifacts."
—————————
10 x 10 Show

When:  On view through December 2014
Opening Reception: Saturday, December 6th at 3:00pm – 8:00pm
Where: Sloane Merrill Gallery, 75 Charles St, Boston, Massachusetts 02114
How: Official Website
What/Why: "20 painters showing exclusively 10 x 10 inch paintings! Carlo Russo, Jeremy Durling, Adam Vinson, Leo Mancini-Hresko, Matthew Saba, Jeremy Miranda, Tony Bevilacqua, Kyle Bartlett, Kelly Carmody, Nicholas Mancini, Margaret Langford Sweet, Brett Gamache, Andrew Fish, Michelle Arnold Paine, Nick Ward, Michael Compton, Aurélie Galois, Frank Strazzulla, and Jonathon Nix."
————————–
Hemings in Paris: A Rough Cut Screening

When:  Friday December 5th, 7-9PM 
Where: Find and Form Space, 524 Harrison Ave, Boston, MA
How: Official Website
What/Why: "Hemings in Paris is a short film by artist Marisa Williamson. An evolving work, shot this past winter, it explores Sally Hemings' experience in the city where she spent two years of her life (and where her relationship with Thomas Jefferson allegedly began), alongside the experiences of Paris' contemporary black diaspora. In tune with the previous performance works by the artist, Hemings in Paris is an attempt to activate public space, image the fantastical and anachronistic, and present narratives (mine along with hers) that facilitate the collapsing of the past and present both in content and form.
Williamson has been working with the character of Sally Hemings, Thomas Jefferson's slave and mistress, for over a year. The work is rooted in an interest in museological andart industrial space, freedom and its opposite(s), race, gender, labor, sex and love through a historical lens. The work addresses these interests as they pertain to the Williamson's life: a modern life existing as it does as a consequence of known andunknown literal and figurative ancestors.
For Williamson, Hemings represents an available body through which to interpret personal and contemporary racial, political, gendered, creative, and cultural challenges. Through the performances as Sally, she's discovered ways to visually represent andpsychologically explore the emerging plasticity of history as it is recorded but more importantly, as it is felt."
————————–
41st Annual Holiday Fair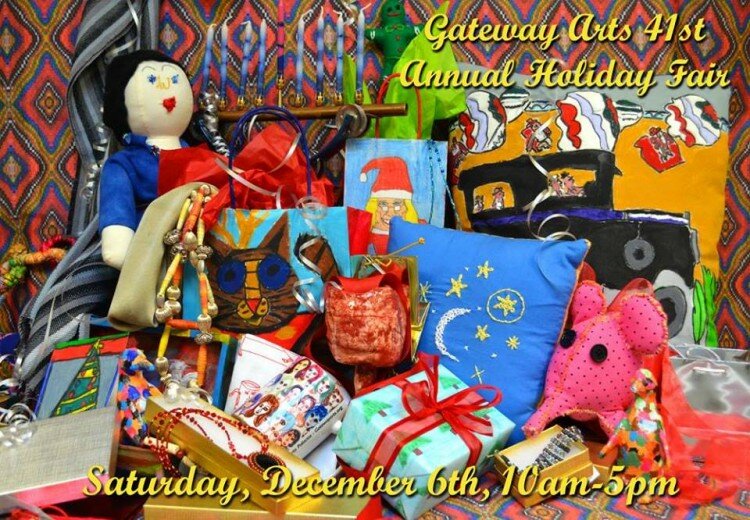 When: Saturday, December 6th at 10:00am – 5:00pm
Where: Gateway Arts, 62 Harvard St, Brookline, Massachusetts 02445
How: Official Website
What/Why: "It's time again for the annual Holiday Fair!
Ring in the giving season by spending the day with us. Gateway Arts has many one of a kind and unique gifts that will make wrapping up your shopping list a cinch.
Shop the Craft Store, Studios, and Gallery to give the gift that gives twice this holiday season. Artists receive 50% of all their sales.
Fine Art, Home Decor, Jewelry, Ceramics, Woven Goods, and More.
Live Music & Refreshments"
————————–
Fort Point Holiday Sale: a pop-up art sale at 315 on A

When:  December 5: Friday 4-8pm // December 6 & 7: Saturday and Sunday: 11am-4pm
Where: 315 A St, Boston, Massachusetts 02210
How: Official Website
What/Why: "The 16th Annual Holiday Sale takes place Friday-Sunday December 5, 6, and 7, 2014. Visitors can buy handcrafted gifts and works of art directly from their makers. Local artists will be set up over the three-day event.
This year artists will gather in the sparkling new lobby area of 315 on A, complete with a fireplace. FPAC will be hosting drop-in holiday art and craft activities on site throughout the weekend and offering complimentary refreshments. Get creative with your sweet tooth: decorate a holiday cookie that can be nibbled or cherished with artist and chef Elissa Dunlap."
————————–
Art in Season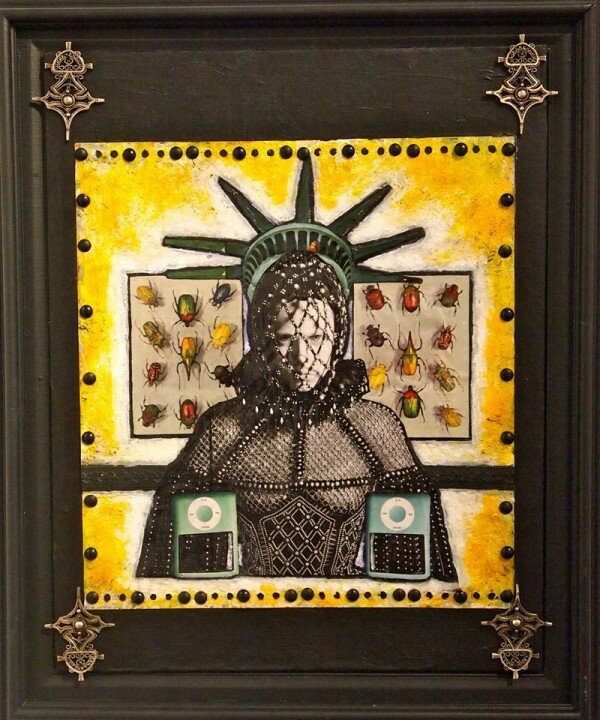 When: Saturday, December 6at 5:00pm – 9:00pm
Where: Trescott Street Gallery, 8 Trescott St, Taunton, Massachusetts 02780
How: Official Website
What/Why: "SNAC is having one final Reception of 2014 at the Trescott St. Gallery in Taunton. Save the date, Saturday, December 6, 5-9pm.
Our Reception is running in conjunction with the City of Taunton's 101st Lighting of the Green and Lights On Festival. The Holiday festival runs from 4-8pm in Downtown Taunton.
Watch the Tree lighting ceremony, come see our art and enjoy some refreshments with us!"
————————–
Holiday OPEN STUDIOS & Gallery Reception for Sirarpi Walzer: A Solo Exhibition!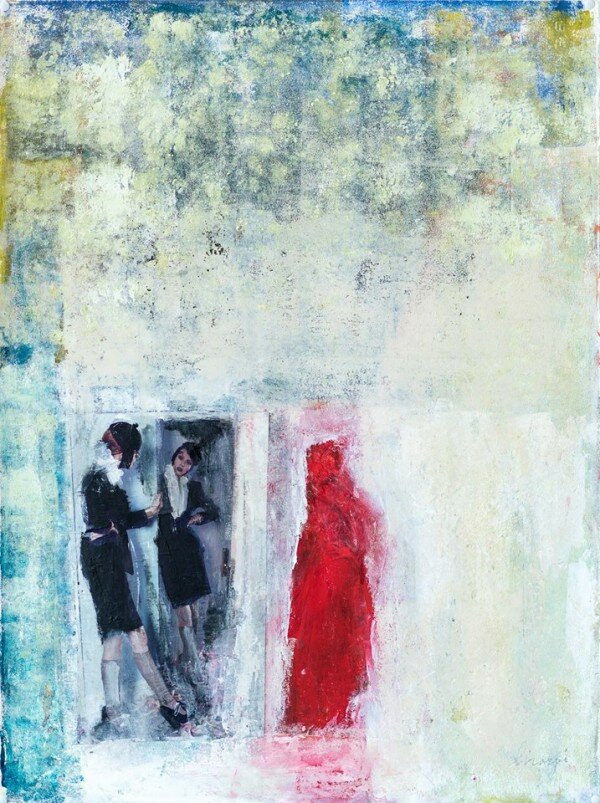 When: Sunday, December 7th at 1:00pm – 5:00pm
Where: The Zeitgeist Gallery & Studios, 222 Cabot St, Beverly, Massachusetts 01915
How: Official Website
What/Why: "Sunday, Dec. 7th 1 – 5 PM The Zeitgeist Gallery & Studios will host a Gallery Reception for Sirarpi HeghinianSirarpi Heghinian Walzer's Solo Show and Holiday Open Studios. Come by for exciting art, engaging conversation and maybe find some terrific gifts for the holidays!!!"
————————–
Cindy Cuba Clements

When: On view through December 2014
Opening Reception: Friday Dec 5th. 6:00 – 8:30pm
Where: M O V I M I E N T O, 450 Harrison Ave, # 61, Boston, Ma 02118
How: Official Website
What/Why: "Art for me is an exhilarating process that allows for an intersection of expression and discovery, both of which are equally important. The discovery is the fun part. It is the exploration of how medium affects the paint, how textures add interest to the canvas. It is playing with color and line, the adding to and subtracting from a piece.
The element of expression is harder, yet essential. It is the communication of feeling and mood — it is they way in which the artist truly conveys her self. When my feelings are on the surface and accessible, this is easy. I have series of paintings in response to times of loss, worry and transition. Other times I work to engage my emotions: poetry, music, meditation, and very often the newspaper generate a response. Sometimes these literal inspirations are included as a ground, or under layer, of a painting. My canvases' many layers reflect their emotional history.
Much of my latest work is very energetic and explores space — how the strokes of paint create an illusion of space on the canvas, and how the canvas relates to the wall around it. By adding an imperfect border in white, I have experimented with creating a sense of erasure and transforming the painting into a shape other than square or rectangle. Not only does this break up the perfect rectangle, but it seems to allow the shapes to float off the canvas. In other works, large gestural strokes give the appearance of floating in front of a receding background. These paintings are largely playful and engaging, meant to draw the viewer into relating with the work.
My work as an artist could hardly be more different than my previous career as an attorney. This work has few rules and when done right (in my book), is very, very messy. It is never certain what will be revealed in this process, how all the elements will come together. As my late father-in-law would say, "That is the beauty of it."
————————–
Celebrating 40 Years of Creativity & Art

When:  December 6 & 7, 2014 (Saturday & Sunday 12-6pm)
Where:  Vernon Street Studios, 6 & 20 Vernon Street, Somerville, Massachusetts 02145
How: Official Website
What/Why: "Celebrating 40 Years of Creativity & Art ……On December 6th & 7th, Vernon Street Studios will host their annual open studios (which has become a much anticipated annual event).
Over the years, Vernon Street Studios has been recognized as a community well known throughout the area for the quality of work produced by artists with established reputations as well as exciting newcomers. Located in an historic 19th-century brick industrial building, Vernon Street housed the first group of artists in Somerville to open their studios to the public in 1974. This year marks our 40th Anniversary of Vernon Street Open Studios, one of the oldest open studios events in the Greater Boston area. To honor this milestone, we will be having a special exhibit from mid- November to December at the Somerville Museum, featuring some of the original artists at Vernon as well as current residents. 
These founding artists are also invited to participate in Open Studios on December 6 & 7. It will be an exciting event that will highlight the evolution and transitions this creative landmark has encountered through the years. During this showcase for the arts, mid-career and emerging artists working across a broad spectrum of fine art styles and craft media – including painting, photography, print-making, sculpture, glass, fiber, jewelry, furniture, and ceramics – will exhibit and sell their work ….just in time for the holiday season."
————————–
Sylvia Plimack Mangold and Robert Ryman
When:  On view through January 24, 2015
Where: Barbara Krakow Gallery, 10 Newbury Street, Boston, Massachusetts 02116
How: Official Website
————————–
Intimacy & Contemporary Portraiture: A panel conversation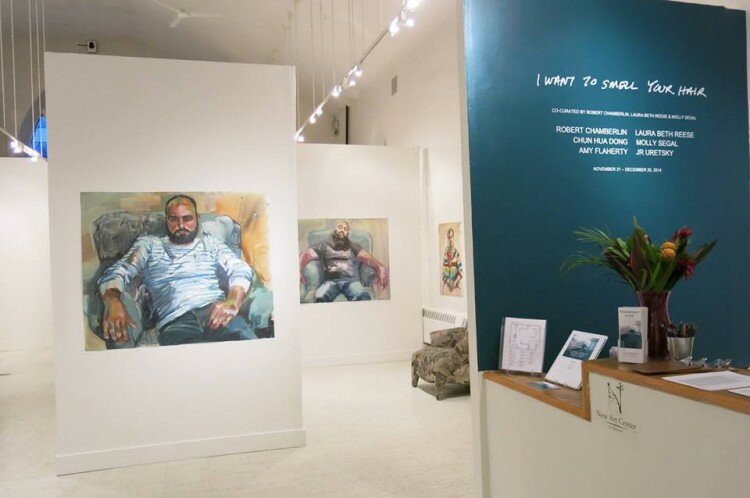 When:  Wednesday, December 10 at 7:00pm – 9:00pm
Where: New Art Center, 61 Washington Park, Newton, Massachusetts 02460
How: Official Website
What/Why: "Part of the current exhibition I Want to Smell Your Hair 
Panelist Elizabeth Lyons Devlin, Amy Flaherty, and Ria Brodell will discuss intimacy as it realates to the show and their own work. The panel will expand upon themes presented in the show as well as wider representations of intimacy in art. Moderated by Rob Chamberlin artist and co-curator of I Want To Smell Your Hair. "
————————–
Art on the Marquee Opening Reception

When: Thursday, December 11at 6:00pm – 8:00pm
Where: Boston Convention & Exhibition Center, 415 Summer St, Boston, Massachusetts 02210
How: Official Website
What/Why: "For the twelfth round of "Art on the Marquee," Boston Cyberarts and the Massachusetts Convention Center Authority (MCCA) will be presenting nine new works created by nine talented Massachusetts residents on the 80-foot-tall multi-screen LED marquee outside the Boston Convention & Exhibition Center in South Boston. All of the artists have created unique digital pieces specifically for the Marquee. An opening will be held on December 11 at the BCEC, 415 Summer St., Boston, MA, from 6:00pm to 8:00pm."
————————–
Holiday Shoppe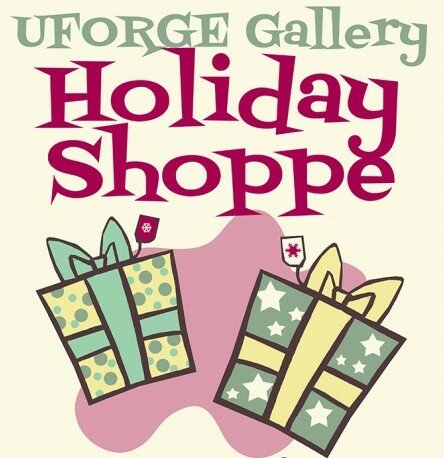 When:  On view through December 23rd, 2014
Where: Uforge Gallery, 767 Centre Street, Jamaica Plain, MA , 02130
How: Official Website
What/Why: "UFORGE Gallery will open tonight for a special "Holiday Shoppe" for fine art & crafts this month. Combining aspects of art exhibition and charming boutique, the space will display a lively, juried array of works for sale, with gifts priced between $10 and $500 so there's something for every shopper."
————————–
Artist Talk: One Language is Never Enough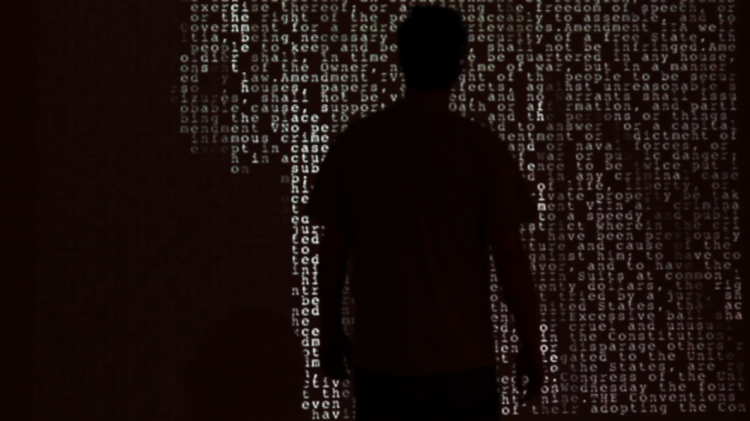 When:  Sunday, December 7th, 1:30 p.m.
Where: Fitchburg Art Museum, 25 Merriam Pkwy, Fitchburg, MA 01420
How: Official Website
What/Why: "Join us for an artist talk with exhibiting artists: Ana Flores (sculpture), Lina Marie Giraldo (video) and , Raúl Gonzalez III & Elaine Bay (installation/mixed media drawing)"
————————–
Say hi:
EMAIL | TWITTER | FACEBOOK | INSTAGRAM | PINTEREST
"I dream a lot. I do more painting when I'm not painting. It's in the subconscious." – Andrew Wyeth
It's great to see so many holiday fairs and affordable art events in the mix this week.
When you've done scented bath beads five years in a row, perhaps it's time to shift gift-gears.
Have a great weekend and go see/purchase some art (for me)!
♥