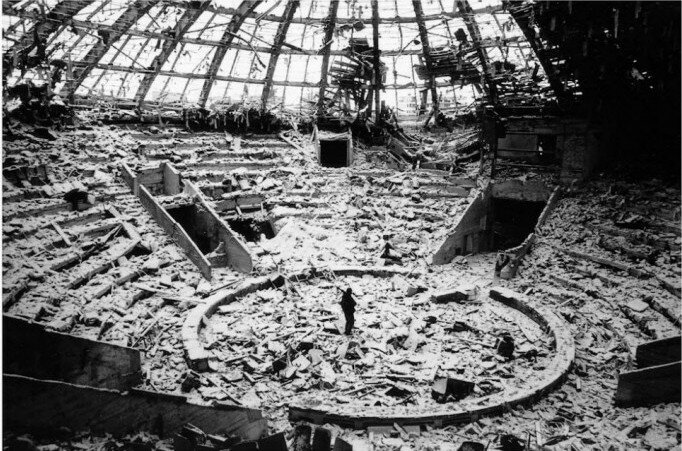 3 days of pajamas.
For the Record x Adoption x Frontline Fashion x Pursuit of Knowledge
——————————–
For the Record: Searching for Objectivity in Global Conflict
(Stealth Bomber, Nina Berman)

When: On view through October 22nd, 2011
Where: Montserrat Gallery, 23 Essex Street, Beverly, MA 01915
How: Official Website
What/Why: "Bombarded by information from a variety of sources, it is often difficult as observers of current affairs to fully make sense of the concepts and facts presented. Artists offer us the opportunity to engage and interpret this information in an alternative way. They were the first compelled to record and present the events of the world. Artists illustrate and record many aspects of war in a variety of ways, whether through genuine factual representation (witness accounts of war) through war reportage drawing and/or documentary work or as artistic interpretation (visual response to war). The artists in For The Record offer a testament of the effects of war and conflict on people, societies and the physical earth.
Featuring: Fiona Banner, Nina Berman, Matthew Ernst, Harun Farocki, Benjamin Lowy, Steve Mumford, James O'Neill, Gerhard Richter, Sophie Ristelhueber, and Rob Roy."
—————————-
Adoption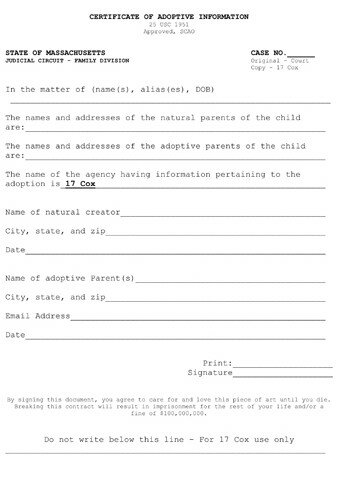 When: September 5th-September 11th, 2011
Adoption Ceremony: September 11th, 2011 6:00-8:00PM
Where: 17 Cox, 17 Cox Court, Beverly MA 01915
How: Official Website
What/Why: "Do you feel like you need some beauty in your life? Feel like you are not doing enough for your art community? ADOPT A WORK OF ART TODAY!!! Yes, YOU can adopt a piece of art to help fill that empty void in your life. Ask yourself: Am I ready for such a commitment? Would I make a good parent? Will I be loved in return?  All of these are reasonable doubts, BUT DON'T WORRY, because you don't need to feed, change or pay for college for ONE OF THESE BABIES. All that you need is a wall, a nail and a pair of doting eyes! You can take one (or more!) home today, provided you have the means and desire to care for them in the long run and a stable loving home.
Previous treatment may have caused damage, some reparable, some not. Some works need to be adopted together and some will certainly be more of a challenge than others. Various sizes and weights available.
Proposed by Curator-in-Residence, Kris Anderson, Adopted is a investigation into the aftermath of creation and the responsibilities of owning a work of art."

—————————-
Taste
(Virgin Mary Mother of Beer, Nicole Speciale)

When: On view through September 3rd, 2011
Where: LAP Gallery, 289 Moody Street, Waltham MA
How: Official Website
What/Why: "Featuring Work by Angela Jennings, Antonia Kuo, Arthur Henderson, Ben Aron, Brian Butler, Caitlin Duennebier , Charlie Smith, Cody DeFranco, Jocelyn Gomes, John Boilard, Katie Loesel, Kevin Spies, Nichole Speciale
, Sheryl Pace"
—————————-
"Ice Age" To The Digital Age: The 3D Animation Art of Blue Sky Studios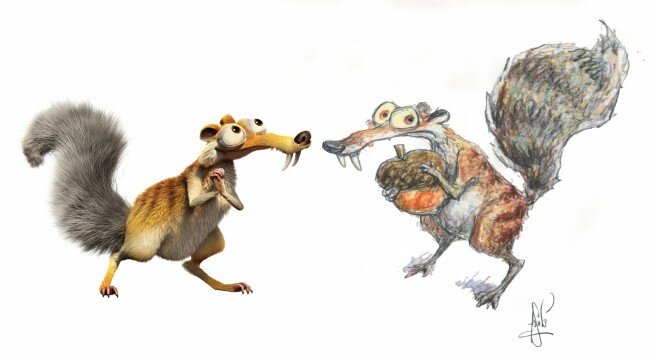 When: On view through October 31st, 2011
Where: Norman Rockwell Museum, 9 Route 183 Stockbridge, MA 01262
How: Official Website
Cost: $16.00 for adults: buy on location, $14.50 for seniors 65+, $10.00 for college students with valid school I.D., $5.00 for children/teens ages 6 – 18
Free for children 5 and under
What/Why: "This summer, Norman Rockwell Museum presentsScrat the prehistoric squirrel, along with fellow stars from the blockbuster Ice Age films and more. Don't miss this exciting interactive exhibition exploring the art of animation in the digital age. Take a lively look behind the scenes at Blue Sky Studios, where their unique creative and technical process brings imaginative characters and stories to life.
"Ice Age: To The Digital Age: The 3D Animation Art of Blue Sky Studios is sponsored, in part, by Greylock Credit Union, Wacom Technology Corporation, Pixologic, Inc., and Time Warner's "Connect A Million Minds."
Bonus: A sketch of one of my best gal pals, Chloe is featured in the exhibit..

I think it accurately captures her soft and gentle demeanour ♥
—————————-
Free Summer Weekdays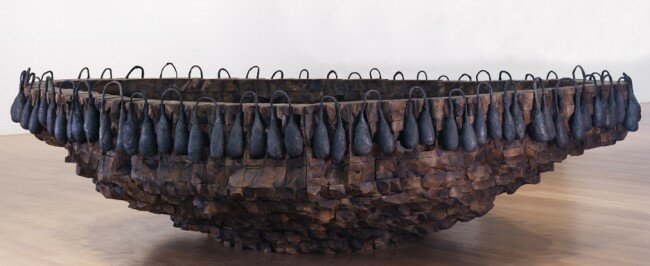 (Ocean Floor, Ursula von Rydingsvard)
When: Today is the last day! 10AM-5PM
Where: deCordova Sculpture Park and Museum, 51 Sandy Pond Road, Lincoln, MA 01773
How: Official Website
What/Why: "Admission includes access to all exhibitions on view this summer: Ursula von Rydingsvard: Sculpture, Andy Goldsworthy: Snow, Wall Works, PLATFORM 7: Tory Fair, Testing a World View (Again) (opening July 23), and PLATFORM 8: Soo Sunny Park (late summer)."
—————————-
Frontline Fashion
When: On view through October 9th, 2011
Where: Charles River Museum of Industry & Innovation, 154 Moody Street, Waltham, MA 02453
How: Official Website
What/Why: "War and Fashion. The two may seem particularly diverse at first glance, however they have a strong correlation that has persevered throughout history. The fashion world continues to replicate particular trends in the form of materials, innovations and silhouettes from the United States military. As long as this standardized attire has existed, there have been imitations found in parallel fashion eras. From the introduction of khaki to the American textiles market, to the rise in popularity of Tiffany & Co.'s pricey titanium dog tags, military and fashion styles have had strong bonds during the course of warfare history.
The intention of this exhibit is to illustrate the significant impact that military style has on fashion trends from the Vietnam to Iraq Wars. The irony that war can somehow be fashionable evokes powerful and complex expressions in the form of wearable patriotic replications. War, fashion and pop culture seem interdependent as a result of environmental impact and media exploitation. When further inspecting these three components, the manifestation of military attire into civilian dress and lifestyle is a phenomenon that cannot be overlooked."
—————————-
Prints and the Pursuit of Knowledge in Early Modern Europe

(Portrait of Wenzel Jamnitzer: Goldsmith, Mathematician Instrument Maker, Jost Amman)
When: September 6th -December 10th, 2011
Opening Reception: Tuesday September 6th, 2011 5:00-8:00PM
Where: Arthur M. Sackler Museum, 32 Quincy Street, Cambridge, MA
How: Official Website
What/Why: "Prints and the Pursuit of Knowledge examines how celebrated Northern Renaissance artists contributed to the scientific investigations of the 16th century. The exhibition and its accompanying catalogue challenge the perception of artists as illustrators in the service of scientists. Artists' printed images served as both instruments for research and agents in the dissemination of knowledge. The exhibition, displaying prints, books, maps, and such instruments as sundials, globes, astrolabes, and armillary spheres, looks at relationships between their producers and their production, as well as among the objects themselves. The story of 16th-century technology is enhanced by technology of the 21st, with interactive computers in the galleries, an interactive module on the website, and an iPhone/iPad application in iTunes (check back here soon for an update on availability).
September 6th- We invite you to attend the opening of Prints and the Pursuit of Knowledge in Early Modern Europe, which will feature a panel discussion, at 6pm in the Sackler Museum lecture hall, that introduces the main themes of the exhibition, followed by a reception in the Sackler Museum lobby. Limited complimentary parking at Broadway Garage, 7 Felton Street."
—————————-
Vico Fabbris / Adam Graham / Rusty Wolfe
(Ancoratium Orky, Vico Fabbris)

When: On view through September 15th, 2011
Opening Reception: September 2nd, 7:00PM
Where: Rice/Polak Gallery, 430 commercial street provincetown, ma 02657
How: Official Website
What/Why: "The Rice/Polak Gallery holds a prominent place in Provincetown, Massachusetts as one of the primary venues for contemporary art. Founded by Marla Rice and Richard Polak in 1992 the focus of the gallery is on the quality and context of artwork. Marla Rice assumed sole ownership of Rice/Polak in 2005. The gallery represents a select group of emerging and established artists whose work is both contemporary and contemplative. The gallery is not media specific and shows a wide cross-section of artistic approaches, including, paintings, works on paper, sculpture, photography and installations."
—————————-
The Otolith Group:The Otolith Trilogy
(Otolith I, Video, Otolith Group)

When: September 6th-September 22nd, 2011
Where: MIT Museum, Bakalar Gallery, 20 Ames Street Building E15, Atrium Level, Cambridge, MA
How: Official Website
What/Why: "THE OTOLITH GROUP– The Otolith Group is an artist-led organization founded in 2002 by Anjalika Sagar (b. 1968) and Kodwo Eshun (b. 1966) that integrates film, video, artists' writing, workshops, exhibitions, publications and public programs. The Group's research-based projects combine narrative, archival material, and documentary footage. Centered on close readings of the image in contemporary society, their work explores the legacies and potentialities of the document, the essay film, and the archive, as well as speculative futures and science fictions. They have organized numerous workshops, discussions, and exhibitions, including the touring exhibition The Ghosts of Songs: A Retrospective of The Black Audio Film Collective 1982-1998, at FACT Liverpool, UK, Harun Farocki. 22 Films: 1968-2009 at Tate Modern, UK, and the film program Protest, which toured venues throughout the United Kingdom and was conceived as part of the Essentials: The Secret Masterpieces of Cinema, commissioned by the Independent Cinema Office. The Otolith Group were nominated for the Turner Prize in 2010. Their exhibition on Jean Genet is on view at The Nottingham Contemporary in Nottingham, UK, from July 16 to October 2, 2011.
THE OTOLITH TRILOGY-The MIT List Visual Arts Center is pleased to present the Otolith Trilogy, an interconnected series of films made between 2002 and 2009 that relate scenarios of a speculative future, projected from events in our recent past. Combining fictional narration with archival and documentary footage, the artists create a set of plausible predictive outcomes for the future, from life in the city of tomorrow, to the 22nd Century, when the earth is no longer hospitable to life. The three films Otolith I, Otolith II, andOtolith III show the possible effects of our past and present actions on various aspects of human experience and knowledge, including biology, space travel, urbanism, architecture, economics, media, and culture."
—————————————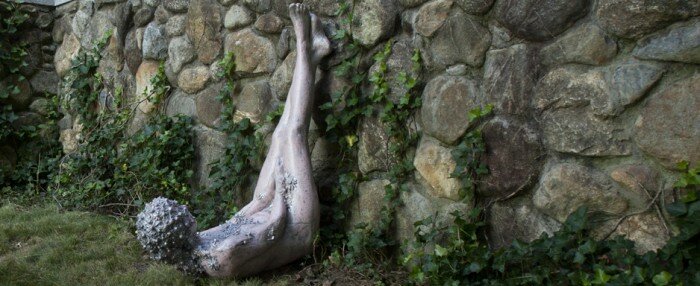 Have a great weekend! And don't forget about :
Will I see you next week? ♥