So nice to see you again! ♥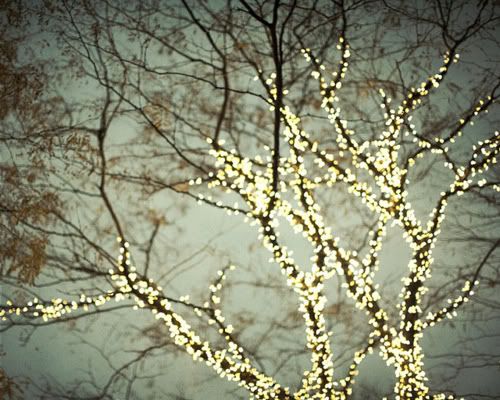 Hope your New Year's resolution of "getting down to my birth weight by Valentine's Day" is going well.
This has been a long and agonizing work week for me.  But this certainly helps.
I don't know why I assumed the first few days of the New Year would entail me kicking up my heels, listening to slow jams, and talking to my HR rep about her grandnieces by the water cooler and laughing as stale Christmas cookies crumbled out of our mouths.
No such luck.
I see a carafe in my future..
But enough about me, let's wrap this week up, smack a bottle of champagne on it and send it off to sea.
Effaced 1: Denise Marika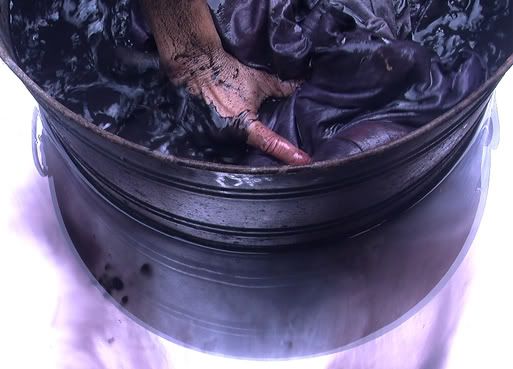 When: January 7 – February 8, 2011
Where: Howard Yezerski Gallery / 460 Harrison Avenue, Boston MA
How: Official Website
What/Why: 1: to wipe out; do away with; expunge
2: to rub out, erase, or obliterate (outlines, traces, inscriptions)
Single channel Video
duration = 00:19:41
"Through actions familiar and volatile Marika's art confronts our passivity as voyeurs and awakens our responsibility as witnesses and participants. It is difficult to fully comprehend the cumulative impact of voices silenced each day due to urban, domestic, and political violence. The struggle for human rights and threat to freedom of speech continue to be at the center of conflicts around the world. Effaced 1 gathers first person narratives and abstract projected imagery to position the viewer as an engaged witness to this struggle. "
——————————
SoWa First Fridays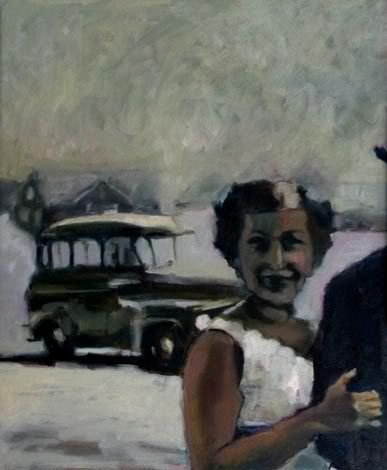 (Angie, Beth Dacey)
When: Friday January 7th, 2011
Where: SoWa Artist's Guild/ 450 Harrison Avenue, Boston, MA
How: Official Website
What/Why: "First Fridays are an integral part of the SOWA Artists Guild mission. The aim is to give visitors access to the artists in their element – to offer a different and more personal way to experience art firsthand. By opening their working space to the public, the SOWA Artists Guild hopes to give people an avenue for viewing quality contemporary art that complements yet goes beyond the gallery experience."
—————————
AIB/MFA Alumni show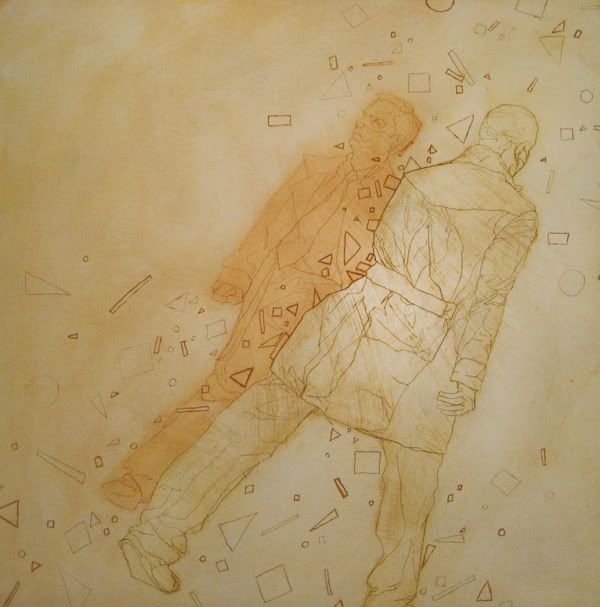 (Passing Down the Street, Daniel Bass)
When: Friday, January 7 -14th, 2010
Opening Reception: Friday January 7th 7:00-10:00PM
Where: Fourthwall Projects-132 Brookline Ave Boston, MA
How: Official Website
What/Why: "The first ever gallery show for our AIB Masters of Fine Arts alumni will be held this winter. Brought to realization by a dedicated committee – Kate Farrington '09, Mike Finnegan '08, Greg Kitterle '09, Carolyn Latourelle '07, and Keith MacLelland '98, MFA '07 – this Alumni Exhibition 'MFAConnects@POSTAIB.edu' will feature the work of 83 alumni artists from all over the world. Purposely set on the first night of the winter residency so as to include all those who have yet to complete the program, it celebrates a community. Not a virtual one, but one in the real world.
For all the artists, there is instant recognition – a kind of invisible nod that says: "we share an understanding." To signify that bond, each artwork is accompanied by the thesis advisor's quote that appeared alongside the culminating images in each of the graduation catalogues. Like a "senior quote," this statement is a right of passage and a summation of the MFA experience.
With no dominant movement, artists today enjoy enormous freedom in making art. While there is a notable absence of conceptual, performance, "big production" art, or purely idea-driven objects, the pieces in this show evidence a careful and sensitive reinvestment in art making, or to say it another way, a reinvention of known forms. Perhaps the intense searching demanded in an MFA program accounts for such emphasis on personal expression."
——————————
Viva Sputa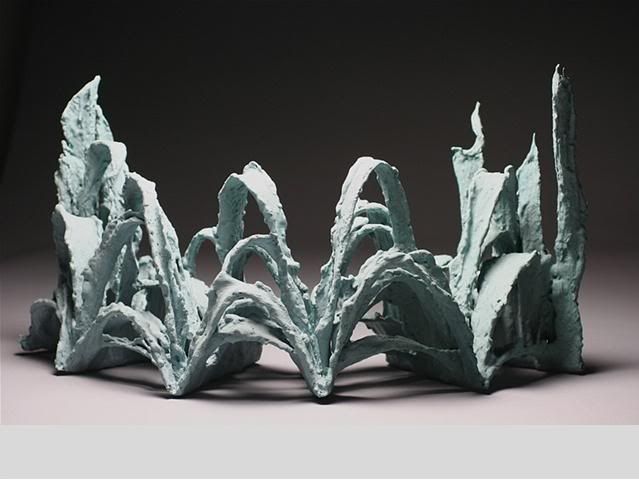 (Movement, Melanie Blood)
When: January 6th, 2011- February 17th, 2011
Where: Distillery Gallery / 516 East Second Street in South Boston, MA
How: Official Website
What/Why: "The Distillery Gallery is pleased to present Viva Sputa, an exhibition of work by Boston-based artists Melanie Blood, Corey Corcoran, and Daniel Szymanowski. Working in variety of media in both two and three dimensions, the artists of this exhibit seek to capture a spirit of ambivalence for the natural world. Tangled wildflowers bind heaps of bone. Benign playgrounds become mysterious wastelands. Alluring organic forms are equally noxious. An expression coined by Samuel Beckett, "viva sputa" alludes to the corporal muck that however repulsive remains integral to the fabric of our world. Notions of permanence and progress may sag, fade, and rot from the inside-out, but from this decay new growth emerges."
———————————-
The Work of Mag Harries and Joseph Wheelwright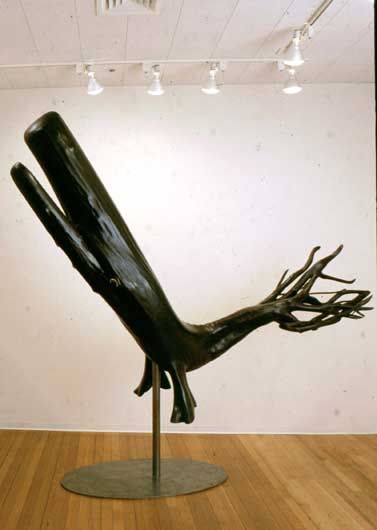 (Leaping Whale, Joseph Wheelright(located in Charlestown Navy Yard))
When: January 5 – February 6, 2011
Where: Boston Sculptors Gallery/ 486 Harrison Ave., Boston, MA
How: Official Website
What/Why: "In Dialogue" by Mags Harries will show concurrently with "Love" by Joeseph Wheelright. Boston Sculptors Gallery invites you to the First Friday Receptions January 7 and February 4, 5-7pm and the Artist's Reception Saturday January 8, 2010 from 3-6pm. All events are free and open to the public."
—————————————
Alvin Case: Body(Mass) Index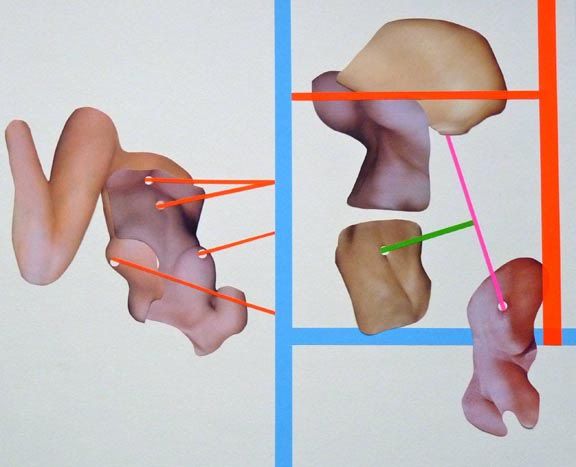 When: January 5th– 29th, 2011
Opening Reception: January 7th 6:00-8:30PM
Where: Bromfield Gallery / 450 Harrison Avenue, Boston, MA
How: Official Website
What/Why: "This series of works on paper, using adhesive tape reflects my explorations of thought-forms in art as maps and materialization of vision.
The thought-form explorations began with the idea of storyboards, particularly as they are used in movie making and graphic novels. What has arisen from these explorations is a landscape of objects with the human body as its source. As in the fractured examples of classical Greek and Roman sculptures, the head and hands are excised, and the limbs and torso separated into simple sculptural forms and flattened shapes.
The colored tape acts as an omni-directional guide (reminiscent of subway maps) as well as the skeleton for each work, since no other adhesive or bonding is used. It also alludes to a musical structure for each piece. The bands of color, of varying thickness, echo sound forms of an as yet unheard score.
In much the same way classical sculpture is placed in a gallery, these forms are placed within the bands of tape. And just as sound bounces and reflects off of a marblebust at particular frequencies and wavelengths, the tape forms imply the same without disturbing the surrounding air."
——————————-
Dialogues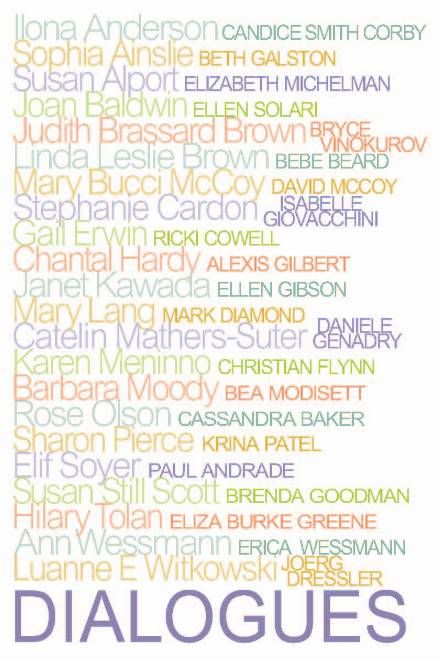 When: January 5 – January 30, 2011
Opening Reception: January 7th 5:00-7:30PM
Where: Kingston Gallery 450 Harrison Ave. #43 Boston, MA 02118
How: Official Website
What/Why: "A conversation between Kingston Gallery members and their invited artists"
————————
Stitched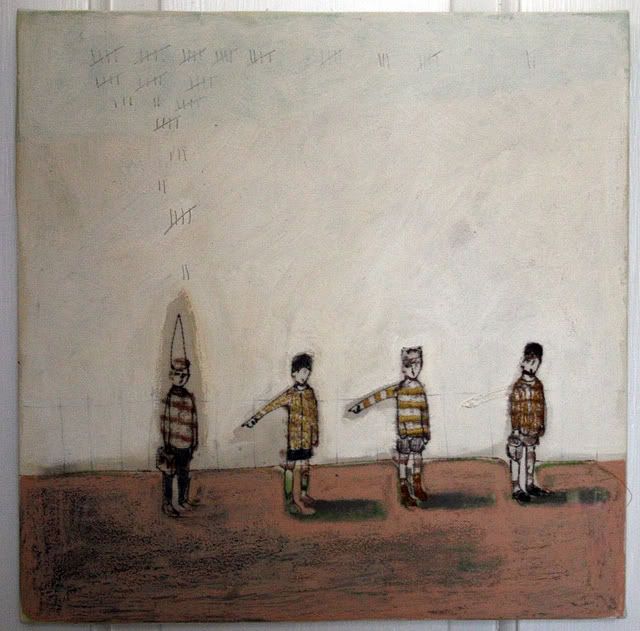 When: January 4th-27th, 2011
Where: Montserrat College of Art(Carol Schlosberg Alumni Gallery), 23 Essex St., Beverly, MA 01915
How: Official Website
What/Why: "Samantha Cotterill's day to day musings as a mother and wife heavily influence the different lines of her work: fine art, design and hand-made objects under her alternative alias, 'mummysam'. Cotterill produces work that echoes the stories she reads her children and the aesthetic she grew up with since her childhood in England. At the same time, the works presented in Stitched illustrate the anxieties and struggles she shares with her son as a parent of a child on the autistic spectrum.
By combining line work, tacticity, and cadence, Cotterill celebrates the challenging and the curious found in raising a child with Aspergers. Repetition can be found in the patterned images of her sons's travels to the city. Grids of streets, sequences of people and cars, double-decker buses and the phone booths that fill her work are reminiscent of modern fairy tales told with 'old English twang'. Iteration is also a constant in her work, documenting days of the week in fabric journals, her son's inclination to recognize each and every different license plate, the way he counts or depicting the way he tattles on a tattler. The childlike aesthetic of Cotterill's stitchings go hand in hand with her meticulous care for the material."
———————————-
Cirque du Soleil: Dralion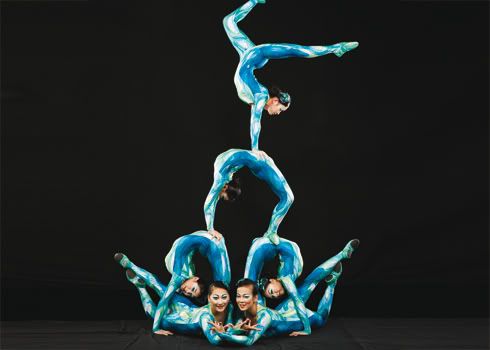 When: Now through January 9th, 2011
Where: Agganis Arena 925 Commonwealth Avenue Boston, MA
How: Official Website
Cost: $60+
What/Why: "These French-Canadian cirque nouveau superstars first put on Dralion back in the '90s, but you can never have too much dragon-lion-hybrid-acrobatic fun. That's right—the show's title is a portmanteau of the words "dragon" and "lion," pointing to a melding of Eastern and Western aesthetics.Cirque du Soleil's avant-garde take on ancient Chinese acrobatic arts includes little Buddhas, lion dances and bamboo pole balancing acts as well as go-to crowd-pleasers like trapeze artists and contortionists. Beyond the performers' physical prowess, the characters and choreography are inspired by Eastern philosophy, particularly the emphasis on man living in harmony with nature. But you didn't come for the story; you came for the awesome stunts. "(writeup via Timeout Boston)
————————————
Language Generator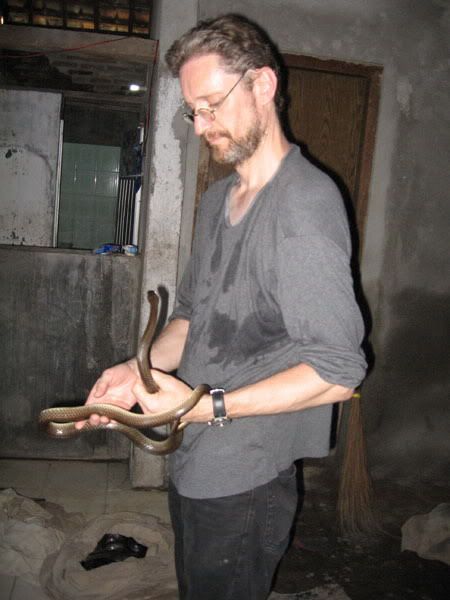 When: Fri 7, Sat 8, Sun 9, 12- 10pm all days,
then Fri 14, Sat 15, and Sun 16, 12- 10pm all days
Where: Meme Gallery/ 55 Norfolk Street Cambridge, MA 02139
How: Official Website
What/Why:" As a visual artist and a performer, I often rely on developments of motifs and the idea that a piece is not repeatable, but may have a long life of variations. In this regard, i have a several such pieces. I am always developing new work as well, but these pieces may all have a life in variation. I have accumulated a number of such distinct works. "Language Generator" falls into this category. I began this piece in 1983. It was a solo piece, a duet, and ensemble piece, as well as a public workshop project.  It had a duration of anywhere from 6 hours to one week. This is what is done. I enter a gallery space with newsprint paper, markers, scotch tape, and a box of objects. For the duration of the piece, I examine the objects, one at a time, and make a noise to go with it, then, a line or symbol on the paper.  I then post the result on the walls. I move on to the next object, play with it, etc. Other words develop, for them and things to do with them. I use no previous language in this process, so this is a new language. Over the duration of the piece, the gallery turns into a dictionary of the language as it is established. Each performance/ installation of this piece always has its own dynamic and contours. That is why i have done it perhaps 20 or more times. The last time of performed it was in 2003, but recent events in my personal life, specifically a move to Taiwan, and the cultural and language difference i experience there gave me new thought on this project, and made me again curious about the origins of language, and what language is. This project is a means of addressing questions in a simple, unscientific way. I will perform it as solo, but if anyone wishes to join in, it is open to that – it is after all, about communication."
——————————
All Works Guaranteed Stolen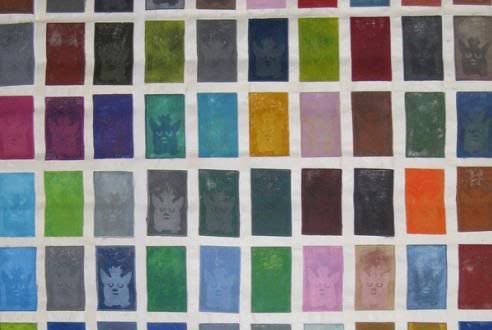 (Mitchel Ahern, 256 Furben (256 Furbies))
When: January 6 – January 22, 2011
Where: Atlantic Works, 80 Border Street, Top Floor,  East Boston, MA
How: Official Website
What/Why: "A group show at Atlantic Works Gallery, celebrating the natural right of artists to "steal" the intellectual "property" they need to create their art…Copyright law has been perverted from its constitutional role "to promote the progress of science and useful arts" into a means to ensure cash flow…features works of painting, drawing, print-making, sculpture/3D and video inspired by and built with other people's and corporations' proprietary images, sounds and ideas."
————————————-
Such a wide array of happenings! Theater/ Video/ Exhibit Openings/ Performance Art/ Discussions/ Art Walks.. It really goes to show that Boston is a city with more to offer than just lighthouse oil paintings and aesthetically pleasing public structures.
If the events this week are any indication of things to come, I am really looking forward to the coming year.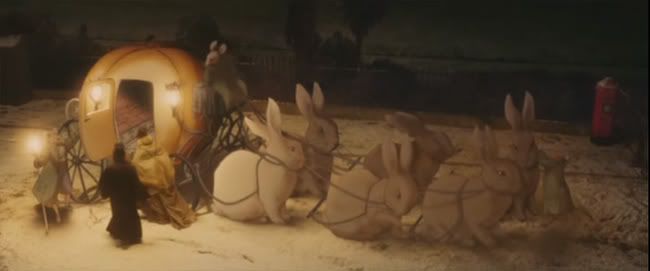 Stay sweet and have an amazing weekend! ♥