Welcome home!
days of ruin x keeping up appearances x small spaces x something sweet
————————-
Home Sweet Home
(Keeping Up Appearances, Elizabeth Alexander)
When: On view through January 21st, 2012
Where: Montserrat College of Art, 23 Essex St., Beverly, MA 01915
How: Official Website
What/Why: "Home Sweet Home features site-specific installations by three New England artists: Elizabeth Alexander, Samantha Fields, and Kirsten Reynolds. Each artist explores the interior and exterior boundaries of 'the home' within both an architectural and feminist context. Together they provide a critique of the cultural power structure that is the domestic sphere. Each artist engages specifically with the walls, both exterior and interior, as the primary signifier of the home.
Deconstructing the buildings we live in, Home Sweet Home explores the walls between outside and in, the public and the private within residential structures. Considering architecture as a reflection of our relationship with space, our homes become a stage for the act of life, where perceived roles of our genders are performed."
Also at Montserrat..
Small Spaces
(Untitled Box Painting #1)
When: On view through November 26th, 2011
How: Official Website
What/Why: "Chelsey Tyler Wood's new series of paintings and drawings place female bodies into cramped wooden crates. Her photorealistic execution not only demonstrates her commitment to craftsmanship and detail, her renderings call into question the assumed 'realness' of female portrait photography in the age of Photoshop. The cramped quarters that these figures occupy may represent the gallery, or a place where the female bodies are displayed, becoming art objects.
Tyler Wood says of her series, "Spatially constricted they react both physically and psychologically. Their experiential condition is communicated through the bodies' expression of color, tension and mark. The bodies are containers themselves, existing within containers, existing within containers, existing within containers and onwards."
———————-
Fenway Open Studios
(Ghost Spiral 3, Mary Hughes) (Check out my studio visit with Mary here.)
When: November 5th-6th, 2011, 11:00AM-5:00PM
Where: Fenway Studios, 30 Ipswich Street, Boston, MA 02215
How: Official Website
What/Why: "This year 29 artists will be featured at the National Historic Landmark, "Fenway Studios;" the oldest purpose-built structure in the United States designed and built exclusively as work and living space for artists and it has been continuously occupied by artists since its doors opened in 1905.  Fenway Studios was designed so that every studio has north-facing windows 14 feet high.  The classic Arts & Crafts building's studios were inspired by the 19th century ateliers in Paris, where many of the original Fenway Studios artists studied. Today, we are artists painting in many different styles and mediums."
———————-
Vernon Street Open Studios
( Inner Ugliness, Jessica Liggero)(Familiar? Jess was a FLUX. Offline featured artist!)
When: November 5th+6th, 2011, 12:00-6:00PM
Where: Vernon Street Studios, 6 & 20 Vernon Street, Somerville, MA
How: Official Website
What/Why: "Over sixty artists will welcome the public into their workspaces at 6 & 20 Vernon Street, a community well known throughout the area for the quality of work produced by artists with established reputations as well as exciting newcomers. Located in an historic 19th-century brick industrial building, Vernon Street housed the first group of artists in Somerville to open their studios to the public in 1975. The Open Studios event allows attendees to learn about the creative process, interact with artists in the spaces where they create, purchase original artwork, and discover new talent."
———————-
Humour Us-Exclamation Point! 9
When: Saturday November 5th, 2011, 7:00PM
Where: Grand Circle Gallery, 347 Congress Street, Boston MA 02210
How: Official Website
What/Why: "Are you of a singularly sanguine, choleric, melancholic, or phlegmatic inclination? If so, come see Exclamation Point!
The ninth entry in our popular series of short new works is inspired by the Four Ancient Humours, from the theory that the human body was filled with four basic substances. When the Four Humours were in balance, a person would be healthy. Disease resulted when they were not.
The evening includes: Alignment, a play by Barry Eitel//Beds, a play by Susan Cinoman//A Better World, an excerpt from a play in progress), by Nick Thorkelson//The Fifth Humor, by Rick Winterson//4squared, by Six One Seven Dance Collective//Humor Me, poem and projections by Maureen Tracy Venti//I Never Got to Say and Lonesome Town, two cello pieces by Cam Sawzin//The Ten-Block Walk: An Old-Person's Odyssey, an excerpt from an opera in progress, by  Christie Lee Gibson (libretto) and Erin Huelskamp (composer)
With appearances and help from: Glorivy Arroyo, Cliff Blake, Hannah Blitzblau, Rebecca Bradshaw, Jon Burrowes, Julia Carey, Amanda Collins, Kenzie Finn, Shannon Gmyrek, Gabriel Graetz, Kaedon Gray, Kendra Heithoff Henseler, Erin Huelskamp, Lenni Kmiec, Sarah Kornfeld, Hugh Long, Rafael Marinho, Jacqueline Mosca, Paula Plum, Cecelia Raker, Scarlett Redmond, Lacey Sasso, Robin Smith, Jesse Strachman, Meredith Stypinski, Nick Sulfaro, Camilo Viveiros"
———————-
Lost + Found
(Blue Glint, Luanne Witkowski)
When: On view now through November 27th, 2011
Where: Kingston Gallery, 450 Harrison Avenue #43, Boston, MA
How: Official Website
What/Why: "Strongly influenced by the shore and woodlands of outer Cape Cod, Maine, and now Nova Scotia, Luanne Witkowski's 'research sketchbook' consists of documentary photography and video of the environmental installations exploring light, reflection, and color she creates as references for mixed and multi-media works in painting, photography, and video projection. Luanne works intuitively to create abstract contemplative pieces that are rooted in and extracted from landscape and experience."
———————-
Sculpture Scoop
When: November 9th-13th, 2011
Opening Reception: Tuesday November 8th, 6:00-8:00PM
Where: Boston Sculptor's Gallery, 486 Harrison Avenue, Boston, MA
How: Official Website
What/Why: "From November 9-13, the Boston Sculptors Gallery is presentingSculpture Scoop, a sale of sculpture, drawings and jewelry by all 36 members of thegallery. For a limited time, more than 75 sculptures will be available to scoop up!With the majority of the works priced under $300, this is a unique opportunity to own art created by some of the Boston area's premier sculptors. Included in the show are manylocal artists with national reputations. Find a gift for the art lover in your life or begin your own sculpture collection."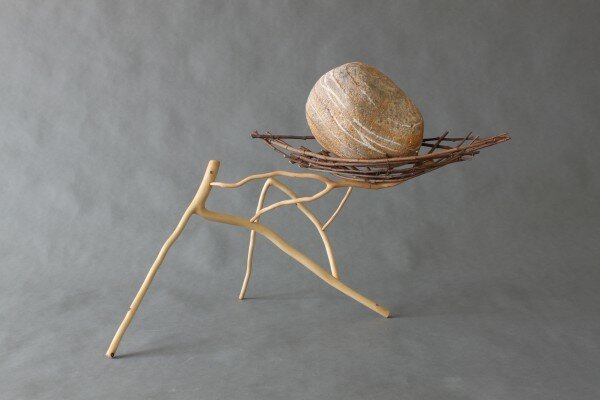 (Journey, Andy Moerlein)
———————-
South Boston Open Studios
(Days of Ruin, Adam O'Day)
When: November 5th-6th, 12:00-6:00PM
Where: Distillery Building, 516 East 2nd Street//King's Terminal  E 1st & Summer Street, South Boston, MA
How: Official Website
What/Why: "Artists and craftspeople of South Boston will open their doors to the public Saturday and Sunday, November 5 & 6, 2011 as part of the annual South Boston Open Studios event. Visitors will be able to talk to and make purchases directly from the artists while touring the creative environments in which the artwork is produced. The weekend-long event also provides a great opportunity to sample many of this historic neighborhood's restaurants, cafes, pubs, and retail shops.
Numerous disciplines will be represented throughout the dozens of participants, including: sculpture, painting, drawing, printmaking, installation, photography, video, jewelry, ceramics, woodworking, fabric and performance art. Much of the work will be in-process and the artists will be on hand for questions and conversations. Participating organizations and galleries include The Distillery artists building (which will showcase two galleries and over 40 artists) located at 516 East 2nd Street, and the studios at King Terminal (just a few blocks away) right next to the intersection of E 1st & Summer Street."
———————-
The Work of John Crowley
When: On view through December 31st, 2011
Opening Reception: Thursday November 10th, 6:00-8:00PM
Where: Gallery at Serg. (S.End Realty Group 476A Columbus Ave)
How: Official Website
What/Why: Artist Statement: "My strongest influences are cartoons and comics, television, vintage liquor ads, German expressionism and western art history. My imagery is a visual record of both my conscious and unconscious visions. Dreams, legends, and my daily reality are all combined on the painting surface. The situations I depict can be personal and private, or public and universal in scope. As a spectator of my own work, I suppose my paintings are a means to escape my reality for periods of time."
———————-
The Color of Light

(The work of  Julie Vinette)
When: On view through November 24th, 2011
Opening Reception: Friday November 4th, 6-8:30PM
Where: Bromfield Gallery, 450 Harrison Avenue Boston, MA 02118
How: Official Website
What/Why: "I like to figure things out. Crosswords, the meaning of life, and "what it all means"are all things I constantly puzzle over. I have observed that nothing can be exactly recreated, in life, language, or art—that everything is just an approximation—seen through the filter of the artist or storyteller.
My work focuses on the proximity of chaos and order. It nips about the edges of answers to the inexplicable parts of my reality by organizing the chaotic to create a higher visual order.
The group of paintings and drawings in "The Color of Light" originated as photos of very bright reflections off water, glass or chrome. Trying to capture what will only exist momentarily, I provide structure with a pencilled grid. I then overlay the grid with chaotic, colorful paint representative of the colors seen in the original reflections. When the paintings were complete, next I created an airy image of each painting with the grid alone in colored pencil on paper.
The paintings are of reflections of light and the grid drawings are reflections upon reflections of light. I love that duality."
Also at Bromfield..
"At an early age, my father introduced me to the Blaue Reiter, Abstract Expressionism, Pop Art, Op Art, Navajo weaving, Minimalism, and to many artists who chose to make Southern California home in the 60's and 70's.
We lived in deep suburbia where I had an active fantasy life. Different sorts of immersions, but young minds do not have to parse meaning as much as they are meant to absorb living, and decades later I find myself circling back to my early life in LA.These line paintings owe as much to those artists as it does to my afternoons mixing mudpies and making "wicked" lemonade with my friends.
Each paint surface has a minimum of six layers of gesso or medium on panel before I begin painting. The subsequent process involves both removal and addition of paint and medium so that a finished piece often has up to twenty layers of paint embedded in its surface."
———————-
Waltham Open Studios
(Bike Plough, Jeff Sias)
When: November 5th(12-6PM) + 6th(12-5PM), 2011
Where: 144 & 289 Moody Street, Waltham, MA
How: Official Website
What/Why: "Join hundreds of area residents and art enthusiasts at this year's Open Studios weekend, November 5-6, 2011. Together with Lincoln Studios, WMAA will open its doors to the public for this free, annual event where visitors are invited to walk through more than 80 artists' studios, meet the artists, and view and buy their work."
———————-
Beyond the Surface: Explorations in Wax
When: On view through November 6th, 2011
Where: Fountain Street Fine Art, 59 Fountain Street, Framingham, MA 01702
How: Official Website
What/Why: "An artist-run membership based gallery, Fountain Street Fine Art exhibits contemporary work by emerging and mid-career artists that is skillfully executed, exciting and new, with a strong regional focus. Solo shows by member artists alternate with collaborative projects, installations and group shows. In addition, we see ourselves as a resource for the artists of Fountain Street Studios and the region, and periodically host gallery talks, workshops and film screenings of interest to artists and collectors."
———————-
Something Sweet – Art Auction and Dessert Buffet

(Google Image Search Result for: 'Dessert Buffet'..it's fine.)
When: Friday November 4th, 2011, 6:00-9:00PM
Where: Washington Street Art Center, 321 Washington Street, Somerville, MA
How: Official Website
What/Why: "Something Sweet is a gala of sweet snacks, hot drinks, fancy festive dress, and art auction, all to raise money for our friends at the Somerville Homeless Coalition. All proceeds at the door and from the sale of art will go to fund the great work of the grassroots Somerville Homeless Coalition. With just a $10 donation at the door, you can wind your way around the gallery to see the art on display, and listen to live music. While considering a bid for your favorite piece of art, you can have your choice of snacks from the huge dessert buffet, and hot drinks to keep out the fall chill. Bring your friends and your appetite to get your fill of treats and excellent art. Support those in need by partying with us at the WSAC!
Artwork by many local artists will be on display, and up for auction! Featuring paintings, prints, collage, cut paper, jewelry, drawings, photographs and photographs by artists such as: Megan Mary Creamer,Sarah Coyne, Marissa Falco, Danielle Festa, Alison Gordon, Brian Hart, Joe Keinberger, Maria Molteni, Deb Morgan, Monique Rancourt, Olga Solameita, Elise Towle Snow, James Weinberg, and more"
———————-
John Terelak – New Works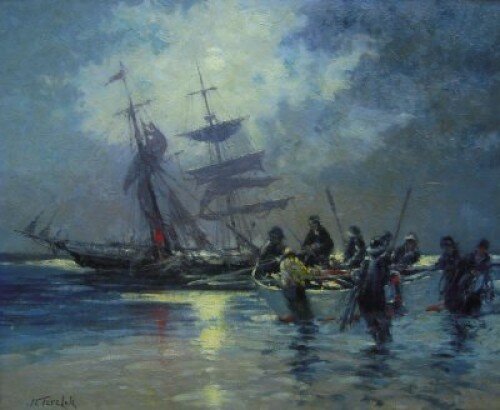 (The Shipwreck)
When: On view through November 30th, 2011
Where: The Guild of Boston Artists, 162 Newbury Street, Boston, MA
How: Official Website
What/Why: A Boston native, John Terelak was a talented football player in high school and was offered collegiate scholarships but turned them down in favor of attending the Vesper George School of Art. As an outstanding student he was offered a teaching position at Vesper George after his graduation. In 1975 he founded the Gloucester Academy of Fine Arts, where he remained for several years. Today he lives and paints in Rockport, Massachusetts.
John has traveled for new subject matter to such places as New York Harbor, the California coast, the Grand Canyon, Nantucket and France. The results of these travels have been well documented and remain some of his most profound pieces to date. An invitation to paint in Monet's gardens will forever remain a highlight in John's career. Along with influence from nature, John is deeply influenced by the writings of classic as well as contemporary authors, such as, Mortimer, Adler, Thomas Merton, Earl Nightingale and William Shakespeare."
———————
Newton Open Studios Juried Show & Sale
When: November 5th-6th, 2011, 11:00AM-5:00PM
Where: Newton Cultural Center, 225 Nevada St, Newtonville, MA
How: Official Website
What/Why: "A Fall Juried Show. Our Juror this year: Katherine French, director of the Danforth Museum. Ms. French chose 35 artists and craftspersons for this show/sale. From these 35, She designated 10 artists as "Juror Award" artists."
—————–
Roslindale Open Studios

When: November 5th + 6th, 2011, 11:00AM-5:00PM
Where: Various locations throughout Roslindale, MA//List of Participating Artists
How: Official Website
What/Why: "A free community event where over 113 artists display and sell a wide variety of art: jewelry, paintings, ceramics, fiber, photography, sculpture, calligraphy, glass, prints, drawings, mixed media and assemblage in over 44 locations (home studios, group spaces and businesses)"
———————-
Did I miss something? Let me know!
So, 6 open studios this weekend. How are you going to tackle it?  Sunday Driver? The 1 Day Blitzkrieg?
Either way, wear unstylish but comfortable shoes, drink water, drink beer, drink more water, and have fun. ♥