a decade in review x clay pigeons x on sincerity x i'll meet you there
—————————
South Boston Open Studios

When: November 3rd-4th, 2012 12:00-6:00PM
Where: South Boston, MA. List of participating studios here.
How: Official Website
What/Why: "Artists and craftspeople of South Boston will open their doors to the public Saturday and Sunday, November 5 & 6, 2011 as part of the annual South Boston Open Studios event. Visitors will be able to talk to and make purchases directly from the artists while touring the creative environments in which the artwork is produced. The weekend-long event also provides a great opportunity to sample many of this historic neighborhood's restaurants, cafes, pubs, and retail shops.Numerous disciplines will be represented throughout the dozens of participants, including: sculpture, painting, drawing, printmaking, installation, photography, video, jewelry, ceramics, woodworking, fabric and performance art. Much of the work will be in-process and the artists will be on hand for questions and conversations. Participating organizations and galleries include The Distillery artists building (which will showcase two galleries and over 40 artists) located at 516 East 2nd Street, and the studios at King Terminal (just a few blocks away) right next to the intersection of E 1st & Summer Street.The event is free to the public, rain or shine, noon to 6pm each day. Public transportation is easy, take the Red Line to Broadway and walk East, or take the #7 City Point bus from South Station to Elkins St. (#7 doesn't run on Sundays)."
——————————
Fenway Open Studios

(Denise Lindquist)
When: November 3rd-4th, 2012 11AM-5PM
Where: 30 Ipswich Street, Boston, MA
How: Official Website
What/Why: "Please join us for our annual, Fenway Studios "Open Studios Celebration!" This artistic event is supported in part by "Friends of Fenway Studios." Open Studios provides a rare opportunity to meet, talk with, and visit the creative work space of artists. It is also a tremendous way to purchase fine art directly from the artists."
——————————
Bring Back the Shot
When: On view through December 12th, 2012
Opening Reception: Friday November 2nd, 2012 7-10PM
Where: Voltage Coffee and Art, 295 3rd Street, Cambridge, Massachusetts
How: Official Website
What/Why: "We are so thrilled to present to you our upcoming November exhibit. Please join us at Voltage on Friday, November 2nd and become familiar with some bad ass photographers roaming around your city.
John Savoia (event image) Nora Vrublevska, Heather McGrath, Jae Ruberto, Beth Hankes, Remi Thornton, Alex Jacobson, Vanessa Marcoux Inspired by interviews, studio visits and mullings-over with these artists, "Bring Back the Shot" sets up the scenario whereas the viewer can put themselves behind the camera in these artists' shoes and mindsets. Their styles and subject matter vary as much as their equipment but they all set out to do the same thing, to bring back the shot."
——————————
A Decade in Review

(Odeon Theater Study No. 1, Michael Kenna)
When: On view November 7th through December 22nd, 2012
Where:  Robert Klein Gallery, 38 Newbury Street, 4th Floor, Boston, MA
How: Official Website
What/Why: "Michael was born in 1953 in Widnes, Lancashire, in the industrial northwest of England and studied at the Banbury School of Art and the London College of Printing, graduating with distinction in 1976. In London, Michael undertook advertising photography while pursuing his personal work – photographing the landscape. In 1977, he moved to San Francisco, where he met Ruth Bernhard and became her assistant and photographic printmaker for eight years. Michael is equally dedicated to the darkroom and makes his own prints ensuring a subdued, intimate atmosphere in every image. In 2000, the French government honored with the award of Chevalier of the Order of Arts and Letters. 
Michael Kenna's quiet approach to the environment provides a glimpse into the provocative and subtle serenity of landscape photography. Michael creates dream-like scenes by combining innovative and traditional photographic techniques. The results are soft, stark, enigmatic views of gardens, industrial sites, land, and seascapes from around the world. His photographs suggest contemplation and a poetic vision."
——————————
Histories

When: On view through December 22nd, 2012
Opening Reception: Friday November 2nd, 2012 5:30-7:30PM
Where: Ars Libri, 500 Harrison Avenue, Boston, MA 02118
How: Official Website
What/Why: "The Robert Klein Gallery and Ars Libri Ltd., proudly announce Histories, an exhibition of photographs by Wendy Burton documenting empty and abandoned spaces, both domestic and industrial, human and aviary. The exhibition will open at Ars Libri on Friday, November 2, as part of the South End's First Friday.
Histories will bring together nearly 15 years of Burton's photographs, images she has made in an effort to understand uninhabited spaces. From grain elevators, abandoned and shuttered, to rural churches destroyed by Hurricane Katrina, Burton examines what remains and what has been left behind. Most recently, Burton has turned to animal skulls and birds' nests, beautifully sculptural artifacts that speak to life once present."
——————————
$1000 Reward for the 20 Foot Santa Claus
When: On view through December 23rd, 2012
Opening Reception: Thursday November 1st, 2012 6-9PM (Ice Cream Reception)
White Elephant Gift Exchange: Thursday, December 6, 6 pm Bring a wrapped gift to swap!
Where: 17 Cox, 17 Cox Court, Beverly, MA, 01915
How: Official Website
What/Why: "In 2010, a 20 foot tall fiberglass Santa Claus statue was stolen from the Coffee Caboose in West Ossipee, New Hampshire. In order to find their missing Santa, the owners of the Coffee Caboose parked a truck in their Route 16 adjacent parking lot with a plea for help painted on the side: "$1000 Reward for the Arrest, Conviction and Return of The 20 Foot Santa Claus". The truck has since become part of local folklore, with everyone having their own opinions about exactly what happened to the Santa.
17 Cox has launched an "investi-bition" in response to the missing Santa. Part investigation, part exhibition, the gallery sent out a call for works made in response to the missing saint. Thirty percent of all sales go to towards a gift of a new Santa Claus for the Coffee Caboose. 17 Cox staff has been scouring the New England countryside looking for clues and additional information. If you have any information about the missing Santa, contact 17 Cox Lead Investigator Grant Archer, grant@17cox.com"
——————————
Shelah Horvitz: Feral

When: On view through November 28th, 2012
Opening Reception: Friday November 2nd, 2012 6-9PM
Where: Galatea Fine Art, 460B Harrison Avenue, Boston, MA 02118
How: Official Website
What/Why: "A year ago, Shelah spent time on a dark highway with a deer who had been hit by a car. The experience sparked Feral, a series that uses animals to explore the similarities and differences between us and them, you and me. It delves into the interconnectedness of evil and beauty, attraction and repulsion, love and ferocity. The work is playful and fun. Drawing from such diverse sources as Chauvet caves, Rembrandt etchings, Inuit carvings and Jamie Hewlett'sGorillaz rock videos, these drawings and paintings are loose, elegant and raw. They speak to a wide range of audiences with a visual language that is simultaneously ancient and very contemporary."
——————————
Matt Brackett: Dark Animal

When: On view through November 28th, 2012
Opening Reception: Friday November 2nd, 2012 6-8PM
Where: Alpha Gallery, 37 Newbury Street, Boston, MA
How: Official Website
What/Why: "Matt Brackett is a representational painter of images that explore personal and family narratives.  Though they present a naturalistic appearance, his paintings do not represent actual events or reality, but instead offer an alternate, unique vision.  While each image begins in the unordered space of inspiration, Brackett implements a carefully orchestrated execution.  Preliminary techniques include sketching, photographic research, computed-aided montages and even scale modeling.  The final result is often one of wonder and menace that asks us to pause and reflect upon a field of interpretation"
——————————
Prilla Smith Brackett: Promises to Keep: Monoprints

When: On view through December 1st, 2012
Opening Reception: Friday November 2nd, 2012 6:00-8:30PM
Where: Bromfield Gallery, 450 Harrison Avenue, Boston, MA 02118
How: Official Website
What/Why: "My approach to landscape is conceptual; I use landscape to convey more than a description of a place. 

"I explore the intermingling of the domestic man-made with the natural, in monoprints, mixed media paintings on panel, and drawings: forest images & semi-transparent old furniture from a house my mother's family lived in for 90 years. Everyone from my great grandmother, widow of a young painter who died in 1882, down to my children contributed to the rich ambiance of that house. Placing furniture from previous eras in forests I have known creates a narrative uncertainty I find fascinating. 
"In both monoprints and paintings I play with the furniture's transparency and its location in the forest: floating above, embedded within, or buried below. Over time the furniture has become less substantial and less grounded. The prints in my two current monoprint suites have a quiet quality in which the furniture sometimes disappears into an etherial forest.
"Over time I have alternated doing monoprints and paintings. The monoprints have greatly influenced the paintings. In the latter I have layered transparent colors with the (often surprising) color results found in my monoprints, "printed" with paint, and used paint applied linearly, influenced by small drypoint marks. Similarly, the distilled quality of a group of mostly black and white drawings led to large, mixed media works on panel using drawing materials and limited thin acrylic and oil paint. These works remaine open in feel and explore how scale contributes to meaning.
"Old growth forests show the whole life cycle of trees. Trees struck by lightning or fallen trees with their branches making wild gestures show nature's violence. The domestic in such settings seems jarring, although our traditions see forests as places of make-believe, of solace & spirituality, of refuge & hidden secrets.
"But in the dreams of old furniture made of forest wood might there also be dark scenes of family discord? How do these disparate domestic & natural elements resolve shared conflict to arrive at peace at last?""
——————————
Jeff Perrott: Vitavulnus

(RW114)
When: On view through December 12th, 2012
Where:  LaMontagne Gallery, 555 E. 2nd Street , South Boston, MA 02127
How: Official Website
What/Why: "The exhibition features a catalogue with an essay by noted critic Christopher Stackhouse. Emotive, intimate, personal, sensuous, intuitive, and materially-driven, Perrott's new work stands in sharp contrast to past Random Walk works, which were often monumental in scale and focused attention on the artist's chance-based process.  In the new works, the conceptual method is backgrounded in favor of a felt immediacy and presence – an intense and visceral attention to paint, surface, and the object itself.
Stackhouse writes: "Perrott's art historical knowledge and strategic positioning in that history yield to acute emotionality, bringing forth compelling bursts of lyrically wrought formal understanding."  
In their materiality and presence, the works of Vitavulnus (roughly, from the Latin, 'life wound' or 'vulnerable life') bring Perrott's chance methodology into direct, intimate contact with viewers.  His hand, at turns muscular and vulnerable, forceful and delicate, develops an exploration of contingency and its responses that rings with pathos and humor, drama and irony. "
——————————
On Sincerity

When: On view through December 16th, 2012
Where: Boston University, 808 Gallery, 808 Commonwealth Ave, Boston, MA
How: Official Website
What/Why: "What is suggested by the term sincerity?  What is a sincere statement or gesture?  How is sincerity articulated in ordinary experience? In art? Indeed, sincerity is an elusive and often ambiguous sentiment that never seems completely trustworthy.  In spite of its somewhat indeterminate and slippery nature, the exhibition On Sincerity will seek to unpack and critique interpretations of sincerity in artistic practice, articulating its many nuances and contradictory impulses through a range of overlapping narratives including transparency, honesty, trust, selflessness (and selfishness), conviction, commitment, humility, and generosity.
Artists are Magda Archer, Ivan Aragote, Juan Betancurth, Davis/Cherubini, Charles Gute, Jessica Gath, Kalup Linzy, Institute for Infinitely Small Things, Jesse Kaminisky, Carlos Martiel, Rob Matthews, Anne McGuire, Taylor McVay & Jordan Tynes, Laurel Nakadate, Platform2, William Powhida, Jordan Tynes, Analia Saban,  Wayne Stokes, Douglas Weathersby, and Suara Welitoff."
——————————
New Media || Fresh Paint II

(Paint on Canvas IX (old silver), Beverly Rippel)
When: On view through December 7th, 2012
Where: New Art Center, 61 Washington Park, Newtonville, MA
How: Official Website
What/Why: "As part of a new partnership, please join us for the deCordova Sculpture Park and Museum Corporate Program's exhibition New Media | Fresh Paint II at the New Art Center in Newton.
Explore an exhibition of Corporate Program lending artists from the Greater Boston area juried by Leonie Bradbury, Director/Curator Montserrat Galleries, Joe Wardwell, Professor of Art, Brandeis University and deCordova Sculpture Park and Museum and New Art Center Exhibiting Artist and Maria Lockheardt, Senior Development Officer for the Arts, Wellesley College and Former Corporate Program Director."
——————————
Beyond the Ideas Of Rightness Or Wrongness There Is A Field; I'll Meet You There  

When: On view through December 22nd, 2012
Where: Carroll and Sons Gallery, 450 Harrison Avenue, Boston, MA 02118
How: Official Website
What/Why: Review in Art New England here.
——————————
Waltham Mills Open Studios

(Moody Station, Todd Cahill)
When: Saturday November 3rd(12-6) – Sunday November 4th(12-5), 2012
Where: Ira B Gordon Center for the Arts, 144 Moody Street, Waltham, MA
How: Official Website
What/Why: "The Waltham Mills Artists Association (WMAA) comprises more than 70 artists working in a wide range of media who occupy studio space in two buildings at 144 Moody Street in downtown Waltham, Mass. The larger WMAA building was named The Ira B. Gordon Center for the Arts in 2011 for Ira B (Sonny) Gordon, a prominent local businessman, and a leader in the transformation of the downtown Waltham area. His family has named the building after Sonny in recognition of his commitment to the arts and his leadership role in developing a community in which artists could flourish." 
——————————
Victoria Fu: Milk of the Eye

When: On view through December 22nd, 2012
Where: Samson Projects, 450 Harrison Avenue, Boston, MA 02118
How: Official Website
——————————
Earth & Alchemy

When: On view through November 24th, 2012
Where: Mass Art, Stephen D. Paine Gallery, 621 Huntington Avenue  Boston, MA 02115
How: Official Website
What/Why: "Earth & Alchemy celebrates contemporary ceramic sculpture and showcases a cross-generational selection of over two dozen influential artists. Exploring a range of ideas encompassing conceptualism, social activism, materiality, and humor, this exhibition presents a survey of approaches to ceramics that often push the boundaries of one of the world's oldest media. Whether through expansive sculptures, extraterrestrial installations, or fantastical vessels, the artists included in the exhibition have developed novel techniques—such as using oven-baked backyard clay covered with house paints, layering slip over glaze to create richly textured and encrusted surfaces, or silk-screening digital imagery onto porcelain. Earth & Alchemy examines the depth and range of ceramic practice today—a macrocosm of clay."
——————————
Peter Hoffer: Second Nature

(Bariere)
When: On view through November 30th, 2012
Opening Reception: Friday November 2nd, 2012 6-8PM
Where: Chase Young Gallery, 450 Harrison Ave, Boston, MA 02118
How: Official Website
What/Why: "These latest paintings are my most recent in the Landscape series. The surfaces of these works, in contrast to the slick glossy finish, are further stressed and worked over.
These surfaces have been marked, scratched, cracked and seared. Like the terrain itself, the surface layers of these works are dynamic, and balance between the various states of season. This random etching of the surface call to task the sense of material "value".
The preciousness of the objet d'art, as well as the peripheral landscape represented appears to be rediscovered much like an artifact. It's apparent neglect through time, neglect or abuse, is salvaged and displayed.
The markings on the paintings, inconsistencies in the resin and the unrefined finishing of the canvas structure, allude to the elements found outside the Artist's control. The result invokes a sense of abandon and a hint of a work in transition. Challenging this is the thick high gloss encapsulating surface, slick and precious in its packaging.
"My paintings draw attention to areas of the landscape that can be considered "less than spectacular"
The paintings for this show are perhaps less serene than works from the past. Being a bit more "painterly", The works fluctuate between "rest" and "discontent", optimistic in anticipation"
——————————
About Face – A Portrait Show

When: On view through November 25th, 2012
Opening Reception: Saturday November 3rd, 2012 7-10PM
Where: Gallery X, 169 William Street, New Bedford, MA
How: Official Website
What/Why: "Portraits of people. From sublimely beautiful to slightly ridiculous."
——————————
Synapse

When: On view through December 2012
Opening Reception: Thursday November 1st, 2012 5:30-7:30PM
Where: 35 Channel Center Street, Boston, MA 02210
How: Official Website
What/Why: "An exhibit of paintings that take inspiration from meditative practices. The paintings on view range from the 2009 Denoument series to smaller oil paintings created this fall in response to my new neighbor, Os Gemeos' Giant.
Synapse was selected by the Fort Point Arts Community Lending Program for the lobby at 35 Channel Center.  With the exception of the opening night, Synapse is by appointment-only. Contact Kate Gilbert if you'd like to stop by at another time.
The installation better living through levity TM (BLTL) was installed October 20-21, 2012 in a former office space among artists selling their wares at Boston's annual Fort Point Open Studios. The installation occupied a 12'x10' office with two aluminum framed glass walls, a glass door and two white walls."
——————————
Faye Driscoll – You're Me
When: Friday and Saturday – November 2nd 3rd 7:30PM
Where: ICA Boston, 100 Northern Avenue  Boston, MA 02210
How: Official Website
Cost: $20
What/Why: "'(Driscoll) is relentless as she peels back the layers of a self that is shaped by another.' —Evan Namerow, The Brooklyn Rail
How do our fantasies about ourselves create new possibilities of being? How do our fantasies about each other give birth to friction and loss? Who do we want to be? Are we getting it right? In this evening-length duet, Faye Driscoll'sYou're Me considers how our identity is not only made up and undone by those around us, but also portrays the impossible struggle to unhinge our identity from one another.
Driscoll and fellow performer Aaron Mattocks launch a sweaty, evocative, disturbing, and deeply funny battle about the nature of relationships. Designed by artist Emily Roysdon, the myriad props used by Driscoll and Mattocks during the performance include paint, clothing, wigs, costume-jewelry, baby powder, among other surprises.
Don't miss this 90-minute, all-out exuberant performance"
——————————
Day of the Dead
When: On view through November 25th, 2012
Opening Reception: Thursday November 1st, 2012 6:00-8:00PM
Where:  Uforge Gallery,767 Centre Street, Jamaica Plain, MA 02130
How: Official Website
What/Why: More information and list of participating artists here.
—————————
Four

(Yellow Composition #3, Elizabeth Kirby Sullivan)
When: On view through November 23rd, 2012
Opening Reception: Friday November 2nd, 2012 7:00-11:00PM
Where: Lot F Gallery, 145 Pearl Street, Boston, Massachusetts 02110
How: Official Website
What/Why: "FOUR a group exhibition featuring new works by Adam O'Day, Dave Tree, Elizabeth Kirby Sullivan, Mike Hammecker Opening Reception Friday November 2nd–DJ Set by Alan Manzi More information regarding artists and show coming soon! Please contact us at, info@lotfgallery.com for pre-sale information"
——————————
Thirty Spoons

When: On view through November 30th, 2012
Opening Reception: Thursday November 1st, 2012 6:00-9:00PM
Where: The Hallway Gallery, 66a South Street, Jamaica Plain, Massachusetts 02130
How: Official Website
What/Why:"I have memories of sitting in a classroom as a young girl. I remember learning about the explorers who came to America, the Pilgrims, the kings of England and Portugal. We learned about overseas trade and the first presidents. Students quickly learn that learning about history means learning about men's history. Even at an early age, I remember wondering what my history was.
Women's history, like many other histories, has been marked by "experts" as unimportant and uninteresting, and this decision has shaped what we know and do
not know of our past. As an adult, I have found myself still asking what my history is, and my spoon drawings are an effort to answer that question. They are an attempt to define and emphasize my history; they are a kind of drawn identity that references both my domestic heritage and notions of feminine ornamentation. My spoon drawings are historical documents drawn from observation, overwhelming in accuracy down to the very sizes and dimensions of the physical spoons.
The ideal resting place of these pieces, unlike much of contemporary art, exists in
the domestic sphere: they are meant to be hung in dim kitchens, propped on cluttered
bookshelves, and displayed amongst the imperfect artifacts of our everyday lives. They
are hand-held monuments to the way we live, eat, and sleep, and to the women that have been responsible for these things for much of time; to the place they honor: the home and my history." –K. Vetne
—————————
Ben Rivers, Slow Action | I Know Where I'm Going

When: Thursday November 1st, 2012 6:30-8:00PM
Where: MIT List Center, Bartos Theatre, 20 Ames Street Building, Cambridge, MA
How: Official Website
What/Why: "A post-apocalyptic science fiction film, Slow Action applies the idea of island biogeography—the study of how species and eco-systems evolve differently when isolated and surrounded by unsuitable habitat—to a conception of the Earth in a few hundred years.
Set outside of mainstream society, I Know Where I'm Going takes the form of a fragmented road trip where Rivers sets out to meet and interview a number of individuals living off the beaten path, while ruminating on what traces might be left of humans in 100 million years."
—————————
David Curcio – I Wouldn't Worry About It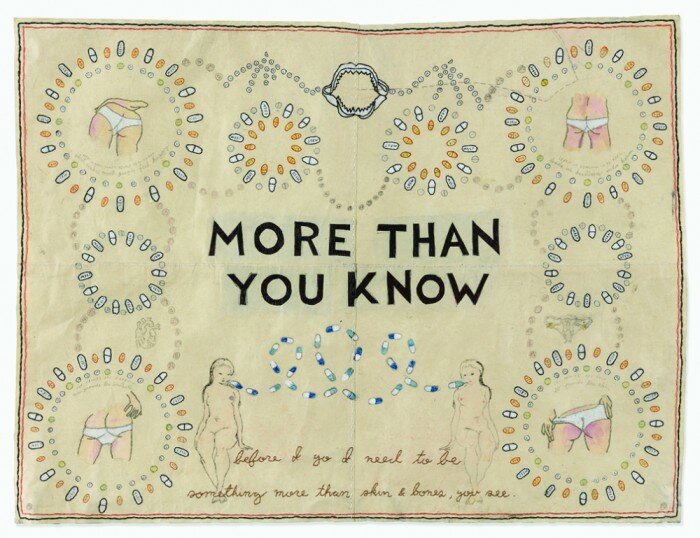 (More Than You Know)
When: On view through January 13th, 2012
Opening Reception: Friday November 2nd, 2012 5:30-8:00PM
Where: Laconia Gallery, 433 Harrison Avenue, Boston, MA 02118
How: Official Website
What/Why: "Laconia Gallery is pleased to present the first Solo exhibition of work by David Curcio. Curcio creates intricate, illustrative personal narratives through an obsessive use of stitching, printing and patterning. Repeated hand drawn motifs result in a folk art feeling that embraces awkwardness in rendering objects and figures to temper the directness and even violence of some of his imagery. Curcio's humor and stylistically naive illustrations create an intensely personal, often diaristic story full of the emotional upheavals that challenge us throughout our lives. The attraction for the audience is both pictorially and curiosity driven. We read the stylized banners of poetic texts and literary quotes written or chosen by the artist, or lyrics pulled from unexpected musical sources and we want to know what they mean exactly.
David references difficult struggles in his personal life and career symbolically through references to Abraham Lincoln and imagery of pharmaceuticals familiar to him from growing up as a "Prozac baby". The esoteric combinations of objects like scissors and bear traps with proverbial texts creates a fertile counterpoint to the delicate symmetrical patterns of pill capsules or woodcut printed borders of floral motifs.
These compositions feature a homespun feeling and folk art quality due to heavily worked surfaces, many cut outs and repairs, and lots of hand scrawled wording. The skin-like Japanese paper is stitched together from several smaller pieces and looks old and out of square. Decorative patterns surround some of the illustrated items and the staccato stitches that define most of the edges feel like quilting. The slightly yellowed paper imbues a historic importance to the melancholy combinations, which often feature grand architecture and utilitarian objects from an earlier age.
While these works are introspective and emphatically reference the perils of depression (Abraham Lincoln is pictured crying after all) they are not as pessimistic or dour as the text or images alone might indicate. Curcio achieves this by balancing images of specific anti-depression meds with images of Viagra and references in both word and image to amorous activity. Love and lust are expressed in poetic verse and naughty drawings of underwear clad bottoms. It is this clever back and forth that keeps us looking for clues and reading the intricate passages of text beneath the banner headlines in Curcio's work – because with any autobiographical work we learn some truths by reading between the lines."
—————————
Sarah Hill – Flesh Prison

When: Friday November 2nd, 2012 6:00PM
Where: Anthony Greaney, 450 Harrison Avenue No. 1, Boston, MA 02118
How: Official Website
What/Why: "Flesh Prison is an aesthetic investigation of bodily imprisonment, and a shameless fascination with the abject. It functions as a form of non-verbal, aesthetic intelligence. I attempt to talk about the process of breaking down isolation in order to survive the trauma of day-to-day life. Filming each individual shot became a way for me to clean up the psychological mess on the inside of my own mind and body.Gender confusion is a small price to pay for social progress. I define social progress as the visible presence of transgendered bodies in Flesh Prison. I am aware that others may not read my body as transgendered when viewing the video. However, this is how I choose to define my body and gender. People can learn to work around my definitions of gender because I have spent my life working around others' definitions. I have the right and ability to exercise complete control over my flesh. It's mine. I live here. I don't rent. I am not borrowing it. My body belongs to me and I am going to do with it what I choose until I die. Gender as well as Flesh Prison becomes the performance of reclaiming psychological space."
——————————
Did I forget something? Let me know!
 (Lilli Carré)
As a Monday shut-in, Sandy afforded me some extra time to work on the wrap-up..
So it's hot off the press 24 hours early!
Loads of great events/exhibitions(even tonight!) this weekend so be sure to crawl out of your Y2K shelter and see some art. ♥