(Dismantling Chicago's 'Forever Marilyn' sculpture, via dailymail)
colossus x you don't deserve me x from olympus x after dark x emergence 
—————————————-
12th Annual Fort Point Art Walk

(The work of Shona Macdonald)
When: Friday May 11th, 4-7PM, Saturday May 12th-Sunday May 13th, 12-5PM
Where: Fort Point neighborhood,Boston, MA / List of participating artists here
How: Official Website 
What/Why: "Visit Fort Point as we celebrate the return of warm weather with a spring open studios event. The Fort Point Arts Community's 12th annual Fort Point Art Walk will be held on Friday May 11th from 4-7pm and Saturday and Sunday May 12th and 13th from 12 noon-5pm.
 Art Walk features more than 75 artists opening their studios in Boston's Fort Point. Pick up a map at any of the participating building and explore the studios of painters, jewelers, ceramicists, photographers, sculptors, textile artists, and more. Talk with artists in their studios and discover new works and treasured favorites. Visit Fort Point's art galleries and creative design shops. Explore Boston's changing Fort Point neighborhood and see the unique waterfront warehouse district that is one of New England's largest and oldest arts communities. Enjoy the opportunity to purchase works of art and fine craft directly from local artists. Art Walk will be held on Mother's Day Weekend, making it the perfect place to shop with or for your family. "
————————–
Studios without Walls Presents 'Real Art?'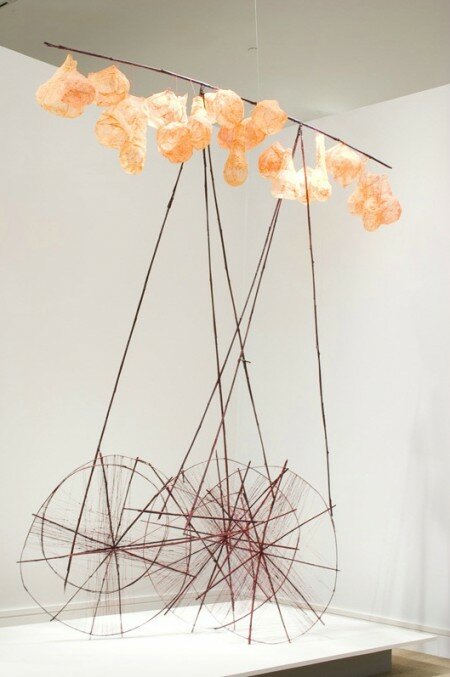 (Mission #2, prior work of Milan Klic)
When: On view through May 27th, 2012
Where: Brookline between longwood T Stop and Park Drive, MA
How: Official Website
What/Why: "Featuring the work of Muriel Angelil, Karen Klein
Milan Klic, Bette Ann Libby, Lyn MacDonald, James Paradis, Kerri Schmidt, joan schwartz, Jim Wright"
————————–
Friends With Benefits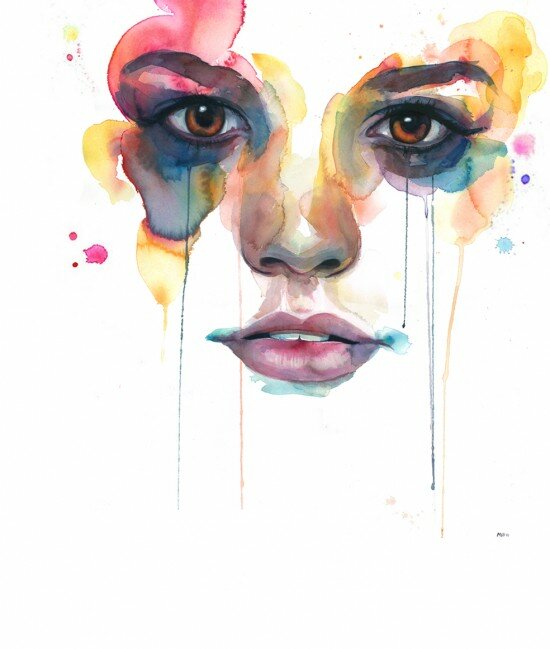 When: On view through May 31st, 2012
Where: The Distillery Gallery, 516 East Second St., Boston, MA
How: Official Website
What/Why: Friends With Benefits collects the individual and collaborative work of artists selected by members of Project Super Friends (SF). Collaborations between the artist and respective member of SF serve as a visual essay on the curatorial process.
Featuring the work of Marion Bolognesi, All Chrome, Pat Falco, Jay LaCouture, MCA, Peter Pracilio, Preys UPS and collaborations with Project Super Friends: Josh Falk, Evoker, Stephen Holding, Fish McGill, MRNVR, Dana Woulfe and Matthew Zaremba
————————–
About & Engaged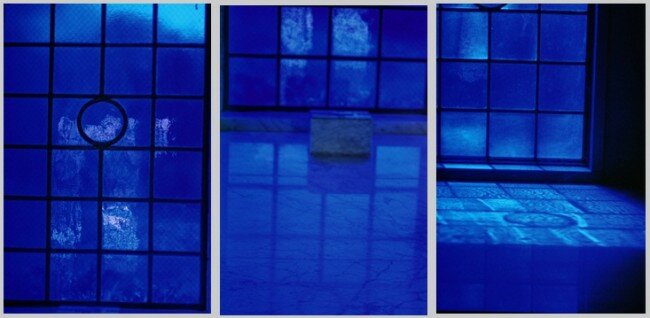 (Blue Light 1-3, prior work of Rinat Harel)
When: On view through June 29th, 2012
Where: Godine Family Gallery, 621 Huntington Ave, Boston, MA
How: Official Website
What/Why: "About & Engaged features work in the Godine Family Gallery by Genara Banzon, Kathleen Bitetti, Gail A. Burton, Michael Dowling, Rinat Harel, and Mario Quiroz.
The dates of the show are May 8- June 29th 2012 and on May 8th: 5 to 7pm is the Reception; 6:30pm is a performance, Ancestor Walks by Gail A. Burton; and 7pm is the Artist talk. The exhibition is part of ENGAGED a collaborative project by Boston-Based artist & activist Kathleen Bitetti, Mass College of Art and Design's Godine Family Gallery and the Center for Art and Community Partnerships. The project is highlighting socially engaged art practices and entails free monthly community events from February – June 2012."
————————–
Artrageous 26! Auction Party

(Artichoke 1, Olivia Parker)
When: Saturday May 12th, 6-11PM
Where: 300 Jubilee Drive, Peabody, MA
How: Official Website
What/Why: All proceeds benefit financial aid for students.
————————–
Emergence

(Boatside Meadow I, JJ Long)
When: On view through May 27th, 2012
Where: Loading Dock Gallery, 122 Western Avenue, Lowell, Massachusetts
How: Official Website
What/Why:  "Sculptor David Crane and painter JJ Long tackle "emergence" in their joint show at the 
Loading Dock Gallery in Lowell May 2-27. Their works celebrate the strength and mystery of form in dialogue with gravity, of potential realizing itself. "We're looking at  metamorphosis," Long says. "Forms break through their wooden molds as if they are  born from the earth, shedding their bark skin and coming to life."
Long, a Melrose native now living in Lowell, paints in oils, laying down layer after layer  of color almost as a watercolorist might. The result is smooth, subtle, and depthy. He  says that, although his normal style is quite realistic and based on observation, "The  work in this show is heavily surreal, with the focus on something new emerging. I've  been dying to paint a series 'out of the ordinary', and outside my comfort zone. Sharing  this show with David gave me the opportunity."
Crane, of Westford, creates wooden sculptures that celebrate the organic truths of the  wood. "My work for this show is largely large carved pieces of cherry," he says. "The  wood came from a great tree in the Hudson River valley. I met the tree over 40 years  ago, fallen on a friend's land. My friend sent me sections of the tree and I carved three  pieces from it in the 1980's. The rest of the wood has been waiting for my chisels until  now." "Respecting the natural grain formation," Crane continues, "I work to tease out human forms, both male and female, that the wood suggests." Long added, "David's sculptures were key in helping me develop my work for this show.  The sculptures are so raw and emotional: studying them, I found inspiration for painting  emerging, evolving forms." Long also drew inspiration from the dreamscapes and color  palette of Salvador Dali."
————————–
From Olympus to Alderaan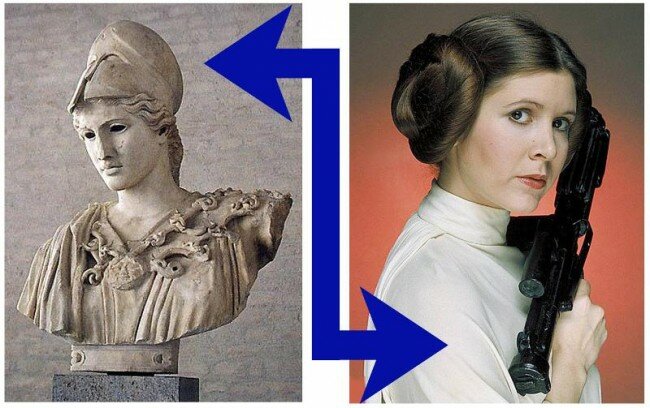 When: On view through May 27th, 2012
Opening Reception: Saturday May 12th, 7-10PM
Where: Gallery X, 169 William St. New Bedford, MA
How: Official Website
What/Why: More information here.
————————–
Art on the Marquee – Reception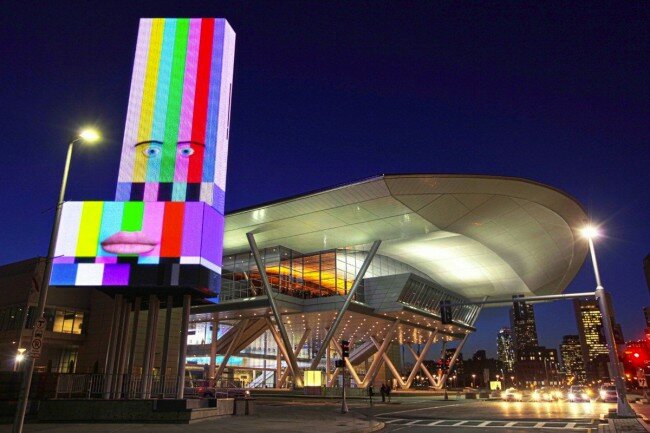 When: Wednesday May 16th, 6:30-8 pm
Where: Boston Convention and Exhibition Center, 415 Summer Street, Boston
How: Official Website
What/Why: "Boston Cyberarts and the Massachusetts Convention Center Authority have teamed up to create "Art on the Marquee," an ongoing project to commission public media art for display on the new 80-foot-tall multi-screen LED marquee outside the Boston Convention & Exhibition Center in South Boston. The largest urban screen in New England, this unique digital canvas is one of the first of its kind in the U.S. to integrate art alongside commercial and informational content as part of the MCCA's longstanding neighborhood art program."
————————–
Park After Dark

(King, Ken Landauer)
When: May 12th, 2012 – 9:30pm-12:30am
Where: deCordova Sculpture Park and Museum, 51 Sandy Pond Road, Lincoln, MA 01773
How: Official Website
Cost: $75
What/Why: "This year deCordova has added a new component to its annual benefit and auction: Park after Dark. DeCordova invites you to enjoy a DJ, drinks, and dancing in the Linde Gallery from 9:30 pm to 12:30 am. Experience Party for the Park in its entirety, or come just for Park after Dark.
Tickets are $75 and include drinks, desserts, and a chance to win unique artwork in a raffle featuring emerging artists! If you choose to join us for the entire evening, tickets to Party for the Park include complimentary tickets to Park after Dark. For Park after Dark guests coming from the Boston area, round trip transportation is available from 28 Degrees restaurant and bar."
————————–
Discord + Harmony

 (Logan, Sean Boyce)
Reception: Saturday May 12th, 5:30-8:30PM
Where: Apex Fine Arts, 162 Newbury Street Boston, MA
How: Official Website
What/Why: "The exhibition will feature paintings by two musician artists; Karen J. Sander and Sean Boyce. 
This exhibition will portray an impressionable contrast within urban environments showcasing the fun and playful nature of the city as well as the serious impact that it has onour natural environment and the detrimental causes of that impact. 
Sean's work is an exploration of vibrant city-scenes in a playful and organic sense, bringing color and excitement to ordinary circumstances. His art depicts city life and the built environment from an almost hallucinatory semblance of order, a reminder of the mysterious messages that fill our surroundings. 
In Karen's work we see a vivid and colorful depiction of the devastating effects nature can have on our delicate infrastructures, and a poignant underlying statement reflecting the importance of the balance and harmony in our natural and urban environments. 
Indicative of the indomitable human spirit, even when our cities are swept away there is a functioning community and infrastructure no matter how stressed it may be. Conversely when the weather is clear and planes are on time, no matter of efficiency and "security" can dissolve feelings of boredom, loneliness, and uncertainty."
————————–
Tag You're It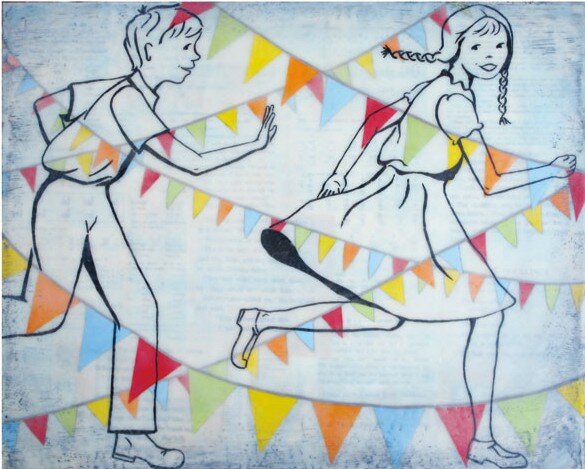 (You Can't Catch Me, Amy Keller)
When: On view through
Opening Reception: Friday May 11th, 2012,  7-9PM
Where: 13Forest, 167A Massachusetts Avenue, Arlington, MA 02474
How: Official Website
What/Why: "Please join us on Friday May 11th from 7-9 pm for the opening reception of Tag (you're it), our two-part summer show. 
Eager for summer, we chased down ten artists to play a little game. Tagging them "it," they were each invited to make a piece for a group show.
But a round of tag never stops there and we challenged them to continue the game by tagging ten more artists to take their spots midsummer.
With all this running around, 13FOREST will soon become a playground where twenty artists take over home base. Come see how nicely we all play together!
The first group of artists include:Resa Blatman, Pilar Botana, David Colombo, Susan Jaworski-Stranc, Amy Keller, Bénédicte Lassalle, Josh Luke, Vanessa Ly, CW Roelle, Lisa Scollan"
————————–
Cambridge Open Studios

(there sat down once a thing on Henry's heart (Matt), Candace Corbin)
When: May 12-13th, -East and Central Cambridge,  May 19-20 North + West Cambridge
Where: Cambridge, MA |  List of Participating Artists here.
How: Official Website
What/Why: "Artists throughout Cambridge open their doors to the public for the fourth annual city-wide Cambridge Open Studios (COS) during two weekends in May. Meet local artists and discover unique paintings, jewelry, fiber arts, ceramics, film, mixed-media, literary works, and more!"
————————–
You Don't Deserve Me

When: On view through July 21st, 2012
Where: Samsøn | 450 Harrison Ave. / 29 Thayer St. | Boston, MA 02118
How: Official Website
What/Why: "Sitting down to write this essay, on recent works by Boston-based artist Steve Locke, I am repeatedly engaged by an overwhelmingly tangential force. In his 2nd solo exhibition, you don't deserve me, at Samsøn, an array of textual signifiers—including distinctly truncated titles, painted portraits, and sculptural forms, rendering the figure in both two and three-dimensions—intersect with and diverge from the discourses of painting and sculpture; signifying a mediated relationship between the subject and the artist. In the past, Locke portrayed the results of looking. In his single and group installations of portraits of men we look at them, they look at us, and at each other. In his version of the portrait, subjects aspire to be the objects of desire. In this desire-seeking network of looking we often leave ourselves behind. Locke's new series of portraits liaise with the self-set pace of a tangential passage—the urge to look at, desire, lust after, and wonder about the other in a wandering state—creating the potentiality of intersections within the matrixes of glances, gazes, stares, suppositions, propositions and gestures—in the present.."(read the rest of the essay here.)
————————–
Mass Art Spring Sale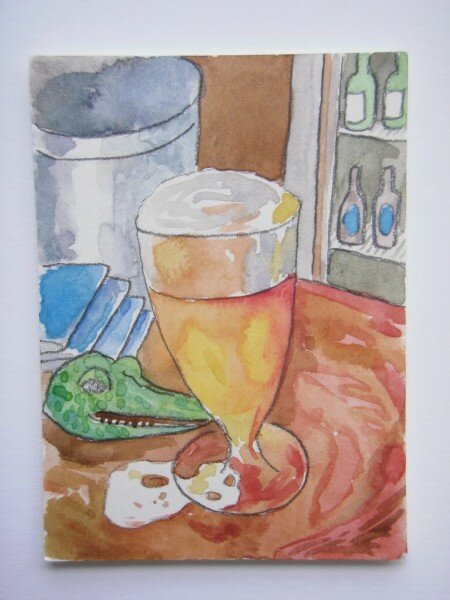 (piece from "The Medicated Teacher" series by Andrea Newland)
When: Going on through May 12th, 2012
Where: MassArt, 621 Huntington Avenue, Boston, MA
How: Official Website
What/Why: "The Annual MassArt Spring Sale located at 621 Huntington Avenue, Boston, MA, is a festive event eagerly awaited each year. This year the sale is being held May 7-12, 2012 , 10am-7pm in the lobby of the Tower Building.
This is a great opportunity to find that perfect gift for Mom! Mother's Day is Sunday, May 13th, so make sure to purchase handmade, quality artwork by students and alumni at this year's MassArt Spring Sale! Savvy shoppers can pick up unique gifts – from hand-blown glass, ceramics, oil paintings to handmade jewelry, these items and more can be found at the MassArt Spring Sale. Sales support financial assistance to students."
————————–
Rifrákt @ Pavement

When: On view May 15th-June 30th, 2012
Where: Pavement Coffeehouse, 44 Gainsborough St., Boston, MA
How: Official Website
What/Why: "Rifrákt will be exhibiting at Pavement Coffeehouse on Gainsborough Street from May 15 – June 30, 2012.  Reception details to come.  Please come down and check out new work by Boston's great nomadic collective. "

————————–
Cynthia Maurice: Colossus

(Hyacinth)
When: On view through May, 2012
Where: Galatea Fine Arts, 460-B Harrison Avenue, Boston, MA 02118
How: Official Website
What/Why: "My starting point are cut flowers. I seem to be attracted to shifting relationships, complexities of the everyday. I choose materials that are quick, dirty and impossible to erase.
"In Cynthia Maurice's exhibit, Colossus, one enters a mythical world where nature is not to be trusted. Her orchids and coleus plants are excessive, greedy in their urges to survive. Ms Maurice uses shifts in scale, combining her interest in clusters with architectural forms. Her drawings confront? allure? provoke? entice? pervert? even the most innocent of viewers with their ravenous beauty."
Masha Obolensky. Director, Playwright. First prize by Boston Theatre Works and recipient of Robert Pinsky Global Fellowship.
"Cynthia Maurice's drawings appear to be caught in the eye of a storm, balancing energies of quiet, meditative observation and emotional offerings. They are at once sensuous and blatantly powerful."
Marjorie Kaye, Director, Galatea Fine Arts"
————————–
SMFA Sidewalk Sale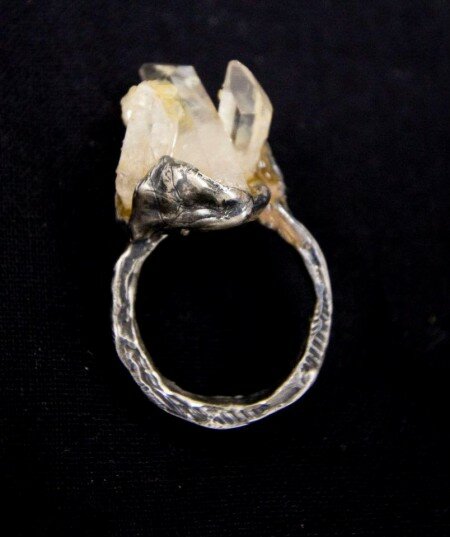 (quartz cluster ring by Lauren Coulson)
When: Friday, May 11, 10 am–5 pm// Saturday, May 12, 10 am–5 pm
Where: SMFA, 230 The Fenway Boston MA  02115
How: Official Website
What/Why: "SMFA's popular Sidewalk Sale is back May 11 + 12. Shop creative and original works by over 70 artists including paintings, jewelry, drawings, T-shirts, ceramics, prints and much more.
In effort to give back to the community, 10% of all proceeds are given to a local organization chosen by students. This year's sale will benefit Mobius, a non-profit, artist-run organization, whose mission is to generate, shape and test experimental art."
————————–
The Ceramics Program at Harvard Spring Show

(work by Alice Abrams)
When: Friday May 11th – Sunday May 13th, 2012 10 am – 7 pm
Where: 219 Western Avenue, Allston, MA
How: Official Website 
What/Why: "The Ceramics Program of the Office for the Arts at Harvard will present its annual Spring Show and Sale May 10th – 13th at 219 Western Avenue, Allston, MA.
The Ceramics Program provides a creative learning environment for Harvard students, staff, and faculty as well as designers, artists, and scholars from the greater Boston and international communities. This spring, more than fifty artists will present an extraordinary selection of ceramic work. From functional dinnerware to sculptural masterpieces, this popular exhibition has something for everyone and attracts several thousand visitors each year.
Thanks to generous donations and previous fundraisers, the studio recently constructed two new gas fired kilns which will be on view to the public during the Show and Sale. A silent auction and raffle will be held to raise additional funds to purchase new electric kilns."
————————–
Untitled: Gregory Crewdson

(Untitled 1)
When: On view through May 25th, 2012
Where: Montserrat College of Art, Carol Schlosberg Alumni Gallery, 23 Essex Street Beverly, MA 01915
How: Official Website 
What/Why: "I have always been fascinated by the poetic condition of twilight. By its transformative quality. Its power of turning the ordinary into something magical and otherworldy. My wish is for the narrative in the pictures to work within that circumstance. It is that sense of in-between-ness that interests me." – Gregory Crewdson
Known for his narrative photographs of America's suburban homes and neighborhoods, Crewdson's images are produced with a cinematic aesthetic. His process, similar to that of a Hollywood film, consists of carefully constructing the worlds he is photographing both before and after shooting the image. The final product is a composite of many views of the same scene, every aspect equally in focus. The artist presents us with a hyper-real moment of truth.
For his latest project Sanctuary, Crewdson's photographed the back lots of Cinecittà, the famous Roman film studio. This location is a symbol of Italy's cultural productivity, both ancient and modern. Crewdson's photos record the faux-ancient Roman backgrounds that directors use to romantically visualize Italy's history. The monochromatic photographs are both historical and contemporary at the same time. By documenting the fictive, the artist again plays with notions of perception versus reality. 
In both series Crewdson elicits contemplation and quiet."
Also on view..
Cash for Your Warhol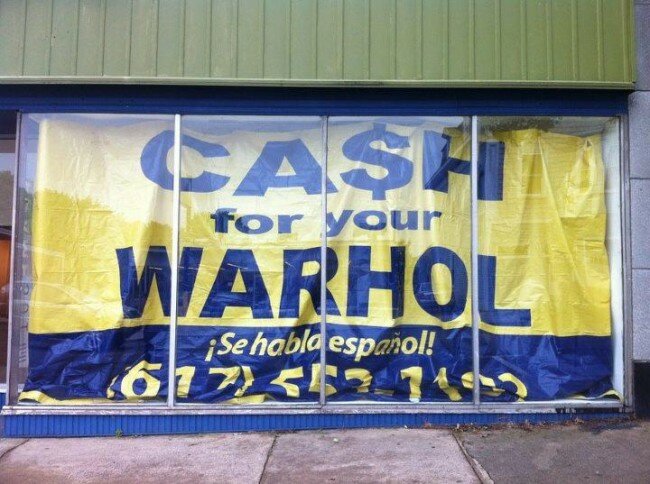 What/Why: (Frame 301 Gallery) "Inspired by the "cash for your house'' signs he saw on telephone poles during the worst of the economic collapse, Geoff Hargadon's Cash for Your Warhol project offers to assist art collectors in these trying financial times by buying their original art works by the artist Andy Warhol. The artist skillfully combines aspects of street, installation and conceptual art with popular advertising techniques. The project includes plastic signs, billboards, posters, stickers, a website and a growing number of gallery exhibitions."
————————–
This wrap-up is dedicated to my mom who still loves me even though I was a teenager at one point.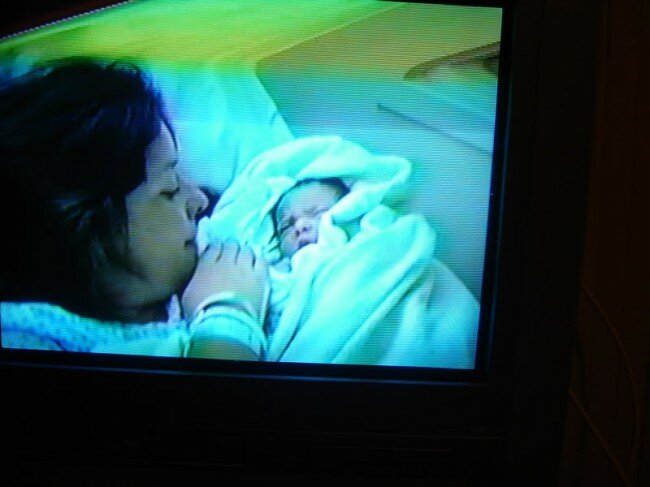 Happy Mother's Day, thank you for birthing me ♥