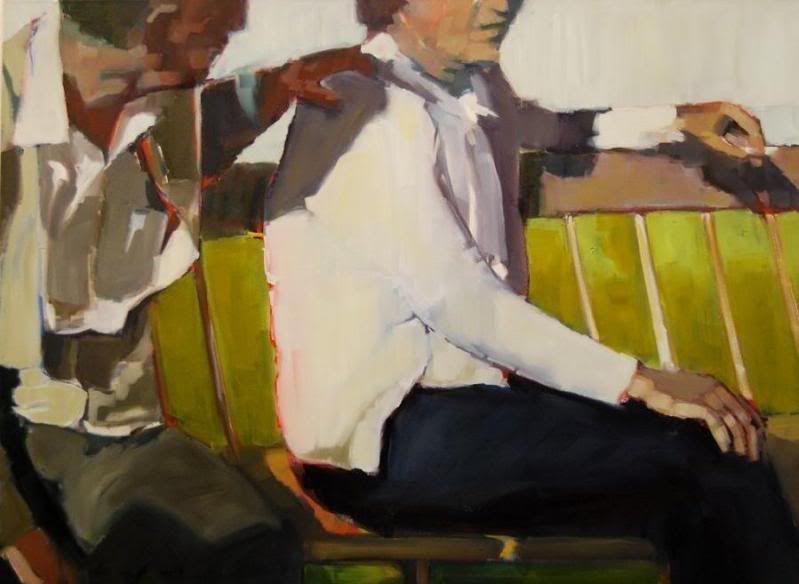 (White Sweater, by SoWa artist Beth Dacey)
Happy Friday!
While writing the wrap-up I got to thinking about how the Boston art buzz has seemed to center around the galleries of the South End/SoWa studios, but Jamaica Plain is starting to make a name for itself.
With the presence of the Hallway Gallery, the newly opened(last night!) Aviary Gallery, and the Uforge Gallery Grand Opening next month, JP is positioning itself to be the next big arts destination.
Will be interesting to see what happens!
So what's on the menu this weekend?
Winter Members' Show: White Lights & Co|So Artists A to Z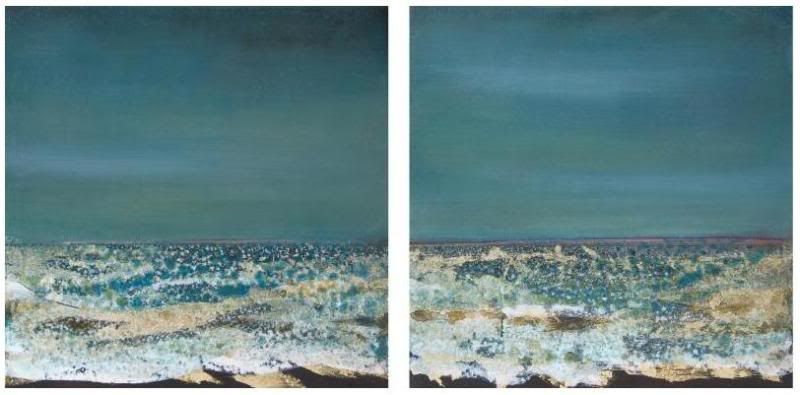 (Sea Green Diptych, Jessica Pisano)
When: On view now through April 8th, 2011
Where: 158 Newbury Street, Boston, MA 02116
How: Official Website
———————————————————————-
Fax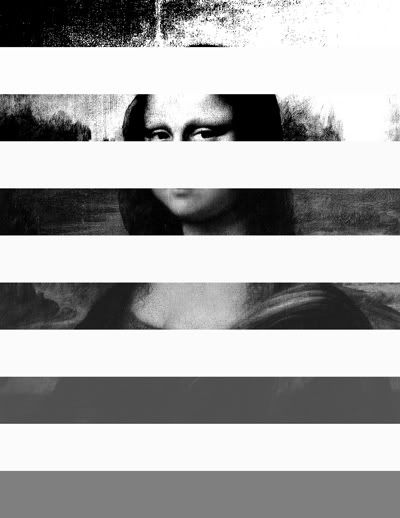 (Matt Sheridan Smith)
When: On view now through April 10th, 2011
Where: Carpenter Center for the Visual Arts, 24 Quincy Street, Cambridge, MA
How: Official Website
What/Why: "FAX invites a multigenerational group of artists, architects, designers, scientists, filmmakers and writers to reconceive of the fax machine as a thinking and drawing tool. Participants transmit their fax-based work via the venues' working fax lines through the duration of the exhibition's tour. FAX was conceived by João Ribas, who curated its initial exhibition at the Drawing Center in New York. Faxes by nearly 100 participants were sent to the Drawing Center and these works form the core of the traveling exhibition. Each institution invites additional participants to submit works, which will then be archived with The Drawing Center's collection to create an evolving document of all participants. The accumulation of information-received in real time, in the exhibition space-includes drawings and texts, and the inevitable junk faxes and errors of transmission, creating an ongoing cumulative project."
——————————-
"The Edge of Town" Urban Landscapes by John Dowd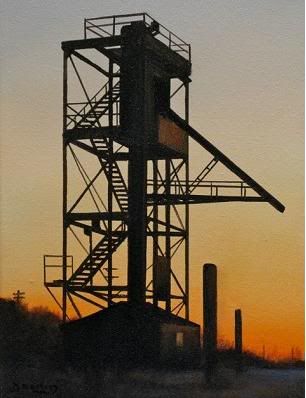 (Iron and Rust)
When: On view now through March 27th, 2011
Opening Reception: March 4th 6:00-9:00PM
Where: William Scott Gallery, 450 Harrison Avenue, #65 Thayer Street, Boston, MA 02118
How: Official Website
What/Why: "John Dowd's new exhibit of urban landscapes will open at the new William Scott Gallery Boston location on Friday, March 4th with a reception with the artist from 6 to 9 p.m(open to the public)"
——————————————-
In the Spirit of the Chambered Nautilus
When: On view now through March 19th, 2011
Where: NK Gallery, 460A Harrison Ave, Boston, MA
How: Official Website
What/Why:"Therese Zemlin works in a range of media, including paper, light, and digital prints.  She has been exhibiting her sculpture, installation, and works on paper for over thirty years, and has received numerous grants, including a Southern Arts Federation/National Endowment for the Arts Regional Fellowship, and a Pollock-Krasner Foundation Grant.  After earning a BFA from the University of Illinois at Urbana-Champaign, and an MFA from the University of Texas at Austin,  Therese taught Fibers and Sculpture at the University of South Carolina, Columbia (1991-1994), and Appalachian State University (1994-2000).  She was a visiting artist at the School of the Museum of Fine Arts, Boston, and Wellesley College from 2000-2001.  She is currently on the faculty at Phillips Academy, Andover, MA."
———————————
Lovesick Cafe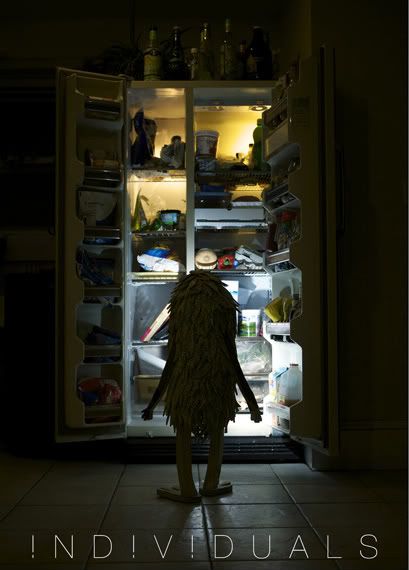 When: March 5th through April 3rd, 2011
Opening Reception: Saturday March 5th 8PM-11PM
Where: Orchard Skateshop Extension Gallery, 156 Harvard Ave, 2nd Floor, Allston, MA
How: Official Website
What/Why:"The Boston based art collective !ND!V!DUALS is pleased to announce their Boston debut at the Extension Gallery at Orchard. Their installation "Lovesick Café" will be on display beginning Saturday March 5th through April 3rd. Using salvaged materials and screen printed wood,!ND!V!DUALS create site-specific installations typically inhabited or characterized by surreal and bizarre creatures.Their sculptures exhibit innovative gestures and witty formal invention combined with detailed craftsmanship that showcases humor, playfulness, and savagery. "Lovesick Café" is the newest addition to the Allston/Boston restaurant scene and it's guaranteed to serve the most exotic and creative dishes in the city. Full menu available March 1st at www.individualscollective.com"
—————————————
SoWa First Fridays

(Men at Lake II, Beth Dacey)
When: Friday March 4th, 2011
Where: 450 Harrison Avenue, Boston, MA
How: Official Website
What/Why: "The First Friday of each month, Guild member artists and others open their studios at 450 Harrison Ave. Boston, MA 02118. Meet the artists in their element and view their latest works. The SoWa Artists Guild strives to make art and artists accessible to everyone. Come and enjoy the fun. The event is free and parking is available."
—————————————————-
Sound on Sight: Photography of Boston Rock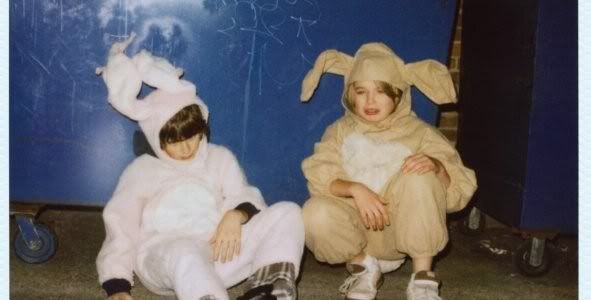 When: On view now through April 3rd, 2011
Where: The Aviary, 48 South Street, Jamaica Plain, MA
How: Official Website
What/Why: "Aviary's first ever exhibit is Sound on Sight: Photography of Boston Rock, a collection of photographs taken by local musicians and opens on Thursday, March 3. Sound on Sight, assembled by Aviary owner Lindsay Metivier, flips the camera around and shows us the world seen through the eyes of the bands we're usually paparazzing." (writeup via Dig)
—————————————————-
Stephen Coyle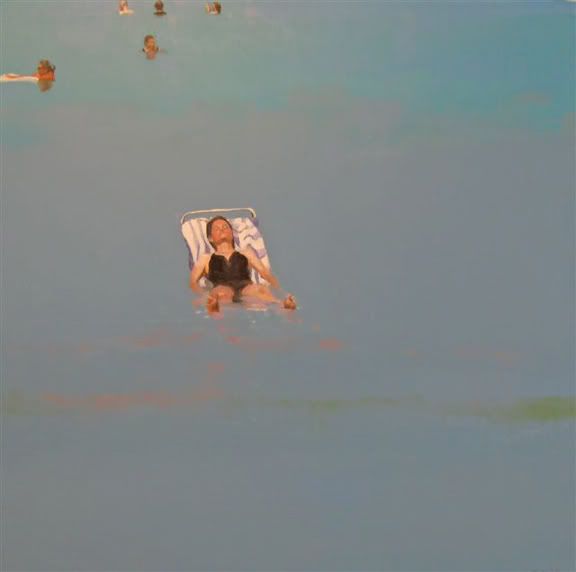 (The Tide is Rising)
When: On view now through March 27th, 2011
Where: Chase Young Gallery, 450 Harrison Avenue, No. 57, Boston MA, 02118
How: Official Website
What/Why: "About his recent Beach series, Stephen has said: "For me, going to the beach is like going to the zoo. The way we observe animals at the zoo is akin to the way we observe one another at the beach. I want these paintings to be a summation of humanity through our poses, clothing and gestures.  The spacing between each figure and each group of figures is important.  The amount of distance we leave between one another echoes the spaces we create in our language both physical and verbal. Along with the space between the figures is the space between the viewer and the painting. The distance between the painting and the viewer is similar to the distance between an animal's habitat and our observation point. These paintings are an examination of humanity as we walk, crawl, run, crouch, and lie upon the earth."
—————————————-
Getting Serious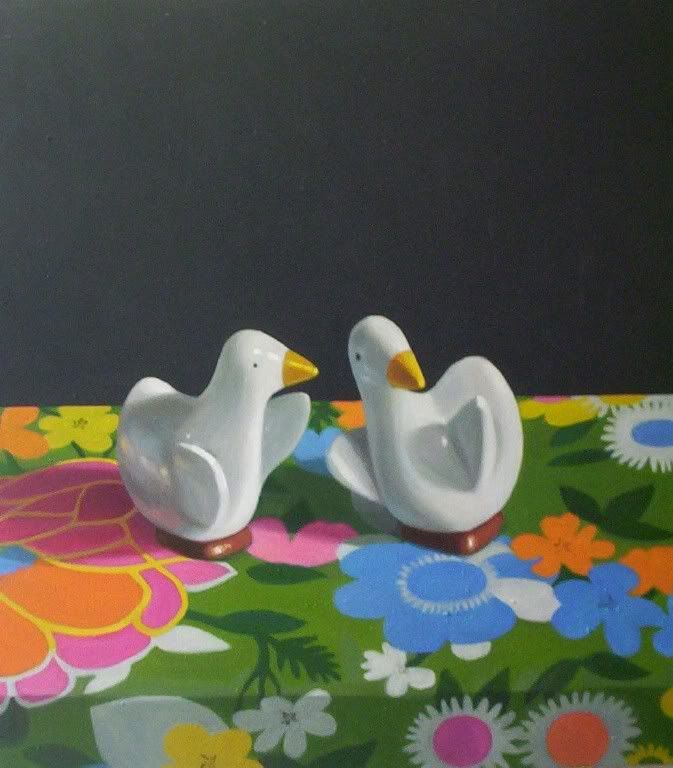 (The work of Maureen O'Connor)
When: On view now through March 26th, 2011
Where: Atlantic Works, 80 Border Street, East Boston, MA
How: Official Website
What/Why: Celebrating Women's History Month. New Work by Chris Chou, Karen Kemp & Maureen O'Connor
——————————-
The Age of Un-Reason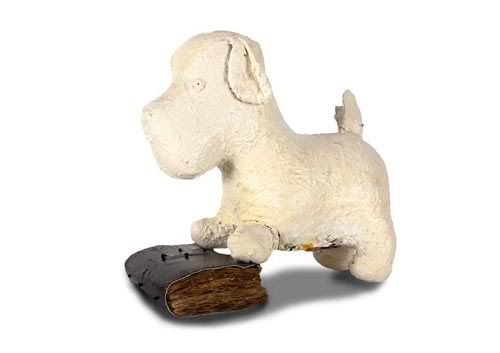 (Carol McMahon)
When: On view now through March 26th, 2011
Where: Bromfield Gallery, 450 Harrison Avenue, Boston, MA 02118
How: Official Website
What/Why: "For the past few years, I have been creating mixed media collages, book-like objects and constructions using various materials: paper, paint, fabric, canvas, vintage and new fabrics, book covers, cardboard, found things, junk.Recently, I've wanted to paint everything white. This may sound unreasonable but, in an age of unreason, it may be reasonable enough.
I started this current body of work by removing old canvases from their stretcher bars and painting the bars themselves white. Then I painted over my collections of old Victorian scrapbooks and album mats, books, book covers, old collages and paintings, found objects, furniture, shelves, whatever I had at hand or had found. After deconstructing and whitening everything with gesso, I began to reconstruct and remake these materials into new work. I've made new mixed media collages using paint, paper, cardboard, canvas, and other materials. I've also used found furniture and some of the above materials to make sculptures and constructions, some floor standing and some which hang on the wall, shelf or pedestal.
I've used color, but I still have a lot of white in this work and I've been asked why.
Typically, I work first and try to make sense of it later. But I think, among the answers are: to start over, to whitewash and to make light—-in every sense of the word."
Also on view: Invasive Spaces: The Work of Barbara Poole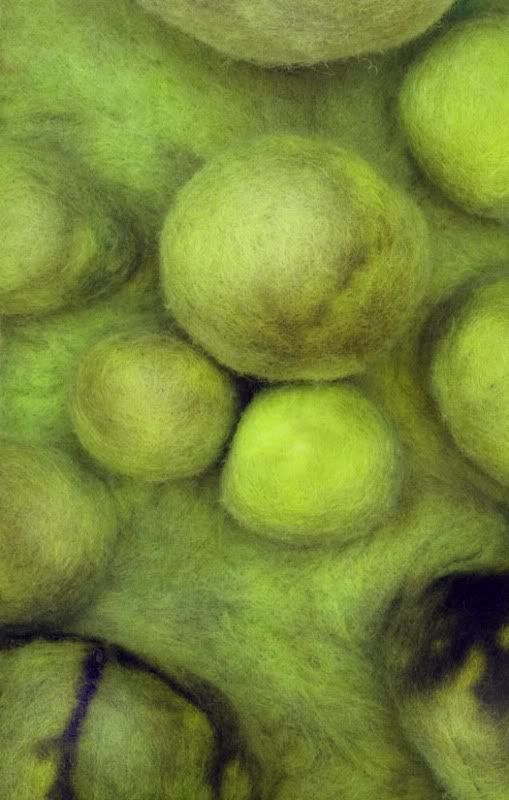 ——————————————————
Go Small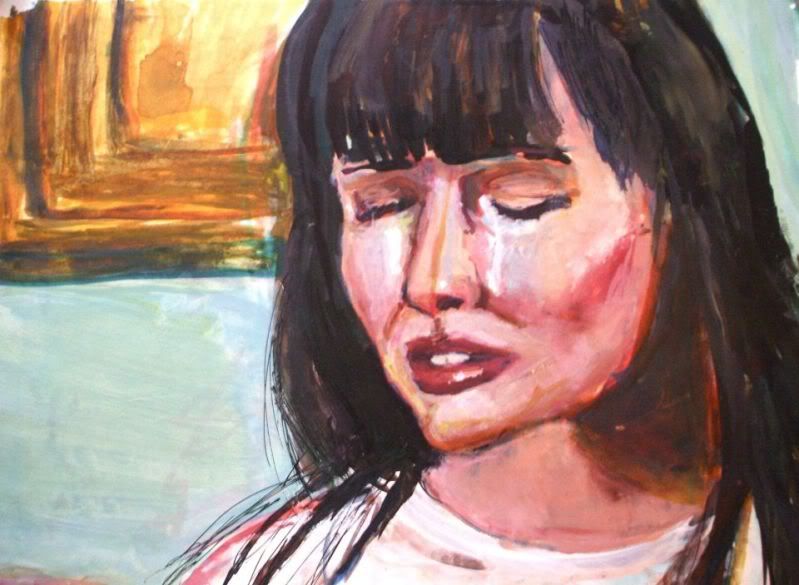 (Oh No! Brenda Walsh Is Cryin Again,the work of Elizabeth Grammaticas) (note:exact piece may not be on exhibit)
When: On view now through March 31st, 2011
Where: Distillery Gallery, 516 East Second Street, South Boston, MA
How: Official Website
What/Why: "The Distillery Gallery is pleased to announce "Go Small", a group exhibit of 10″ x 10″ works on panel.  For this show, the playing field has been leveled – and has shrunk – by asking artists to produce work specifically for the exhibit on small blank panels provided by the gallery.  While a wide range of mediums, styles, and artistic backgrounds will be represented throughout the anticipated 60+ pieces of artwork, an absolute cohesiveness will be maintained by simply limiting the size and surface of the material on which works may be produced.The gallery itself, rich in character, somewhat vast in size, and often known for feeling a bit "clunky", will be unified by the exhibit's presentation as works are hung on an even horizon line throughout the entire space.  The nature of the small works will invite an intimacy which can sometimes be lost in such expansive exhibition rooms."
——————————————-
Boston Printmakers: North American Print Biennial 2011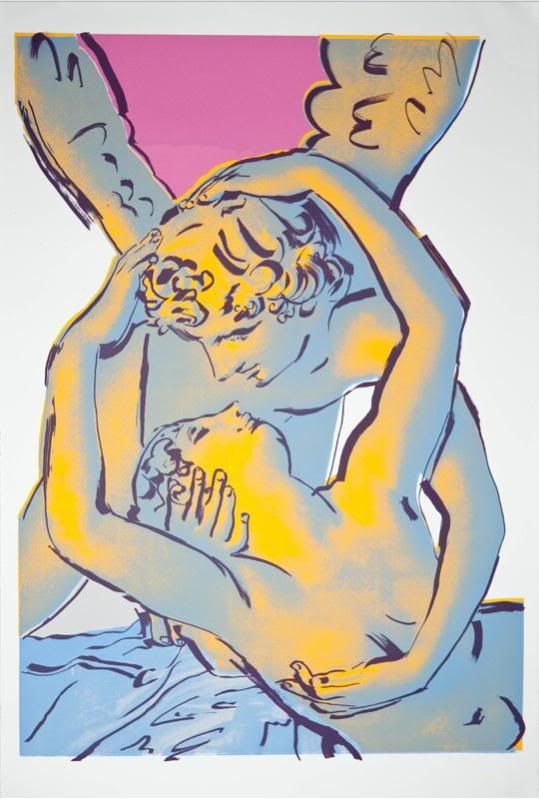 (Yellow Cupid, June August)
When: On view now through May 1st, 2011
Where:Danforth Museum of Art, Framingham, MA
How: Official Website
What/Why: "The 2011 Biennial features prints created in traditional print processes including lithography, woodcut, linocut, etching, mezzotint and screenprinting, as well as works produced in new or experimental media such as digital, collage, artist books, and 3-dimensional constructions."
——————————————————-
The Polaroid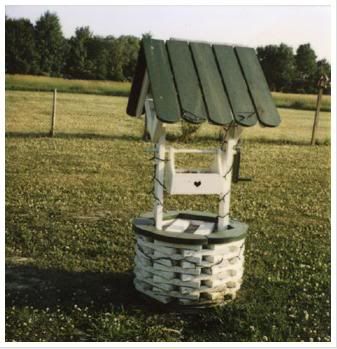 (The Photography of Lindsay Metivier)(note:exact photo may not be on exhibit)
When: On view now through March 31st, 2011
Where: Hallway Gallery, 66a South Street, Jamaica Plain, MA
How: Official Website
What/Why: An exhibit showcasing the photography of Mickey Murphy, Ariele Baragona, John Steck Jr., Robin Halperin, and Lindsay Metivier
————————————————-
First Saturdays Open Studios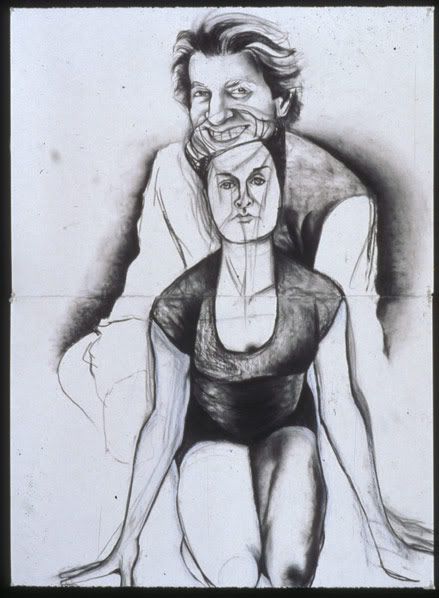 (Self Portrait with Dream Man, the work of Gillian Frazier)
When: Saturday March 5th, 2011 – 12:00-5:00PM
Where: Western Avenue Studios, 122 Western Avenue, Lowell, MA
How: Official Website
What/Why: "Join the over 200 artists of the Western Avenue Studios on the first Saturday of every month from 12-5PM. Stroll our halls, visit artists in the studios where they work and create, and pick up some original art to take home with you. You will find painters, photographers, mixed media artists, jewelers, glassworkers, ceramic artists, sculptors, fiber artists, and more. Stop by our on-site cafe for a snack. Parking is free and plentiful!"
————————-
Hope you have a fun one!  ♥