2012 enters stage left.
culture vulture x small talk x listen close x please release me
——————
Laura Letinsky- Hot and Cold All Over 

(Untitled #10, from Hardly More than Ever) 
When: On view through February 18th, 2012
Reception: Friday January 6th, 5:30-7:30PM
Where: Carroll and Sons Gallery, 450 Harrison Avenue, Boston, MA 02118
How: Official Website
What/Why: "Carroll and Sons supports contemporary artists who work in painting, photography, sculpture, video and works on paper. The gallery focuses on building the careers of lesser-known artists and promoting ones who are under recognized."
—————————
Tara Tucker – Please Release Me
(Tongue and Groove)
When: On view through January 14th, 2012
Reception: Friday January 6th, 2012 5:30PM
Where: Steven Zevitas Gallery, 450 Harrison Ave. #47, Boston, MA 02118
How: Official Website
What/Why: "Tucker's latest drawings and works on canvas continue her exploration of animals morphing into hybrid forms. Her creatures merge with flora in a surreal evolution that will enable them to "survive both environmental change and human intervention." In recent years, Tucker's work has become increasingly complex in terms of both the compositional and narrative relationships between the subjects she chooses to depict.
Tucker's works are meticulously rendered and zoologically accurate. (Tucker acquired her knowledge of animal morphology by assisting her mother who was a taxidermist at a local museum of natural history; her knowledge of fauna comes from her father who owns an orchid farm.) Yet their real power comes from Tucker's ability to subtly anthropomorphize each creature by imbuing it with emotions that range from fear to anger to joy"
—————————
NKG National Juried
(Queen Elizabeth II, June August)
When: On view through January 21st, 2012
Opening Reception: Friday January 6th, 6-8PM
Where: NK Gallery, 450 Harrison Avenue, Boston, MA
How: Official Website
What/Why:"Opening Reception Juried Group Exhibition of artists from all over the US. Varied mediums, processes and conceptual approaches make this an interesting exhibition for all to experience."
—————
 Formation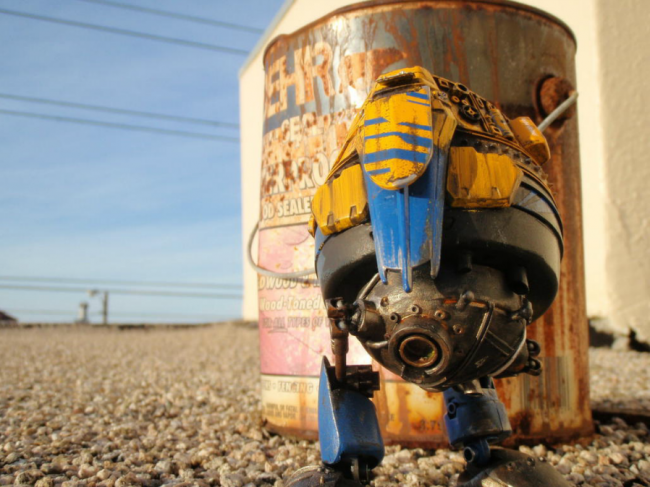 (prior work of William Long)
When: On view through January 31st, 2011
Reception: Friday January 6th, 7-11PM
Where: Lot F Gallery, 145 Pearl Street #4, Boston, MA
How: Official Website
What/Why: "To begin 2012, we have put together a cohesive exhibition with three extremely talented artists who have distinct bodies of work. Formation will feature paintings by of William Long, Stephen Holding and Joshua Durant. January 6th – January 31st. William Long/Joshua Durant/Stephen Holding. Refreshments will be Provided"
—————————
2012 Multimedia Group Art Show

(There are Winners and Losers(gallery view), prior work of Adam Norton)
When: Friday January 6th, 2012 6-8PM
Where: Revolving Museum, 290 Jackson Street, Lowell, MA
How: Official Website
What/Why: "Join us for the opening reception of the 2012 Revolving Museum Multimedia Group Art Show! This show will kick off a new and exciting year for the Revolving Museum by featuring art work created by Revolving Museum staff and students."
—————————
Misled Youth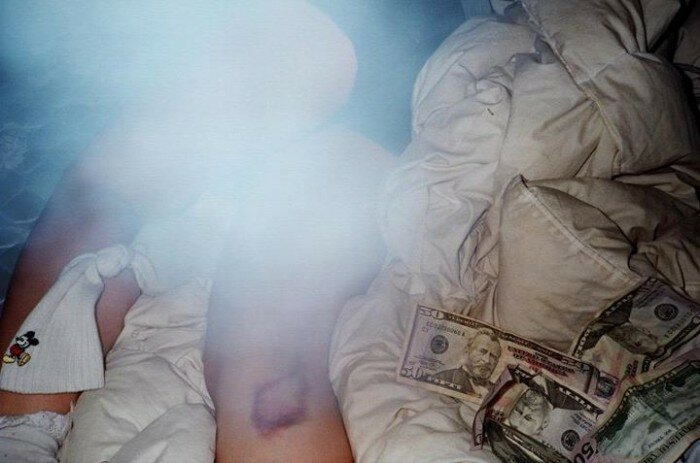 (The work of Alex Kelley-Hoffman)
When: On view January 7th- January 25th, 2012
Opening Reception: 6:00-9:30PM Saturday January 7th
Where: Fourth Wall Project, 132 Brookline Ave, Boston, MA 02215
How: Official Website
What/Why: "Expect Art/Music/Narragansett Beer/Bushmills/Fun" – Artist Information here.
—————————
Swell Spot 

(Blossom, Susan Still Scott)


When: On view through January 29th, 2012
Opening Reception:  Friday January 6th , 5:30-8 pm
Where: Kingston Gallery, 450 Harrison Avenue #3, Boston, MA 02118
How: Official Website
What/Why: "An artist-run gallery incorporated in 1982, Kingston takes its name from its original location on Kingston Street in Chinatown. In the mid-90s the gallery was one of the very first to relocate to Thayer Street, anchoring what has since developed into the vibrant SoWa arts district of Boston's historic South End."
Also on view..
Not a New Life but a Nod

(Cuff, Lorri Ott) 
—————————
Antoniadis & Stone – Rough Shape

(Deadline)
When: On view through January 28th, 2012
Artist's Reception: Friday January 6th, 2012 5-8PM
Where: Samson Projects, 450 Harrison Avenue, Boston, MA 02118
How: Official Website
What/Why: "Rough Shape refers to the current state of affairs as we see it: a struggling economy, a growing sense of alienation in one's own world and the spiritual poverty that is inherent in our culture's institutional systems."
Using urethane foam, latex paint, plastic and poly-vinyl chloride, three sculptures create a spiritual awakening from realist boundaries and realms of corporate failure. Social Climber reflects a certain current human condition; a relic of empty anxiety that pulls elements from a Post-Minimalist sensibility. Support System provides evidence of the materials as signifiers camouflaged and subverted by the industrial process. 
All the works question materiality and architectural strictures placed on us by the institution. There are no found objects. Creating it all changes the meaning and destroys a past. Illusion and craft combine to create visual anomalies found from vandalism on a window to Brutalist architecture and modernist tropes. "
—————————
Flatland: Natalie Lanese

(Legs)
When: On view January 10th-February 11th, 2012
Where: Montserrat College of Art, Carol Schlosberg Alumni Gallery, 23 Essex Street
Beverly, MA 01915
How: Official Website
What/Why: "This January, Natalie Lanese will present small works on paper and a new mural in Flatland in the Carol Schlosberg Alumni Gallery at Montserrat College of Art. Lanese's work combines collage and pop patterns to set up narratives that address, oftentimes humorously, the more serious realities of American culture. Painted and collaged directly on the gallery wall, the patterns transform into geometric landscapes in which the collaged elements create conceptual spaces and immediate psychological realities that confront ideas of image vs. reality, depth, and flatness. "
—————————
Flock Together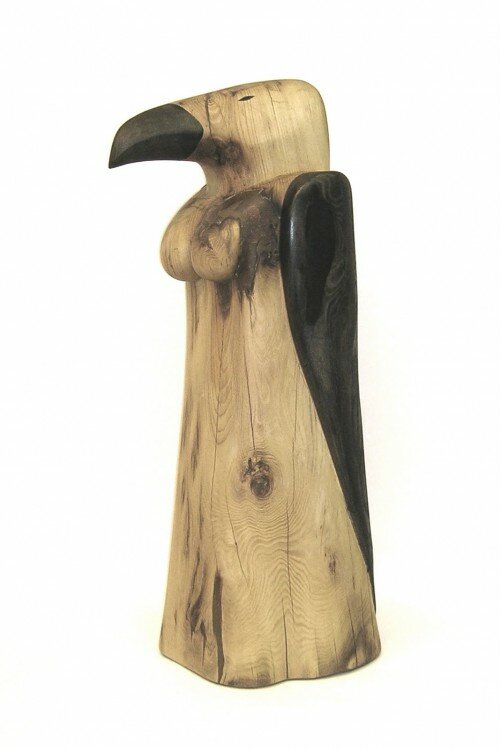 (Culture Vulture II)
When: On view through February 5th, 2o12
Opening Reception: January 6th, 5-8PM
Where: Boston Sculptors Gallery, 486 Harrison Avenue, Boston, MA
How: Official Website
What/Why: "Donna Dodson's second solo exhibition of her iconic wood sculptures,Flock Together, presents sixteen different interpretations of a bird-headed female form.
 In this series, Dodson is exploring the idea that similar types of people choose to congregate with other like-minded souls, even if the similarities are beneath the skin, feather or breed, and not immediately apparent or obvious to the viewer.
 This series started with Cardinal, as if women could hold high office in the Catholic Church. Further imaginings led to the creation of Little Red Riding Hood, who is anything but little; White Stork, who is carrying a baby in her tummy instead of her beak; and Culture Vulture, who is highly cultured, deeply ravenous and hollow – lurking on the edges of culture to fill up."
Also on view..
Avian Language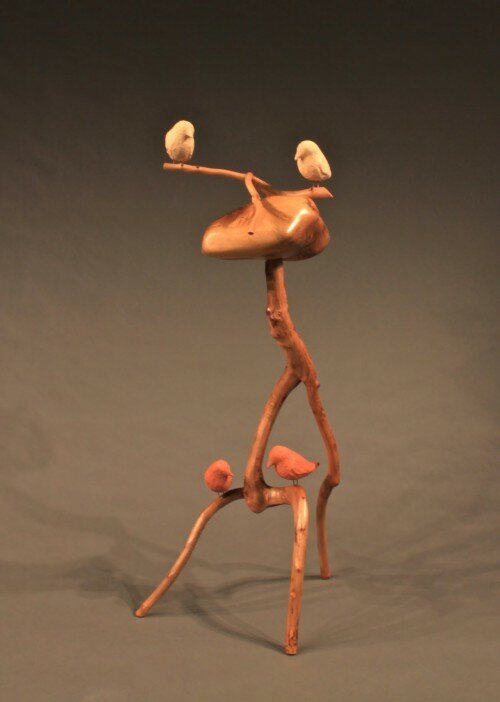 (Small Talk)
"Avian Language is a debut solo exhibition for Andy Moerlein at Boston Sculptors Gallery. This show features a forest of shaped wood, altered trees and ceramic birds in conversation.
Moerlein's work has a story teller's attitude – that tightrope walk between naturalism and symbolism. The ceramic birds fill the wooden structures with a communication that is evident yet ambivalent. Some snuggle together; others turn their backs to each other while harnessed together by bonds of tension. The birds seem ordinary – an embodiment of stillness – frozen in place, yet each conveys a gesture that implies movement. It seems that there is more to be understood than is portrayed. Stones convey, birds imply dialogue, and materials whisper of contradiction and illusion. These birds at rest are prone to startle and fly at any moment. "
—————————
Faces in Time: Portraits from the Renaissance to Modern

(TP One Year Old, Thomas Hart Benton)
When: On view through January 21st, 2012
Where: Childs Gallery, 169 Newbury Street, Boston, MA
How: Official Website
What/Why: "Childs Gallery is located on Newbury Street. The gallery offers fine American and European paintings, prints, drawings, watercolors, and sculpture."
—————————
Brian Zink – Assembled

(Composition in 2793 Red, 2026 Black and 3001 Gray)
When: On view through February 7th, 2012
Opening Reception: January 6th, 2012, 6-8PM
Where: Howard Yezerski Gallery, 460 Harrison Avenue, Boston, MA
How: Official Website
What/Why:"Every form is a base for colour; every colour is the attribute of a form."-Victor Vasarely
With Assembled, Brian Zink returns to his well-known colored Plexiglas construction practice. Zink's new work, however, extends that language into a critical consideration of the symbiotic and uncanny relationship between pure abstraction and pictorial space.
For Zink, the real springs from the sheer presence of the material object – and, as the show's title and an initial inspection make clear, the works are Assembled from machine-manufactured parts. Each work is constructed of a thick flat plastic slab supporting a careful arrangement of glossy, commercially-colored, chunky Plexiglas diamonds and rhombi. The compositions appear regular: a simple, direct pattern sustained by a single hue balanced against black, white, and/or gray.   In fact each comprises a symmetrical design that suggests an infinite repetition, the base repeat of an endless pattern. Like other Zink constructions, we're rooted by their materiality, simplicity, and patterning to a consideration of the real space we occupy with them.
But this rootedness gradually unfolds into another, uncanny experience of space. The sharp diagonals and strident horizontals and verticals of Zink's designs assemble strange, shallow pictorial spaces for us to consider. Coinciding with each other and the edges of their patterned parameters, Zink's shapes become floating planes, tilted doorways, bottomless windows, sharply lit blocks – almost, for they inevitably bump into or crash against the geometric purity, materiality, and exterior realness of the object.  
The resulting experience keeps us hopping uncomfortably between the two familiar comfort zones of abstraction – the interior real, or pictorial space, and the exterior real, or object space. Each challenges and undermines the other; a pattern of diagonals slides awkwardly into a dramatically elongated arcade; architectural blocks reform into a non-hierarchical series of trapezoids. But the works never reduce to an op-art curiosity of abstraction: Zink doesn't let his shapes and colors become unreal, brute facts, but keeps them peering into our world, our architecture, our space. As Vasarely suggests, the natural coincidence of color and form lie at the heart of experience itself. Brian Zink's new work invites us into this heart, into his immense sensitivity to the life of form."
—————————
Alison Kotin -Listen Close 
(Whisker Box II)
When: On view through January 28th, 2012
Opening Reception: Friday January 6th, 6-8:30PM
Where: Bromfield Gallery, 450 Harrison Avenue, Boston, 02118
How: Official Website
What/Why: "Listen Close" is an exhibition of tactile new media works exploring narrative, performance, and musical composition. Touch- and motion-activatedmusic and story interfaces (including an instrument made from cats' whiskers and the voices of a 30-person chorus) add a layer of metaphorand responsiveness to familiar objects and places.
Visitors are invited to touch, listen, and play.
I create participatory works that spark collaborative, unscripted performance and play, as a means to explore the creative potential of interaction. By creating touch and motion activated digital interfaces modeled on musical instruments, I hope to encourage a spirit of curiosity and experimentation, leading participants to reflect on the process of creation as they perform. These open-ended, interactive situations favor chance and ambiguity, adding a layer of metaphor or unexpected responsiveness to familiar objects and places.
In considering the nature of experience and performance, I gather lessons from the history of performance art, avant-garde musical composition, and studio arts pedagogy. Historically, "relational" performative artworks have sought to foster community and creativity by making spectators an integral part of a performance piece as it unfolds towards completion. Modern interactive media objects have the potential to create experiences and outputs that are variable, personalized, and evolving over time, redefining the author's role and blurring the boundary between "user" and "creator."
Johnathan Derry – I've Been Again

 (Mind the Gap)
What/Why: "I've Been Again" explores the paradoxical relationship between material and message, and between notions of the tragic and comic. It is where these incongruous shifts take place that imagination is captured.
I present the viewer with a series of sculptural diagrammatic narratives. The viewer is tasked with interpreting the work's meaning based on personal understandings of cultural and symbolic references in the elements that comprise the piece.
The work in "I've Been Again" can be described as a set of objects displayed before you that have the hallmarks of a Totem disassembled on the floor, which need the viewer to act as an anthropologist to transcribe their significance. "
—————————
Dormit, Non Est Mortua

When: On view through January 29th, 2012
Where: The Hallway Gallery, 66a South Street, Jamaica Plain, MA 02130
How: Official Website
What/Why: "Join us for the opening reception of Marisa's Martino's exhibit Dormit, Non Est Mortua (Dreaming, Not Dead) on January 5th, 2012. 6-9pm
She will be exhibiting eight portraits of well-known boxers, along with other works related to the boxing world…
Martino's work evokes imagery and sensibilities from Victorian Memorial Art, Outsider Art, Italian Baroque paintings and religious scenarios, in order to explore ways that we cope with tragedy, particularly death and violence. Using her sensibility as a printmaker she created memorials for the boxers, owning through repetition the violence that would otherwise be beyond her control."
The labor inherent in the kind of tedious mark making and crafting in these drawings is an homage to the often working class man that seeks a way out of his destiny through the sport. In some ways the ornamentation is detritus of the labor. The embellishments are created only when the compulsive activity of mark making is honored.
This body of work engages in contemporary issues of glamorizing the working class, culling from a variety of cultures and traditions, exhausting material options and exploring trends of violence. Using the audience to complete the concept, the multi-media works allow the viewer to participate as both the spectator and the spectacle.
Marisa Martino has an MFA in printmaking from the University of Wisconsin, Madison. She lives and works in Boston. Most of her work features images of broken gangsters, boxers and circus performers. Her body of work in progress is called The Monumentalist of Monuments."
—————————
Shay Kun- Rebreather

(Drought)
(final weekend!)
When: On view through January 7th, 2012
Where: LaMontagne Gallery, 555 E. 2nd Street / South Boston, Ma 02127
How: Official Website
What/Why: "Shay Kun's oils on canvas are an infusion, a hybrid of absurdities. Drawing on the style and subject matter of the Hudson River School, particularly Thomas Cole's reverent paeans to nature and Albert Bierstadt's awestruck visions of the sublime in the American west, the works capture the grandeur of nature. Despite acquiring a newly cultured look, these landscapes, made with sincerity and attention, are transformed into a juxtaposition of nature and its human invaders who appear in the guise of tourists or adventure seekers. The contrast between these contemporary characters and their stylized environment is abrupt and creates a palpable dissonance underlining them as an almost offensively inadequate substitute for the deities or characters of noble bearing in the paintings of centuries past. Small but obnoxious, they infest nature rather than enjoying its restorative powers. 
Cole and Bierstadt ascribed spiritual qualities to the environment and warned of the destruction being caused by expansion. In Kun's works, the damage has been done- lakes are littered with junked cars and pristine vistas are blighted by tightropes, rickety bridges, and other evidence of human interlopers. Even so, what these visitors leave are their traces. Even with all of their destructive capabilities they have still not begun to overwhelm the environment and its magical possibilities indicating ultimately that perhaps there is still hope."
—————————
Such a strong showing for the first weekend in 2012!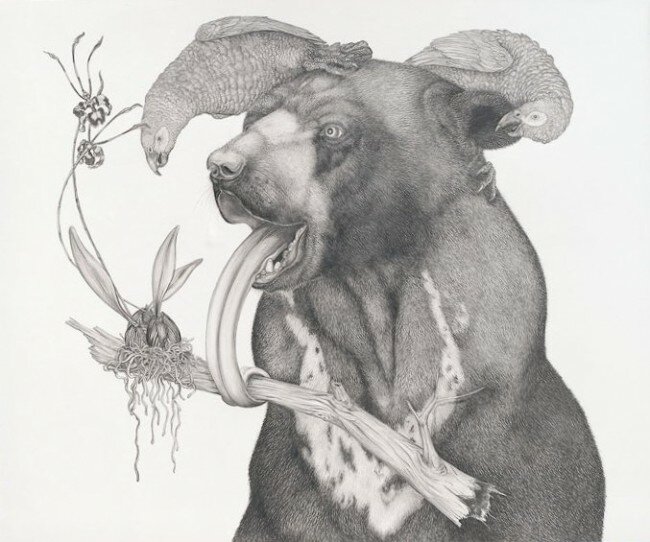 (Tongue Tied and Twisted, Tara Tucker currently on view at Steven Zevitas Gallery)
Don't forget about :
Make a Date of It: With all the SoWa galleries abuzz tonight, score some points and grab your beau/boo/whatsherface and head out to the South End. Check out the receptions, have a romantic dinner, go home, and cry during Milo & Otis or whatever kids do these days.
Invite me to the wedding, I do love a good communal fondue fountain.
Happy New Year ♥