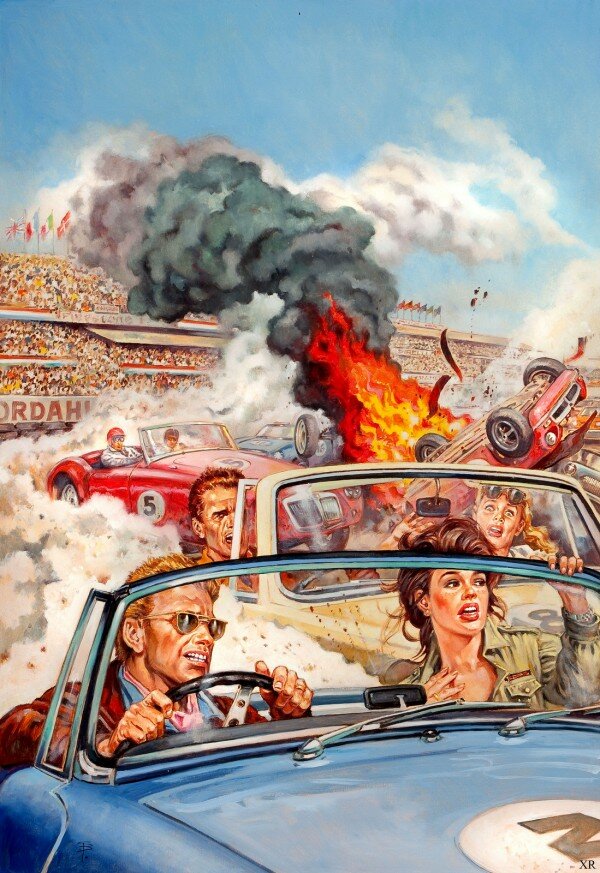 pack of wolves x immaculate deception x abandoned x break down 
———————————
 Material

(History 11, related work by Erin Riley)
When: On view through January 31st, 2013
Where: Aviary Gallery, 48 South Street Jamaica Plain MA 02130
How: Official Website
What/Why: "Featuring: Betsy Alspach, Steven Alspach, Andrew Boit, Ani Geragosian, Morgan Rose Hale, Jillian Hurley, Andi Li, Caroline Kipp, Janet Kwada, Talia Lefton, Erin M Riley, Emma Rhodes, Kokoro Yanagita"
———————-
Prints by Yizhak Elyashiv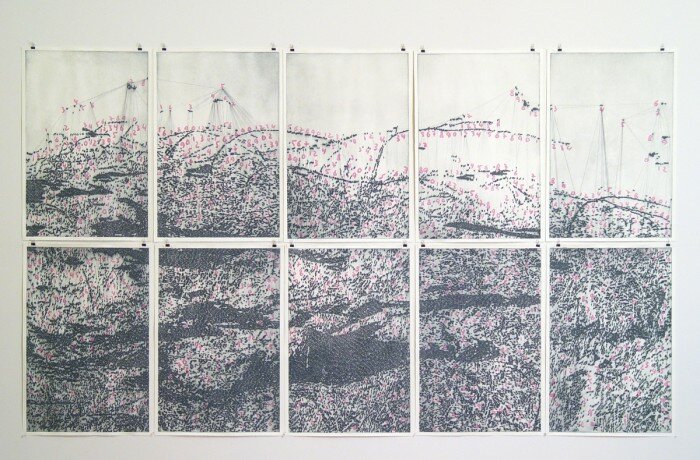 (Untitled)
When: On view through January 26th, 2013
Opening Reception: Friday January 4th, 6-8PM
Where: Gallery NAGA, 67 Newbury Street, Boston MA 02116
How: Official Website
What/Why: "Our primary focus is painting, and we represent many of the most highly regarded painters working in Boston and New England. In addition, exceptional contemporary photographers, printmakers, and sculptors exhibit with us, as well as the international doyenne of holography, Harriet Casdin-Silver."
———————-
Gallery Talk #1 – Height, Width, Depth, Time 

(Means of Egress, prior work of Laura Baring-Gould)
When: Saturday January 5, 2013 from 4:30 – 5:45 pm
(Exhibition on view through January 27th, 2013)
Where: Boston Sculptors Gallery, 486 Harrison Ave, Boston, MA  02118
How: Official Website
What/Why: "For the first time ever, an exhibition of all thirty-six current members and fifteen alumni showcases the diversity and brilliance of Boston Sculptors in a celebration of twenty years as a successful venue for contemporary sculpture in the Boston area.
The theme of Height, Width, Depth, Time – with the emphasis on time – is interpreted in a multitude of ways. All of the artists have chosen their particular sculptural form to address time's passage. This has been interpreted variously as the measurement of time, motion, growth, decay, the seasons, the universe, memory, timelessness, fragility and endurance."
Laura Baring-Gould: Salt & Honey, Bees & Space
Donna Dodson: Storytelling and Sculpture
Roz Driscoll: Rawhide: From Coracle to Cinema
Peter Lipsitt:Past / Presence
Susan Lyman: Locally Grown Sculpture in Wood
Nancy Milliken: Documenting the Ephemeral
Larry Pollans: Mud
Hannah Verlin: Paper & Other Ephemera
Joe Wheelwright: Nature's Art
Andy Zimmermann: Projections in Three Dimensions
Moderator:  Jean Mineo, Gallery Director Boston Sculptors Gallery
———————-
Cotton

(Fence as Lace #7, Jeanne Williamson)
When: On view through January 27th, 2013
Opening Reception: January 12th, 2013 5-7PM
Where: Fountain Street Fine Art, 59 Fountain Street, Framingham, MA 01702
How: Official Website
What/Why: See images of the exhibited work here.
———————-
 Forms of Identity
When: On view through January 27th, 2013
Opening Reception: Friday, January 4, 5:30-8:00 pm
Where: Kingston Gallery, 450 Harrison Ave, Boston, MA 02118
How: Official Website
What/Why: "Work by MassArt Fibers Seniors–Kaly Barrett, Andrew Boit, Leeann Davignon, Ariel Di Persio, Chelsea Dirck, Olivia Frassinelli, Alina Gotal, Caroline Kipp, Brianna Leue, Leah Medin, Abigail Miller, Chelsae Murray, Rosalie O'Donnell, Shelby Richardson, Kathleen Siplas-Ravenia, Joella Stevens, Fiona Stoltze"
———————-
Texture
When: On view through January 27th, 2013
Where: Uforge Gallery, 767 Centre Street, Jamaica Plain, MA
How: Official Website
What/Why: "UFORGE Gallery's mission is to foster creativity by facilitating diverse and affordable project assignment based, non-juried (open door) art exhibitions; to provide a venue to exhibit these works; to cultivate both a collaborative and inclusive arts community at large through educational workshops and special events."
More information on Texture here.
———————-
Sandy Litchfield – What Blooms in the Rubble

When: On view through February 16th, 2013
Where: Carroll and Sons, 450 Harrison Ave, Boston, MA 02118
How: Official Website
Also on view..
Sage Sohier – About Face

What/Why: "Carroll and Sons supports contemporary artists who work in painting, photography, sculpture, video and works on paper. The gallery focuses on building the careers of lesser-known artists and promoting ones who are under recognized."
——————-
Karl Baden – Roadside Attractions

(Cambridge, MA)
When: On view through February 5th, 2013
Opening Reception: Friday January 4th, 2013
Where: Howard Yezerski Gallery, 450 Harrison Ave, Boston, MA 02118
How: Official Website
What/Why: "Karl Baden's world is crammed with the visual. Even the negative spaces in these pictures are active and teeming with energy. The world presses its nose up against Karl Baden's car window.
Karl Baden's oeuvre is varied and eclectic. Historically informed and armed with humor, Baden points an ironic finger at the world. He has dipped his camera into the likes of Lange, Edgerton, and Strand in his "Sex, Death, and the History of Photography" series. He has engaged banal repetition and conceptualism – in his "Every Day" series, a self-portrait taken every single day since February 23, 1987.
In Roadside Attraction, this lexicon comes to greet the real world – though not unprotected. Through the shield of laminated safety glass, Baden exposes the view from his eye. Framed by his car's perceptions, this world is wacky, quizzical, and incomprehensible. Spaces are inside out, and it takes time for your perception to settle – Where is he? What is that? Is he DRIVING? These photographs are taken in the blink of an eye but their content leaks out of those odd angles at its own pace.
The sharp, solid angle of a brick corner, the chaos of an untamed garage, the negative space of a doughnut hole. Baden's pictures take on radically different forms to address the complexity of his true subject matter – our defunct relationships with the space around us. How much of our worlds do we experience through the frames of our cars? As always, Baden takes on his dark inquiry into our social psyche with a gentle smirk."
——————-
 Treacy Ziegler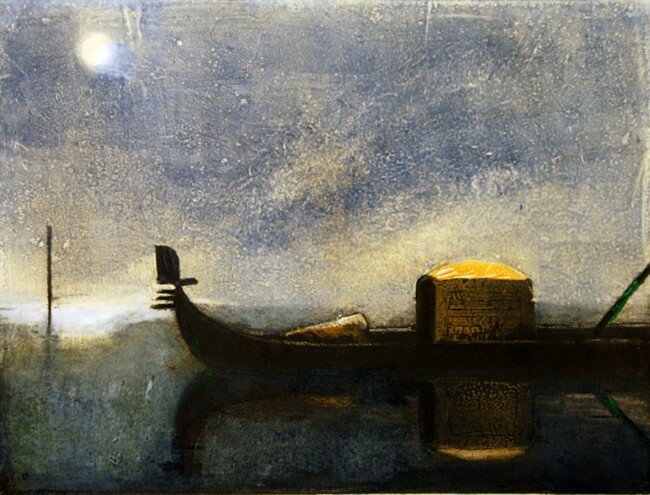 (Evening Boat)
When: On view through January 27th, 2013
Reception: Friday, January 4th from 6 – 8pm
Where: Chase Young Gallery, 450 Harrison Ave, Boston, MA 02118
How: Official Website
What/Why: "Artist Treacy Ziegler has mastered the use of light and color to create mood. The atmosphere of her work creates scenes fraught with emotion. . The place she portrays is filled with tension yet is vacant of people. Devoid of our physical presence, Ziegler instead uses objects; chairs, tables, houses, and boats to convey her message. Loneliness, yearning, hope, intimacy, sadness, and peace, are all felt when viewing Ziegler's work.
The most compelling part of her images are the objects and their relationship to each other. Their juxtaposition gives each work strong impact and an idea of human presence. A chair placed at a slightly outward angle at a table may be interpreted in an inviting way may also be viewed as someone having just left the setting, giving the piece a haunting sense of loneliness.
Ziegler's unique use of light also adds drama to the work. A single ray of light often cuts sharply across the composition from outside the scene or a window pouring over the objects of each work. The nature of this use of light and dark leaves many ambiguous questions for the viewer."
——————-
CJ Lori: The Narrative Landscape

When: On view through January 2013
Where: Galatea Fine Art, 460B Harrison Ave, Boston, MA 02118
How: Official Website
What/Why:"The desire to have another see through my eyes is a compelling motivation for my work. To me, painting is a form of communication through which I try to convey my experience so that the viewer will see what I see and feel what I feel. I exaggerate or distort color, form and composition to emphasize sensations that are often contradictory: clarity and mystery, excitement and sorrow, beauty and decay.
In the "Trees Leaving" series, these contradictions also incorporate a touch of humor. They are part homage to Magritte's floating men in bowler hats, part ecological statement and part religious allegory.
I paint a landscape as a metaphoric portrait in which we can see ourselves. The shapes, gestures and surfaces of the trees reveal my affinity for anthropomorphosis. Despite its status as scientific taboo, I prefer to explore the empathic implications of humanizing the elements of landscape. By identifying with our environment, we are more likely to appreciate its significance and fragility, and to deepen our individual connections with it.
My primary medium is oil paint on canvas, wood or panel. Paint is applied in many layers, building and adding nuance through color and transparent glazes. I often work with tinybrushes for fine detail. I find satisfaction in intricacy, because it appeals to me viscerally, and because it parallels some of the complexities I am trying to capture and express in my work. Through my paintings, I try to simultaneously celebrate the splendor that surrounds us while acknowledging its inevitable ruin." – C.J. Lori
Also on view..
Carol Gordon – Mass Masonry

What/Why: '"Mass Masonry " is inspired by my annual summer visits to the Berkshires, from my home in Plano, TX, where I invariably make a pilgrimage to the Mass Moca in North Adams. This museum is comprised of a vast complex of 19th century factory buildings which now houses some of the finest contemporary art in the United States. In addition to my love of the innovative art shown there, I am drawn to the architecture of the place and specifically to its peeling, faded brick and cement walls.
After being a printmaker for many years, I have become passionately in love with encaustic where I paint with hot wax as well as use wax as an adherent to collage handmade fiber papers, callograph prints, silk fabrics and Indian cottons into my compositions. In addition, I have extensively photographed not only the walls of the Mass Moca but other surfaces which have seen the test of time. So, the paintings in this show have bits and pieces of these photographs transferred into their midst. My intention is that my work evokes the texture, beauty and nostalgia of some abandoned, and in the case of the Mass Moca, reclaimed wall surfaces.'"
——————-
David Curcio – I Wouldn't Worry About It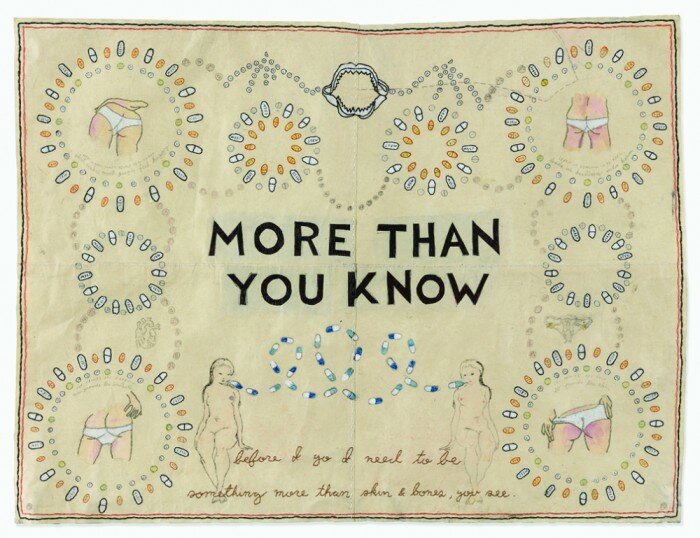 (More Than You Know)
When: On view through January 13th, 2012
Where: Laconia Gallery, 433 Harrison Avenue, Boston, MA 02118
How: Official Website
What/Why: "Laconia Gallery is pleased to present the first Solo exhibition of work by David Curcio. Curcio creates intricate, illustrative personal narratives through an obsessive use of stitching, printing and patterning. Repeated hand drawn motifs result in a folk art feeling that embraces awkwardness in rendering objects and figures to temper the directness and even violence of some of his imagery. Curcio's humor and stylistically naive illustrations create an intensely personal, often diaristic story full of the emotional upheavals that challenge us throughout our lives. The attraction for the audience is both pictorially and curiosity driven. We read the stylized banners of poetic texts and literary quotes written or chosen by the artist, or lyrics pulled from unexpected musical sources and we want to know what they mean exactly.
David references difficult struggles in his personal life and career symbolically through references to Abraham Lincoln and imagery of pharmaceuticals familiar to him from growing up as a "Prozac baby". The esoteric combinations of objects like scissors and bear traps with proverbial texts creates a fertile counterpoint to the delicate symmetrical patterns of pill capsules or woodcut printed borders of floral motifs.
These compositions feature a homespun feeling and folk art quality due to heavily worked surfaces, many cut outs and repairs, and lots of hand scrawled wording. The skin-like Japanese paper is stitched together from several smaller pieces and looks old and out of square. Decorative patterns surround some of the illustrated items and the staccato stitches that define most of the edges feel like quilting. The slightly yellowed paper imbues a historic importance to the melancholy combinations, which often feature grand architecture and utilitarian objects from an earlier age.
While these works are introspective and emphatically reference the perils of depression (Abraham Lincoln is pictured crying after all) they are not as pessimistic or dour as the text or images alone might indicate. Curcio achieves this by balancing images of specific anti-depression meds with images of Viagra and references in both word and image to amorous activity. Love and lust are expressed in poetic verse and naughty drawings of underwear clad bottoms. It is this clever back and forth that keeps us looking for clues and reading the intricate passages of text beneath the banner headlines in Curcio's work – because with any autobiographical work we learn some truths by reading between the lines."
—————————
Winter Whites

When: On view through January 27th, 2013
Where: Vessels Gallery,  71 Thayer Street, Boston, MA 02118
How: Official Website
What/Why: "Featured Artists:Eileen Braun, Bryan Hopkins, Elizabeth Kendall, Joan Lurie, Naoko Matsumoto, Megumi Naitoh, Jane Perryman, Judi Tavill, Joan Walton, Joan Zagrobelny"
——————-
The Origin of the World

(Patty Chang, Fan Dance (still from video) prior work.)
When: On view through March 9th, 2013
Where: Samson Projects, 450 Harrison Ave, Boston, MA 02118
How: Official Website
What/Why: "the origin of the world /\ the force of the source \/ the cause of the vigor PATTY CHANG, TIM DAVIS, REGINA JOSÉ GALINDO, DANIEL GORDON, ROBERT GOBER, KELLY KLEINSCHRODT, CHLOE PIENE, KIRSTEN STOLTMANN, BETTY TOMPKINS, ANNE SEVERSON & ROHAN WEALLEANS"
——————-
January Salon -Mostly Large Works

(Zig zag prior work of Rachel Hellmann)
When: On view through January 31st, 2013
Opening Reception: Friday January 4th, 5:30 PM to 7:30 PM
Where: Soprafina Gallery, 55 Thayer Street, Boston, MA 02118
How: Official Website
What/Why: "Soprafina Gallery was founded in 2001 by Frank Roselli. We are committed to exhibiting contemporary fine art painting, works on paper and sculpture in a welcoming setting."
——————-
Kelly Goff: "Break Down"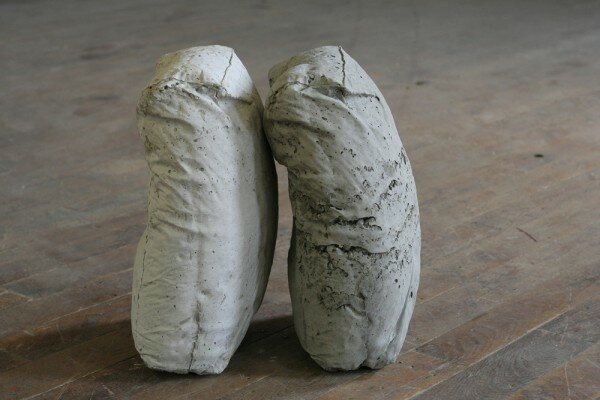 (Two Bags)
When: On view through January 26th, 2013
Opening Reception: Friday January 4th, 6-8:30PM
Where: Bromfield Gallery, 450 Harrison Ave, Boston, MA 02118
How: Official Website
What/Why: "Kelly Goff begins with an object that seems to acknowledge its own inevitable entropy—perhaps a damaged thing, like an interstate guardrail mangled under impact, or perhaps a brand new version of a thing we're used to seeing in duress, like a tired old traffic barrel. 
He inserts himself into this timeline of decay and attempts to stop the impossible. Often he simply treats the object, like the jagged shard of truck tire that he bathed in soap and water and then saturated with ArmorAll protectant.
In other work he re-stages the object in some way, renders it anew in a different material (or not), or completes its process of decline, as in "The Crooked Timber of Humanity," 2009 a found steel drywall stud that the artist hammered into a tight sphere. He later restored it as much as possible."
Also on view..
Lauren Cotton: "The Inside Out"

What/Why: "Place and its architectural space are the defining factors in my art.  With each new environment, my works' form, color and composition alter and expose a structural framework of both physiological and psychological possibilities. 
Utilizing a three-dimensional format through the use of adhesive-backed vinyl and interior latex paints, my installations ignite complex optical relationships between space, form and color.  Color becomes the concept of the work in a physical way, building three-dimensional space with two-dimensional materials. 
The sculptures often function as a literal three-dimensional extension of the installation structure, creating a multitude of explicative compositions throughout the space.  The pieces are cast in concrete or made from wood as a direct reference to actual building materials and their presence in the architecture. 
My two-dimensional works are investigations of color interaction and the significant roles shape and pattern play in those relationships.  The pieces are vehicles to immediately utilize a more extensive range of primary colors and materials while juxtaposing contrasting simple hues to create context."
———————-
Southern New England Artist Community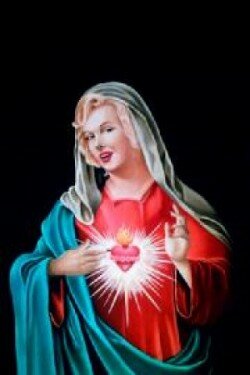 (The Immaculate Deception, Sean Brady)
When: On view through January 6th, 2013
Where: Zullo Gallery, 456A Main Street Medfield, MA
How: Official Website
What/Why: "Over the past 23 years the gallery has presented more than 100 art exhibitions. Shows have featured members of The New England Watercolor Society, The Copley Society of Boston, The Boston Printmakers as well as individuals from The Fort Point Arts Community in South Boston and The Brickbottom Artists Cooperative in Somerville."
———————-
Enjoy your _______.
When: On view through January 30th, 2013
Where: Hallway Gallery, 66a South Street, Jamaica Plain, MA
How: Official Website
What/Why: "In the City, buildings are placed carefully, but have the spaces between and around been handled with the same level of consideration? As filtered through the private sensibilities of Designers, these spaces can appear to communicate a disregard for the User.
Enjoy your _______. promotes a reconsideration of several underutilized spaces in Boston, where the User has become inadvertently estranged from a space designed for their 'enjoyment'.
Using a combination of images, overlayed with text, this graphic installation illustrates the potential for dissonance between designer and product, and the resulting tepid relation with the public."
———————-
Western Avenue Studios Open Studios
(Abandoned, Sus Iserbyt)
When: Saturday January 5th, 2013, 12-5PM
Where: Western Avenue Studios, 122 Western Avenue, Lowell, MA 01851
How: Official Website
What/Why: "On the first Saturday of every month, Western Avenue Studios opens its doors to the public. Come browse the latest works by our artists! This is a free event."
———————-
Nancy White – New Work

(#30)
When: On view through January 26th, 2013
Opening Reception: Friday January 4th, 2012 5:30PM
Where: Steven Zevitas Gallery, 450 Harrison Avenue #47, Boston, MA 02118
How: Official Website
What/Why: More information on the exhibition and included works here.
——————————
Parallel Lines

(The work of Peter Madden)
When: On view through February 27th, 2013
Opening Reception: Friday, January 4th from 5:00-8:30
Where: Goosefish Press, 450 Harrison Ave, #65, Boston, MA 02118
How: Official Website
What/Why: "Parallel Lines features new work by Peter Madden. 
We are very excited to present Peter's work at the gallery at Goosefish Press and we hope you will be able to come see the show and meet the artist yourself at our opening reception this Friday, January 4th from 5:00-8:30.
Show up through February 27th. 
Some wonderful words about Peter Madden's work: "His objects — books, prints, boxes — are unfailingly beautiful, crafted with love. Madden's books, bound in leather or metal or wood, are vessels for the imagination. You know there must be a fabulous story inside and you just want to jump in. He's a spot-on storyteller, great with the details and the twists. 
"Sea Scroll" from 2003 is a cyanotype, the white, drifting seaweed wandering down the scroll like Japanese calligraphy. It's simply beautiful. Madden has the stuff to make exquisite art."-Cate McQuaid, Boston Globe"
———————-
The Resonance of Time – Nancy Natale

(Mystic Vikings)
When: On view through January 28th, 2013
Opening Reception: Saturday January 5th, 4-6PM
Where: Arden Gallery, 129 Newbury Street, Boston, MA
How: Official Website
———————-
50 Under 50

When: On view through January 27th, 2013
Opening Reception: Saturday, January 5th from 5-7pm
Where: The Loading Dock Gallery, 122 Western Avenue, Lowell, Massachusetts 01851
How: Official Website
What/Why: "Are you ready for an afternoon of exploration that will delight your senses, go easy on your wallet and make you feel all warm and cozy inside at the same time? Then the 50 under 50 exhibit on display at the Loading Dock Gallery at Western Avenue Studiosfrom January 2nd– 27this something you don't want to miss. This collaborative gallery of 50 artists proudly presents hidden gems of work each well-priced at under $50. Attend the opening on Saturday, January 5th from 5-7pm to chat with the artists, see their workand mingle with a like-minded community of people who appreciate all things handmade."
———————-
Pack of Wolves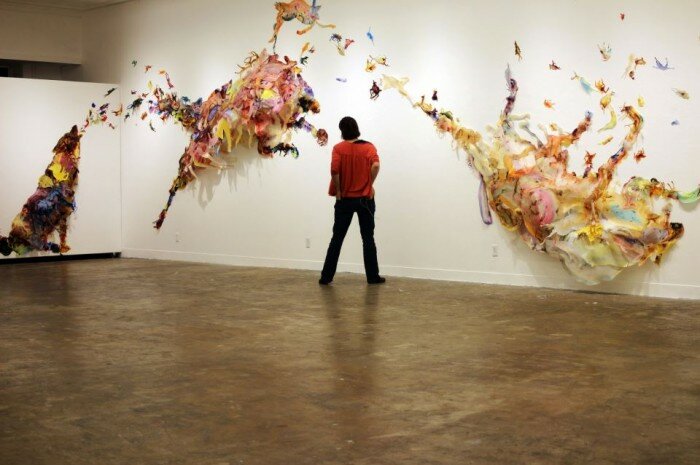 (Pack of Wolves(installation view), Jenn Houle)
When: On view through January 18th, 2013
Where: Montserrat College of Art, 301 Gallery, 301 Cabot St, Beverly, MA
How: Official Website
What/Why: "This December, Montserrat College of Art presents Pack of Wolves, a solo exhibition of Jenn Houle's recent works in the 301 Gallery. Researching the greater life cycles that occur on our planet, Houle illustrates the transfer of energy through organisms with paint, collage and sculptural installation. The creatures in Houle's Animal Eats series (2011) literally are what they eat. Houle's portraits of animals are built out of the plants and animals they digest, transferring identity from one living organism to another. In herAnimal Herds series (2012), Houle collages a group of life sized wolves directly onto the wall with small and incrementally layered pieces of painted vellum.
Houle says, "I seek to better understand and accept my own mortality by researching the greater life cycles that occur on our planet and to understand my existence as a single organism that helps to sustain this cycle. After extensive research into behavior, diet and anatomy, I playfully reorganize my perception of these animals (through) organic and interpretative drawing."
—————————
Crush
(Crush Art Exhibit – Erin M. Riley, video by Michael Chen)
When: On view through January 7th, 2013
Where: Orchard Skate Shop, 156 Harvard Ave, Allston MA, 02134
How: Official Website
What/Why: "Crush is an exhibition of new works by Pakayla Rae Beihn (Brooklyn, NY), Erin M. Riley (Philadelphia, PA) and Jason Andrew Turner (Philadelphia, PA).
Originally from the Bay Area, Pakayla has rarely shown her beautiful paintings on the east coast, she will be showing the delicately layered photo realistic paintings for which she has gained lots of attention. 
Erin who received her BFA from MassArt in '07 hand weaves wool tapestries using imagery that she has found on the internet and will be showing a series of works depicting young women in various states of exposure. 
Jason has exhibited all over Philadelphia and works on simple and stunning portraits of beautiful women, landscapes and objects."
—————————————-
New Year, new you.

Have a great weekend! Stay sweet. ♥