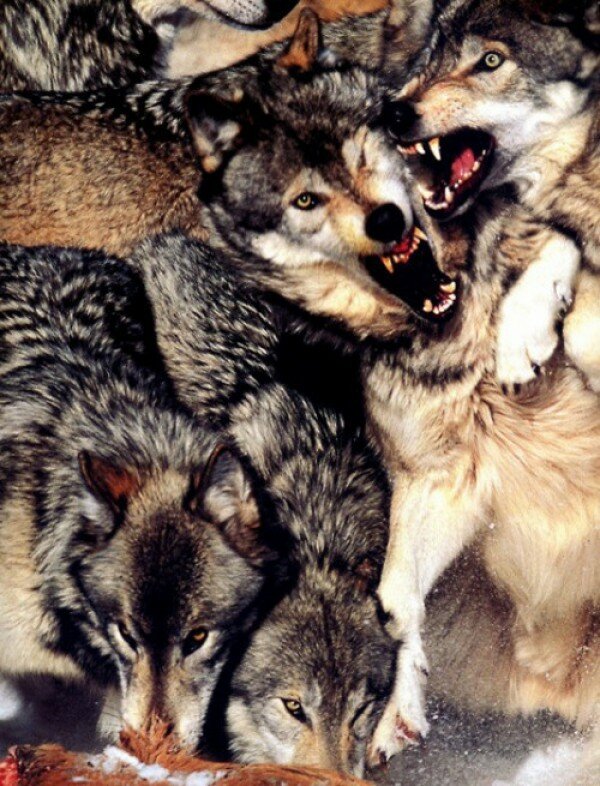 This looks about right.
breathing spaces x shapeshifting x this side up x floating world
——————————
Shapeshifting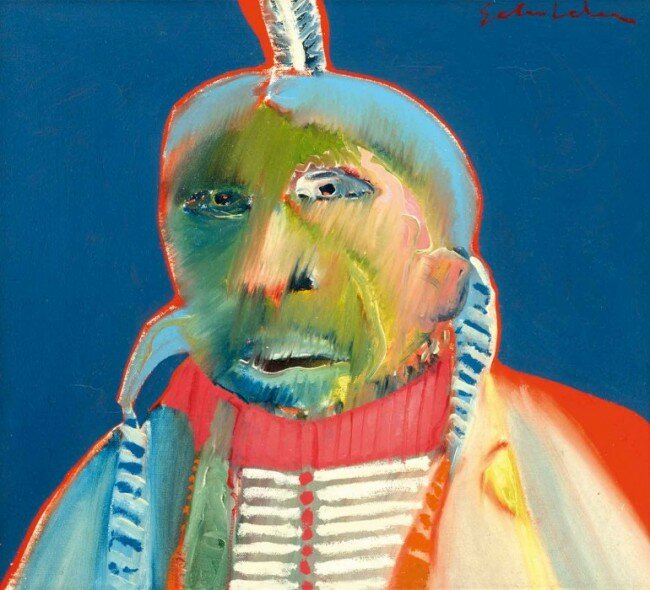 (Monster Indian, Fritz Scholder)
When: On view through April 29th, 2012
Where: The Peabody Essex Museum, East India Square (161 Essex St) Salem, Massachusetts 01970
How: Official Website
What/Why: "Shapeshifting celebrates Native American ideas that have crossed time and space to be continuously refreshed with new concepts and expressions. Experience this vitality through sculpture, paintings, ceramics, textiles, photographs, videos and monumental installations drawn from collections in the United States, Canada and Europe. Rarely seen historic pieces, shown alongside some of the finest contemporary works, demonstrate the diversity and continuity of Native American art and culture from 200 B.C.E. to the present."
———————————-
Artist in Residence: Laylah Ali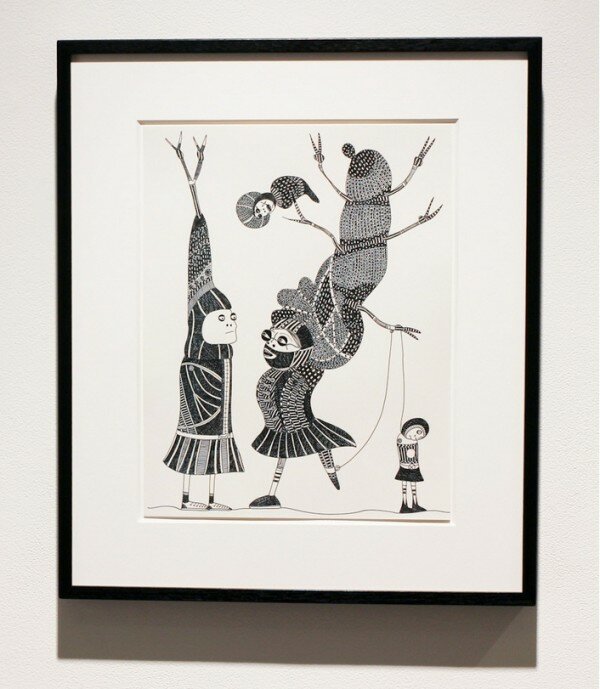 When: On view through March 4th, 2012
Where: Dartmouth Studio Art Department, 10 N Main St  Hanover, NH
How: Official Website
What/Why: "The Studio Art Exhibition Program at Dartmouth College presents Drawings, an exhibition of work by winter Artist-in-Residence Laylah Ali.
In Drawings, critically acclaimed artist Laylah Ali (b. 1968, Buffalo, NY) presents meticulously rendered and ornately patterned black and white images of characters culled from an imaginary anthropology. As an extension of her distinctive gouache paintings, Ali's new works in ink and colored pencil engage traditions of identification and classification based on observable physical traits. Deceptively whimsical, Laylah Ali's paintings and drawings offer keenly suggestive analyses of power, oppression, and subjugation — often in ways that implicate gender and racial identity. While the artist's earlier work (1999 to 2004) delved into the moral turpitude and physical violence of group dynamics and power-plays, Ali has recently shifted focus to the myriad ways in which identity becomes manifest — through clothing, hairstyle, skin color, physical prowess or limitation.
Ali's figures ask that viewers supply their own stories in response to questions of race, class, gender, and power they raise. The issue of race has long had a presence in the artist's oeuvre, though it has moved from allegories of race relations in America to an all-encompassing investigation through outrageously hybridized figures, presenting characteristics derived from both Western and non-Western cultures. While ambiguous in reference to a particular origin or circumstance, her work comes to bear on instances of ethnic and sectarian identity — and violence predicated on such affiliations – throughout the world."
———————-
THREE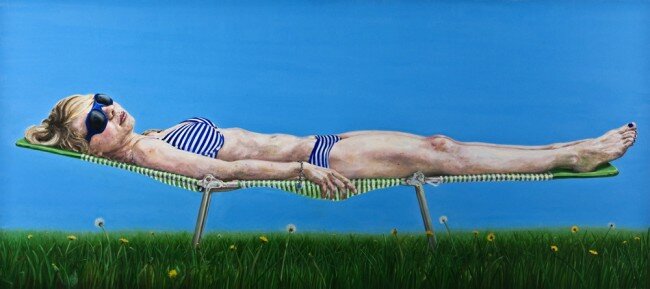 (Sunbather)
When: Friday February 3rd, 2012, 7-11PM
Where: Lot F Gallery, 145 Pearl Street, Boston, MA 02110
How: Official Website
What/Why: "Works by Sean Flood, Nick Ward, Josh Falk. New works from three Boston artists. Each with strong and distinct styles. A number of large substantial works will be available, as well as a range of other pieces. Refreshments will be provided"
———————-
Plastic Erotica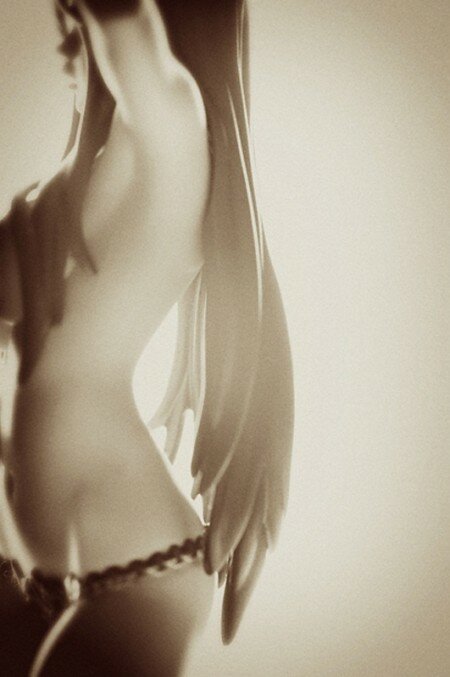 When: On view through February 24th, 2012
Opening Reception: Friday February 3, 2012 5-8 pm
Where: NK Gallery, 450 Harrison Avenue #61, Boston MA 021118
How: Official Website
What/Why: "NKG is pleased to announce "Plastic Erotica" an exhibition of photography by Sid Ceaser. Photographer Sid Ceaser is fascinated by the human form and obsessed with pop-culture.  His portraits of Japanese anime figures resulted in a series called "Plastic Erotica".  The 5 inch manufactured action figures become real through his camera lens and processes.  When he is not photographing real people, he turns his camera on these small scale models commenting on contemporary life and cultural obsessions.  His intent in this series is to bring focus to the objectification of females through the use of these action figures with our culture's intense obsession with the sexual ideal."
Also on view…
Agglomeration

What/Why: "NKG is pleased to present "Agglomeration", an exhibition of paintings and drawings by artists Luke Buffenmeyer and Megan McNaught.
Megan Mcnaught's  work has been focused on formal issues of image making using strategies similar to game playing as building blocks to tap into her creativity.  Her tightly planned structures using repetitive pattern, mark making, and shapes result in a complexity that creates a dynamic geometry that takes on a life of its own.  Luke Bufenmeyer's work has entailed intuitively creating objects that make substance of his intellectual ideas and his feelings. His whimsical shapes and invented worlds using varied media address political, social, and historical issues.
In "Agglomeration" MacNaught and Bufenmeyer merge their individuality to create something bigger than themselves as a collaborative experiment to see what combining two different approaches to image making would yield.  The combination creates unexpected results and a sense of the world with an endless source of surprises.  The unpredictability of the work as it is created becomes a fascinating game of transformation both visually and intellectually."
———————-
Street Wall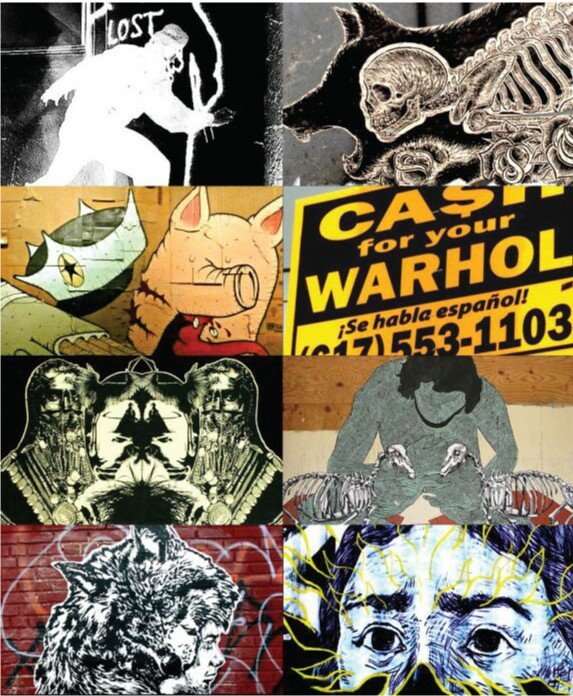 When: On view through February 23rd, 2012
Opening Reception: Saturday February 4th, 7-9PM
Where: Fourth Wall Project, 132 Brookline Avenue, Boston, MA
How: Official Website
What/Why: "Street Wall is an exhibition dedicated to artists who work on city walls to create public art.  The artists highlighted in the exhibition are creating an installation directly on the gallery walls.  Each artist is given a 2 to 4 panel section of wall space on the interior of the gallery for them to wheat paste work in the gallery resulting in pristine versions of their public work as well as initiating a collaboration in close quarters."
——————
Teeny Tiny Art Show No. 9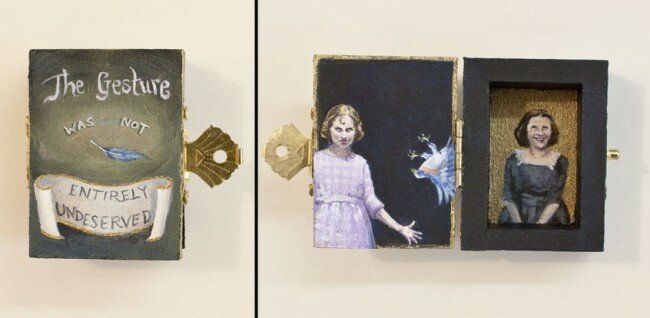 (Flipping the Bird) 
When: On view through February 2012
Opening Reception: Friday February 3rd, 5-8PM
Where: Three Graces Gallery, 105 Market St. Portsmouth, NH
How: Official Website
What/Why: "New work by Denise Duong, Wanda Kujacz, Katie McCann, Donna Baldassari, Shelley Kommers, Kelly Vivanco, Kaetlyn Wilcox, Cindy Rizza, Marielle Degioanni, Linda Cordner, Ellen Crenshaw, Valerie Galloway, Raegan Russell, Sarah Meyers Brent, and Jennifer Lewis"
——————
Sunday Shadow Mass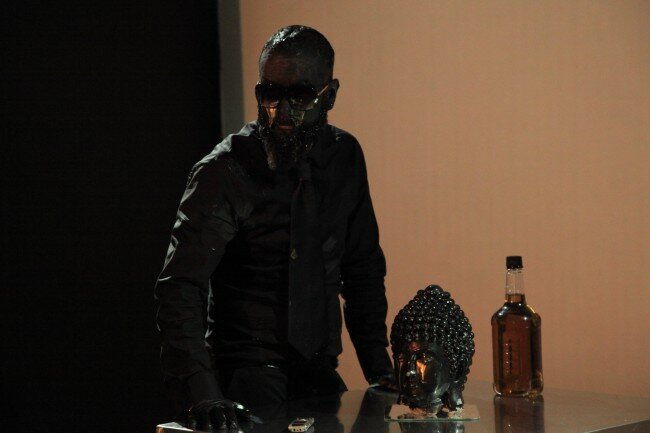 When: Sunday February 5th, 2012, 12-6PM
Where: Harbor Gallery UMass Boston, 100 William T Morrissey Blvd  Boston, MA 02125
How: Official Website
What/Why: "This provocative exhibit features the work of Vela Phelan –an internationally renowned performance, assemblage, sound, and video artist. Phelan believes in magnifying the energy of objects, sounds and actions, blending subconscious with spirit and allowing the unknown symbolic power of objects present itself in a merging of mediums in this performative installation. The artist seeks to transform and alter modern and ancient energies into a new paradigm by creating ritual and giving life to mundane objects that are beatified through ceremony.
Shadow Initiation Spell is a merging of Buddha and Baby Jesus, time and space, mind and body, and life and death ­–all in a single energy form. A subconscious and earnest wish is the foundation for the alchemical transmutation taking place in the space during the artist's intervention. Random video-rhythm, sonic transmissions and flickering fleeting doors will open the portal beyond the symbolic and sensorial duality that the viewer will experience."
———————-
This Side Up

When: On view through February 25th, 2012
Opening Reception: Friday February 3rd, 2012 6-8:30PM
Where: Bromfield Gallery, 450 Harrison Avenue, Boston, MA 02118
How: Official Website
What/Why: Daniel Feldman "The title of this exhibition is drawn from a familiar experience: receiving a package marked simply with those words, "This Side Up." Faced with this phrase, you instantly know something quite specific about the otherwise unknown object. You stand there in front of it and begin unwrapping it. Portions are revealed that perhaps seem familiar. Other parts are puzzling and don't immediately lend themselves to identification and interpretation:what do I make of this?
So it is with the nine archival pigment prints, created digitally, in "This Side Up." Gradually the content in the images appears, and slowly a relationship begins between viewer and work. The images seem to be of places — a partly demolished building, scissor stairs and glass partitions in a new building, water cascading into a building under renovation — yet something is oddly "out of place." Familiar and unfamiliar, possible and impossible, flow into one another."
Also on view..
Gallery Artists : "Alt-Photo"

What/Why:"In this group exhibition, ten Bromfield Gallery artists combine old and new methods of transforming photos in creative ways.  From collage to pronto plate lithography, from transfers to photopolymer etchings, from found-object photos to computer-manipulated prints, these artists explore alternative photography in fluid, dynamic ways.  "
———————-
Opus Affair February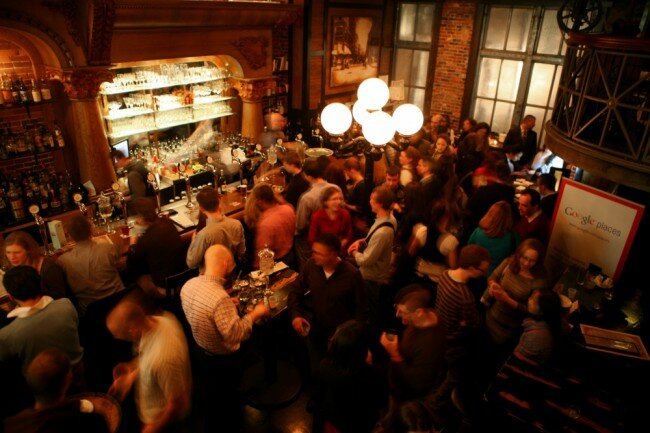 When: Monday February 6th, 2012, 6-9PM
Where: Forum, 755 Boylston Street, Boston, MA
How: Official Website
What/Why: " Another month, another new venue for us: Forum. We'll be holding court downstairs, where Michael Ray (a Greater Boston Beverage Society powerhouse) will be behind the bar.
Since the Charity Punch Bowl Fund was so much fun last month, we'll do it again. Nominate your favorite charity when you RSVP, then you'll get a chance to vote with each glass of punch you buy at the bar. The winning charity will receive a donation from Opus Affair for the total amount of punch sold. We'll accept nominations up to 48 hours before the event.
No matter what your interest or experience in the arts may be, you are welcome to join us — by yourself or with friends. As always, individuals are responsible for running their own tabs at the bar."
———————-
O'POCADONZ featuring the artwork of Kdonz & Adam O'Day

When: Friday February 3rd, 2012 9PM-12AM
Where: Blvd., 251 Newbury St., Boston, MA
How: Official Website
What/Why: "Blvd. presents a Collaboration Show Featuring New Works by Kdonz & Adam O'Day. Sponsored by Sailor Jerry Rum & Narragansett."
———————-
Zeal for the Law

When: On view through March 2012
Opening Reception: Friday February 3rd, 2012 6-8PM
Where: Anthoney Greaney, 450 Harrison Avenue, Boston, MA
How: Official Website
What/Why: "Josh Mannis observing something Olympic and something perfect in the work. where does the palette come from?" Full text here.
———————-
Floating World

(Bramble)
When: On view through February 26th, 2012
Where: Kingston Gallery, 450 Harrison Avenue #43, Boston, MA 02118
How: Official Website
What/Why: "In Hilary Tolan's exhibit, "Floating World" the viewer enters a realm of manipulated landscapes. Altered photographs of dense forests are countered by ethereal drawings of trees and landscapes. In her work landscape is interrupted and tampered with, and we are led to believe in this drawn reality, this other possible land."
———————-
ArtBar Art Salon | 433

When: Various Date throughout February
Opening Party: First Friday Feb 3, 6-9pm
Where: Laconia Gallery, 433 Harrison Avenue, Boston, MA 02118
How: Official Website
What/Why: ArtBar Feb 3  a sport bar for artists and friends "A salon is a gathering of people under the roof of an inspiring host, held partly to amuse one another and partly to refine taste and increase their knowledge of the participants through conversation. Salons, commonly associated with French literary and philosophical movements of the 17th and 18th centuries, were carried on in urban settings, among like-minded people."
———————-
Process Objects and Instrumentation

(The Feedback Organ)
When: On view through February 24th, 2012
Where: Aviary, 48 South Street, Jamaica Plain, Boston, MA
How: Official Website
What/Why: "Lifelike, art presents itself to me as a collection of interrelated activities. Building instruments is a project I began some twenty years ago. That process led to an ever-heightened awareness of peculiar and idiosyncratic sounds. Obsessive listening has gradually informed a musical and performative aesthetic, and a style of lyrical composition that collects the disregarded and overlooked.
As a practicing musician, I have frequently had the opportunity to travel. Begun partly as a meditative and centering activity on the road, and partly as a peculiarly personal-but-not-personal journal, the watercolor drawings examine minute differences and similarities among common objects owned by people I have met and stayed with all over Europe and the United States.
The process of engaging in these overlapping activities continues to develop, and it is difficult to point to any particular object and call it a finished product. Found objects become musical instruments, which produce unexpected sounds. Sounds are composed into songs, which are recorded and performed. The performances bring us to places where I meet and interact with people. The experiences of travel inform the imagination and are documented obliquely in watercolors. We return and the cycle begins again."-Jason Sidney Sanford
———————-
Orange

('Red' Performance)
When: Throughout the month of February
Where: Mobius, 55 Norfolk Street, Cambridge, MA 02139
How: Official Website
What/Why: "Sandy and Jeff Huckleberry will be creating a series of improvisational performances using color as a starting point. The performances start at 7pm.//RED – Thursday January 26//ORANGE – Thursday February 2//YELLOW – Thursday February 9GREEN – Thursday February 23/BLUE – Thursday March 1″
———————-
Summer Wheat – Hi-Lo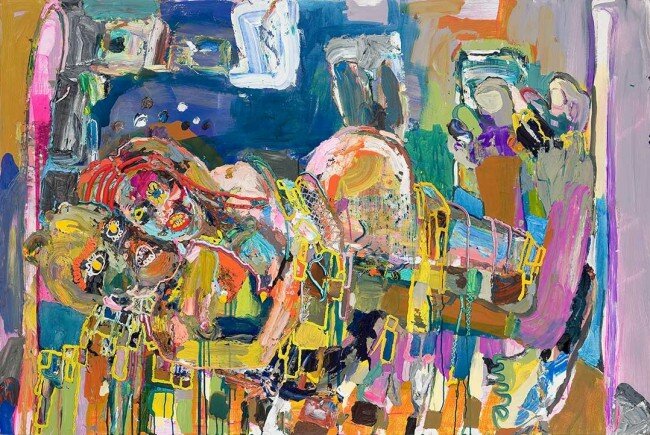 When: On view through March 17th, 2012
Opening Reception: Friday February 3rd, 2012, 6-8PM
Where: Samson Projects, 450 Harrison Avenue, Boston, MA 02118
How: Official Website
What/Why: "Hi – Lo, on view from February 3rd to March 17th, is a comical, yet crucial comparison of upper and lower classes. This body of work encourages broader understanding of these extreme classes. Caricatures of aristocrats and peasants are "perfect deformities" of the timeless and incredibly real issues regarding class structure. The paintings suggest similarities between these seemingly different people. This sameness is apparent in Wheat's smart, confident use of color. There is equilibrium between horror, vulgarity, bastardization and sophistication, eloquence and retainment.
Wheat explores a varied range of textures and patterns from observing southern antebellum quilts, transforming the grotesque into elegant passages of ornamentation and amplified color. The few verse the many conspiring to comment and corporatize all demeanors—high, low, and the mud in between. Rilke described the disinherited as "ones to whom neither the past nor the future belongs." Wheat, a humorist and slight satirist, combines what humans find innately funny with the thrill and disturbing nature of horror to create a full-bodied commentary on class in our society. Disharmony, is there anywhere where there is none? These works are not divorced from the capacity of people to act. "
———————-
Sarah Kahn and Rhoda Sapers

(Flight)
When: On view through February 25th, 2012
Opening Reception: Friday, February 3rd, 5:30 PM to 7:30 PM
Where: Soprafina Gallery, 55 Thayer Street, Boston, MA 02118
How: Official Website
What/Why: "Hand Made Glass Jewelry Trunk Show – Original Pieces by Rhoda Sapers"
———————-
David X. Levine – Amy Winehouse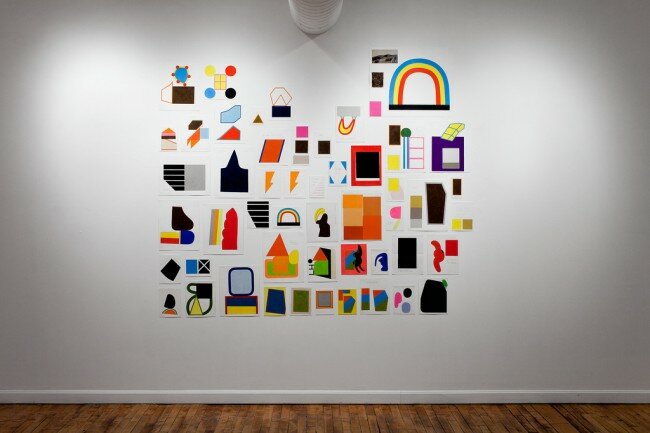 When: On view through February 25th, 2012
Where: Steven Zevitas Gallery, 450 Harrison Ave #47, Boston, MA
How: Official Website
What/Why: "Over the past two years, Levine has focused his energy on producing large-scale works on paper. Amy Winehouse presents four such pieces – including a twelve and a half foot wide triptych – as well as an installation of smaller works that provide a lexicon of Levine's current pictorial vocabulary. Colored pencil continues to be Levine's medium of choice, and in the interest of allowing viewers to have a more immediate relationship with the work's inherent tactility and facture, the decision was made to leave the show unframed.
Music has always been a strong source of inspiration for Levine, and he intends for his work to function with the same unmediated directness. Upon hearing of her death in July of last year, Levine made the decision that his next exhibition would be titled Amy Winehouse. In her music, Levine finds a "raw openness and an ability to corral it into a finished experience" that mirrors his own goals"
———————-
Annotations

(Lustmord, Erlauf, Arno, Blue, Jenny Holzer)
When: On view through March 10th, 2012
Where: Barbara Krakow Gallery, 10 Newbury Street, Boston, Massachusetts 02116
How: Official Website
What/Why: "Featuring the work of Jenny Holzer, Shellburne Thurber, and Kara Walker"
———————-
Joseph Geary: Internal Conflicts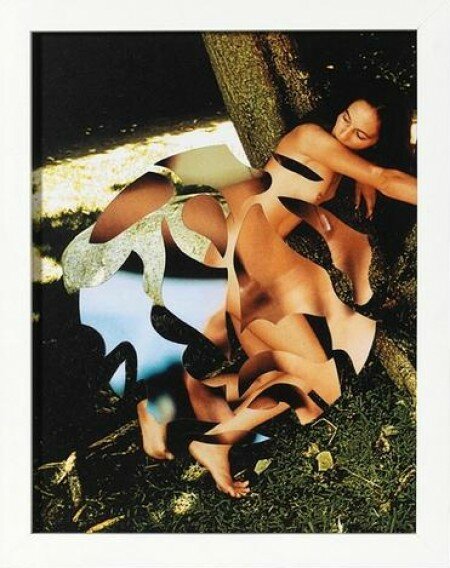 (He Can Only Hold Her)
When: On view through February 17th, 2012
Opening Reception: Friday February 3rd, 6-8PM
Where: Galatea Fine Arts, 460B Harrison Ave, Boston, MA 02118
How: Official Website
What/Why:"I am interested in painting's ability to access historical frames of beauty, and how portraiture has been used as a tool throughout history to convey the concept of idealization. I want to find ways to unsettle those traditions of representation and hopefully challenge enigmatic ideas of beauty and it's opposite. Sexuality and desire are themes I'm interested in working with because of how they exist at an intersection between culture and the natural, animal world. The use of the body in mediated imagery as well as contemporary portraiture has fed my work revealing the socially constructed nature of it's form. I'm exploring how external forces such as the media shape people's perceptions of their physicality and create a disconnect between ideas of self and identity. "-Joseph Geary
—————————-
George Gabin

(The Last Days of Summer)
When: On view through February 26th, 2012
Opening Reception: Friday February 3rd, 6-8PM
Where: Chase Young Gallery, 450 Harrison Avenue, Boston, MA 02118
How: Official Website
What/Why: "Opened in August of 2010 by Jane Young, Chase Young Gallery is dedicated to the exhibition of exceptional contemporary painting, sculpture, and photography. As the former Director of Chase Gallery, founded in 1990 by Jeff Chase and closed in 2010, Jane continues to honor the aesthetic and tradition set forth by Chase Gallery while drawing upon her own unique vision and experience. Jeff is now dedicating himself full-time to his own painting."
———————-
The Present Tense at "100 years"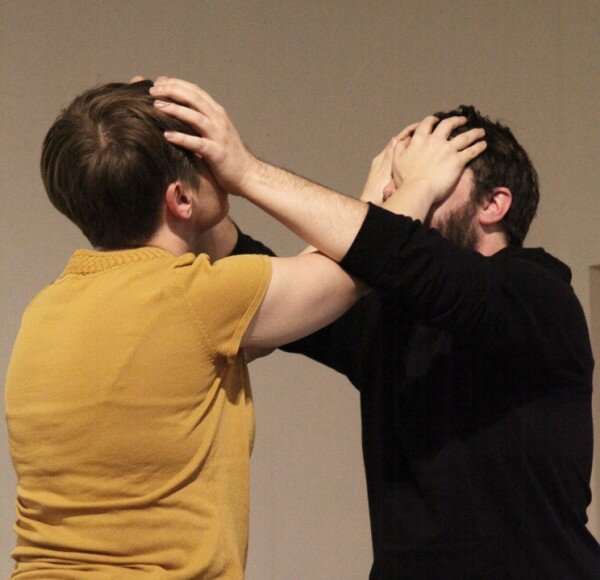 When: February 9th 6-7pm- opening of False Summit, an installation created by the accumulative actions of Sandrine Schaefer & Philip Fryer
Where: BUAG Annex, 855 Commonwealth Ave, Boston, MA 02215
How: Official Website
What/Why: "100 Years (version #4 Boston, 2012) is an essential introduction to the history of performance art that has directly shaped the history of twentieth-century art, and that continues to be central to the art and ideas of the first decade of the twenty-first. The exhibition provides a vital timeline of this history from 1909's Futurist Manifesto to present. Reprints of Futurist and Dada manifestos are seen side by side with photographs of Oskar Schlemmer's Triadic Ballet, films of Francis Picabia's Relâche, and Mary Wigman's Hexentanz, while unforgettable films (transferred to video) by Yves Klein, Carolee Schneemann, Anna Halprin, Yoko Ono, Trisha Brown, and Yayoi Kusama lead viewers chronologically through material by Vito Acconci, Ana Mendieta, Matthew Barney, Tania Bruguera, Adrian Piper, and Michael Smith, all the way up to the present day, with material by Allora & Calzadilla, Sigalit Landau, and Ryan Trecartin. With over 200 works including film, photography, documents, and audio, 100 years presents a wealth of information that is largely unknown and is intended as an archive for students, scholars, and enthusiasts of the history of performance art."
—————————–
Earth Stories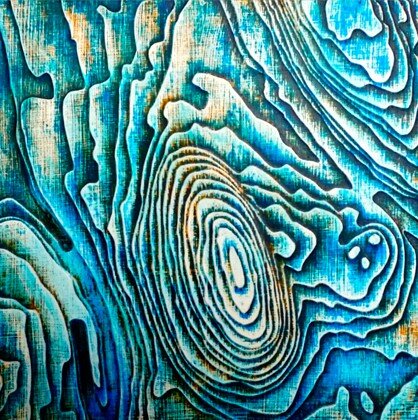 When: On view through February 26th, 2012
Opening Reception: Friday February 3rd, 6-9PM
Where: Loading Dock Gallery
How: Official Website
What/Why: "Michal Truelsen"s show of new works, "Earth Stories", at the Loading Dock Gallery for the month of February, presents a rich, shimmery look at the world we live in. Truelsen says the show springs from her interest in geology and mapping, "and in the human experience of living on this physical earth."The show features a series of paper bas reliefs celebrating the course of the Merrimack River from Franklin, New Hampshire to the sea at Newburyport. Many of the works reflect the terrain around Lowell, showing the eons-long story of the planet in a new way. Truelsen helps us look at the river and the land it flows through independent of the cities, roads, and other structures that appear on conventional maps.Truelsen works in mixed media, drawing, and printmaking. "Much of the work for this show is what I call paper bas relief," she says. She cuts paper in organic shapes and glues the shapes together to build up intricate layers and surfaces that reward a visual exploration (it"s very tempting, but please: don't touch!)."
—————————-
Breathing Spaces
(To Caress, prior work of Anne Lilly)
When: On view through March 4th, 2012
Where: AIB, 700 Beacon Street,  Boston, Massachusetts 02215
How: Official Website
What/Why: "Anne Lilly and Joel Janowitz-Department of Fine Arts Artists-in-Residence for 2012."Other great happenings at AIB here.
—————————–
Natural Abundance, An Examination of Pattern, Preservation & Permanence

(Ganoderma applanatum, Kat Ely)
When: On view through February 29th, 2012
Opening Reception: Saturday February 4th, 2012
Where: Washington Street Art Center, 321 Washington Street, Somerville, MA
How: Official Website
What/Why: "A Group show of three Artists: Kat Ely, Leah Meleski, and Monique Rancourt."
For good measure…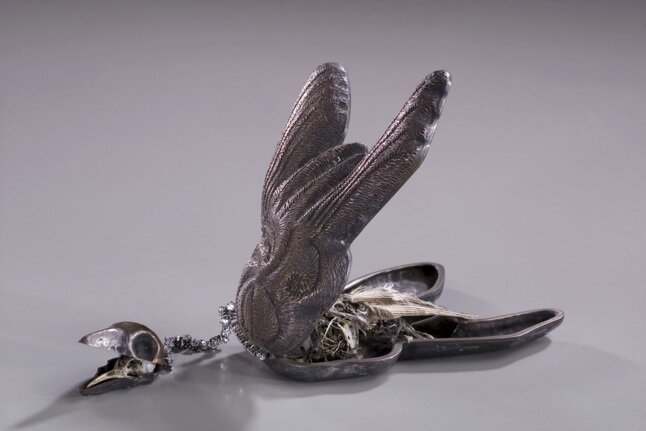 (Dead Bird Reliquary, prior work of Kat Ely)
—————————–
6 more weeks of winter?

Whatever, Phil.
He's only gotten it right 39% of time.
But I'm 100% sure it's the weekend.
Stay sweet. Have fun! ♥