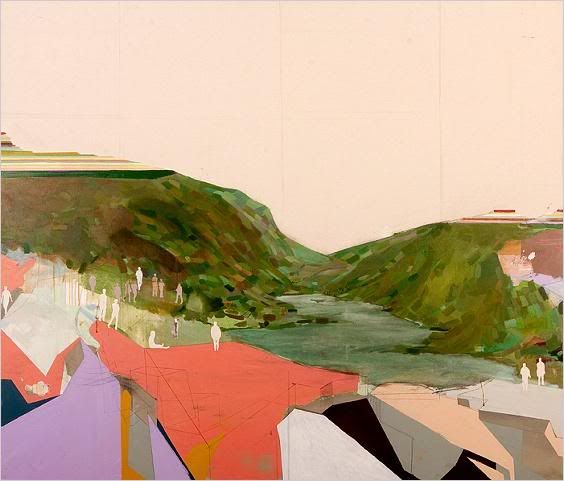 (Prime Real Estate II, Andy Curlowe on view at the Carol Schlosberg Gallery)
Weekly wrap-up is coming a day early because I am disappearing into the Berkshires tomorrow morning.  What I will be lacking in wi-fi and cellphone coverage I plan on making up in Franzia and Utz.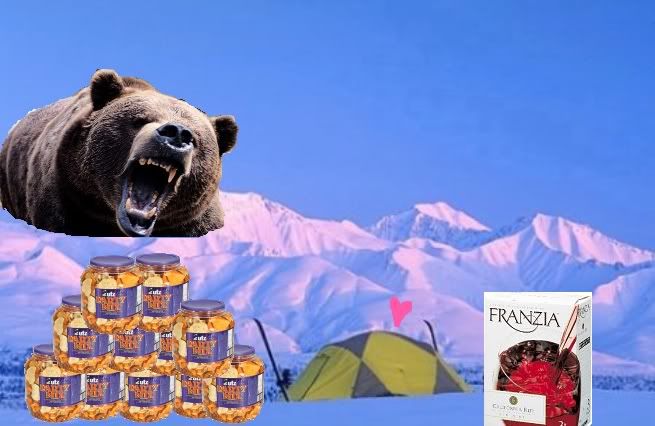 Lots of Utz. ♥
Sometimes it's good to get back in touch with nature y'know?
The Work of June August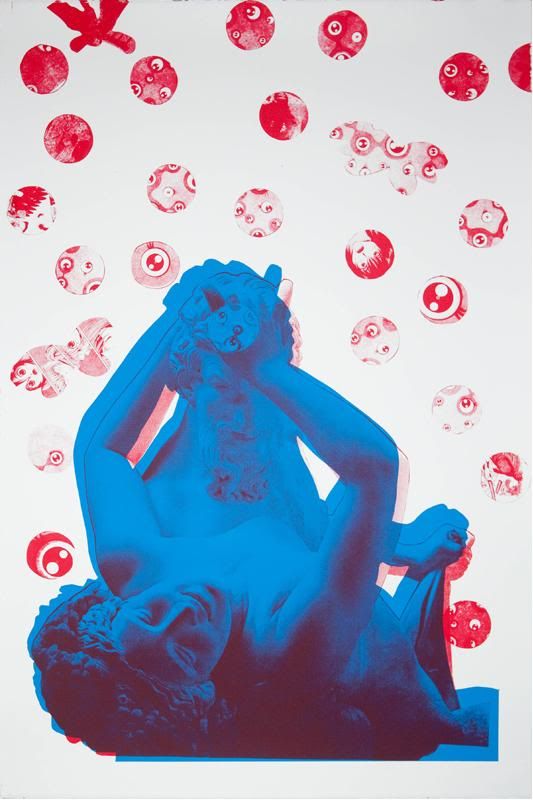 When: On view February 4th-26th, 2011
Where: NKGallery  / 460A Harrison Avenue, Boston, MA
How: Official Website
What/Why: "The brilliantly colorful silkscreens that artist June August creates are a pleasure for the eye to experience. But they are much more than just mere eye-candy, they are rich in ideas and thoughtful conceptual nuances that fit perfectly in the contemporary art world. June appropriates works from classical antiquity and juxtaposes them with works of 20th and 21st Century artists creating a whole new sense of connection between the past and the present art world. Her colorful palette combinations explode with energy and vibrancy, capturing the viewers attention intellectually and aesthetically.."
———————
Neolithic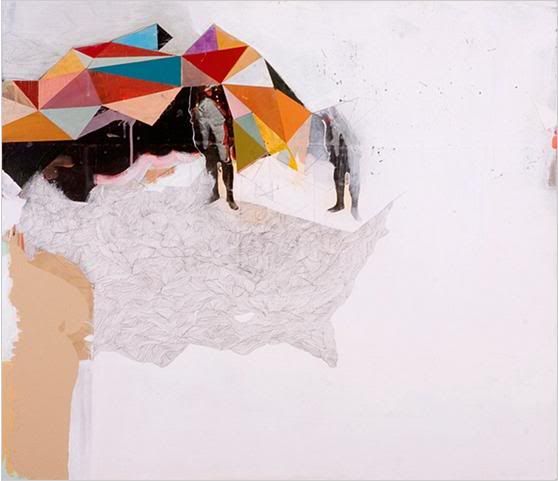 (WAR(TS))
When: February 01-March 04, 2011
Artist Reception: February 3rd 5:30-8:00PM
Where: Carol Schlosberg Alumni Gallery/ 22 Essex Street Beverly, MA 01915
How: Official Website
What/Why: "My work from last year and this year has been a reflection of the ever-changing relationship between the natural world and the world human influence. The curved lines and blurred contours of natural forms encounter the sharp geometry of industry and calculation. Whether in conflict or in harmony, these works emphasize the power struggles and symbiotic resting places between these two worlds."
Also showing at Montserrat:  Last weekend to see Street Reflections in the Frame 301 Gallery
——————-
Jesse Kaminsky: Invasion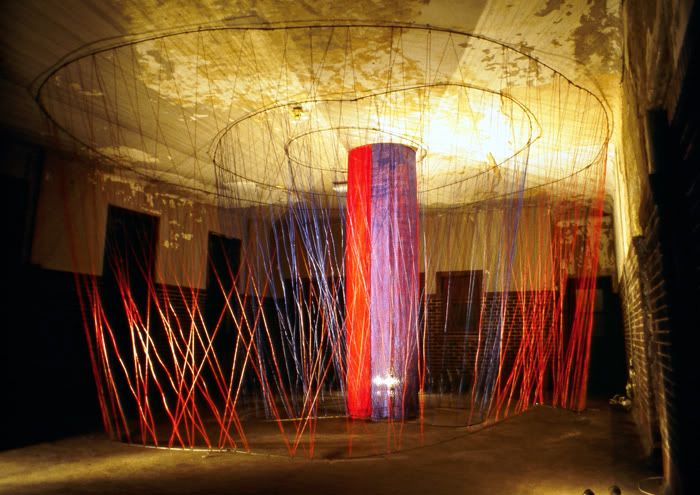 (Shadow Maze(note: prior exhibition)
When: February 5th-February 25th, 2011
Opening Reception: February 5th, 6:00-9:00PM
Where: Fivesevendelle Project Space/ 57 Delle Avenue Mission Hill , Boston, MA
How: Official Website
What/Why: "This installation is an experiment in systems and active materials. It is not a metaphor and does not point to anything except itself. It is an exploration of how simple rules can be used to create large, complex structures and the way we interpret those systems when the rules are hidden. Active construction agents such as gravity and pressure are used to create essential forms within the piece, a factor that may cause the sculpture to fail. Failure is an acceptable result."
——————-
The History of Somerville 2010-2100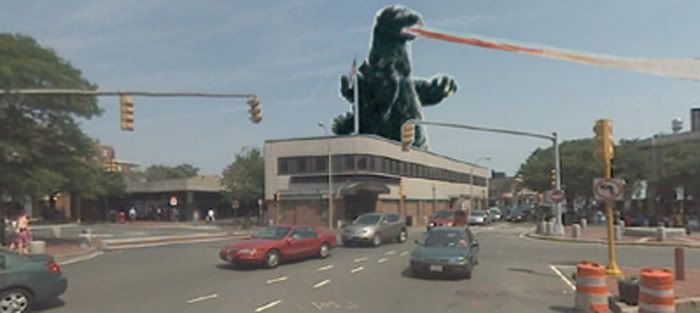 ("Godzilla invading Davis Square in 2053")
When: February 5th-6th, 2011
Opening Reception: February 5th, 6:00PM
Where: Nave Gallery/ Clarendon Hill Presbyterian Church, 155 Powderhouse Blvd., Somerville, MA
How: Official Website
What/Why: "The history of Somerville, 2010-2100" is a community art project that explores what the future might be like. We've been talking to current and former residents; gathering official plans; and collecting think-tank vision statements— and assembling it all into a history of the future of Somerville. Visitors to the Nave will be able to see the predictions we received between Feb. 2009 and Dec. 2010—and add their own!
At the reception, we'll also be hosting Future-aoke. Volunteers can step up to the mic– and share their thoughts about the future. Futurist Seth Itzkan of Planet-Tech Associates will give a short talk; and Adam Schutzman will perform on the theremin."

Find out more about the project and its participants here.
——————————
MIT 150 Opening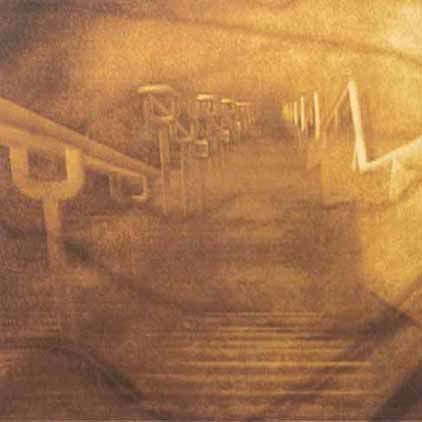 (Descent, Elizabeth Goldring captured her own experience of vision loss in a series of remarkable retina prints that pioneered a non-medical use of the scanning laser ophthalmoscope.)
When: Ongoing
Technology Through Time Reception: Friday February 4th 2011 1:00-3:00PM
Where: MIT Museum /Building N51, 265 Massachusetts Avenue, Cambridge, MA 02139
How: Official Website
What/Why: "The Maihaugen Gallery display of the MIT 150 exhibition opens at in Building 14. View rarely seen objects from Institute history and a rotating display of artifacts from the MIT Institute Archives and Special Collections."
—————————-
This Must Be the Place + Swap Meet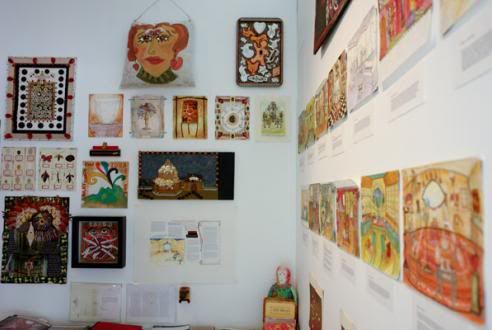 When: On view through February 27th, 2011
Where: Mills Gallery / 551 Tremont Street, Boston, MA 02116
How: Official Website
What/Why:" The BCA's Mills Gallery presents two simultaneous group exhibits this month. In the Main Gallery, "This Must Be the Place" delves into the process of both creating art and getting it out to the public, with works by numerous local artists. In the Exit Room, "Swap Meet" sets up a mini barter system for area artists. Each installs an original work in exchange for another artist's work of equal subjective value. It's kind of like trading goats for beans, but much cooler to look at."(writeup via Timeout Boston)
——————————————-
William S. Burroughs: A Man Within
When: February 4th-10th, 2011
Where: Brattle Theatre/ 40 Brattle Street, Cambridge, MA 02138
How: Official Website
What/Why: "William S. Burroughs was one of the first writers to break the restrictive boundaries of American culture in the 1950′s with his debut, semi-autobiographical novel, Junkie. His follow-up novel, Naked Lunch,is one of the most recognized and respected literary works of the 20th century and has influenced generations of artists. From his days with Kerouac and Ginsberg as one of the original Beat authours until his death in 1997, Burroughs was a vibrant artistic force who collaborated on and inspired work by artists both avant-garde and pop.
The engaging new documentary, William S. Burroughs: A Man Within, delves into the troubled and brilliant world of one of the greatest authors of all time. The film deals with the potent dramas of Burroughs' real life and offers an intimate look at his later years through never-before-seen archival footage. Director Yony Leyser focuses less on making the definitive Burroughs biography, instead choosing to examine the influence that his work and life has had on contemporary art and pop culture. Narrated by Peter Weller (Naked Lunch) and with a soundtrack by Patti Smith and Sonic Youth, William S. Burroughs: A Man Within is a probing, yet loving look at the man whose works at once savaged conservative ideals, spawned countercultural movements, and reconfigured 20th century culture."
——————-
Nobody Needs to Know the Price of Your Saab
When: On view now through July 4th, 2011
Where: ICA Boston
How: Official Website
What/Why: "Using familiar materials such as receipts, newspaper, band soaps, and plastic bags, Gabriel Kuri focuses our attention on contemporary consumer culture and the circulation of money, information, and energy in both our global economy and in our day-to-day activities. Kuri has been described as a playful accountant who uses personal experience as a point of departure to explore the ways we quantify and chart the most basic events and transactions in our lives.
Kuri is among a loose collection of artists from Mexico to gain international attention in recent years. His first solo museum exhibition in the U.S.  includes approximately 30 sculptures and 15 collages, including Untitled (Superama), a series of three nine-foot-tall tapestries intricately hand-woven in Mexico to resemble Wal-mart receipts."
——————————————
King Lear-National Theatre in HD (Broadcast from the Donmar Warehouse)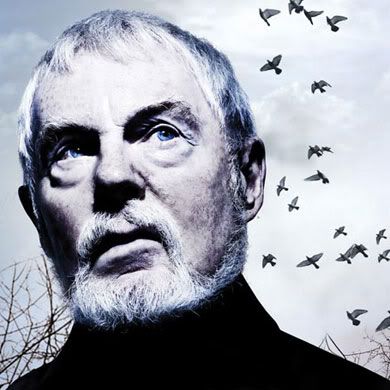 When: February 5th, 2011 1:00PM
Where: Peterborough Players, 55 Hadley Road, Peterborough, NH 03458
How: Official Website
What/Why: "Donmar's Artistic Director, Michael Grandage directs Derek Jacobi as King Lear."Who is it that can tell me who I am?"An aging monarch. A kingdom divided. A child's love rejected. As Lear's world descends into chaos, all that he once believed is brought into question.One of the greatest works in western literature, King Lear explores the very nature of human existence: love and duty, power and loss, good and evil."
——————————————
Contemporary Abstraction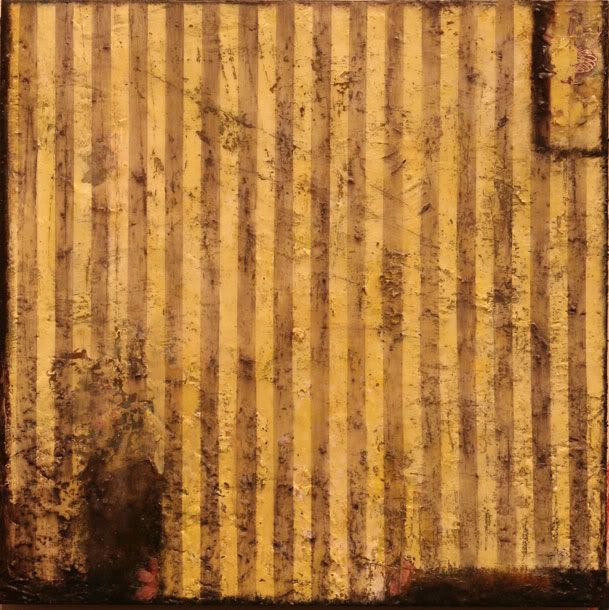 (Untitled #10)
When: On view now through February 27th, 2011
Opening Reception: Thursday February 3rd, 2011 6:00PM
Where: Newton Free Library / 330 Homer Street, Newton Center, 02459
How: Official Website
What/Why: "J.R. Ringdahl's abstract works are created in his signature style using multiple layers of oil paint and clear epoxy resin with a high gloss finish. The paintings reflect their surroundings. The inclusion of stripes is intended to add sense of cooperation. His recent paintings range from soft and moody to bold expressive color fields. Viewers are encouraged to use their imaginations to interpret the works."
———————————————
Remember Then: An Exhibition on the Photography of Memory
(Jesus in the Guest Room, David Hilliard)
When: On view now through March 15th, 2011
Opening Reception: February 3rd 6:00-9:00PM
Where: Concourse Gallery, Center for Government and International Studies, Harvard University, 1730 Cambridge Street/ Cambridge, Massachusetts 02138
How: Official Website
What/Why: "Remember Then: An Exhibition on the Photography of Memory" is based on a simple premise that photographs are used as tools by our culture to recall the past. The artists in "Remember Then" set out to interrogate this proposition, and memories are used as source material for recreating images in the present, systematically and through various methodologies. How a viewer understands and receives this new memory is the catalyst for each image."
———————————————-
So much happening! This was the first week I had to trim down/push event listings out until next week. Two honorable film mentions I would like to point out are Hitchcock's Vertigo , showing at the MFA, and John Water's campy Pink Flamingo ,showing late night at the Coolidge Corner Theater this weekend.
Also, since its a new month don't forget about BofA's Museums on Us program and SoWa First Fridays.
Have fun! ♥