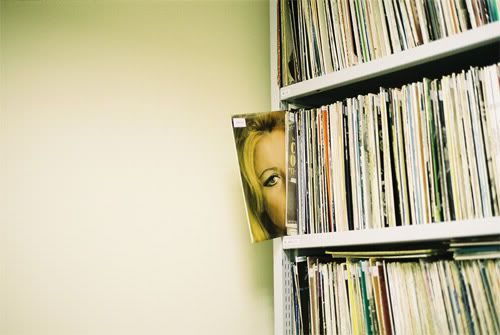 Have you had to encounter that co-worker yet whos all
"Hey guess what?"
"what."
"I heard you're getting fired!"
"WHAT?!"
"….pfffffffffffftApril Fools!"
D;
Let's kick over the water cooler and wrap this week up.
——————
Nancy Diessner: Shelter in Place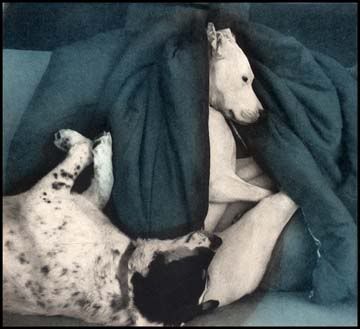 When: On view now through April 30th, 2011
Opening Reception: Friday, April 1, 6-830 pm
Where: Bromfield Gallery, 450 Harrison Avenue, Boston, MA 02118
How: Official Website
What/Why: "This exhibition of photogravure prints on Japanese papers brings together images of what were once lost and abandoned dogs with portraits of the individuals who gave them shelter. The work explores the human-canine relationship with its complex and silent communication, through images that probe beyond the surface to the raw desperation and the compassionate connection in the face of the human and the animal.
Diessner volunteers with Save a Dog, a local humane society and rescue, and many of the subjects in this exhibition were drawn from that community."
———————
Everything is Okay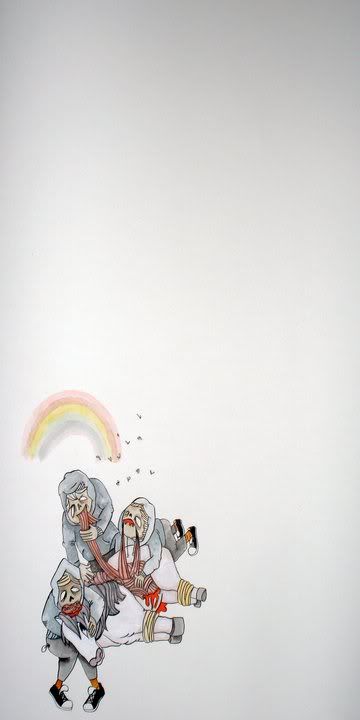 When: Friday, April 1st, 2011  7:00pm –  10:00pm
Where: Voltage Coffee and Art Gallery 295 3rd Street, Kendall Square Cambridge, MA 02142
How: Official Website
What/Why: "Most people would agree that there is a lot of heaviness in the world. Whether due to our unlimited access to global news and images the plights of war, unemployment, boredom, natural disaster and heartbreaking tragedy have reached a tipping point as to make their presence felt more acutely.  If you stop and think about these issue too much – immobilization.  Too little – naivety.  Joshua's reaction is to create, and in his work he explores the juxtaposition of continuing to make beauty when the bad is so tangible.  This raises the question – is it okay to take up a pencil and brush instead of arms?
From no lack of awareness and sensitivity comes a narrative by Joshua of epic battles, identifiable characters and repetitious patterns.  Henry Darger escaped into a world of girl child warriors to battle the evil, Joshua uses hoodlum zombies and reminiscent unicorns in an unlikely dual between good and evil, usually ending in the gluttonous slurping of brains.  Why?  Why not. The last thing we should apologize for is the dealings of our imagination; it is one of the places we don't have to edit and be rational, and Joshua manages the topics of heaviness and weight with humor and rainbows.  "
——————————————
Half Baked: Fluxus, Flotsam, & Fables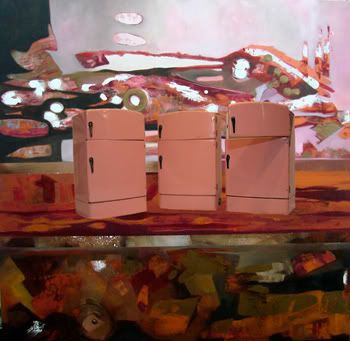 When: On view April 02-April 26th, 2011
Opening Reception: Saturday, April 2, 6-9pm
Where: Atlantic Works, 80 Border Street, Top Floor, East Boston
How: Official Website
What/Why: "Absurdly elegant, or elegantly absurd. When you pair the work of Fluxus artist Samantha Marder with Neil Wyatt's rich and elegant abstractions, the result is fun and beautiful and something you would never expect. It?s crazy and wonderful and full of surprises."
———————————————————————
Fifth Year Exhibition 2011
(Bear, David Pappas)
When: On view now through April 30th, 2011
Where: SMFA, Barbara and Steven Grossman Gallery, 230 The Fenway Boston MA  02115
How: Official Website
What/Why: "The "Fifth Year Exhibition 2011" presents work by three participants in this year's Fifth Year Certificate program—an intense, all-studio year of independent study. Each artist pursues individual investigations in a wide range of media and scope, from painting and photography to video and installation"
———————————-
The SMFA is also showcasing a really interesting exhibition that plays out over 3 events in different venues. This weekend is the opening reception and I will share the other two events with you next wrap-up!
Allegorical Outfits, Fool's Play (Event 1 of 3)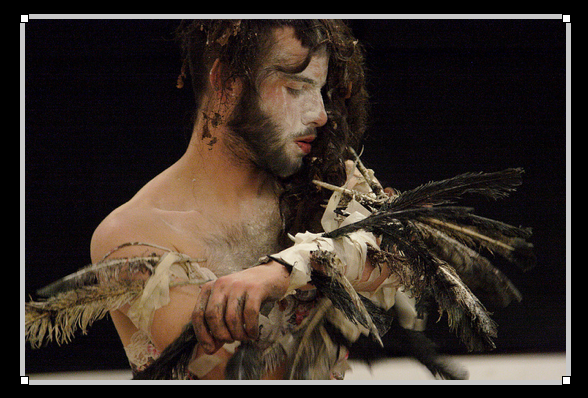 When: Open April 1st to 11th 2011
Opening Reception: Friday April 1st, 2011
Where: SMFA School of the Museum of Fine Arts Atrium, 230 the Fenway Boston, MA 02115
How: Official Website
What/Why: "Allegorical Outfits, Fool's Play" presents contemporary art and live performances created by SMFA Queer Students taking place at the SMFA and two new Boston galleries.
Works at the intersection of photography, video, performance, painting and sculpture cite references and influences from surrealist women painters, sculptural fashion, Leigh Bowery's expansive drag, Care Bears to ACT UP and Queer Nation's theatrical protest tactics and graphics.
A range of imagery and material can be found in these lively and sophisticated works by young artists: architectural pillars covered with crocheted elements and colored Vaseline, a sculpture made from bland beige carpet topped by a fish, Gatorade packages refashioned out of lead, stylized colorful photos of boys with floral themes and a hand made wooden chair with plumbing.
An evening event at Yes.Oui.Si Gallery includes a marathon four-hour live kiss-in, a movement-based performance in matching outfits with two women, an interactive video performance in response to Vito Acconci; and much more."
—-
The Work of Chet Jones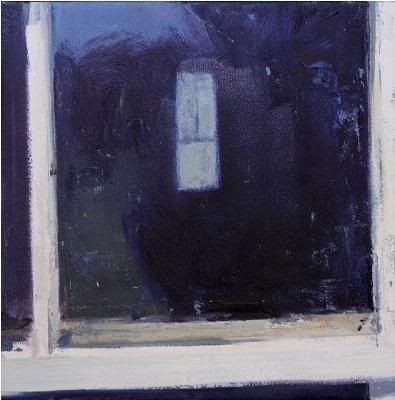 (Bog House Window)
When:On view April 01-24th, 2011
Opening Reception: April 01, 2011 6-9PM
Where: William Scott Gallery, 450 Harrison Avenue, Boston, MA
How: Official Website
What/Why: "Proud to announce an exhibition of new works by Chet Jones from April 1 – 24, 2011 at our Boston location. Please join us for a reception with the artist on Friday, April 1 from 6 to 9 p.m.."
———
The Divine Comedy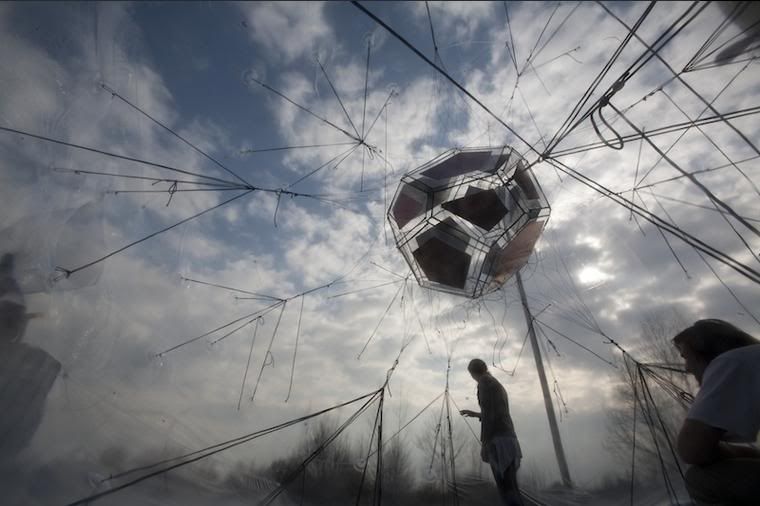 (Cloud City, Tomas Saraceno)
When: On view now through May 17th, 2011
Where: Graduate School of Design, 48 Quincy Street, Cambridge, MA
How: Official Website
What/Why: "The Divine Comedy is an exploration of the emerging domain of experimental spatial practice where the concerns of art, design, and activism are powerfully converging today. The exhibition traverses three critical realms—History, Mind, and Cosmos—in which aesthetics and the production of knowledge can be seen as inseparable practices that are reshaping our social and intellectual landscape and opening new opportunities for engaged action."
————
Beyond The Visible: The Art of Saira Elizabeth Austin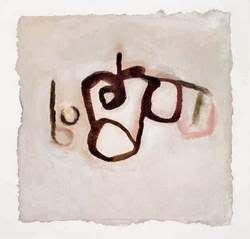 When: On view now through May 1st, 2011
Where: Mount Ida College, 777 Dedham St. Newton, MA 02459
How: Official Website
What/Why: "Saira Elizabeth Austin has produced a body of abstract work inspired by man-made landscapes, sacred and secular, many of them ancient.  Some of the work explores the layering of these ancient cultures – Neolithic, Celtic, shamanic and Christian, in countries along the western edge of Europe, in France, Ireland, the Orkney islands, Cornwall and the Outer Hebrides.  Another part of this work is made closer to her home in Gloucester, Massachusetts where, in her own gardens, she explores the activity above and below the earth, imagining the vision of insects that are able to see beyond the range of human vision.  Working on paper with ink, watercolor and gouache, Austin's abstract meanderings seek to mark the traces of ancient cultures, of places remembered, and of extended vision.
Saira Elizabeth Austin received a MFA from Bard College and an ALB from Harvard University.  An artist for nearly 40 years and a professor at the former Chamberlayne College and at Mount Ida College for 31 years, Austin maintains a steady studio practice and exhibition schedule. Austin teaches color theory and two- and three-dimensional design in Art Foundation at Mount Ida's School of Design."
———————————
Departures / Arrivals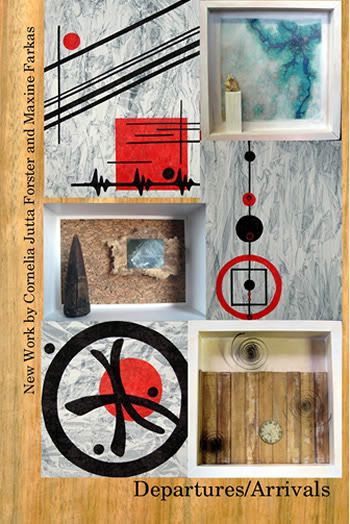 When: On view now through April 24th, 2011
Where: The Loading Dock Gallery, 122 Western Avenue Lowell, Massachusetts 01851
How: Official Website
What/Why: "Departures/Arrivals, which opens at the Loading Dock Gallery on Wednesday March 30th, presents new work by long time friends Cornelia Jutta Forster and Maxine Farkas. Since 1998 Forster and Farkas have met weekly to share ideas and inspiration. The pair began discussing Departures/Arrivals over a year ago, each pushing the other to experiment and to pursue the unfamiliar. The exhibit offers the viewer insight into the paths taken when comfort levels are left behind."
—————
Karen Moss: Dissonant Worlds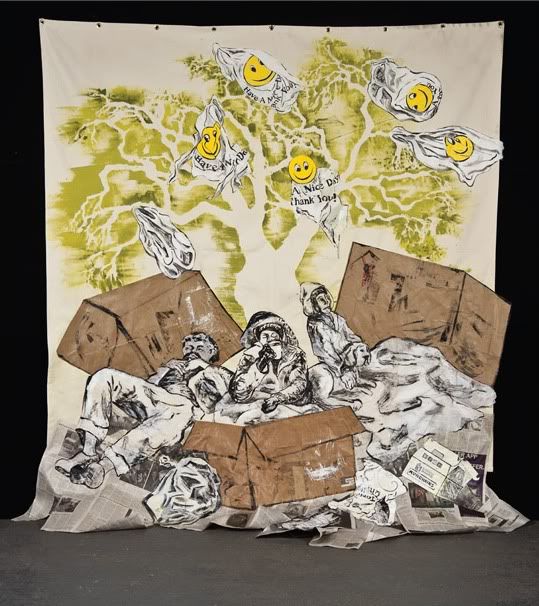 When: April 1-26th, 2011
Opening Reception: Friday, April 1 ·  7:00pm –  9:00pm
Where: Fourth Wall Project, 132 Brookline Ave, Boston, MA
How: Official Website
What/Why: "Fourth Wall Project presents Dissonant Worlds, an exhibition of recent paintings and drawings by acclaimed veteran artist Karen Moss that presents large scale works focused on unsettling images of a world gone awry. The exhibition encompasses a transition in Moss' style from human-animal hybrids inspired by vintage coloring books to depictions of real people in naturalistic settings. These narrative works depict scenes of post-apocalyptic landscapes, global warming, urban decay, eating disorders, overconsumption and war. There will be an opportunity for participants to meet the artist by appointment at the gallery and share their stories about contemporary anxieties, which could become source material for future artworks.
Karen Moss' earliest influences were stories and illustrations found in children's books. She is attracted to narrative and social commentary and is inspired by news items relating to problems in society. She received a BFA in Painting from Rhode Island School of Design and an MFA from Tufts University/School of the Museum of Fine Arts, Boston. For over 25 years she taught drawing and painting in Massachusetts institutions including Wheelock College, Massachusetts College of Art, School of the Museum of Fine Arts, Boston, and Harvard University.
Karen Moss's work has been exhibited throughout the United States and is included in numerous public and private collections, such as the Graham Gund Collection, DeCordova Museum, Boston Public Library, Vassar College Art Gallery, Rose Art Museum at Brandeis University and the Museum of Fine Arts, Boston."
———-
BOGUS: Famous Works by Unfamous People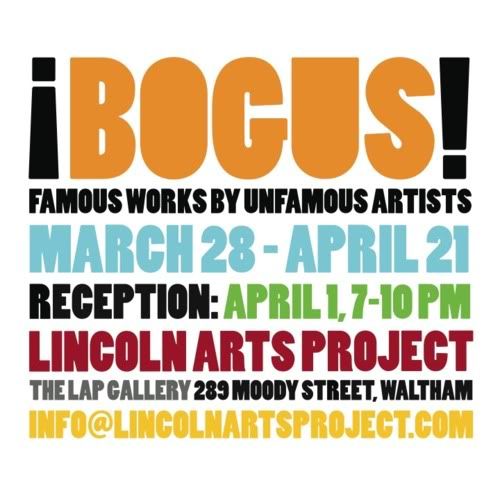 When: On view through April 21st, 2011
Opening Reception: April 01, 2011 7:00-10:00PM
Where: The Lap Gallery, 289 Moody Street, Waltham, MA
How: Official Website
What/Why: "Want a reason to go to Waltham? Here's one – check out the opening of "BOGUS: Famous Works by Unfamous People" at Lincoln Arts Project tomorrow night. Featuring work by Dan Wilbur, David Tolmie, Fish McGill '04 (SIM), John Slepian, Johnny Chew '12, Kristin Texeira '10 (Painting), Mike Dacey, Mitchel Ahern, Nick Ward, and Pat Falco '10 (Illustration & Art History)."
————-
Bumpkin Forward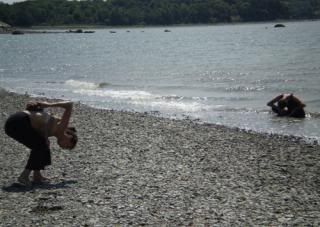 (Photo by Jed Speare)
When: April 1st-10th, 2011
Opening Reception: Saturday, April 2 6:00-9:00
Where: Mobius, 725 Harrison Ave, South End 02118
How: Official Website
What/Why: "An Exhibition of the Bumpkin Island Art Encampment's 2010 Projects & Artists works, traces, and recomposition.
The 2010 Bumpkin Island Art Encampment artists, curators and projectfellows invite you to visit our public presentation of last year'sprojects at Mobius. The Bumpkin book documenting all 4 years of theArt Encampment will be available to peruse and purchase. The latest Request For Proposals for the 2011 Art Encampment will also be distributed.
A performance by Sara June and Max Lord, and an artists talk by Cara Brostromwill take place at the opening reception on Saturday April 2,6:00-9:00pm.
Grounded by artifacts, works, and documentation from the 2010 BumpkinIsland Art Encampment, this exhibition is a forum for artists tosynthesize their Bumpkin experience with their current practices.Artists present recontextualized work from Bumpkin, images and videoof their experience, as well as new work that builds upon their workfrom the encampment."
—————————————-
Need Date Ideas?
More than half of the above listings have opening receptions this weekend. See also: wine/beer/impaired judgment.  Also, SoWa First Friday is tonight and its Free B of A museum weekend.
Wish Your Exhibit Was Featured in the Wrap Up?
Don't be shy. Email Me . I'm a one man show who can only do so much event lurking during the week. Fill me in! I love catching up with you all, and there is no event too big or too small.  If e-mailing is too intimate, just add me to your listserv, I'll figure it out.
Think your Friday can't get any better?
It can. ♥