stimulus x manifest x misappropriate x echoes x into the night
————-
Big Disgrace

When: On view through April 11th, 2012
Opening Reception: Saturday March 3rd, 2012 6-8PM
Where: LaMontagne Gallery, 555 E. 2nd Street, Boston, MA
How: Official Website
What/Why: "In these paintings Wardwell creates landscapes sourced from images of the Pacific Northwest and New England. In the compositions, he takes great liberties with the scenery and the landscapes; editing man's imprint of roads, power lines, fences, buildings, and adding mountains, lakes, and fauna in its place. In creating these images, Wardwell searches for an archetype landscape image as opposed to recreating an authentic image of a particular place or recreating a specific experience. His work focuses on both landscape image as cultural symbol and landscape painting as a cultural signifier. As a result, images of sunsets, waterfalls, and snowy mountaintops run throughout the paintings. Wardwell draws inspiration for these landscape archetypes from Hudson River School painters, especially from the works of Albert Beirstadt and Frederic Church. He brings attention to how landscape painting and our understanding of landscape has been historically linked to a defining of national identity in the United States. From the early imperial advocates of Manifest Destiny adopting the great pictures of the Hudson River School to today's "true" American advertising of beer and truck ads with a snowy cap on every beer can or a rugged terrain in every commercial, landscape and the American brand go hand and hand. "
—————–
"Google Earth" – Works by Lynda Cutrell

 (PTown)
When: On view through March 31st, 2012
Opening Reception: Friday March 2nd, 6-8PM
Where: Galatea Fine Art, 460B Harrison Ave Boston, MA 02118
How: Official Website
What/Why: "In "Google Earth" Lynda Michaud Cutrell moves from paintings of DNA microcosms to aerial views of the Earth. These paintings are a blueprint for the ecology and energy of views of common areas; they translate into an abstract representation of contemporary structures, yet indicate a ghost of ancient artifacts associated with places such as Stonehenge. They indicate the beauty and perfection that is possible between the natural world and that of the makings of human-kind."
——————–
Stimulus

(Prior work of Matt Boney)
When: Thursday March 8th, 2012 – 7PM
Where: Estate Boston, 1 Boylston Place, Boston, MA 02116
How: Official Website
Cost: $10 or $15 at Door
What/Why: "Want your world to be RAWked for one night?  The RAW Boston STIMULUS Showcase is gonna RAWk your world. RAW Boston is exposing some of the best talent out there.  This time around we will present even more Boston talent from all realms of artistic expression! The evening will be a blast of all types of art from visual art, music to fashion and of course dancing the night away with Boston BLEND.  RAW Boston has it all! We will begin the evening at 7pm with musical performances by Ben Cosgrove, Jia and the boyz, and Danita PG. Makeup show by Krystal Gail.  And two fashion shows by Rachel DeCavage and Dani Rose Designs. Makeup designs by Britton Atchley and Jessie Ammons. Plus 14 visual artists will scatter their artwork all over the venue.  The performance will begin at 7pm until 9:45PM.  If you love the arts you will love what RAW Boston has to offer you."
——————–
Misappropriation

 (Burt on Burt #3, Scott Chasse)
When: Friday March 2nd, 2012 7-11PM
Where: Lot F Gallery, 45 Pearl Street, Boston, MA 02110
How: Official Website
What/Why: "Mis•ap•pro•pri•ate: (verb) dishonestly or unfairly take for one's own use
The contemporary art world is quite familiar with the concept of appropriation. Wikipedia explains that "In the visual arts, to appropriate means to properly adopt, borrow, recycle or sample aspects (or the entire form) of man-made visual culture…Inherent in our understanding of appropriation is the concept that the new work recontextualises whatever it borrows to create the new work. In most cases the original 'thing' remains accessible as the original, without change." But the debate over legitimacy of image recycling continues to drag on indefinitely. Despite this age-old controversy, careers of rockstar artists like Warhol and Fairey have not only withstood infringement-related obstacles, they have flourished regardless.
With the "borrowing" of imagery so prevalent amongst certain artists today, is the term "misappropriation" a more appropriate monicker?"
——————–
Caleb Neelon – Victory Garden Reception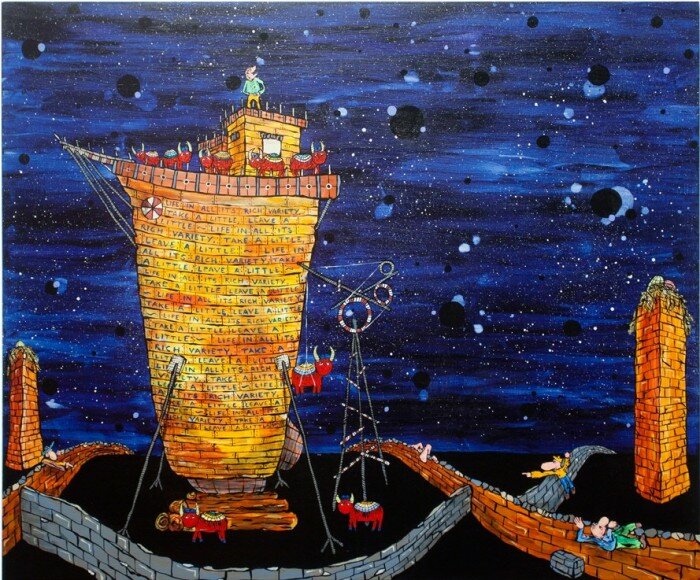 (Life in All Its Rich Variety, Caleb Neelon)
When: Tuesday March 6th, 2012 5-7PM (Talk: 7PM)
Where: Endicott College, 376 Hale St, Beverly, MA
How: Official Website
What/Why: "You know full well that if you stand around in your kitchen listening to NPR next Tuesday, March 6th (aka Super Tuesday, when a zillion presidential primaries are held), you're going to feel depressed.
So come up to Endicott College in Beverly, Massachusetts instead. There will be the reception for my show Victory Garden, as well as the unveiling of the large wall piece I'm installing in the Center for the Arts' atrium right now. Info here."
Sound familiar? Read up on Victory Garden here.
——————–
Mary Bucci McCoy – Manifest

(Implicit)
When: On view through April 1st, 2012
Opening Reception: Friday March 2nd, 5:30-8PM
Where: Kingston Gallery, 450 Harrison Avenue #43, Boston, MA 02118
How: Official Website
What/Why: "The gallery supports the work of emerging, mid-career and mature artists through one-person and group exhibitions by our gallery artists and by occasionally offering guest artists opportunities to show via our Center Gallery."
——————–
Ellen Wineberg – In Context
When: On view through March 31st, 2012
Opening Reception: Friday March 2nd, 6-8:30PM
Where: Bromfield Gallery, 450 Harrison Ave, Boston, MA
How: Official Website
What/Why: "What do we expose, what do we hide? Do we shout or whisper? Is it enough to be honest in facing our issues, and then sharing what we see?
Max Beckmann said, "Be matter-of-fact toward your inner visions."
In the painting "A Noiseless Patient Spider," after a poem by Walt Whitman, a large spider suddenly drops into a child's garden; it changes what I thought was the message, but it is a symbol of a dread and fear I was facing that day after learning details of a dear friend's illness. I have described, matter of factly, my inner visions.
Personal symbols, secrets, and metaphors are subjects in this group of thickly painted semi-abstract works. The vigorous acrylic and oil-stick pieces begin with the pouring and slathering of paint onto canvas or wood panels that range in size from 16" x 20" to 30" x 80". Then comes a period of contemplation to interpret what's visible in that collection of slashes and shapes until a story or metaphor appears. A shape that looks like an eye or a dog can suggest a whole narrative."
——————–
John Goodman – Echo

 (Father's Day/Coney Island)
When: On view through March 13th, 2012
Where: Howard Yezerski Gallery, 450 Harrison Avenue, Boston, MA
How: Official Website
What/Why: "Howard Yezerski Gallery is one of the leading Contemporary Art Galleries in Boston, MA. The gallery's primary focus is on contemporary Photography and Painting with a mixture of mid-career and emerging artists that are both local and international."
——————–
Peter Opheim | Forest

(Untitled 152)
When: On view through April 14th, 2012
Opening Reception: Friday March 2nd, 2012, 5:30-8PM
Where: Steven Zevitas Gallery, 450 Harrison Avenue, Boston, MA
How: Official Website
What/Why: "Opheim's pictorial language underwent a radical change in 2010. After largely focusing on abstraction for more than two decades, Opheim began a new body of work that, while actively drawing on years of hard-won experience with his chosen medium, is resolutely pictorial.
In a sense, Opheim's paintings function as sculpture, and he does not consider them to be pictures. Before beginning a given painting, Opheim first determines the scale of the work and the type of figure he wishes to paint. He subsequently produces a small clay sculpture that becomes both a reference point and stepping-stone. Although Opheim's models give him a subject based in reality, the completed paintings are anything but still-lifes; rather, they are the result of myriad intuitive decisions based on the needs of a given subject and so, ultimately about their own facture.
Opheim's work has been exhibited nationally for more than twenty years, and he is the recipient of a Pollack Krasner Foundation Grant. Recent solo exhibitions include shows at The Columns Gallery in Seoul, South Korea, and at VOLTA NY, both in 2011. This is his first one-man exhibition at Steven Zevitas Gallery"
——————–
 Picture's Worth: Contemporary Graphic Novel Artists

When: On view through March 23rd, 2012
Where: U Mass Lowell, 71 Wilder Street Suite 8 Lowell, MA 01854
How: Official Website
What/Why: "A Picture's Worth will feature work from exciting contemporary graphic novelists working in a variety of genres.  From lauded stalwarts to up-and-coming artists, the show demonstrates the diversity and range of graphic novels, a medium known for innovative pairings of text and image to convey stories.  Dynamic pieces from James Sturm, Lynda Barry, Gareth Hinds, Liz Prince, Matt Phelan, and Veronica Fish will illustrate in grand fashion precisely what a picture is worth."
——————–
John Monteiro

When: On view through 22nd, 2012
Opening Reception: Friday March 2nd, 2012, 5-8PM
Where: NK Gallery, 450 Harrison Avenue #61, Boston MA 02118
How: Official Website
What/Why: "NKG is pleased to present the masterful and whimsical drawings of Bostonian artist John Monteiro. John Monteiro is a very rarely seen phenomenon: a master of the line and form.  His images cannot be appreciated at all when seen via digital means.  In the same manner that a breathtaking sunset can never be totally captured in a photograph, so a reproduction of his work cannot capture the power and beauty of the lines he so meticulously creates with his hand.   But he is not merely a hand to be dismissed, as so many are these days based on the loss of respect for craft.  His work embodies an intelligence and conceptual framing of our world that goes beyond the ordinary.  He is an artist that any truly cognizant art appreciator would immediately recognize as significant.  NKG is pleased to introduce John Monteiro's work.  Please come and enjoy his amazing drawings."
——————–
Birds 2012

When: On view through March 31st, 2012
Where: Studios at Porter Mill, 95 Rantoul Street, Beverly, MA 01915
How: Official Website 
What/Why: "Beverly resident and artist Alyssa Watters, owner of artbyalyssa, is known for doing two things really well: turning her backyard garden into an art gallery each summer and curating an annual exhibition of her own beautiful and colorful oil paintings of birds. Since 2008 this entrepreneurial painter, who makes a living selling her original oil paintings and line of gifts, survives the New England winter by creating these colorful paintings. She displays them each spring in a much-anticipated solo exhibition. This year, Watters is bringing the exhibit to Beverly's Porter Mill, the newest and largest artist studio building in the area, to celebrate five years of "Birds." Works of art by Alyssa will cover the walls of Porter Mill's spacious gallery this March."
——————–
Enrique Santana

(Ocean V)
When: On view through March 31st, 2012
Opening Reception: Friday March 2nd, 6-8PM
Where: Chase Young Gallery, 450 Harrison Avenue, Boston, MA 02118
How: Official Website
What/Why: "Opened in August of 2010 by Jane Young, Chase Young Gallery is dedicated to the exhibition of exceptional contemporary painting, sculpture, and photography."
——————–
One is Always Forgotten

 (Key to Your Heart, prior work of Ariel Freiberg)
When: On view March 2nd through April 22nd, 2012
Opening Reception: Friday March 2nd, 2012, 5:30-8:30PM
Where: Laconia Gallery, 433 Harrison Avenue, Boston, MA 02118
How: Official Website 
What/Why: "Laconia Gallery is pleased to present a exhibition of two talented and dynamic painters: Ariel Freiberg and Helena Wurzel. These artists use figuration to create scenes of solitude, power, intimacy or vulnerability that implicate the viewer as either intruder or audience.
Whether exaggerated and mythological or private and introspective, these artists convey a confident understanding of gender and ways of depicting female sexuality in the 21st century. Both use of nude and seminude figures, pay attention to the social demands of appearance (especially shoes) and have an ease with the use of eroticism and fantasy to create imaginative dialogs.
Freiberg often isolates and elevates a central figure using dramatic atmosphere and perspectives familiar from the works of Giovanni Battista Tiepolo. Provocative stances set up scenes that are larger than life through a use of symbolism and iconography. In the newest works close-up views of violent garden tools are framed by detailed layering of strongly contrasting color to dramatize an interaction between gendered everyday objects.
Wurzel works closer to home in her intimate paintings and collages, establishing a confident female persona through self-portraits and interiors which reveal the rituals and interactions of domestic life. The tonal range and use of grey as a thematic color sets the emotional tenor of these works. Tight compositions and foreshortened views down the body or into a mirror underscore the autobiographical nature of this series.
Together these two artists demonstrate the combination of craftsmanship, imagination and conceptual rigor regularly presented by painters of all types while emphasizing the power and prestige that talented female artists have gained over the last generation."
——————–
What's in a Face

(Smoke, Stephen Sheffield)
When: On view March 2nd through April 10th, 2012
Where: Panopticon Gallery, 502c Commonwealth Ave, Boston, MA 02215
How: Official Website 
What/Why: "Portraiture goes way beyond the reality of the surface. It entertains from a broader perspective of ideals and vanity. A portrait essentially freezes time, creating a document and preserves a singular moment, a split-second snapshot in the life of an individual.
Panopticon Gallery is proud to present What's In A Face, is a group exhibition on display from March 2 – April 10, 2012 exploring various uses of portraiture by photographers and artists Fritz Liedtke, Andrea Raynor, Holly Lynton, Samuel Quinn, Wendy Paton, KK DePaul, Marybeth Rothman, Zia Ayub, Stephen Sheffield, Hans Hiltermann, Charlotte Niel, Douglas Prince, Lindsey Beal and others."
——————–
Flights of Fancy
(Daedalus, David Lang)
When: On view through March 29th, 2012
Where: Amazing Things Art Center, 160 Hollis St, Framingham, MA 01702
How: Official Website
What/Why: "Wisdom begins in wonder" – Socrates
Many great thinkers say that the best ideas come from mistakes or from just playing around. In our goal oriented society we often lose contact with the paths of play, creativity and self-led imagination. Three artists and colleagues, Virginia Fitzgerald, David A. Lang and Carl Staley come together with an unusual and stimulating collaboration of their work, each flowing from the importance of Play. Sometimes serious, sometimes playful and sometimes political, the work of these three artists leaves you with much to carry away."
——————–
SMFA Grad Open Studios

When: Friday March 2nd-Saturday March 3rd, 6-9PM
Where: SMFA, Mission Hill building, 160 Alphonsus Street, Boston, MA 02120
How: Official Website
What/Why:"Over 100 artists in the School of the Museum of Fine Arts, Boston's (SMFA), Master of Fine Arts program are holding their second annual Grad Open Studios event, 
March 2–3, 2012. The vast array of work on display by students from all over the United States and abroad creates a unique chance to see inside the daily life of an MFA student. SMFA has a 
reputation for encouraging exploration and innovation within an interdisciplinary practice, and this group of students demonstrates the actualization of that credo.
During the two-day event, artists will be installing works that range from painting, sculpture, video, film, sound, animation, ceramics, jewelry, printmaking, photography, performance and textiles at the Mission Hill studio building. SMFA has operated this building as studios for MFA candidates for many years, yet this is only the second time in recent history that students have organized an event of this magnitude for the public. Artists will be working in the space without any restrictions on theme, media or content. This is a rare opportunity to see these artists at work, so show up early and spend some time at SMFA. 
SMFA Open Studios aims to facilitate relationships between artists and the public in Boston by providing an open format for locally organized art exhibitions on a large scale. The SMFA Grad Open Studios is not-for-profit, volunteer artist organized and is free and open to the general public."
——————–
 Donald Kelley – The Red Drawings

(Red Drawing 3)
When: On view through March 24th, 2012
Opening Reception: Friday March 2nd, 5:30-7:30PM
Where: Soprafina Gallery, 450 Harrison Avenue, Boston, MA
How: Official Website
What/Why: "Donald Kelley began his career as Gallery Director of the Boston Athenaeum where he created a gallery devoted to many faceted series of changing exhibitions, including an exhibition of Christo's work.  His aim was to present to the community a variety of works they might not have the opportunity to experience.  During his tenure at the Athenaeum he continued with his own painting.  Mr. Kelley's exhibition career began at the Swetzoff Gallery in Boston.  His work is included in the collections of the Boston Public Library, the MFA Boston, the Boston Athenaeum and many private collections. "
——————–
Women & Paper

(Murakami Lady, June August)
When: On view through March 30th, 2012
Opening Reception: Thursday March 8th, 4-5:30PM
Where: Boston City Hall, Scollay Square Gallery, 1 City Hall Square, Boston, MA
How: Official Website
What/Why: "This group exhibition features women artist's that utilize paper in some way. The work is varied both in theme and technique and showcases the talents of 5 contemporary artists that live and work in Boston. The artists in this exhibition are June August, Emily Garfield, Joo Lee Kang, Lara Loutrel and Sarah Slavick."
——————–
TED x Somerville
(The work of Danielle Krcmar)
When: Sunday March 4th, 8:30AM
Where: Arts at the Armory, 191 Highland Avenue Somerville, MA
How: Official Website
What/Why: "Imagine Somerville's most fascinating and engaging members of the community coming together for one day to share their passions and discuss their visions for the world. Somerville prides itself on being one of the most creative places on the planet. New York City is the only US city that can boast more artists per capita than Somerville.  Our group of attendees and speakers will represent some of the brightest minds from the Somerville community and will come from diverse backgrounds and disciplines. Approximately two-thirds of our speaker line-up will have a direct connection to Somerville. We are committed to creating an event where participants are challenged to communicate their passions in an exciting and engaging dialogue."
Full list of participating artists here.
——————–
Into the Night

(Bodie Ghost Town 1, Nora Vrublevska)
When: On view through April 7th, 2012
Opening Reception: Saturday March 3rd, 7-9PM
Where: Gallery Seven, 7 Nason Street, Maynard, MA
How: Official Website
What/Why: "Gallery Seven presents "Into the Night" A Juried Exhibition featuring over 30 area artists. Lance Keimig who is a Massachusetts based photographer best known for night photography of the built environment, was the guest juror. His book, Night Photography-Finding Your Way In The Dark was published by Focal Press in August of 2010.
The idea of "Night" can evoke a variety of feelings from peacefulness to fear from loneliness to romance. With the high quality of artwork and large number of pieces submitted, the resulting exhibition is hung salon style. On display is an eclectic group of artwork ranging from photographs, to paintings, to prints."
——————–
American Furniture and Decorative Arts Auction

(Napoleonic Prisoner-of-War Bone and Straw-work Spinning Jenny)
When: Sunday March 4th, 2012 11am
Where: Skinner Auctioneers & Appraisers, 63 Park Plaza, Boston, MA
How: Official Website
What/Why: "Skinner is among the world's foremost authorities on American antique furniture and decorative arts. American antiques auctions feature American country furniture, formal furniture, folk art, naive portraiture, marine arts, pottery, fine clocks, Shaker artifacts, American textiles and needlework, American silver, Chinese export silver, trade signs, and early glass. Skinner set a new auction record in November 2011 with the sale of the folk art portrait of Abigail Rose for $1.27 million. "
——————–
William Christenberry – A Glimpse of the South

(Black Door, Newbern, AL)
When: On view through March 31st, 2012
Where: Gallery Kayafas, 450 Harrison Avenue, Boston, MA, 02118
How: Official Website
——————–
COLLISION 17: Transformer

When: On view through April 7th, 2012
Opening Reception: Friday March 2nd from 6-9 pm
Where: Axiom Gallery, 141 Green Street, Jamaica Plain, Boston, MA
How: Official Website
What/Why: "COLLISION17:transformer assembles a wide range of new work from 6 countries to explore the notion of transformation. Power, signal, material and meaning are altered, recast and impedance-matched to underscore and harmonize with the ceaseless change of our lives. Curated by COLLISIONcollective members William Tremblay and Georgina Lewis,COLLISION17:transformer is the seventeenth COLLISIONcollective show and the sixth held at Axiom. The 26 works that comprise the show span sculpture, photography, video, surveillance, interactivity and research, making this the most comprehensive and far-reaching COLLISIONcollective show to date.
A transformer is a device that changes one form of energy to a different form, then changes it back to an altered version of the original. InCOLLISION17:transformer we present the artist as transformer of experience though metaphor, translator of ideas between language modes, and transmuter of physical phenomena into forms optimized for human perception."
———————–
Hi Friday.
My (favorite of the two) older brother is coming to stay with me this weekend to celebrate his 40 somethingith birthday and I can't wait to take him around Boston to some of these events!
It's funny how, over time, siblings can go from "I put your stuffed animal in the microwave" to becoming a peer/friend/eyewear doppelganger.

I swear I had them first. I didn't.
Have a great weekend! ♥