scarcely awake x breath of life x outshined x lord help us
——–
Somerville Open Studios

(Daniel Zeese)
When: May 6th+7th, 12-6PM
Opening Reception: May 5, 6-9PM
Where: Somerville, MA | Artist sites here
How: Official Website 
What/Why: "Somerville Open Studios (SOS) is a non-profit organization formed for the purpose of producing an annual open studio and related events in Somerville, Massachusetts.
Through its programming, SOS gives access to the work of visual artists living and working in the city of Somerville. We provide opportunities to view art made within the community; to interact with local artists; and to have access to artists' working spaces. Our goal is to broaden the public's exposure to, and appreciation of, finished works of art as well as the art-making process. This exposure both educates the community and raises awareness of the diverse artistic experience available in Somerville."
—————–
Lord Help Us Get It All Together: Irzyk + O'Day
When: On view through May 28 2017
Opening Reception: May 5th Reception, 6-8:30 pm
Where: Lens Gallery, 524 Harrison Ave, Boston, MA 02118
What/Why: "Lord Help Us Get It All Together is based purely in dreams and in the creative mind. When Adam O'Day was a child, something in his Grandfather's basement caught his eye. Near the desk and the workbench hung a Shroud of Turin Hologram, and a plaque reading, "Lord Help Us Get It All Together." When the family would visit, they would sleep in the basement, and the Hologram would follow them around the room, as they got ready for bed. Adam didn't know it was Jesus of Nazareth at the time, but he saw him as a mystical being, inspiring many years of thinking about who this Hologram could be. Was he a pirate or a warlock of some kind? He asked Grandpa George and was told that the Shroud of Turin proves Jesus was in fact the Savior. George spent a good portion of his life working to validate the shroud along with the Catholic Church. Adam now possesses these family relics as fond keepsakes of his Grandparents George and Kate. Kate worked at the Atlanta High Museum and taught Adam much about art at a young age. This show is dedicated to Kate and George, who were always searching for answers.
This exhibit aims to bridge the gap between two planes of consciousness, and blends the mind's eye with memories. The artist explores the connections between them with expressive color, mark-making rhythms and drawing. As a musician and a drummer, Adam uses patterns of color and rhythmic brushstrokes to build structures and layer paint. There is an inner hopefulness to the work, with an underside of desperation. One of the paintings for the show is the Fall of Humanity octagon. Here, we see despair and human agony, illustrating just how grave our futuristic vision has become. But with all patterns, life's lows will always be outshined by humanity's colorful beauty.
"'Why do you use all the colors of the rainbow, at the same time?' They say. Because when we live in such a gray, hopeless place, you need some bright neons and pastels to bring out all the cheerful things in life. I draw from life. I paint from what the memory felt like." – Adam O'Day, BDCwire
________________________
For the past year Vanessa Irzyk has been focusing on a series of circular paintings. They are 17.25″ in diameter and created with acrylic paint on 300 lb watercolor paper. The paintings are an exploration of shapes and patterns in space. Each painting is evoked by the background color palette: a blurry space created with bright almost neon colors applied by thin acrylic paint. From there, shapes are created both opaque and patterned. Each part of the painting is inspired by the previous shape and is meant to transport the viewer to a hypnotic and unusual space. The paintings can make sense from a distance yet at closer view the audience can investigate the intricate shapes and sometimes-obsessive patterns made from a flat brush.
Throughout the years Irzyk has used color as her concurrent theme. Finding the right combination and balance is a great challenge and creates a satisfying game. Her 4" x 6" assemblages come from the excess paper cut from the circle shapes. They are tiny experiments, where the paper is so small the brushstrokes can make a greater impact. These small paintings serve as "sketches" for bigger paintings while being able to stand in a group; tiny soldiers all in line.
"People always think my paintings look like they were made on the computer, but each line is painted with a flat brush. The pattern making process is zen and meditative. I enjoy making work that looks machine-made in its uniformity, yet when you look close you see the human hand and subtle error." -Vanessa Irzyk
——
The Split / Curated by Amanda Schmitt

When: On view through May 20, 2017
Where: GRIN,60 Valley St, Unit 3, Providence, Rhode Island 02909
How: Official Website 
What/Why:
"Karel Appel
Michel Auder
Sofi Brazzeal
Nicolas Guagnini
Brook Hsu
Dawn Kasper
Sarah Kurten
Jason Loebs
Michael Mahalchick
Ebecho Muslimova
Davina Semo
This separation of oneself from one's needs and feelings is an instinctive maneuver in order to shut off excessive pain. We call it the split. The organism splits in order to protect its continuity.
-Arthur Janov
I came across a book, The Primal Scream, Primal Therapy: The Cure for Neurosis, authored by Arthur Janov, on the street. I had found the tattered copy of the original edition (published by Dell Publishing Co. in 1970) sitting in a gutter in Manhattan's Upper West Side, just a block or so away from the Dakota on West 72nd Street. I was drawn to its enigmatic cover image (in this particular edition: a mouth, wide-open and apparently screaming, emerging through the cover of what appears to be a bolted box or book), its promotion as a cure for neurosis, and its title promising a potential link to the Reichian method, a specially painful form of a regressive therapy that my partner had undergone in previous years.
According to Janov's Primal technique, patients absolve themselves from their neurosis and deeply layered repression, while simultaneously avoiding psychosis, by reliving the original trauma through the seemingly simple task of screaming one's pain away. Since its initial release in 1970, the book has sold more than one million copies internationally and has been translated into various foreign languages. It quickly became infamous perhaps because of its profound effect on superstars John Lennon and Yoko Ono, who underwent Primal therapy in early 1970, and who also lived in the neighborhood in which I found my copy of the book. The album John Lennon/Plastic Ono Band, released in December of the same year neatly and loudly records their involvement with Janov. Lennon and Ono, and Vietnam, were of course the cultural reality of my parents' generation, not mine.
My main interest in Janov's unique view is how early childhood trauma is experienced (both in minor and severe forms) and how, to cope —as a protective maneuver— the organism instinctively splits, thus suppressing unfelt feelings and creating unreal needs. Through a successful primal therapy session, by figuratively touching the pain the trauma is relived and thus resolved. I also enjoy that fact that Primal Theory is essentially anti-Freudian as it bypasses language and focuses on 'the organism that knows but cannot feel'.
If the task of critical culture, in Freudian terms, is the return of the repressed, illustrated by pitting subculture against culture, low against high, and oppressed against canonical; then, in Primal terms, the task of this exhibition is not to thematize Primal theory and its subcultures, but to investigate the method of how each artist arrived at the work they create: the primal practice.
Despite, or perhaps because of, the implicit simplification inherent to a pop-psychology item of the early seventies, I found the idea of "the split" resonating with many things I've heard in my conversations with artists. Through the simple idea of a split I could look at artists as "organisms" and find commonalities more methodological than cultural. The primal is beyond culture. It's both acultural and anti-cultural. What unites the works in The Split is more "how" the artists arrived to them than "what" they purport to represent —this exhibition hence rejects the thematic or the illustrational while still aspiring to address our contemporary condition."
———
The Sea: EJ Camp

When: On view through June 27, 2017
Opening Reception: May 4, 2017 with an Artist Talk at 4pm followed by an opening reception from 6-9pm
Where: Leica Gallery, 74 Arlington Street, Boston, MA
How: Official Website
What/Why: "Leica Gallery Boston Presents The Sea by Photographer EJ Camp
Large Format Exhibit Explores the Calm and Wildness of the Ocean
Leica Gallery Boston is proud to present the Boston premiere of EJ Camp's photo exhibition, The Sea. The collection will debut on May 4, 2017 with an Artist Talk at 4pm followed by an opening reception from 6-9pm. The exhibition will be available for public viewing from May 4 – June 27, 2017.
Camp shot the photographs exclusively with her medium format digital Leica S. Her favorite subjects, the North and South Forks of Long Island, have some of the most beautiful coastlines in North America, making Camp's quest for unique images inexhaustible. Stemming from a career spent capturing light and emotion in her portraiture, Camp has developed a  passion for the way light reflects off the changing surfaces of the ocean.. The violence and activity of breaking waves and the tranquility of a calm sea have been integral within Camp's seascapes along with exploring color, layers of perception, texture, and moments of energy, as she continues her quest "to be pulled more into the voice of the subject."
"I consider my photography such a huge extension of myself in that it records what I am seeing and what I am stimulated by in my world," said photographer EJ Camp. "What inspires me in my portrait work is love and respect for people. I want to capture a feeling that takes me further into that person. Similarly, I love the sea. It changes moment to moment and I never tire of its fusion of light, movement and complexity. The sea is like a face; it has many expressions. Both genres are about catching the moment."
Renowned for her rich photographic career including celebrity portraits, magazine covers, movie posters and advertising campaigns, EJ Camp has also created extraordinary fine art landscape images. For over 30 years, and throughout the progression of her editorial and commercial career, Camp has photographed the sea and its shores. Her credits include GQ, Glamour, Elle, Esquire, L'Uomo Vogue, Harper's Bazaar, Century Fox, Paramount, Pictures, Showtime, Sony Pictures, Warner Brothers and many more.
"Shooting the sea is not dissimilar from shooting a portrait. It may take some time in an unforgivable environment and your subject may be cruel and uncooperative, but with patience and coaxing, its guard will be dropped and the soul of the subject will be revealed," said Camp
The Sea will be showing from May 4 through June 25, 2017 at Leica Gallery Boston, with an artist talk and opening reception on May 4th 2017 from 4-9pm. For more information, visit www.leicagalleryboston.com.
—————————
Scarcely Awake: Sarah Alexander and Tatiana Flis with guest sound artist Todd Bowser

When: *May SoWa First Friday Reception – Friday, May 5, 2017 5:00-9:00pm
Opening Reception – Saturday, May 13, 2017 from 5:00-7:00pm
Poetic Interpretations Event – Sunday, May 21, 2017 from 1:00-3:00pm
June SoWa First Friday Reception – Friday, June 2, 2017 5:00-9:00pm
Closing Reception: Artists' Talk & Performance – Saturday, June 10, 2017 from 1:00-3:00pm
Where: Fountain Street Fine Art, 460c Harrison Ave #2, Boston, MA
How: Official Website
What/Why:"Fountain Street gallery opens its inaugural Boston exhibit: "Scarcely Awake," featuring the work of two artists, Sarah Alexander and Tatiana Flis. The show highlights a variety of each artist's work, including painting, drawing, sculpture, and mixed-media installation, and centers on the notion of the in-between. Alexander's and Flis' work carry similar themes of time, movement, and thesubconscious, while walking the fine line between reality and the imagined.
In addition, an audio piece created by sound artist Todd Bowser will play in parallel with the exhibition." Learn more about the exhibition here!
————————–
Cara Kuball and Joanna Tam
When: On view through May 13, 2017
Where: How's Howard, 450 Harrison Ave, Suite 309c, Boston, MA 02118
How: Official Website
What/Why: "A two person exhibition featuring the work of Cara Kuball and Joanna Tam"
——————–
Danna Ruth Harvey: Breath of Life
When: On view through May 27 2017
Opening Reception: May 05, 2017 6-8PM
Where: Chase Young Gallery, 450 Harrison Ave, No. 57, Boston, MA 02118
How: Official Website 
——————–
Edacity

When: On view through May 28, 2017
Where: Yellow Peril Gallery, 60 Valley St #103, Providence, RI 02909
How: Official Website 
What/Why: "PROVIDENCE, RI – Yellow Peril Gallery is pleased to present Naomi Campbell's new exhibition Edacity from April 22 – May 27, 2017. Curated by Susanne Karbin, the exhibition further develops Campbell's exploration of the fragile relationship between food production and environmental sustainability she initiated in the show Bread and Circuses at The Center for Contemporary Art, New Jersey, in 2016. Here she takes it further by incorporating the concept of fear, suggesting both subjection and denial in observance of a scenario almost certain to erupt. The opening reception is Saturday, April 22, from 6PM – 9PM.
Edacity features an installation comprising sculptures, wall pieces, metal, glass, and video, where Campbell's use of light projection on sculptural elements creates an immersive spatial setting. The mobile sculpture Damocles' Sword hangs from the ceiling like a chandelier or centerpiece alluding to concerns about modern day food experimentation technology and its effect on the individual. Fragments of mirrors and glass alter the viewer's perception of reality furthering the biological/technological immersive experience.
Campbell was born in Montreal, Canada and currently lives and works in Brooklyn, New York. She studied at the Collége de Champlain in Quebec, the University of Guelph in Ontario, and the School of Visual Arts in New York. She also studied painting and printmaking at The Art Students League of New York. Her art is displayed in numerous permanent public collections, some of which include the City of New York; the City of Irving, Texas; the City of Geochang, South Korea; the New York Public Library; the New York State Museum, NY; and the Trenton City Museum, New Jersey.
In 2016, Campbell presented The Consonant of Noise at International Studio & Curatorial Program in Brooklyn, New York, where she created a braille pattern of corn kernels running across the gallery walls, and a sculptural installation on the floor, alluding to the global food crisis in which corn is paramount.
The opening reception for Edacity is Saturday, April 22, from 6PM – 9PM. The exhibition will conclude May 27th. This is Naomi Campbell's second solo exhibition at Yellow Peril. Her first solo exhibition was Retinal Displacement in 2012. Edacity recently debuted in 2017 at Peligro Amarillo / Santurce, our outpost in San Juan, Puerto Rico."
————-
Phantom Flesh

When: On view through May 27, 2017
Where: Steven Zevitas Gallery,450 Harrison Avenue #47 | Boston, MA 02118
How: Official Website 
——————–
SoWa Art Walk


When: May 06 – May 07, 2017 11AM-5PM
Where: SoWa Boston, MA 02118 | Full list of locations here
How: Official Website
What/Why: "It's time to kick off spring with the SoWa Art & Design District's 13th annual SoWa Art Walk! You're invited to celebrate and explore Boston's most vibrant arts community. Meet the artists in their studios, view the latest gallery exhibits, and enjoy an immersive art experience.
The SoWa Art & Design District is home to over 300 working artists studios, the largest concentration of contemporary art galleries in the city, and an incredible group of design showrooms and shops dedicated to preserving and supporting artistic expression. Explore the area, discover new artists, and celebrate talent from all over the world. We challenge you to stop by all of the following locations!"
——————————
Wild Child: Beverly Semmes
When: On view through May 27, 2017
Where: Samson Projects, 450 Harrison Ave, Boston, MA 02118
How: Official Website 
What/Why: Learn more about the exhibition here
——————–
Mags Harries: Adrift

When: On view May 10 – June 11, 2017
Opening Reception: Saturday May 20, 2017
Where: Boston Sculptors Gallery, 486 Harrison Avenue, Boston, MA 02118
How: Official Website
What/Why:"Addressing themes of global warming to the survival of humankind, Mags Harries' new solo exhibition Adrift will feature sculptural and two-dimensional works depicting subjects ranging from life vests to icebergs. In response to the political environment created by the Trump administration, Adrift alludes to the tide of uncertainty in which we are caught. Sensing a threat to our democracy, the planet, and its inhabitants, Harries grapples with glacial melts, and the turning back of migrants who have come here to establish a better life. The artist, an immigrant herself, asks, "How does one ignore these changes? How does one understand this uncertainty? How does an artist deal with these issues?"
Through simple placement, materials and scale, Harries creates a darker side to objects that reflects our new reality of global warming. In her public art practice with Lajos Héder, many of the award winning projects are based on water, and often reflect on environmental issues."
Also on view..
Caroline Bagenal: Summer Palace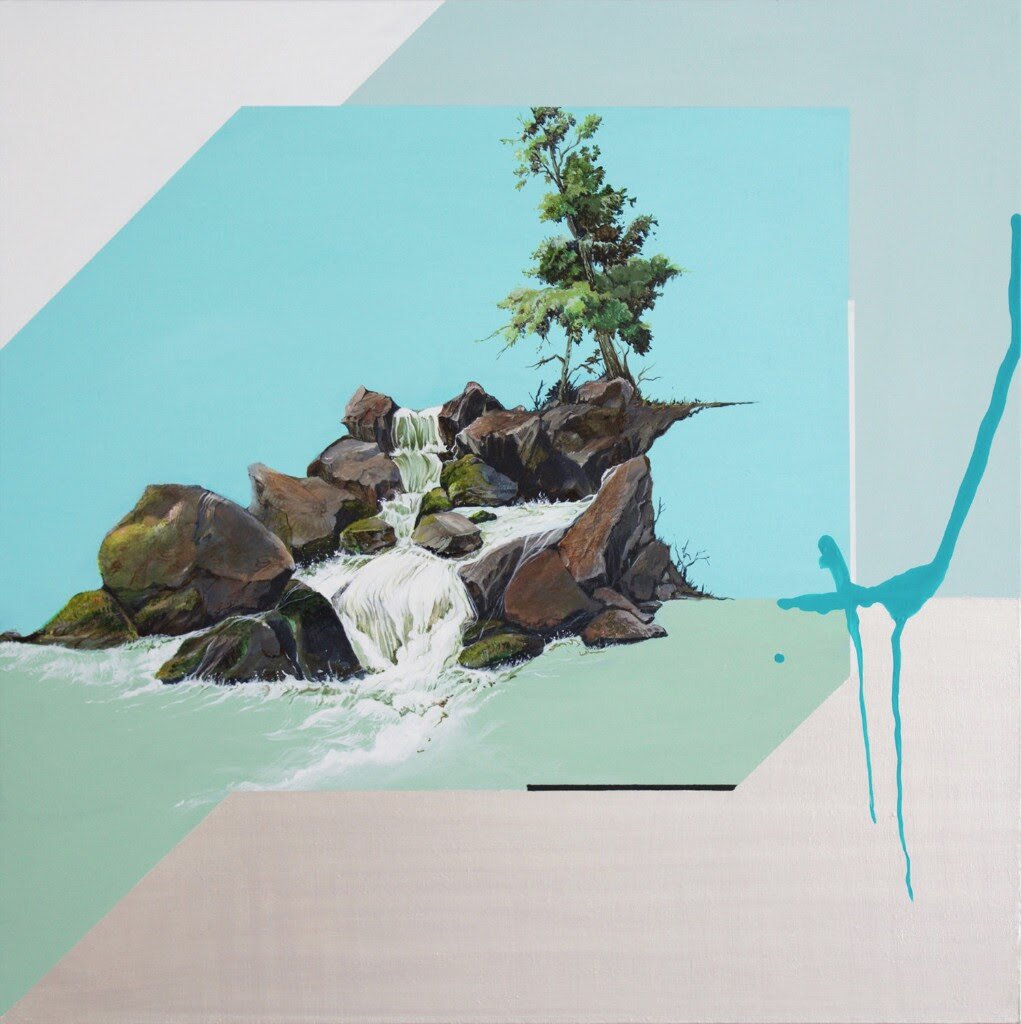 What/Why: "Caroline Bagenal's exhibition Summer Palace explores themes of freedom and confinement. Simultaneously evoking both exterior and interior worlds, Summer Palace is a large suspended sculpture built from latticed panels. The piece invites the viewer to enter and contemplate the dualities it poses, such as enclosure and openness, fragility and strength, and protection and confinement.
A second piece, Book of Hours, is constructed from over 600 pages of the Encyclopedia of Needlework. The book–its pages heavily annotated and underlined–belonged to the artist's great-aunt who was confined to her home for most of her life. The title Book of Hours refers not only to illuminated medieval manuscripts, but also addresses themes of time and labor that recur throughout the exhibition."
——————–
ZANE/OSTENDARP

When: On view through May 13, 2017
Where: Carroll and Sons Gallery, 450 Harrison Ave, Boston, MA 02118
How: Official Website 
Also on view..
Monique Johannet: Stolen Sandback 
——————–
Lesley Cohen: "Strata/Substratum"
When: On view through May 28, 2017
Opening Reception: Friday May 05, 2017 6-8:30PM
Where: Bromfield Gallery, 450 Harrison Ave, Boston, MA, 02118
How: Official Website 
What/Why: "Strata/Substratum" peels back the edges of our everyday world to uncover hidden environments underneath. I feel the desire to delve beneath the surface and discover what exists, what has been left behind.  My work serves as an artistic 'bridge' between my interior world and the world outside.  I find it intriguing – to be looking for something outside of myself, yet what I discover are elements of myself reflected back.
My drawings are worlds unto themselves. However, no one drawing is an answer in itself, but part of a larger search. I reflect on life memories, and I make associations, abstractions and extensions of logic, realigning and layering meaning as I draw.
Although I work with a limited set of elements, without noticeable color and divested of recognizable imagery, I see my work as a network of inseparable concerns in which the forces of nature, the reality of materials, and the instinct toward composition are all held in a complex, delicate balance.
I am not preconceiving the work and then realizing it. I am as mystified by the end result of my process as my viewer is; I am surprised every time at what I end up creating. And then it fuels my next body of work."
Also on view..
Laurie Alpert: "SOAP"
What/Why: "For the past few years I've had an obsession with the stains and marks on my studio floor. I now find myself obsessed with a bar of soap, the inspiration for these mixed media prints and artist books.
Several months ago, my studio mate was walking by the sink outside our studio and noticed a bar of soap with a hole through the middle of it. I had been washing my brushes with it and the circular motion had created a hole through its center. She found it visually compelling, took a picture of it and sent it to me.
I was immediately struck by the humor of what it was in reality, but also saw the potential in the many ways I could transform it and allow it to exist in a new context.
For many years my images have begun with photographs that I've taken of seemingly mundane things. The origin is inconsequential – it is the alteration that gives the image its new life."
——————–
Elaine Spatz-Rabinowitz: Arctic Abrasions
When: On view through May 23rd, 2017
Where: Miller Yezerski Gallery, 460 Harrison Ave, Boston, MA
How: Official Website
What/Why: "We are pleased to announce Arctic Abrasions, an exhibition of new work by Elaine Spatz-Rabinowitz. There will be a reception on Friday, April 21, 5 – 8 pm.
In 2013, Elaine Spatz-Rabinowitz traveled up the coast of Norway and into the desolate yet beautiful landscapes of the Arctic. Through a hybrid technique melding photography with painting, Arctic Abrasions captures both the wilderness of the far north, and the traces of past and present human industry. Spatz-Rabinowitz captures this terrain with the documentary lens of photography, and then transfers her images to Hydrocal (a dense plaster) and watercolor paper, where she alters and reinterprets them using a variety of methods and materials.
The fissures and disruptions Spatz-Rabinowitz casts into her Hydrocal tablets obscure the clarity of the image, giving each photograph a tactile, mutable layer, creating "photographic images that breathe and speak in the intimate language of surface." She then works into them with oil paint and other media, transforming the content. The imperfections in the image act as a metaphor for the abrasions in the Arctic landscape left by both nature and man. Skeletons of deserted towns puncture the terrain, serrated streaks of earth and cracking ice leave dark lacerations in the exquisite, intensely varied palette of this region. The distinction between natural deformities and the artist's hand blur on the coarse surface of each piece, creating an otherworldly representation of the dissolution and demise of the Arctic.
Elaine Spatz-Rabinowitz is a Boston-based artist who has shown at galleries and museums across the northeast. She has received a number of honors and awards, including a Guggenheim Foundation Fellowship, multiple Massachusetts Cultural Council Fellowships in Painting, and the Arctic Circle residency that was the foundation for this body of work. Her work has been included in several private and corporate collections, including the Museum of Fine Arts, Boston, the Addison Gallery of American Art, and the DeCordova Museum and the Graham Gund Collection."
—————-
Spazuk: Hubris, Beauty and Greed
When: On view through May 28, 2017
Where: Adelson Gallery, 520 Harrison Ave, Boston, MA 02118
How: Official Website 
————–
Wonderland: Landscape Photographs by Mary Lang
When: On view through May 28, 2017
Opening Reception: May 05, 2017 6-8PM
Where: Kingston Gallery, 450 Harrison Ave, No. 43, Boston, MA 02118
How: Official Website 
What/Why: "Wonderland: Landscape Photographs by Mary Lang continue Lang's exploration of the elemental nature of the phenomenal world. For Lang, landscape is a way of experiencing space. A meandering path or the shape of a hill, where the horizon falls defining the relationship between earth, sky, and water, draws one into the space. In her work there is both emptiness and presence, the mark of humans on the land but very few humans within the frame. The photographs in Wonderland incorporate both meanings of "wonder"; amazement and uncertainty. Some of these landscapes are not real, but are model railroad environments. The photographs of models alongside real landscapes create an uncertainty. Lang's work has long been informed by her meditation practice and the Buddhist teachings that the world we perceive is like an illusion, as vivid as a dream but just as insubstantial. Of her work Lang says, "These images point at the possibility that we could lift the veil of illusion on our full-size worlds, the ones that we solidify and inhabit day to day, the portable stage sets that convince us that our truth is the truth, and not something we constructed as our own model version of the world."
Also on view..
In Memory: works by Stacey Alickman
What/Why: "On view in the Members' Gallery is work by the late Stacey Alickman, a long-time member of Kingston Gallery and an important presence in the Boston art community for more than twenty years. In Memory: works by Stacey Alickman exemplifies a fascination with paint and free-flowing experimentation with additive and reductive techniques, sanding down layers of paint to allow for underpainting to come through, and building surface that speaks to the perception of texture rather than just texture itself. Often allowing the physical aspects of the paint to assert itself, Alickman conveys a transcendence of medium."
——————–
Caleb Charland – Under The Arc Of The Sky

When: On view through May 20, 2017
Artist's Reception: Friday, May 5th, 5:30 – 8:00pm
Where: Gallery Kayafas, 450 Harrison Ave, Boston, MA
How: Official Website
What/Why:"Caleb Charland's new exhibit, Under the Arc of the Sky, combines science, photography, art, and a sophisticated curiosity creating images which are both magical and surreal – illusions that make us question what we are seeing. Visually striking, the resulting pieces reveal the artist's exploration of light, motion, movement, gravity, the push and pull of Earth's forces that are experienced every day.
Charland's pieces are made with and without a camera. They are gelatin silver photographs made in the darkroom or cyanotype prints made in the light. Photograms, long exposures, paper negatives, glow in the dark powder are some of the techniques used, each demonstrating Charland's inexhaustible sense of wonder and childlike exuberance for discovery. Using a lit candle as a pendulum (oscillating 1 meter every 1 second) it swings back and forth, dropping wax onto seven sheets of photo paper becoming a continuous photogram. Lying in the grass with his camera on his chest, lens open to the sky for more than two hours, Charland captures the movement of the earth making the stars appear to move.
Charland's creative scientific curiosity in Under the Arc of the Sky visually explores how the world works. "For me, wonder is a state of mind somewhere between knowledge and uncertainty. It is the basis of my practice and results in images that are simultaneously familiar yet strange. Each piece begins as a question of visual possibilities and develops in tandem with the natural laws of the world. Serendipitously, this process often yields unexpected results measurable only through photographic processes. The human presence and artifacts of the process provide a clue to the creation of the photograph while adding to the mysterious nature of the image. My hope is that this work affirms that even within the well tested laws of science there are, and must always be, pathways to reinterpretation and discovery." CC"
Also on view..
Robert Moeller – redacted: "no further information available"

What/Why: "While many of these paintings may appear calm or resolved at first glance, a closer examination of their surfaces reveals a submerged history of initial thoughts and alternate propositions. Even in their final form, there are always subtle tensions: flat shapes suggest traces of misaligned three-dimensional volumes; unexpected colors slip out around their edges amidst deep currents of geometric composition. The work is influenced in part by the unruly (yes) lines that cross Mondrian's painted grids, with echoes of grounded or negative space upon a suspended shape reverberating through layers of competing visual information. As with a redacted document, the entirety of the text is present in its original form, but it has been made (sometimes in part) unavailable. It resembles something you might have initially recognized yet now can't fully understand. These paintings (Constructs) continually obfuscate the original intent or gesture made while building upon it until something new emerges, something that sits atop (or within) the armature of the first articulation of an idea and continues to recast it. What remains is the redacted version of a first impulse, obscured yet still asserting its primacy."
——————–
Secrets of the Sea: A Solo Show Featuring the Artwork of Keenan Derby
When: On view through May 21, 2017
Where: Abigail Ogilvy Gallery, 460 Harrison Ave, C7, Boston, MA 02118
How: Official Website 
What/Why: "Keenan Derby's abstract paintings develop in a carefully negotiated discourse between formation and collapse. What begins as a clearly articulated under-drawing, structured by a grid, undergoes multiple transformations, alternately concealing and rediscovering its original composition. The artwork is an amalgamation of the artist's initial vision and the unpredictability of the paint itself, which acts an agent in its own application.
Growing up in a household of biologists, Derby traveled through diverse environments, learning to view the world with a scientist's sense of observation and wonder. He sees nature as an endless stretch of raw material to inform his artwork, its inherent cycles of destruction and renewal representative of the impermanence of all forms. The work presented in Secrets of the Sea explores this concept through the theme of water and tides. Derby's process breaks apart and unravels familiar images, like the sea picking away at the coast with time. His choice of medium—paint turned textural by the incorporation of sand—lends itself to this disintegration, turning an otherwise smooth line or shape into a corrugated ripple.
Secrets of the Sea was inspired by a 17th century depiction of a Dutch whaling expedition painted on ceramic tiles, reproduced in an eponymous issue of Reader's Digest. The ceramic tiles form a grid not unlike the ones Derby uses in his own work. Combined with the natural degradation of the materials, they dismantle the scene. Drawn to the intersecting lines and and luminous seascape colors, Derby used fragments of this piece as a basis for his under-drawings for the series.
The finished work is only suggestive of its source material, deconstructed through layers of paint and sand. The coarse topography of each painting is reminiscent of decomposed organic material, like mossy, mildewed wood. The apparition of a mast or hull lingers in certain lines, cracks and whorls allude to stormy skies and choppy seas. Derby leaves no surface undisturbed. The irregular planes and mottled colors give every piece the impression of perpetual motion.
Keenan Derby lives and works in Los Angeles, California. He received his MFA from Boston University and his BFA from the Maryland Institute College of Art. He has exhibited in galleries nationally, including Craig Krull Gallery in Santa Monica, CA, and Trestle Gallery in Brooklyn, NY, and at the 2017 Art Market San Francisco art fair. His work is included in a number of private collections across the country."
——————–
Youngsheen Jhe // In – Between
Dorothy Amore Pilla // Land of Beauty – Land of My Father
Niva Shrestha // Townscape
When: On view through May 2017
Opening Reception: Friday May 05, 2017
Where: Galatea Fine Art, 460 Harrison Ave, Boston, MA 02118
How: Official Website 
What/Why: Learn more about the exhibition here
——————–
Frank Poor: Mined and Measured
When: On view through June 3, 2017
Where: Barbara Krakow Gallery, 10 Newbury Street, Boston, MA
How: Official Website 
What/Why: "Barbara Krakow Gallery proudly presents its first exhibition with Frank Poor.  Consisting of eight works that combine wood and image printed on various surfaces, the show presents a powerful and poetic exploration into the way architecture, landscape, memory, perception, technology and tradition can be intertwined to create deeply poetic scenarios.
The artist is quoted as saying, "For years now, I have returned to my native Southeast [USA] to photograph architecture and landscapes.  These visits have been a way of reconnecting with my primary visual language.  The resulting images are printed on various substrates and become the surfaces of three-dimensional architectural objects.  The images of building are thus merged with their three-dimensional models.  This presents two contradicting ways of telling, one through image and one through form.  For me, that contradiction mirrors the slippage between our memories and what can be known about a place.  That slippage has increasingly become the subject of my work".
Specifically, Poor travels around, photographing various architecture from pedestrian points of view.  He takes these simple, perspectivally-specific images and manipulates them digitally so that they can describe the forms on three-dimensional structures.  Images of birds, power lines, shadows and trees, among many other 'incidentals', as well as images of the actual structures, become flat images on the structures that Poor skillfully crafts from wood.  As Bridget Lynch, curator at the Trustman Art Gallery at Simmons College, writes, "the front and sides are visible but not in a coherent perspective view.  The work suggests the multiplicities of its history".  In addition, these altered, manipulated, varied and warped images remind us that the subjective is very significant and that one must read the personal aspect of something to better understand the actual 'thing' but those aspects do not give a full or entirely accurate view of the entirety.
The curator Lia Newman states, "distance, both in regard to time and physical location, plays an important role in Frank Poor's creative process.  He allows himself space from the site and the images before embarking on new work.  Such distance often alters one's understanding of reality … It is through the juxtaposition – and at times the dislocation – of image and form that Poor initiates a dialogue about memory; he notes that 'memory exists somewhere between artifact and inventory.'  It is in this liminal space where artists such as Poor can create works that, though deeply personal and specific, become meaningful for a wider audience."
Also on view..
Kay Rosen: The Complete Letterpress Works, 1984-2017
When: On view through June 3, 2017
What/Why: Learn more about the exhibition here.
——————–
Nari Ward: Sun Splashed
When: On view through September 04, 2017
Where: ICA Boston, 25 Harbor Shore Drive, Boston, MA 02210
How: Official Website 
What/Why: "Nari Ward: Sun Splashed is the largest survey of the artist's work to date. Emerging alongside a notable group of black artists in New York City in the 1990s, Nari Ward (b. 1963 in St. Andrew Parish, Jamaica) actively engages with local sites—their histories, communities, and economies—to create spectacular, ambitiously scaled artworks out of unlikely materials. He derives inspiration from his immediate environment, incorporating found objects gathered in and around urban neighborhoods and embracing varied cultural references. Working in sculpture, collage, photography, video, installation, and performance, Ward captures the makeshift qualities of everyday life and imbues his production with a visceral relationship to history and the real world. The exhibition includes artworks made from soda pop, shoelaces, shopping carts, and a fire escape, materials that speak to the artist's distinctive experimentation. Nari Ward: Sun Splashed focuses on vital points of reference for Ward, including his native Jamaica, citizenship, and migration, as well as African-American history and culture, to explore the dynamics of power and politics in society."
——————–
All Senior Show Reception
When: On view through May 11, 2017
Opening Reception: May 8, 2017 @ 11:30 am – 12:30 pm
Where: Montserrat College of Art, Hardie Building, 23 Essex Street, Beverly, MA 01915
How: Official Website 
What/Why: "The 2017 All Senior Show will be juried by Andrea Dabrila, Associate Director, Gallery NAGA, Boston."
Also on view…
MARÍA MAGDALENA CAMPOS-PONS

When: May 08 through June 01, 2017
What/Why: "Maria Magdalena Campos-Pons' work is autobiographical. "It encompasses a larger story. It reveals a history of survival- of a culture, a religion, and a people- from the oceanic voyage from Africa during the slave trade in the 18th century, to its aftermath in Cuba on the sugar plantations, to the present day in the United States. It is a felt history- not one of the rhetorical facts and figures told through non-spoken, fragmented narratives." Campos-Pons' work, although an expression of absence and loss, is a celebratory gesture toward a unique and resilient culture.
Her work is an investigation of history and memory, and their roles in the formation of identity. Born in Matanzas province in Cuba in 1959, Campos-Pons bears a familial history that is intermingled with the sugar industry's presence in her hometown of La Vega. Her roots can be traced from America, to a Cuban homeland, to the enslaved who were traded by Spanish colonists and finally back to what is today Nigeria.
Her works have been exhibited in the United States, Canada, Japan, Norway, France, Italy, and Cuba. She was represented in the Johannesburg Biennial and has had a solo exhibition at the Museum of Modern Art in New York City. Campos-Pons' powerful attachment to her cultural African heritage is one that she has never experienced directly but its presence in the rites and myths of her childhood make her a Cuban transplanted in the United States, an exile twice over.
María Magdalena Campos-Pons' free artist lecture will be on Thursday, May 18 at 6:30pm at Larcom Theatre in Beverly, MA
Also on view..
Bytes

When: On view through May 12, 2017
Opening Reception: May 10th, 5pm – 8pm. (There will be two screening of our work at 5:30pm and 7pm)
What/Why: "Featuring art by:Haley Albanese, Kelven Charleus, Jakki Cushing, Tucker Lemmer, Michelle Moore, Mileena-Jaky Owen, Mel Powsner, Ryan Phalen, Philip Rossi, Sarah Upton"
——————–
Genevieve May | Paintings
When: On view through May 31, 2017
Opening Reception: Friday May 5th 6:00 pm – 8:30 pm
Where: EBK Gallery, 218 Pearl Street, Hartford, CT
How: Official Website 
——————–
David Kapp: Teeming
When: On view through May 31, 2017
Opening Reception: Friday May 05, 6 – 8 PM
Where: Alpha Gallery, 460C Harrison Avenue – Boston, MA  02118
How: Official Website 
——————–
Silke Schoener: New Landscapes
When: On view through May 28, 2017
Opening Reception: May 05, 6-8PM
Where: Gold Gallery, 460C Harrison Ave, #18, Boston, MA 02118
How: Official Website 
What/Why: "It is my interest to use a fiction of the real to make the unreal, the unnamed perceivable in the pictures white areas. The presence of the realistically painted motives, snap-shots of the public places, stands in direct interaction with the empty area. By means of this un-fashioned space, movement is concentrated towards the motive or withdraws from the unbounded image space. The extract of the real motive results from a reluctance to paint the inessential. Consequently, the composition of shadows, the penciled sketch, or even single unpainted areas remain visible in the pictures next to the fully painted fragments."
——————–
Food
When: On view through May 21, 2017
Opening Reception: Friday May 05, 6-8PM
Where: Beth Urdang, 460 Harrison Ave, Boston, MA 02118
How: Official Website
What/Why: "Featuring the work of James Del Grosso, Mary Ellen Johnson, Beth Galton, Larry Preston"
——————–
#RESIST

When: On view through May 27, 2017
Where: Nave Annex, 53 Chester St., Somerville, MA
How: Official Website 
What/Why: "#RESIST is an exhibition of art that speaks to the current political climate in the United States and elsewhere. Themes explored range from alt facts to coal mining to sanctuary cities and more."
——————————-
Substantiation: Deborah Coolidge and Brooke Hammerle

When: On view  through May 22, 2017
Where: Simmons College, Trustman Art Gallery, 300 The Fenway, Boston, MA
How: Official Website
What/Why:"Substantiation explores nature by using methods and imagery that poetically re-connects us to the material world. Deborah Coolidge's tree images evoke memory and describe matter. Her textural drawings of trees in color and black and white are wonderfully descriptive and curiously metaphysical as she personalizes and abstracts each individual tree. Brooke Hammerle's photographs depicting flowing water from the series Songs of Light evoke sound and movement while describing abstracted textural light and water. The work is mysterious and ethereal.
Deborah Coolidge received her MFA in ceramics from the Rhode Island School of Design. Her engagement with material is still evident in her drawings. They start with rubbings of trees; the furrows and knobs are the initial investigatory method in her process. As she works she deepens her understanding of the tree's individuality as she both abstracts and particularizes her conversation with these stately living organisms, building layer upon layer of mark-making. Quercus weetamoo. N41°35.5′W71°11.1′ (oak, Weetamoo Woods, Tiverton) created with graphite on paper, calls to mind the compressed energy of this venerable tree. The tree seems to have a dark pelt scrabbled over with fragmented lines and circular shapes.
Brooke Hammerle's peripatetic childhood and eclectic educational experience studying both painting and photography led to a long career at Brown University as photographer for the Bell Gallery and the Art departments. Hammerle's Songs of Light series depicts her fascination with the musicality and rhythmic interplay of a stepped waterfall near her home in Providence RI. In Symphony III, scribbling lines of light undulate across a dark background suggesting mossy wetness and nothing in this world at all.
As Shakespeare's Hamlet declares, "There are more things in heaven and earth, Horatio, than are dreamt of in your philosophy." These two artists manifest that sentiment with their lyrical drawings and photographs."
—————————————————-
Views of the Mount Holyoke Range with Kestral Land Trust
(Lorna Ritz)
When: On view through June 2017
Where: R. Michelson Galleries, 132 Main Street Northampton MA 01060
How: Official Website
What/Why: "In 1836, Thomas Cole hiked the Mount Holyoke Range and later painted one of the most famous images of the Oxbow and our local landscape; View from Mount Holyoke, Northampton, Massachusetts, after a Thunderstorm which can be seen at the Metropolitan Museum of Art in New York. The early American land conservation movement took hold in part because of the landscape artwork created by Cole's generation, which sparked an appreciation of the intrinsic value of the land. One hundred and eighty years later, artists are still able to paint the same views that early American artists painted, thanks to the efforts of land conservationists past and present.
In the spirit of that movement, and Kestrel Land Trust's continuing mission of environmental conservation and awareness, the works in this exhibit celebrate the connection between artist and the land and what that means to us as individuals, as a society, as a culture, and as a people.
Kestrel deeply values the role that artists have played historically, and the impact artists continue to have in inspiring people to care about the future of our land. We're grateful to all the artists in this exhibit for creating works that remind us how special these places are. We also thank the artists and R. Michelson Galleries for supporting our continued efforts to conserve the Mt. Holyoke Range with proceeds from this unique exhibit.  – Kristin DeBoer, Executive Director, Kestrel Land Trust"
——————
Firefly at Somerville Open Studios 2017

When: May 5th and 6th, 2017, 12-6PM
Where: Aeronaut Brewing Company, 14 Tyler St, Somerville, Massachusetts 02143
How: Official Website 
What/Why: Learn more about the event here!
—————-
ArtWeek Boston

When: Ongoing through May 07, 2017
Where: Schedule of events here
How: Official Website
What/Why: "Presented by Highland Street Foundation and produced by the Boch Center, ArtWeek is an award-winning bi-annual creative festival featuring more than 150 unique, unexpected, and creative experiences that are participatory, interactive, or offer behind-the-scenes access to artists or the creative process. Born in Boston, ArtWeek has grown so rapidly since its 2013 launch that it now serves communities throughout all of Eastern Massachusetts."
———–
Pierre Huyghe | Untitled (human mask)

When: On view through May 28, 2017
Where: David Winton Bell Gallery, 64 College St, Providence, RI 02912
How: Official Website
What/Why: "Human Mask is a bachelor rite. A monkey wearing a mask of a young woman, trained as a servant; unconscious actor of a human labor and a drone; unmanned camera, programmed to perform tasks, inhabit the same landscape of Fukushima, just after the natural and technological disaster.
The monkey, left alone, executes, as an automaton, the gesture it had been trained to do, in a pointless pattern of repetition and variation.
Trapped inside a human representation, it became its sole mediator.
Sometimes enacting the role of a servant, sometimes inoperative, endlessly waiting, subject to boredom, left between instruction and instinct.
Behind the mask, a descendant of a common ancestor, in front of it a drone, a human's natural extension. Human Mask suggests a collapse between both biological and cultural distinctions.
– Pierre Huyghe
Pierre Huyghe is renowned for making art that challenges the conventions of the exhibition, exploring the possibilities of its dynamic experience. In the artist's words, he constructs "time-based situations as a set of circumstances and conditions in which emergence, rhythm and variable are indeterminate and exist beyond our presence." This exhibition is the New England premiere of his recent film Untitled (Human Mask) (2014). Set in the landscape of manmade devastation that surrounds Fukushima, Japan, the film confronts us with an eerie reflection of the tenuous divisions between human and animal.
The enigmatic moments of the film may be afterimages of the Anthropocene – the proposed name for our ecological age where humankind has become a force that permanently changes the planet. Poignantly confronting the sublime scale of nuclear cataclysm, the human-animal behaviors convey apocalyptic or perhaps redemptive overtones. Are the animal's gestures the last remaining relics of chauvinism or of human civilization in general — bellwethers of a shift away from the anthropocentrism and disparities that haunt our world?"
————————–
Say hi:
EMAIL | TWITTER | FACEBOOK | INSTAGRAM | PINTEREST
TGIF #bosarts! May is already off to an insane start so the next few weeks of wrap-up frequency+duration may be sporadic..
ie: Wrap-Up for May 12 – May 18.. May 19 – May 20.. radio silence.. July 2017-YE 2018.
I just like to keep you on your toes. Have a great weekend! ♥